14" Rama Lama And Ding Dong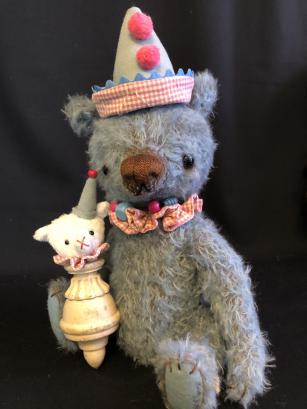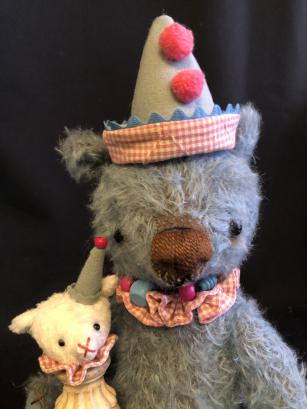 Blue bear with pink check ruff and hat brim. Wool hat and hot pink Pom poms. Wooden beaded necklace. Ding Dong is made of a wooden detail and complimenting fabrics. - $265
15" Moonshine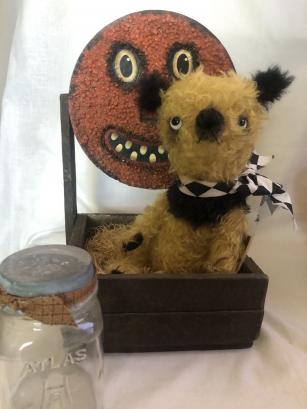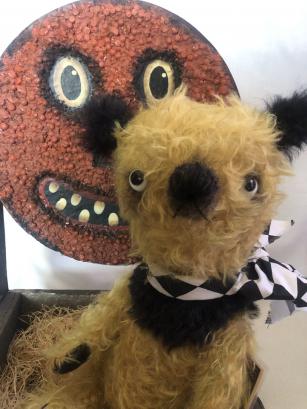 Moonbeam yellow and black teddy bear beams under the moons smile along with his jar of-moonshine. - $255
26" Charlotte Rose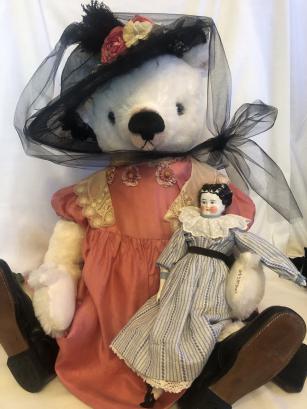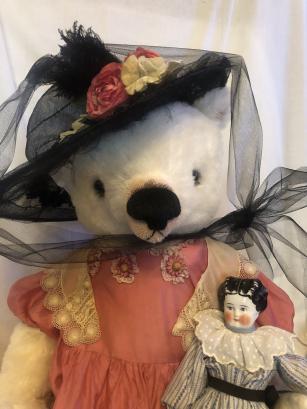 Charlotte Rose is made of creamy white mohair and is fully jointed with a wired armature in her arms. Embroidered black nose and dark green eyes. Fully dressed in an old petticoat under the vintage silk Rose dress with lace embellishments. Vintage lace and net picture hat is decked out in floral pinks and greens and wide net bow. Black Mary Jane's have pink floral and ribbon trim. She carry's a 14" antique China and a black leather purse with chain handle. - $555
8" Pettijohn and Percy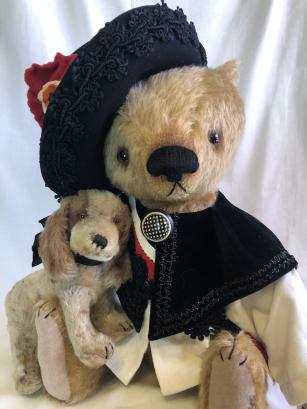 Little boy bear wears old child's jacket and velveteen collar to coordinate with black felt hat detailed with old braid and applied wool details. Small mohair and straw spaniel has seen better days but is still loved. - $285
7" Viola and Friend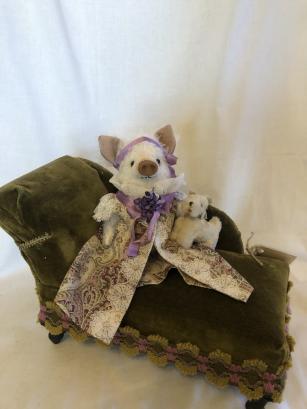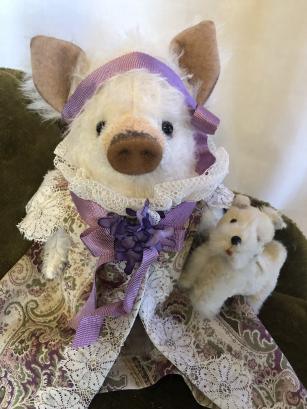 Reclines in her boudoir on old fainting couch in robe of lavender paisley with her fur doggie. - $230
11" Merry and Bright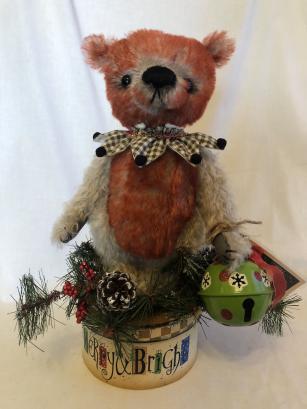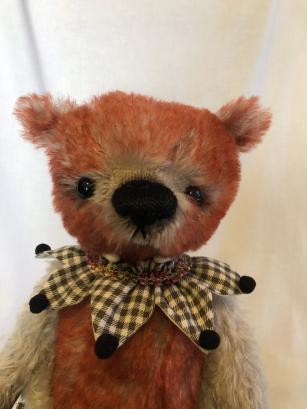 Stone and coral bear stands on holiday box in bright colors holding a festive bell. - $235
10" Lady Ravenwood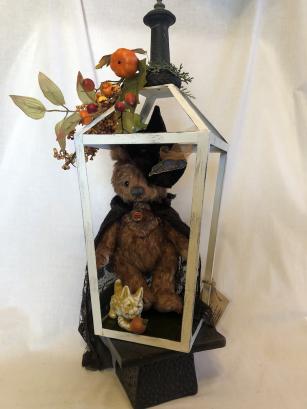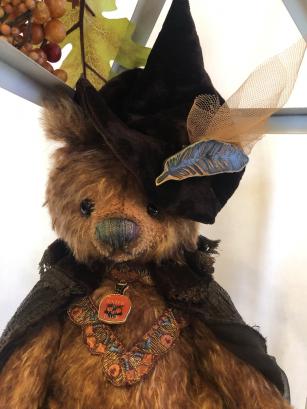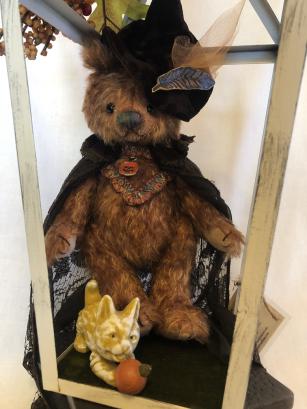 Is a demure sprite in old brown lace and velveteen. Fall trim embellishes her dress and hat while old kitty plays at her feet. - $255
10" Pigachu and Ping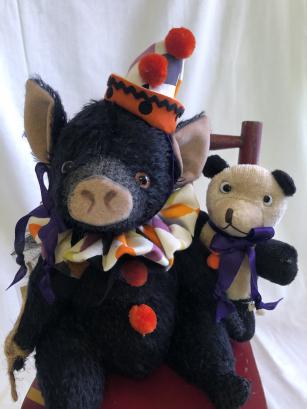 Black mohair pig is fully jointed and wears Fall colors along with his Vintage Japanese panda. - $210
The Monster under the Bed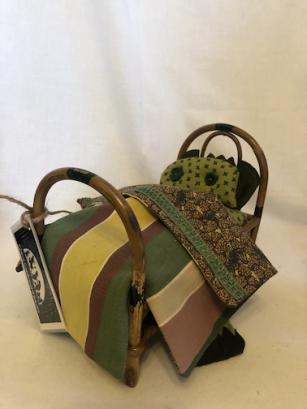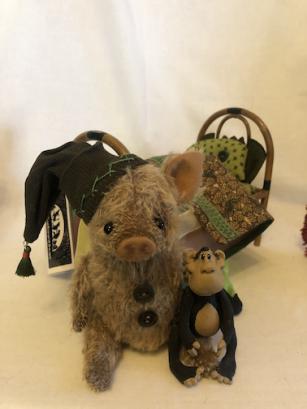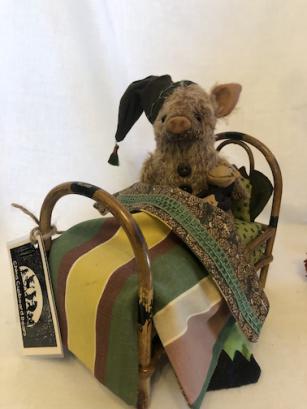 Painted old cane bed with green tufted mattress and stripped coverlet shelters this little pig and his monkey friend from the nightmare of the monster hiding under the bed 6" pig. - $225
19" Lord Fezziwig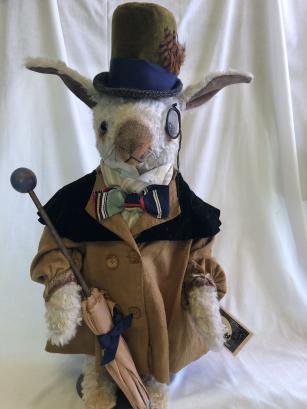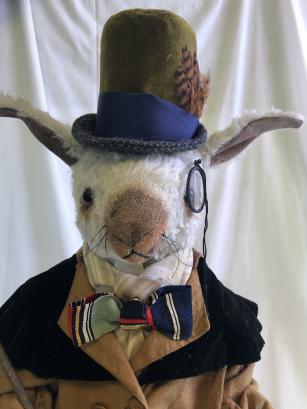 English flavored gent in vintage Caramel colored top coat with velveteen cape, ascot collar and Bow tie. He wears a splendid bottle green velveteen top hat trimmed with pheasant feathers and carries a wooden knobbed old umbrella. Fully jointed with wired ears. - $410
7" Carmen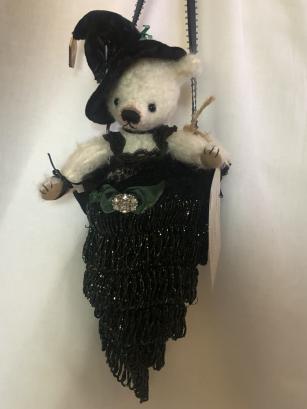 Witchy woman in cream mohair , fully jointed and fully dressed arrives in beaded purse and pointy hat. Throw in some rhinestones and she dazzles. - $195
5" Bad Bunny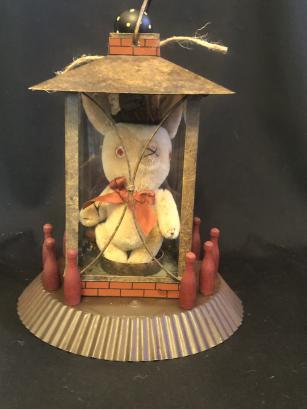 Top hat bunny lives in a tiny glass prison with rusted tin trim. He is fully jointed with antique pink glass eyes and holds a tiny brown skull. - $95
11" There's a new Sheriff in Town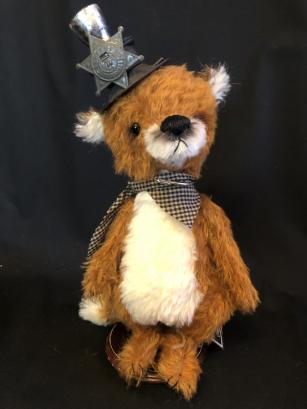 Foxy fellow in orange and cream mohair with kooky hat and badge. - $235
3" All the World is a stage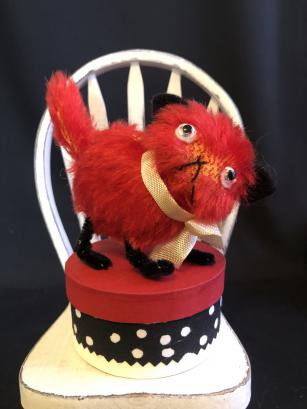 Tiny mohair and chenille stem kitty has German glass eyes and red black and white stage. - $95
5" Chain Gang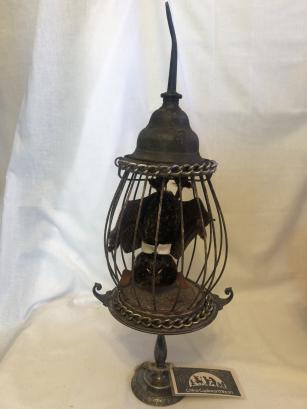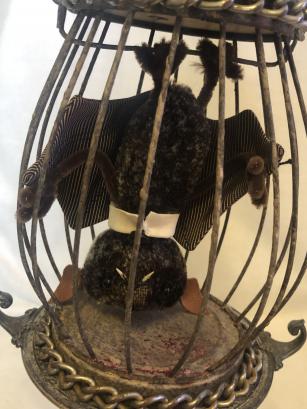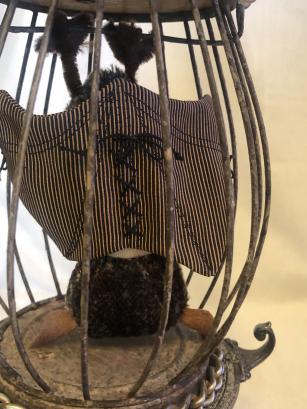 5" fanged mohair bat wears corset influenced wings. Tarnished tin and wire cage is topped with removable oil can detail. - $165
9" Brown eyed girl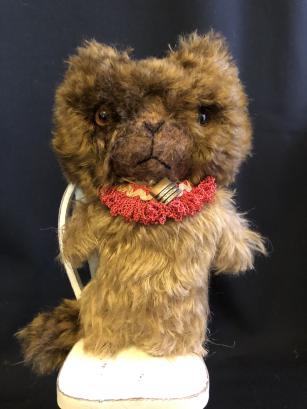 Tan and bronze mohair kitty with orange collar. - $125
14" Colonel Candy Corn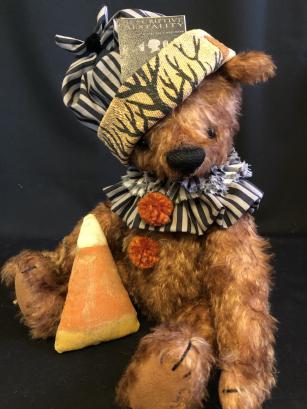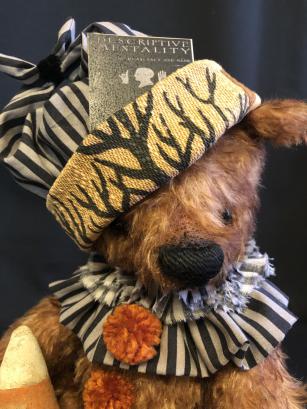 Russet mohair bear wears stripped ruff and hat with vintage bark cloth brim and candy corn go with. - $255
12" Mr. Tambourine Man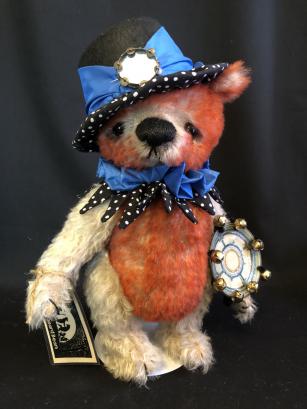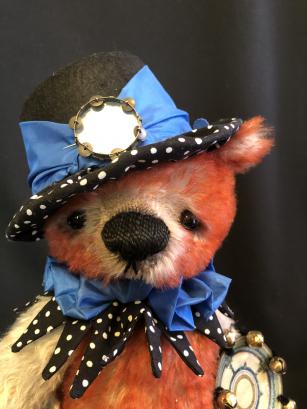 Stone and Coral bear has vintage siik turquoise accents on black hat and polka dot ruff. Vintage tambourine pin and prop. - $255
12" Ramona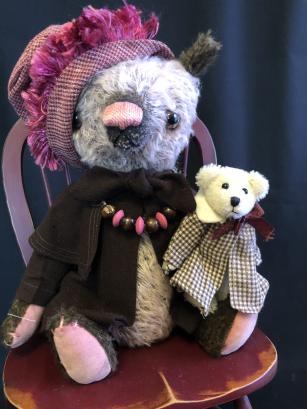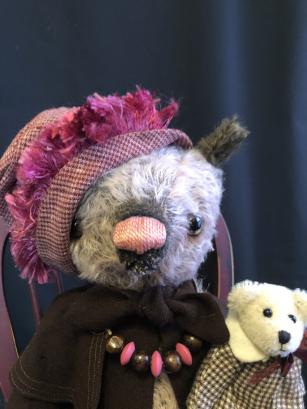 Pink and brown mohair panda wears vintage chocolate wool coat and tweed hat. Her mohair friend wears brown plaid coat. - $255
8" Rubba Dub Dub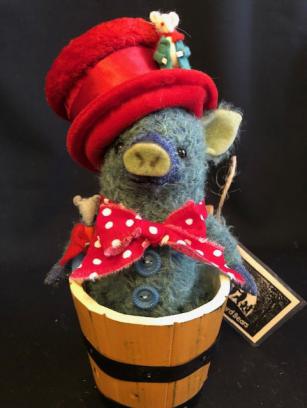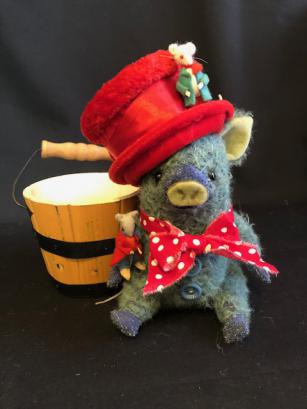 Turquoise with blue backing mohair pig is jointed arms and legs. He arrives in his mustard tub with his two vintage Mousy friends. Red hat and bow tie. - $175
12" When I am old, I shall wear purple…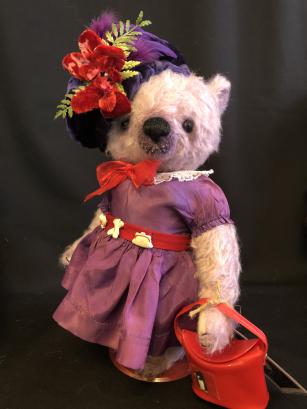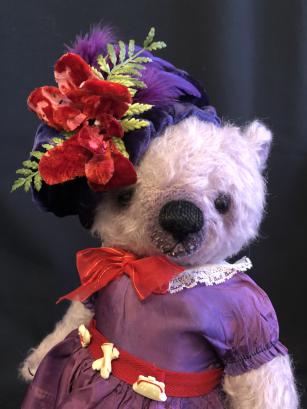 Lavender mohair bear wears vintage purple dress and hat with red accents and red vinyl Japanese purse. Check out the silly buttons. - $255
12" Clara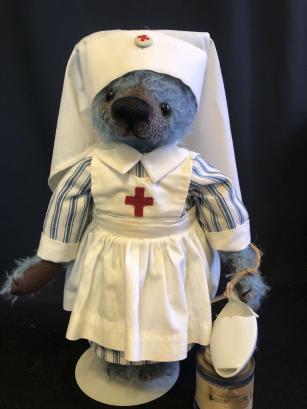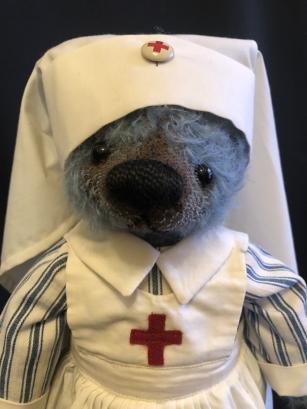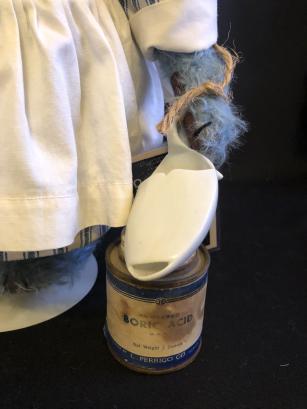 Blue mohair bear with brown backing wears vintage styled WW1 nurse costume of blue stripped ticking and white Muslin apron and head cover. Vintage Red Cross pin and a China "sick" cup to administer medicines. - $265
10" Autumn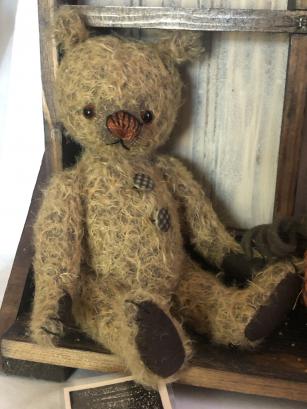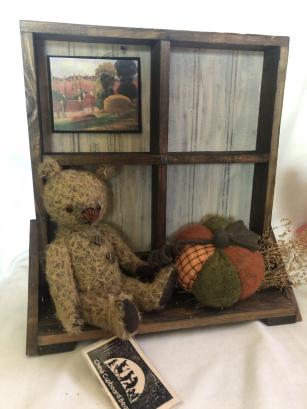 10" primitive bear is the center of attention on the 13" tall wooden shelf which can sit on a table or be hung on the wall. Fabric pumpkin and tiny bit of fall art completes the display. Background is neutral so other groupings can work. - $195
6" Monster under the Bed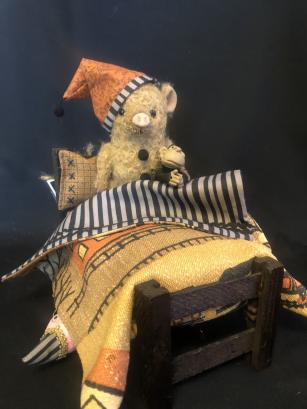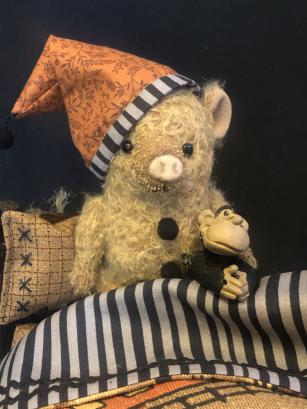 Tan mohair pig shudders under the covers in his craftsman style wooden bed with his monkey. Brown tuffed mattress and pillow goes well with Barkcloth bedspread. The mystery monster is under the bed!. - $225
14" Scaredy Cat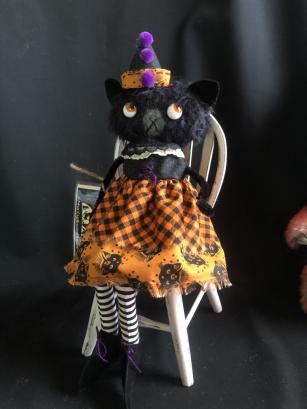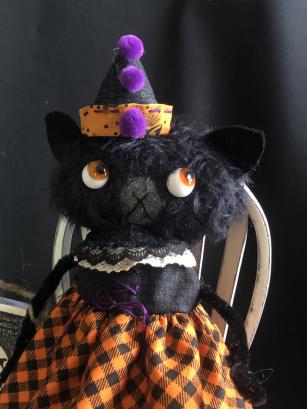 Black kitty with stripped legs, mohair body and heat , chenille arms and tail. Brown German Glass Googlie eyes gives a mischievous look. Dress of multiple Halloween fabrics. - $155
12" Pumpkin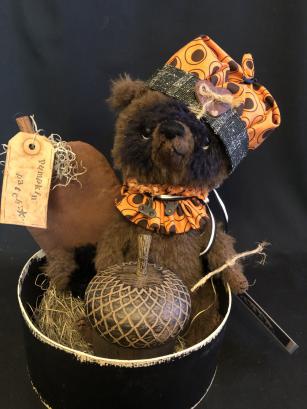 A rascal of a brown alpaca raccoon with folk art pumpkin and giant acorn. Colorful hat and ruff. - $265
20" Tiberius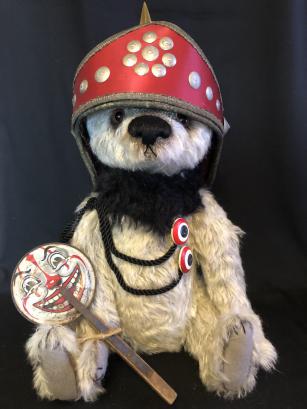 A bear with a bold statement in the form of his vintage spiked helmet and vintage noise maker. Bear is fully jointed and made of Gray and black mohair, and is embellished with old buttons and draped cording. - $335
18" Piper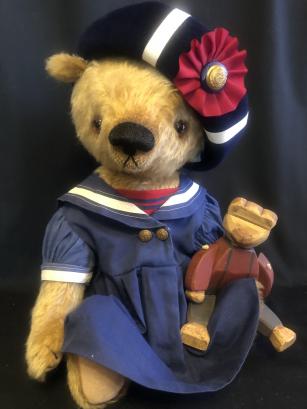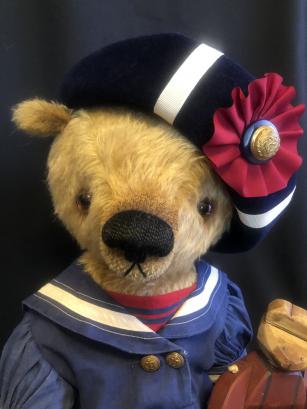 Honey gold mohair bear wear traditional sailor dress and navy hat with bold rosette. Fully jointed with embroidered nose and large German glass eyes. Fun primitive wooden bear. - $335
18" Bertha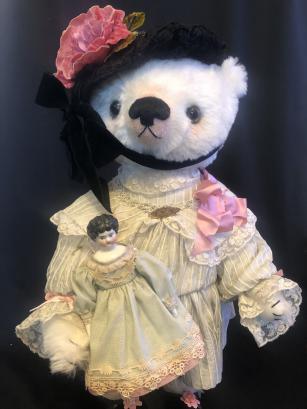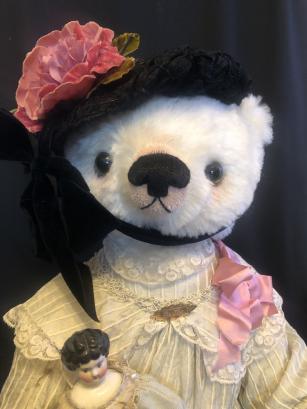 Sister to Charlotte and made to compliment each other. Made of creamy white mohair with black embroidered nose with dark green eyes. Fully jointed. Interesting pale green vintage silk dress with lace trimmed Bertha collar and pink silk ribbon corsage. Antique Victorian black hat has old pink silk floral detail. She carry's a tiny Antique China dressed in green and pink. Black patent leather shoes have pink floral trim. - $355
9" Viola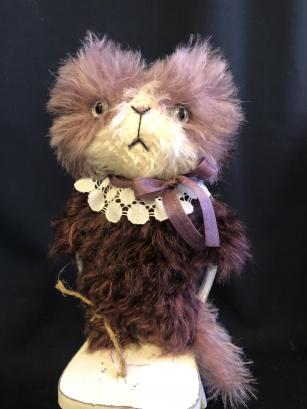 From my new kitty series a lavender and purple mohair creation with ruffled lace collar. - $125
4 1/2" Red Robin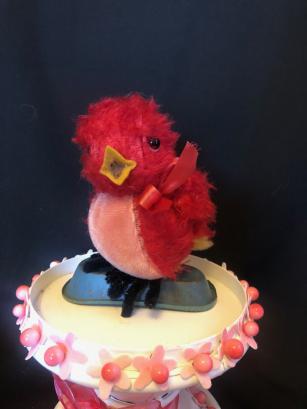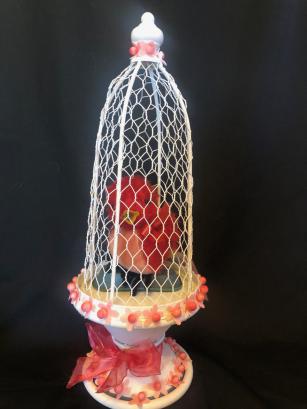 Red coral and yellow mohair bird is jointed at head and wings. She stands on a vintage turquoise tin bathtub and shelters in white wire bird cage trimmed in coral pearls and flowers. - $165
12" Sherlock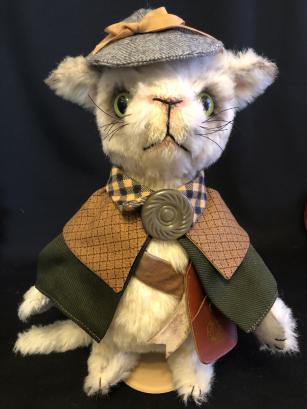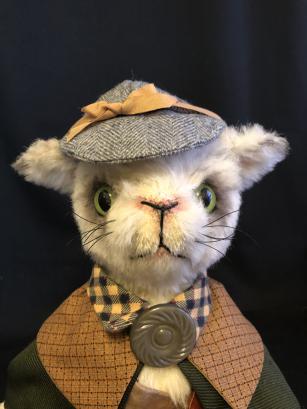 Cream and grey stripped kitty has wide green eyes and Sherlock Holmes cloak and deer stalker hat. - $265
6" Yuchi and Yo yo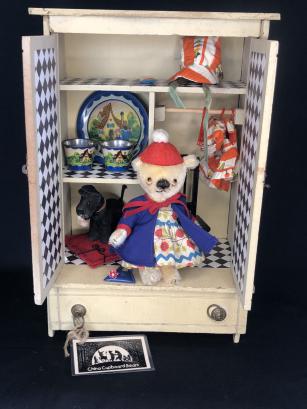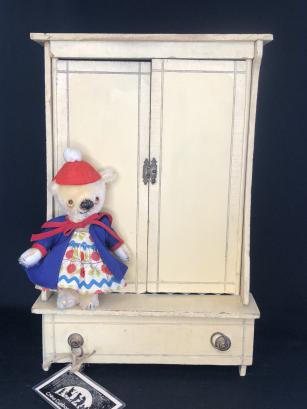 I have filled this little vintage wooden cupboard with joy. Yuichi wears a vintage dress and coat with another dress and matching hat for her to wear on another day. Vintage tin wear and mechanical Scotty dog with his own pillow reside in side. - $325
5" Fruit Bat Dandy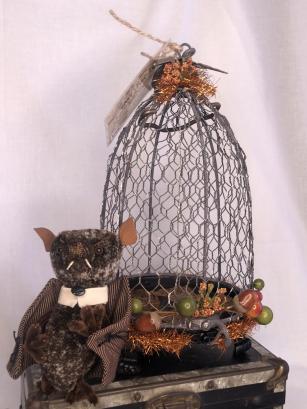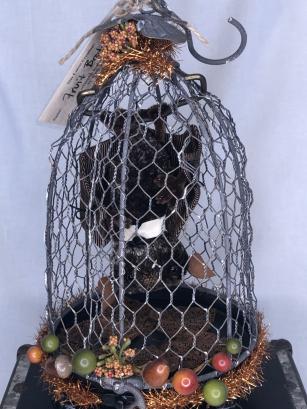 Brown mohair bat has a steam punk flavor in metal cage , corseted wings and fangs. - $155
4" Orphan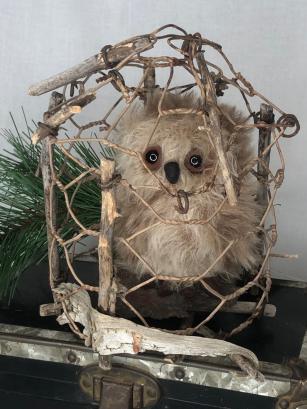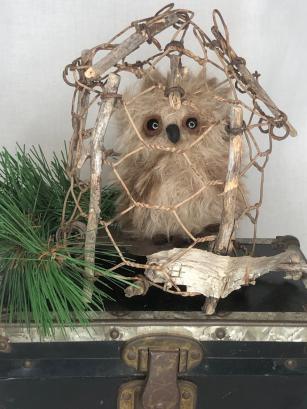 My tiniest owl yet with jointed head and sculpted beak in two shades of tan mohair. He has been caged in a crusty made wire and bark cage. - $85
5" Annamieke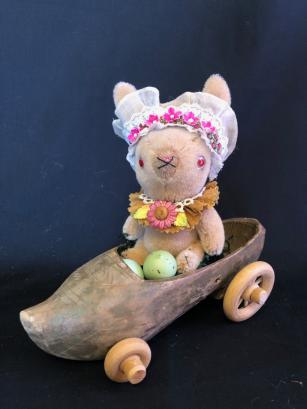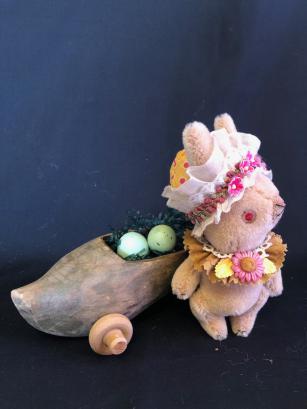 Tiny mohair rabbit rides in vintage wooden shoe. Mohair and wool body, antique pink eyes. Polka dot hat with ruffled rim. Wooden eggs and grass. - $165
12" Amiee and BunBun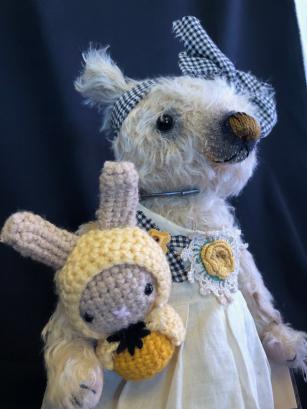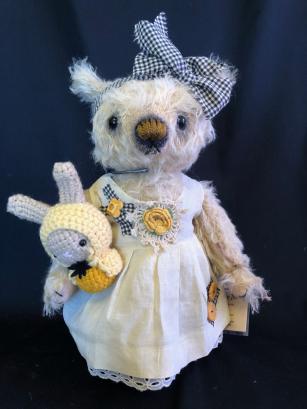 Wheat colored mohair bear has contrasting black check patches and hair bow on pale yellow dress as well as yellow Bakelite buttons and carry's her crocheted bunny pal. - $245
11" Tuxedo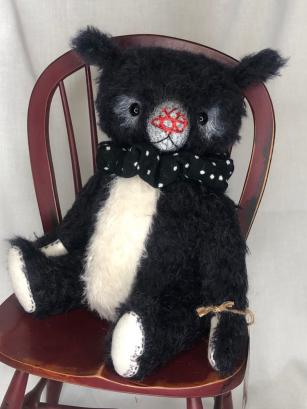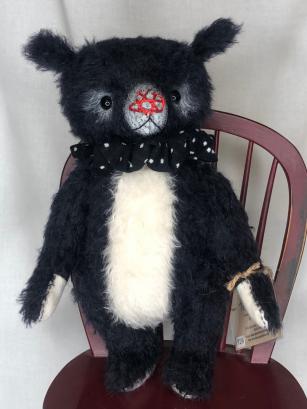 Black and white Tuxedo bear is simple in design but effect in color punch. He wears diminutive black ruff with white polka dots and embroidered red perle cotton nose. - $230
11" Pretty in Pink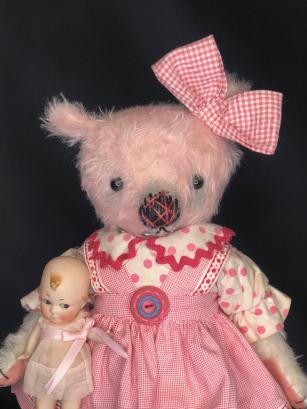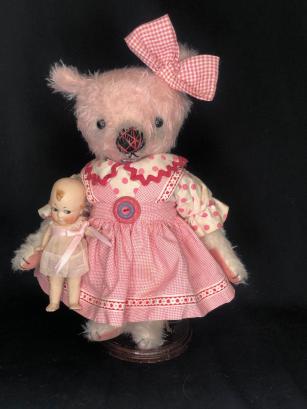 Pink and white mohair bear wears coordinating gingham pinafore, hair bow and blouse. Antique Cupie doll. - $265
11" Brown Eyed Girl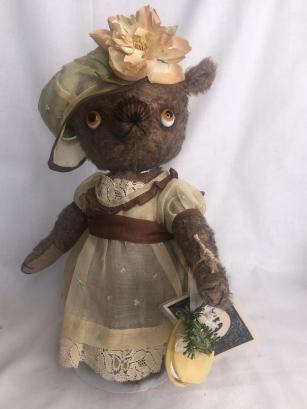 One of my favorite vintage dresses with matching hat needed just the right bear to bedeck. Here she is. Made of brown mohair accented with magnificent 14mm brown Googlie eyes. A little lace , flower accent and tiny mirror completes the look!. - $245
6" Forget Me Not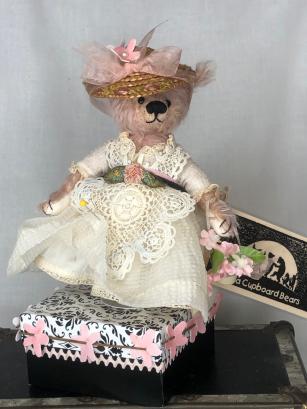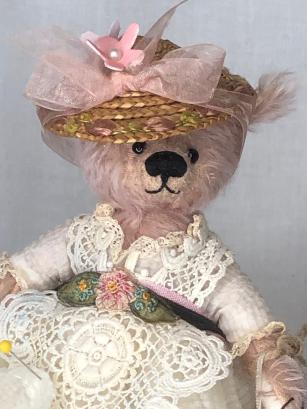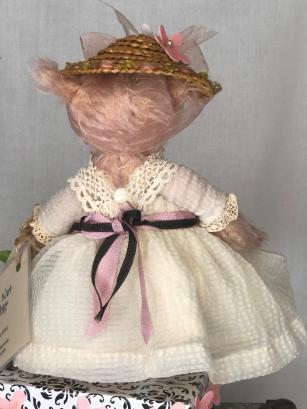 Tiny pink bear wears vintage dress and petticoat , tiny straw hat , thimble purse and flower trimmed box. - $175
10" Sugar Plum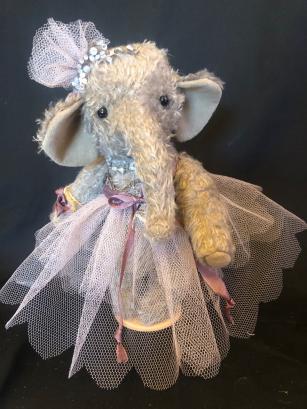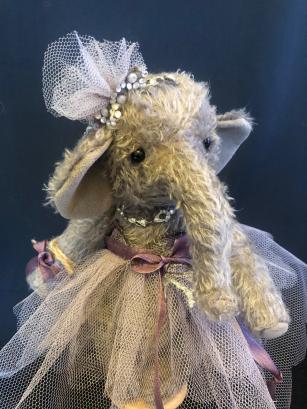 Grey Ellie wears lavender tulle dress with silver and Pearl accents. - $195
12" Camilla Rose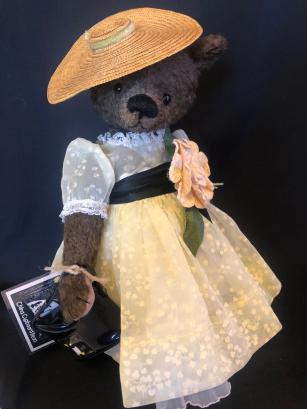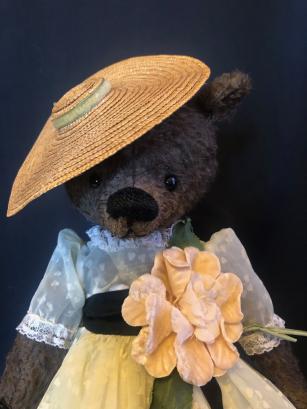 Chocolate brown mohair bear is fully jointed and wears a lovely Vintage costume reminiscent of 1960's movies. Full lace trimmed petticoat underneath. Straw hat and patten leather purse. - $265
9" Pinkerton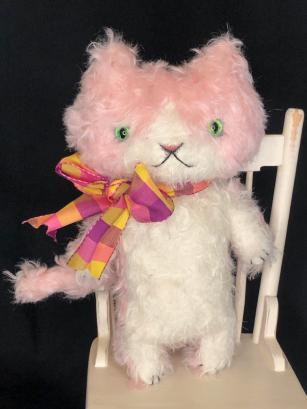 Pink and cream mohair kitty is jointed head only with Green German glass eyes and bright bow. - $125
9" Opal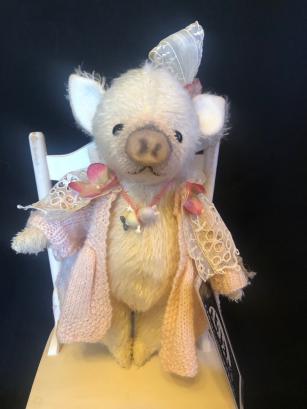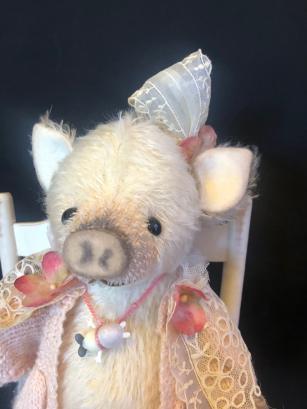 Pearly white mohair pig in simple pink sweater trimmed in lace and silk flowers. She wears a tiny pig necklace. - $225
6" Brownie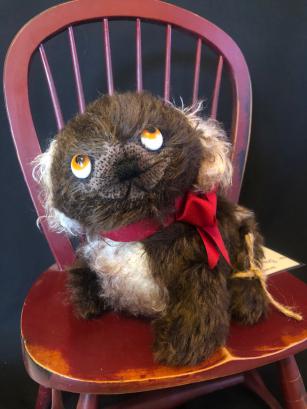 Brown and tweedy mohair dog with German glass Googly eyes,and red bow. - $165
12" Gladys and Gabby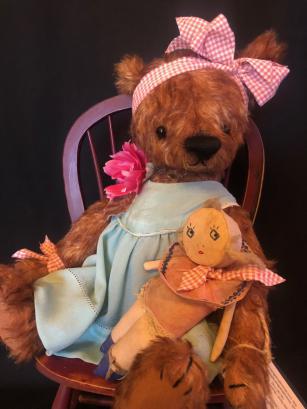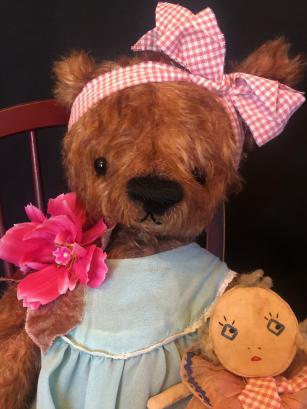 Tweedy rust mohair bear is garbed in vintage silk turquoise dress with pink gingham accents. Silly folk art doll. - $265
6" Cock on Box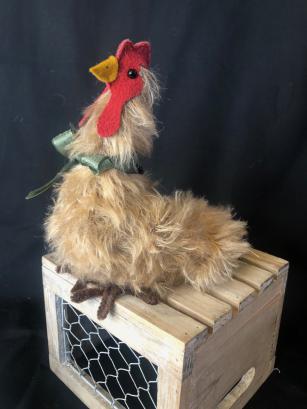 Jointed head and wings, leather headpiece. Chicken wire and wooden box. - $125
24" Fancy Clancy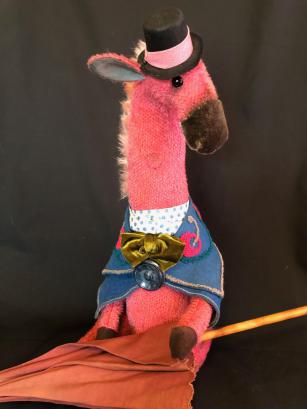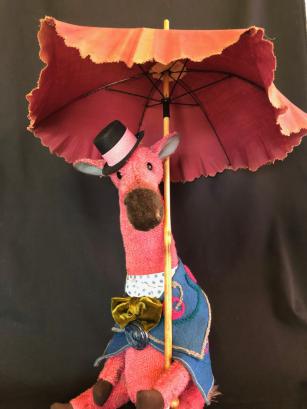 I need color while creating , but who ever heard of a pink spotted giraffe? Pink mane and leather hooves. He wears an embroidered cape ,top hat, polka dotted ascot and velveteen bow tie. Antique umbrella for drama. - $295
4" Rutebega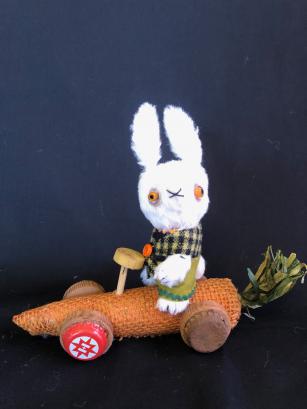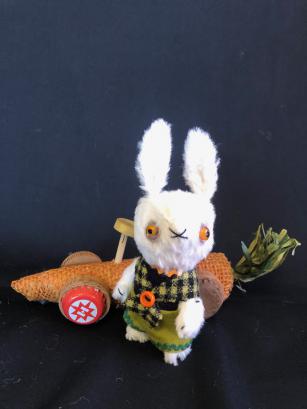 Tiny White rabbit is fully jointed with fabulous antique orange eyes. Costumed in greens and purple, he rides a wheeled carrot with wooden wheels and steering. - $165
11" Peas and Carrots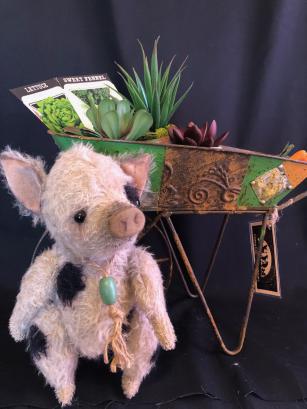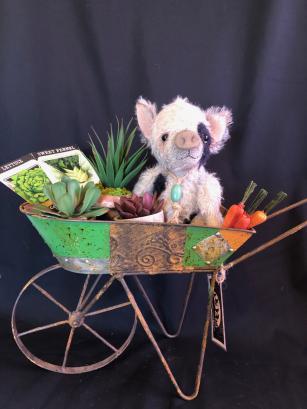 This little spotted pig was designed around the wonderful rusty tin wheel barrow sprouting with potted plants and old seed packets. - $265
12" Sunday Best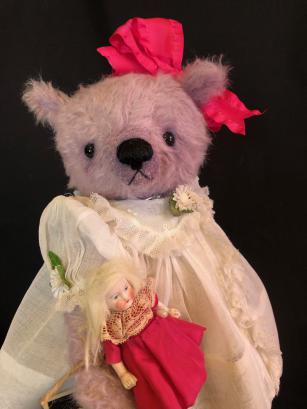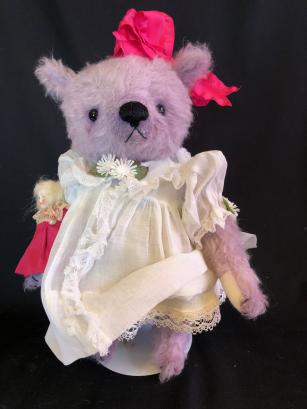 Vintage voile dress has minute lace edging at collar and cuffs. She wears a vintage lace trimmed slip and holds her antique German Bisque doll in a red silk dress to match her hair bow. - $295
8" Viola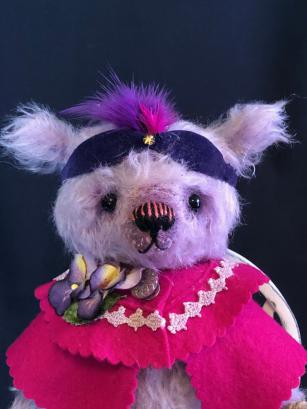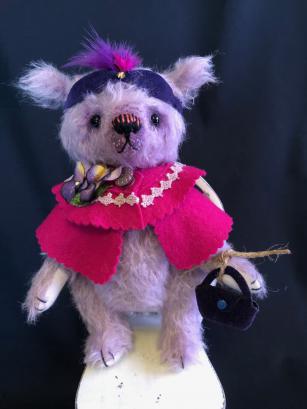 Hot pink felt cape and lavender mohair bear say spring with vintage grape headband and matching purse. She wears viola corsage. - $195
8" Pistachio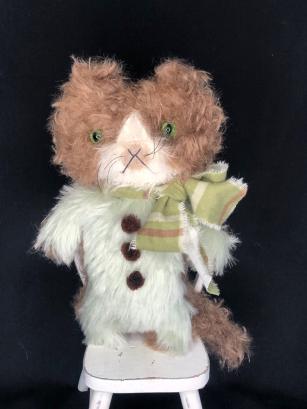 Green German glass eyes on brown and cream mohair. Soft green and brown mohair body. Green flannel plaid bow and pompom trim. - $125
13" Moonlight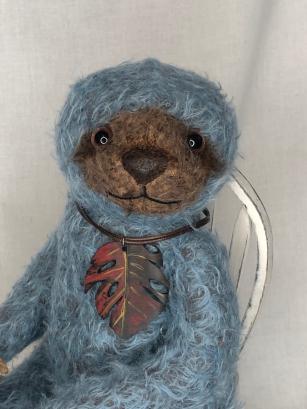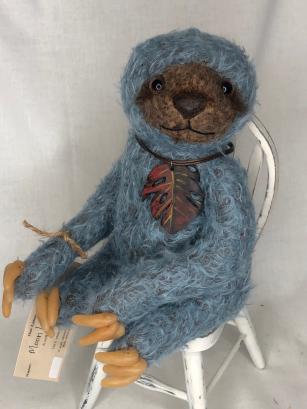 Sparse blue mohair Sloth is accented with tan mohair face and padded leather nose. Fimo claws finish arms and legs. I purchased the Painted leather Split leaf while in Costa Rica viewing Sloths. - $235
8" Daffy Diilly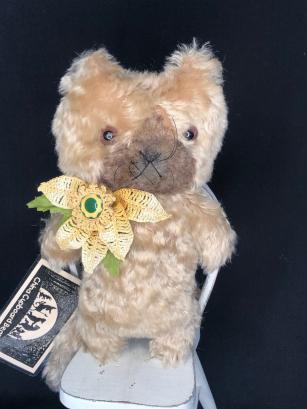 Brown and tan mohair kitty wears crocheted daffodil with vintage button center. - $125
6" Forget Me Not!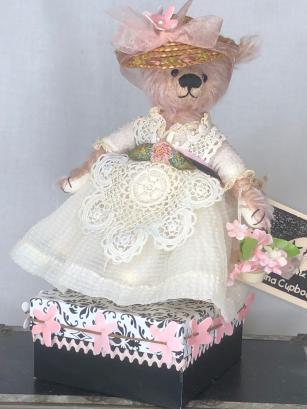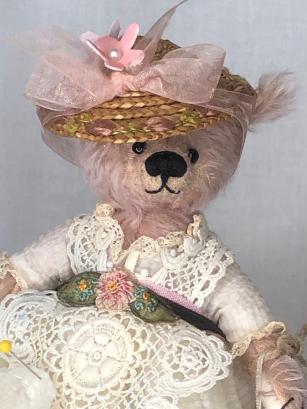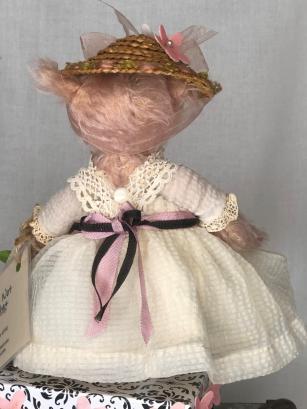 Soft pink mohair girl wears vintage cream dress with petticoat and lace overlay. Vintage hat and a tiny floral purse. She stands on a decorative box. - $195
10" Sugar Plum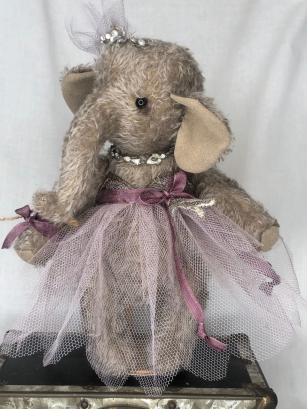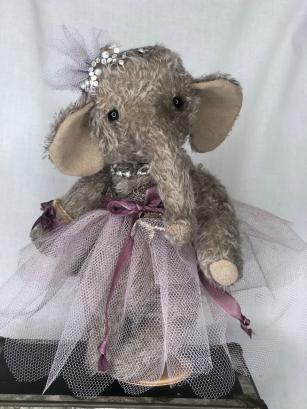 Sweet little elephant wears vintage lavender tulle from an old ball gown. Amethyst ribbons and rhinestone trim. - $195
10" Kodachrome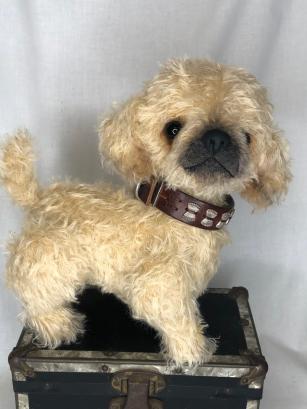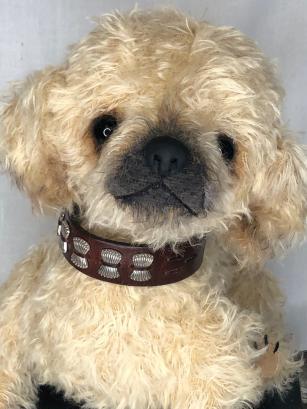 Wheat mohair dog is fully jointed, German glass eyes and leather collar. - $275
7" Crystal and Snowflake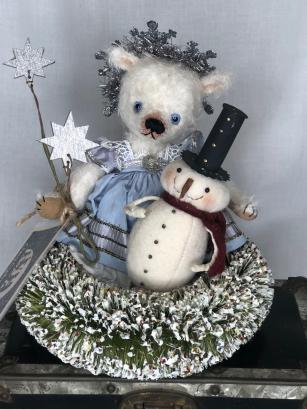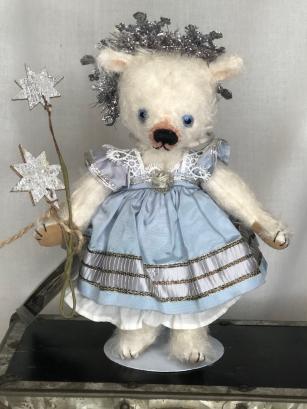 White mohair bear wears vintage taffeta dress and ruffled petticoat with a Cathy Pendelton Snowman. Snowy wreath and tiny snow flake wand. - $175
11" Flight into Egypt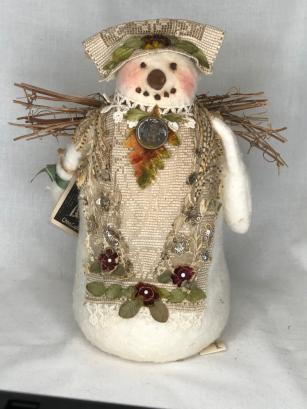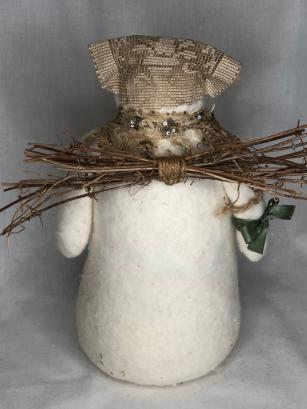 Snow lady of fleece with vintage trim and old floral motifs. Stick wings and wonderful antique button with palm trees and oasis. - $55
15" Greta Von Snowden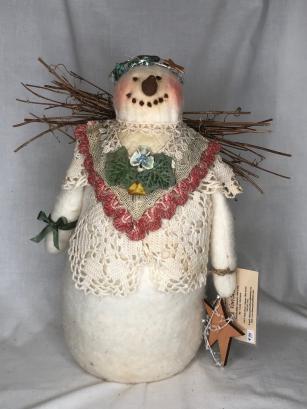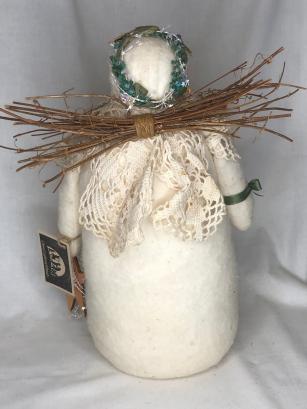 Made of fleece, this jolly snow lady wears lace collar, crocheted and lace trim, wings of twigs. - $70
9" Axel the Pig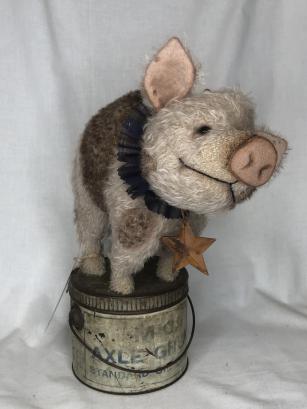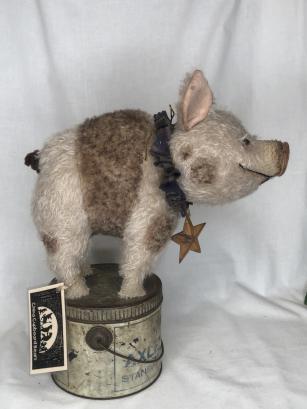 Oatmeal and cocoa mohair pig stands on a vintage tin with his name on it. Blue flannel plaid ruff and old tin star embellishment. Jointed head only. - $265
8" Freya of the North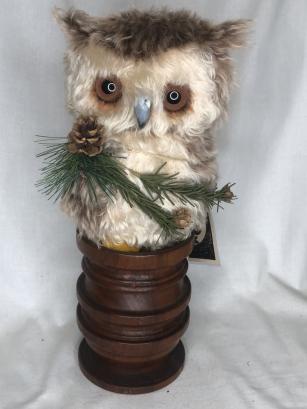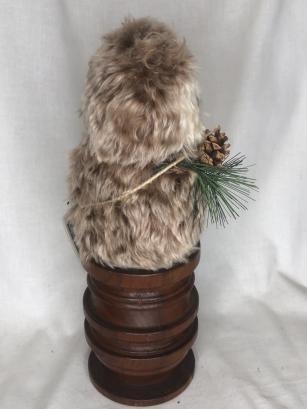 Magnificent owl made of two shades of dense grey and cream mohair and 22 mm German Glass eyes. She sits on a solid chunk of detailed wood. Woodland trim. - $175
6" Blue Bird on 10" wooden mushroom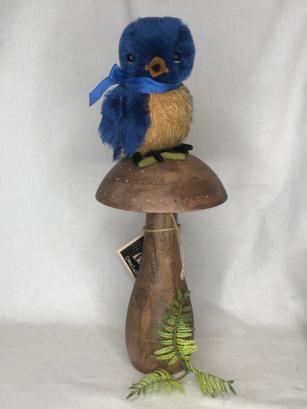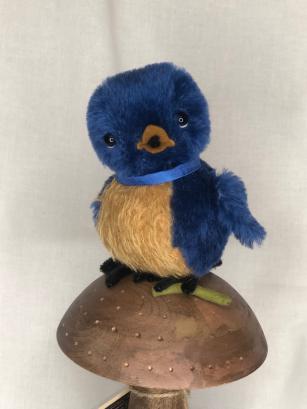 Indigo mohair with contrasting belly. German glass eyes , wire feet and wormy dinner. Felt beak. - $155
Tea Time Valentine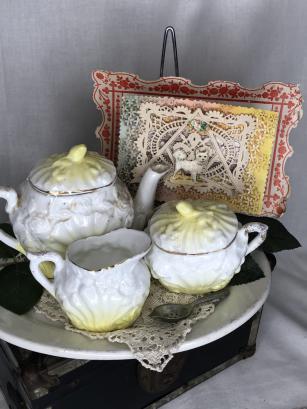 Vintage lemon yellow and white tea set is perfect and complete with lids and tiny tea strainer. Tea pot is 3 1/2" tall. Small accents of gold luster detail edges. Crochet Lace doily and rose leaves detail the white ironstone oval platter. Vintage 1800's Valentine is multi dimensional with darling white dog as focal point. The back says Frances in a childish scrawl. . - $65
10" Tree Hugger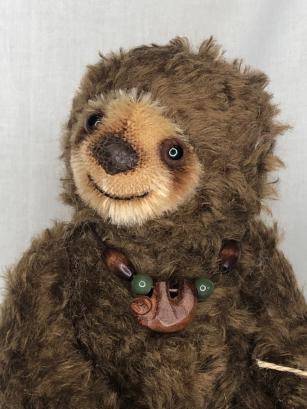 Rusty brown sloth with sculpted claws and paws. Padded nose, tiny sloth pendant. - $245
10" Luv Buds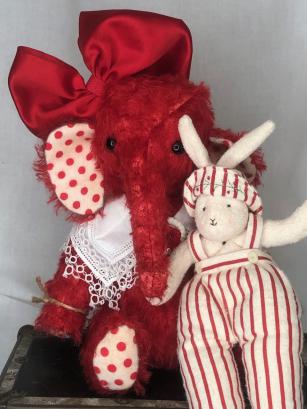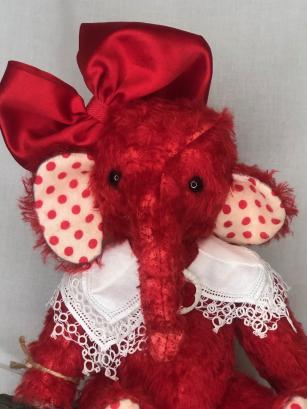 Red mohair elephant with vintage lace collar and magnificent red silk bow plus her Bunny's By the Bay friend. - $215
18" Phyllis Jane and Jumper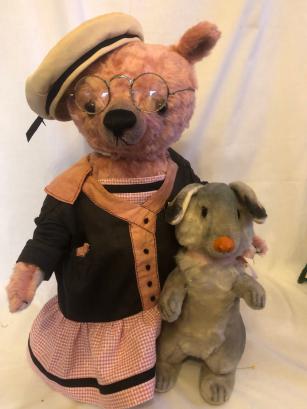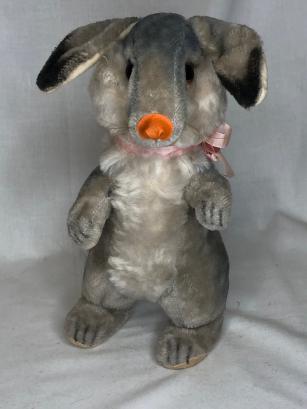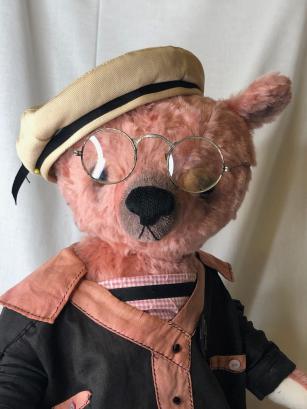 Pink mohair bear wears black and Gingham sailor dress and vintage hat. Old spectacles and vintage plush rabbit. - $345
10" Will you be Mine?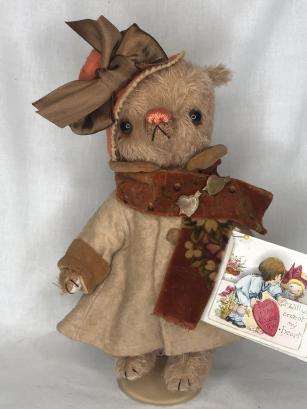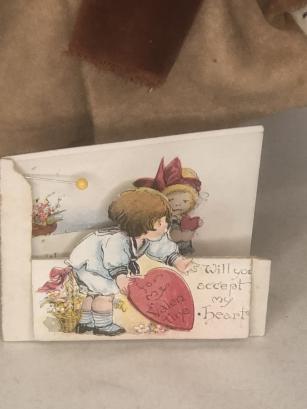 Tan bear wears wool and Velveteen coat with peach felt hat. Velvet floral scarf displays 2 gold hearts with names and connecting chain. Wonderful old dimensional Valentine. - $245
10" Elle and Santa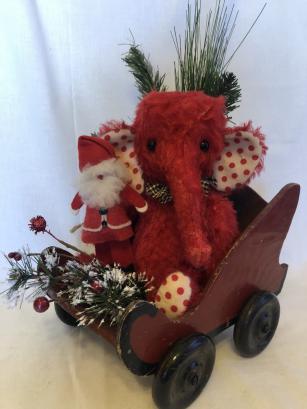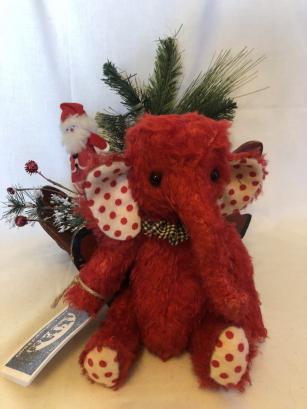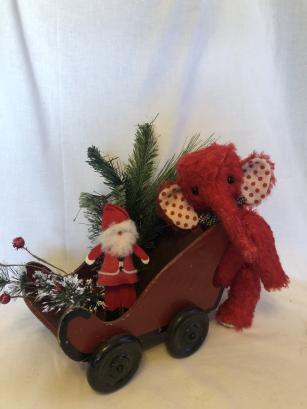 Dashing towards your home,
With Santa in the sleight, 
Red Elle rides with delight,
Joyful all the way!
Vintage red wooden sleigh contains Elle and Santa and holiday greens. - $255
13" Little Schroom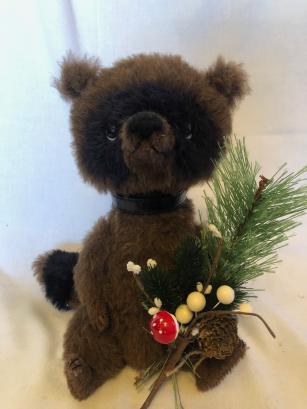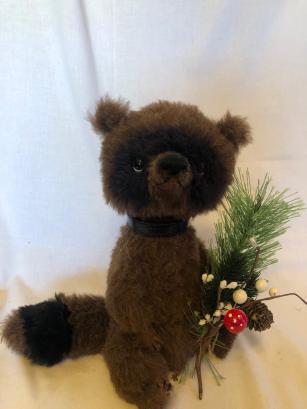 Brown alpaca raccoon wears black mask and stripped tail. Fully jointed to scamper in for the winter. Forest greens and schrooms. - $255
14" Winter Rose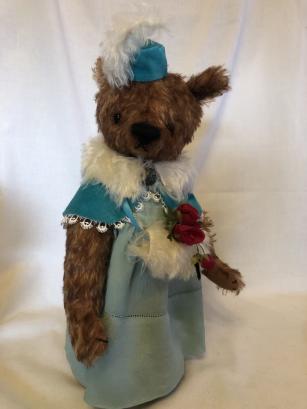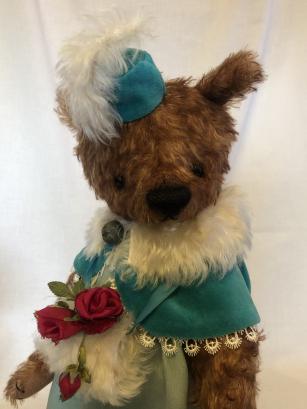 Butterscotch mohair bear looks fabulous in turquoise silk dress and removable velveteen cape and chapeau. White mohair accents collar ,hat and silk rose trimmed muff. Fully jointed with German glass eyes. - $265
6" Pom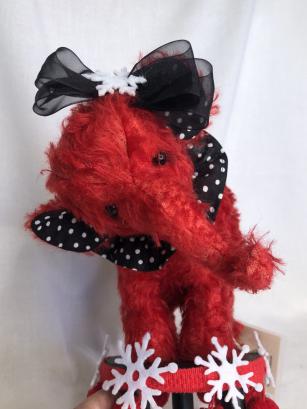 Cherry red mohair elephantIs fixed atop a black wooden stool. Black polka dotted fabric line ears and ruff. Snowflake trim. Jointed head only. - $155
10" Chimney Chums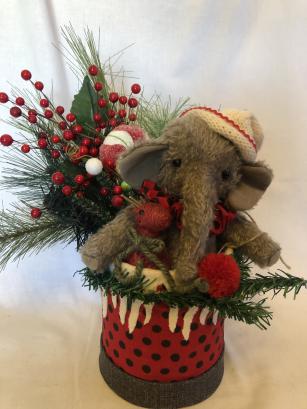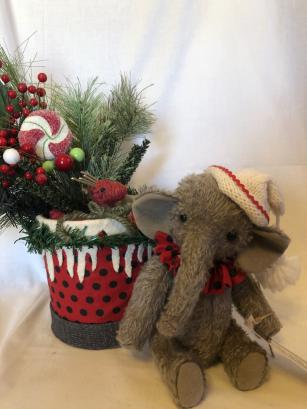 Roof top fun of icicle dripping faux chimney stuffed with grey mohair elephant and his reindeer friend. Greenery , berries, and candy trim highlight the polka dot covered chimney. - $255
11" Chirp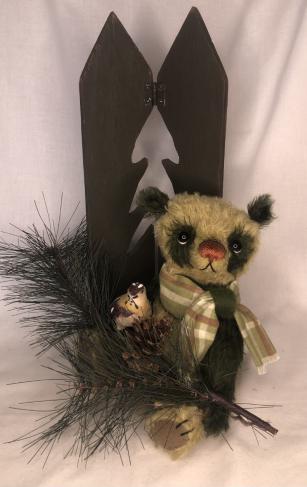 Avocado and pine green mohair panda wears flannel scarf and a bit of greenery for his pet quail. Wooden screen is hinged to fold with pine tree cut out. - $255
9" Holly Jolly Christmas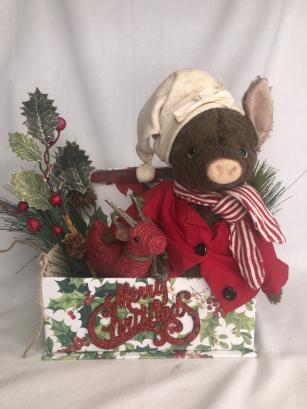 Delightful holly box is accented with sparkling Merry Christmas and contains a brown ,fully jointed mohair pig, Curley tail and all. He wears red winter coat and stripped scarf, and cream stocking cap. Reindeer friend and bit of Holly finish. - $245
5 1/2" Snow Glow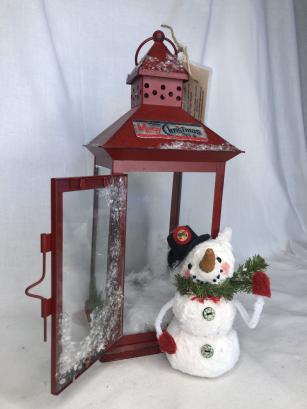 Antiqued red lantern is snow flocked and vintage mica dusted as is this jolly snowman with details of old buttons, fringed scarf, top hat. Red mittens finish his chenille arms. - $135
11" Flake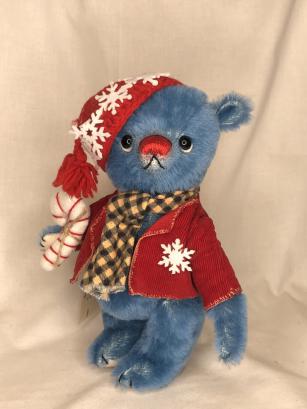 Bright blue mohair bear is bold with the cherry red nose. Corduroy jacket and red knit hat have felt snowflake accents. Flannel plaid scarf. Felt candycane. - $255
13" Topper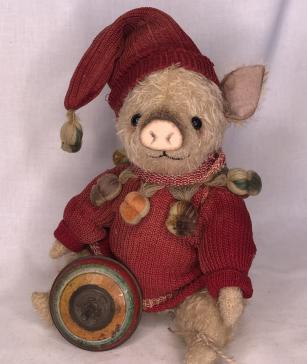 Light tan mohair pig wears old scarlet sweater and stocking cap. Fat old tassels of muted colors detail his neck. Complete with curly tail and vintage tin toy top. - $265
8" Hitching a Ride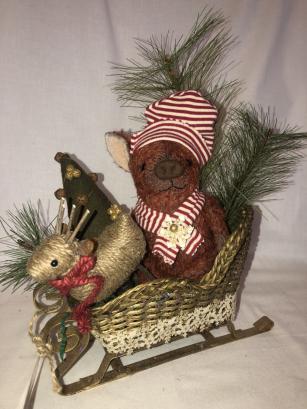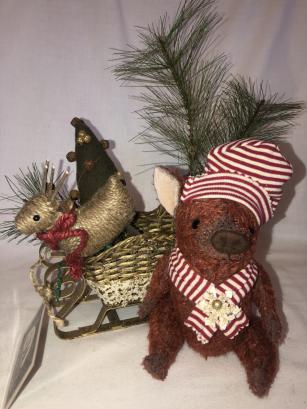 Garnet red pig is made of matted mohair , jointed arms and legs,German glass eyes and wears stripped hat and scarf. Reindeer companion and felt tree ride into town in a wicker sleigh. - $230
10" Coal Kitty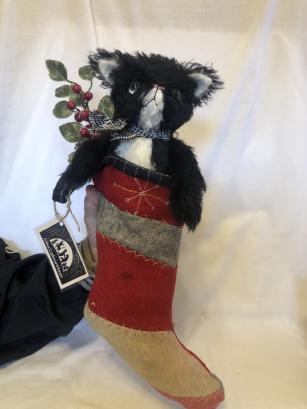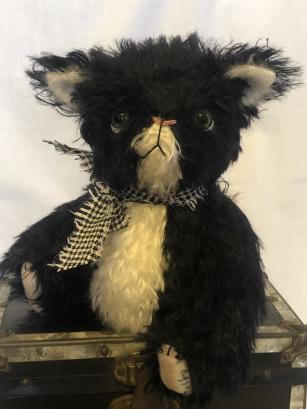 Tuxedo kitty is fully jointed with Green German Glass eyes and made of dense mohair and wired tail. He fits inside a stocking made of an old quilt with feather stitching and a small embroidered bird and bit of Holiday greens. - $235
Cuddly Pierre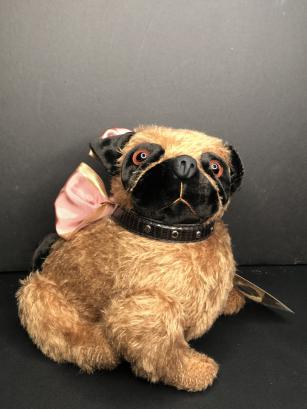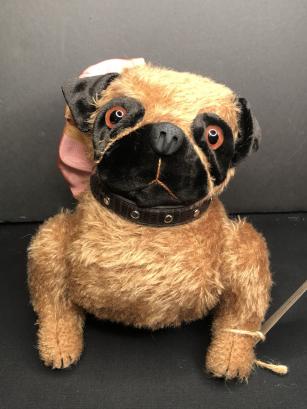 Arrives house broken and cat friendly. Made of tan mohair and old black velvet with bulging glass eyes and is fully jointed. Black studded collar and prissy bow!. - $255
12" Pink and Pudge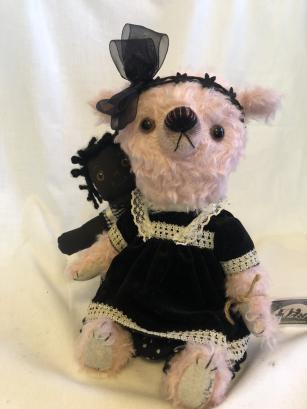 Pink bear wears black velveteen dress and black polka dot bloomers. Pudge is her black folk art doll in check dress and knobby hair. - $210
15" Roselee Cahill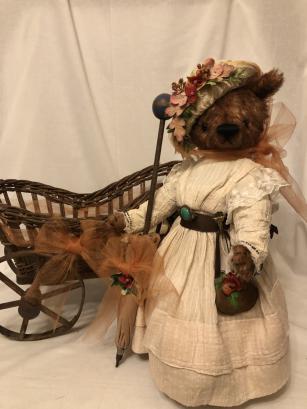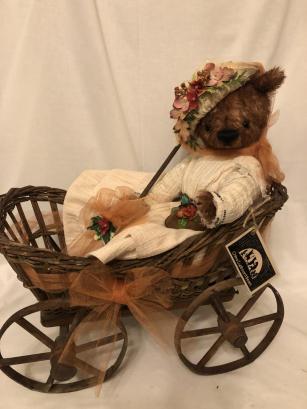 Seashell pink vintage dress was the inspiration for this lovely lady. Rust colored mohair bear is regal in her floral trimmed hat, parasol, and leather purse. Antique wooden carriage has large wheels and woven wicker sides. - $355
15" Roselee Cahill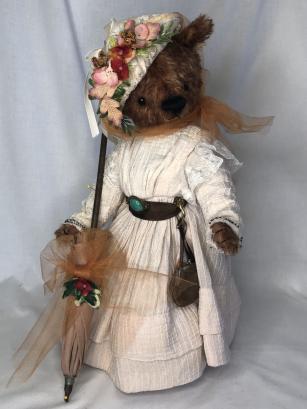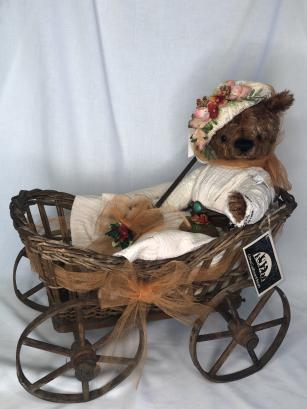 Seashell pink vintage dress high lights autumn mohair bear. Floral details on hat and parasol marry well with wooden goat cart. Brown belt is accented with old green buckle and chatelaine purse. - $345
13" Candy Corn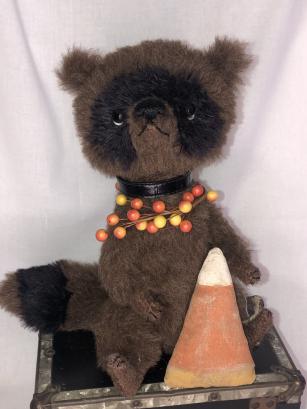 Brown and black alpaca raccoon carry's the biggest piece of candy. - $275
13" Raven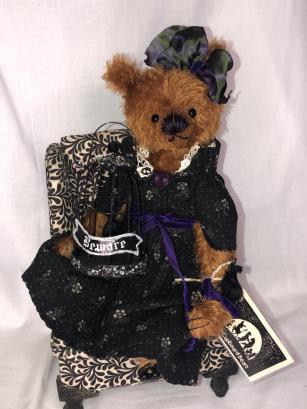 Rust mohair bear wears vintage black patterned dress with purple accents. Over stuffed chair has a secret hiding place, bird in cage friend. - $255
10" Lily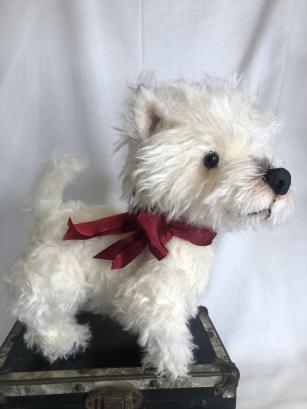 Made of three different lengths of creamy mohair Miss Lily always charms me with her wide button eyes , black nose and red bow accent. - $315
11" Sweet Pea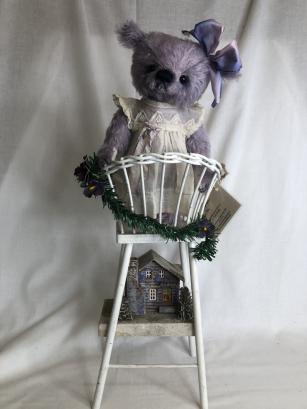 How sweet is this lavender bear posed with her petite white wicker chair and tiny holiday house in blues and lavenders? She wears a vintage voile dress trimmed in lace and lavender bow. - $245
9" Elliot and Edgar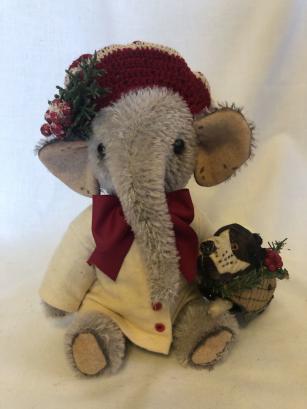 Grey elephant wears his holiday finest, cream coat with jaunty beret and bow. His little dog Edgar has seen better days but I've always loved his happy smile and little coat. - $195
12" Priscilla and Miles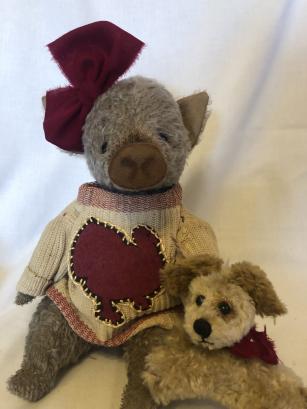 Grey mohair pig wears a Turkey sweater and a tummy full of good eats. Her little dog Miles wants some too. - $250
11" Peter and Paul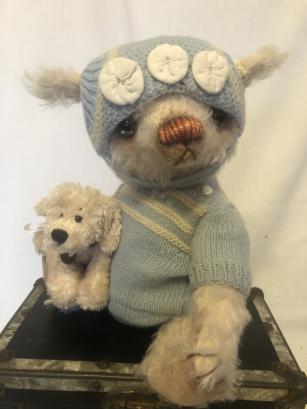 Ivory mohair bear wears finely knit sweater and matching hat. Bright brown eyes and caramel nose. His little dog is soft as can be with collar and bow. - $235
16" Winston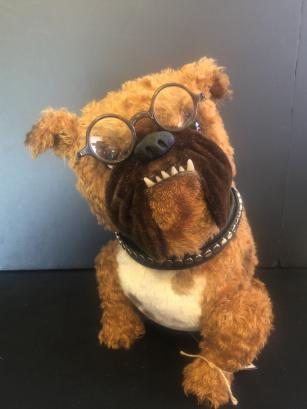 Rust, cream and brown mohair bull dog has sculpted nose and teeth. He wears vintage glasses reminiscent of his namesake. - $345
11" Benzo and Barney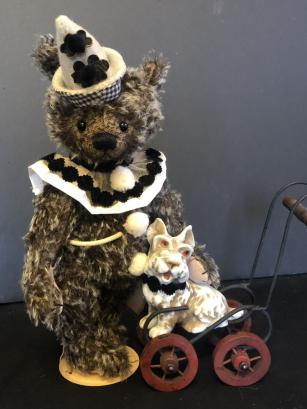 Tipped brown mohair bear wears ruff and hat and pushes his happy go lucky dog in stroller frame. - $245
6" Without tail Horton Hears an Elephant shrew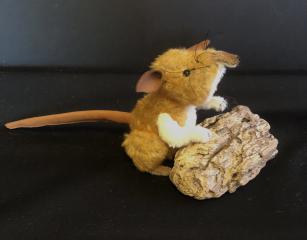 Elephant shrews are animals living in Africa with tiny proboscis for sniffing out food and big ears to hear predators. My version is made of mohair with leather ears and tail , fully jointed. - $175
3" Rosie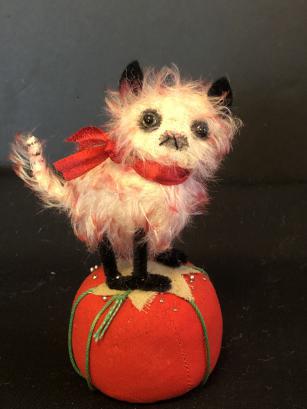 Mohair and felt with chenille legs Rosie is a precocious kitty on an old pin cushion. She pairs well with small bears and dolls. - $95
12" Mimi Le Blue
Blue mohair pig wears a fine vintage hat to coordinate with old coat. She carry's a handbag with hanky. - $265
8" Pig Partners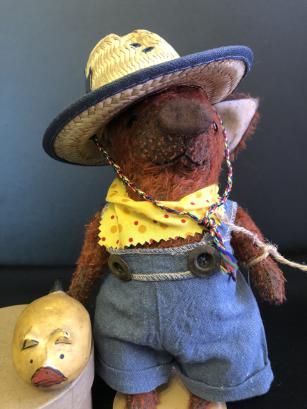 Red mohair pig and his little gold partner could be a fun rodeo. Dressed in vintage blue overalls with detailed straw hat and bandana. - $225
8" Sweet Pea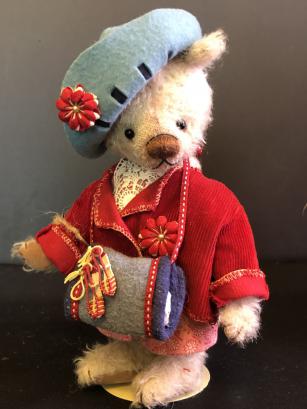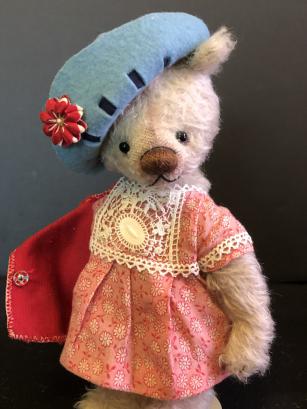 Cream mohair with pink tips on this little girl bear is a sweet combination with her pink floral dress, red jacket, blue felt hat and tiny muff. - $230