Buttonwood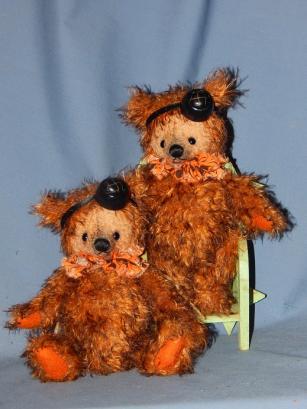 Rust and black tweed mohair bear wears a jaunty button hat 9" - $215
Billy Boy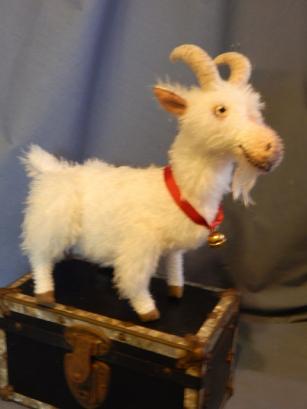 The Billy goat I've always wanted to make his inspiration comes from and old drawing I've had in the sewing room for years. Finally he comes to life! 9" tall - $235
Puddle and Pip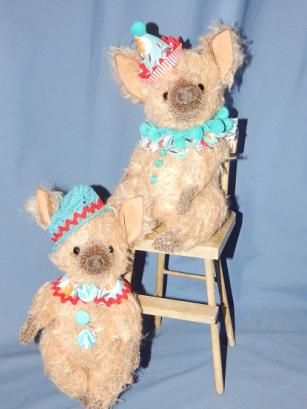 11" and 9" matted mohair pig buddies with turquoise and bright red trim. - $220 and $195
Amelia Sweinhart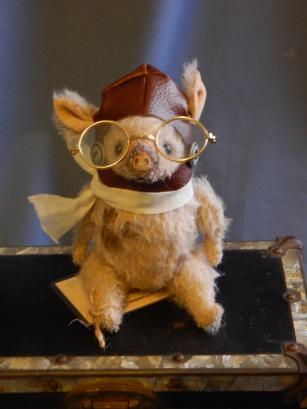 Look up in the sky! Its a bird, no its a.....6" - $195
Cup Cake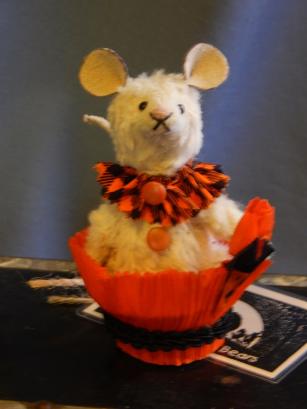 Cream mouse in vintage crepe paper cup with Plaid black and orange ruff and vintage buttons. - $165
Mouse Trap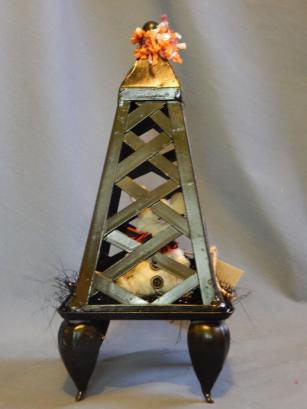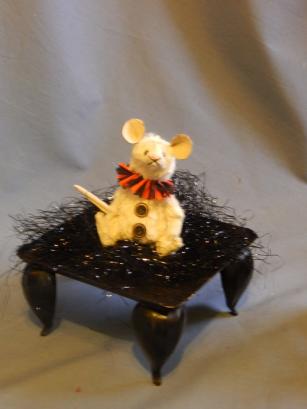 White 4 1/2" mouse is fully jointed and wired for pose ability. Black metal mouse trap. - $165
Brown Bat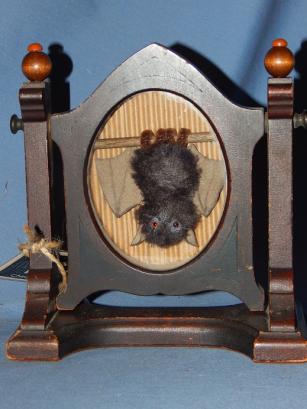 This 2 1/2" bat resides in a small glass picture frame. - $155
Me and Bobby McGee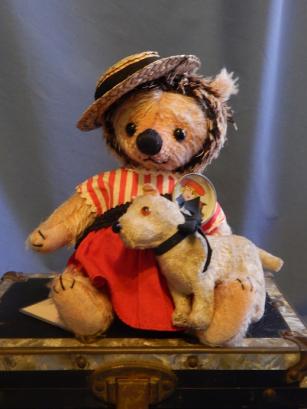 9" hedgehog wears red and white striped dress and jaunty straw hat. Her dog Bobby McGee, is vintage. - $235
Maura Jane and Biloxi Bob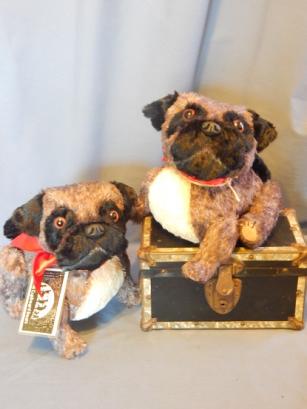 Pug siblings, stand 9"tall in dark grey with black details and bright red bows. - $245
Charlotte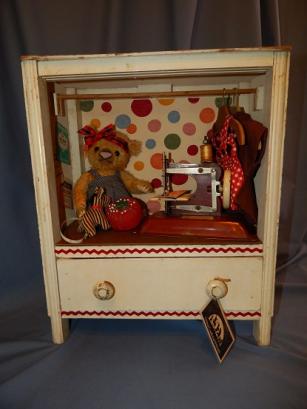 Charlotte and her Closet-oh what fun it is to play with all my sewing goods. 10" gold Charlotte reigns supreme in her old closet with polka dot back drop and wooden hangers of old clothes. Her little red vintage sewing machine whirls away the time sewing up a storm. Drawer with old spools of thread and tiny garments. Pin cushion and tape measure zebra. - $325
Party Animals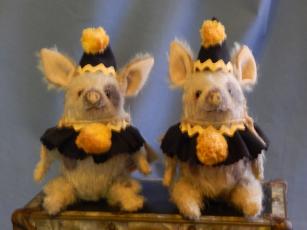 Two silly spotted pigs ready for Holiday parties. Jointed arms and legs , 6" - $185 (each)
Golly G. Bear 10"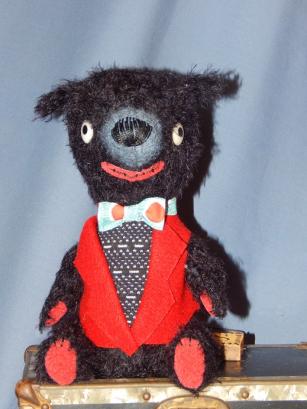 Has a smile to tickle your funny bone with side glancing googly eyes, red wool vest, knit undershirt, black mohair and jolly bow tie. - $220
Pitty Pat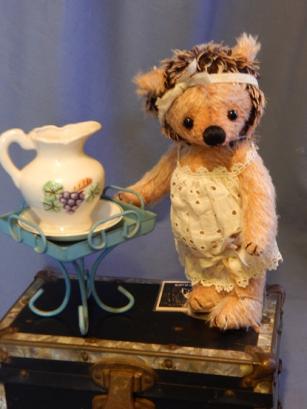 The 8" Hedgehog in old lace and ribbon with her wash bowl and pitcher on old stand. - $225
Petula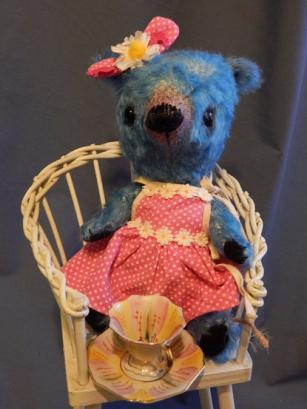 10" of a 1960's flashback . Bright blue bear wears hot pink polka dot dress and bow with daisy trim. - $220
Casket Ladies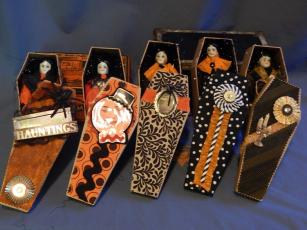 A fun dress up doll in holiday themes. - $55 (each)
Brownie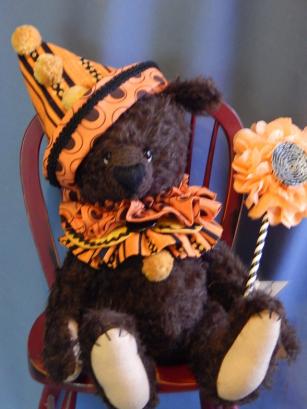 14"dark brown mohair bear has double ruff and harvest moon yellow collar with coordinating pointy hat. Tissue paper flower trim. - $235
12" Morning Glory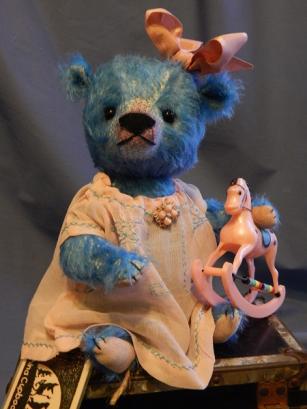 Baby blue mohair with white backing is my new teddy bear face. She is dressed in an antique pink dress with detailed embroidery and tiny shell pin. She holds an old rocking horse baby toy. - $245
BaaBaa Black Sheep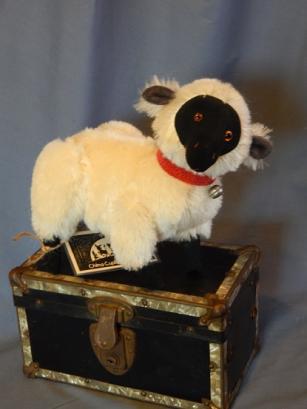 8" tall sheep in string mohair and black ultra suede with antique glass eyes. - $235
10" Louisa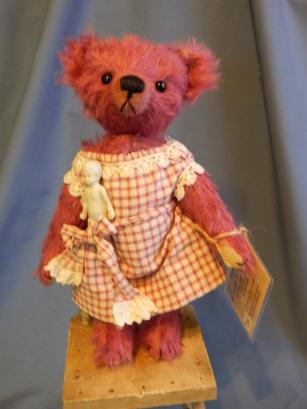 Mauve bear in Homespun plaid dress carries a vintage ceramic doll. - $235
10" Squirrel Nutkin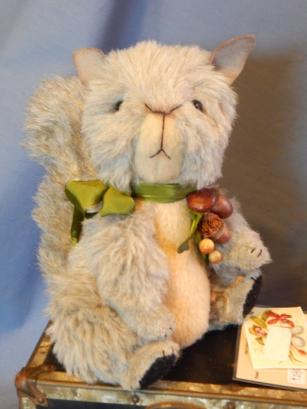 In dense grey alpacca with string mohair tail . Green velvet ribbon accents the cluster of nuts he has. - $235
Honey Lumps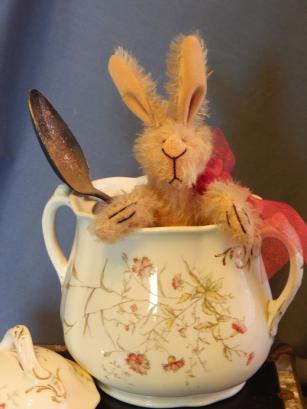 Is a tiny bunny, 6" tall without his ears and perches in a vintage sugar bowl he calls home with his spoon. - $200
Shadow box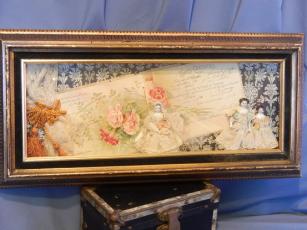 those of you that know of my love of China's will appreciate this shadow box of tiny antique China's in old lace dresses with a tiny Bride in the center. The backdrop is a lovely old turn of the century Bridal  registry printed in still vibrant inks. - $325
Tea Time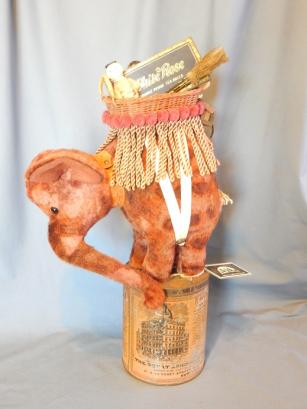 Is a standing ellie of vintage patterned mohair atop an antique tea tin. I continued the theme with wicker houda, tea tin and tea leaf pickers atop. - $265
Milton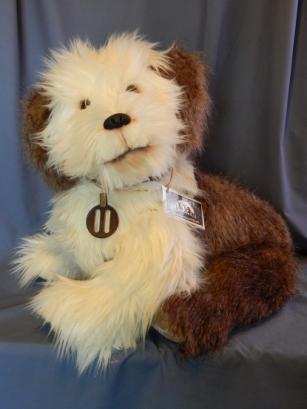 20" tall of real dog, fur and all. Leather collar and wooden medallion , melt your heart 20mm black glass eyes and the dopiest smile. Embroidered paw pads. - $375
Book Worm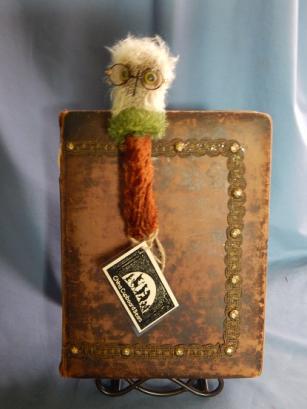 An antique leather bound album creates a home for this all knowing Bookish Worm. Wired to pose with jointed head . Metal display stand. - $155
8" Tantrum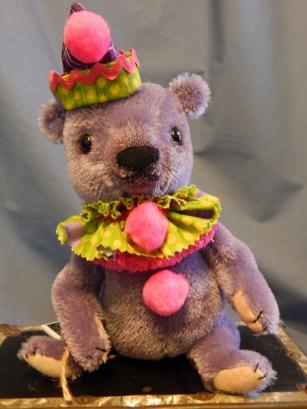 Lavender mohair bear with bright hot pink Pom poms, purple ruff and party hat. - $225
Little Hoot and Twig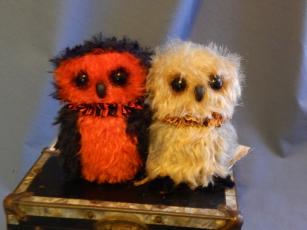 6" tall owls, jointed heads with big wide eyes and sculpted beaks. - $55 (each)
Cat on a Hot Tin Can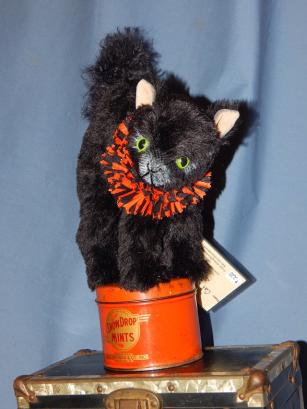 8" tall black mohair cat stands on vintage orange 3" tin. Stripped double ruff, green cat eyes jointed head only. - $220
Hannah Hippo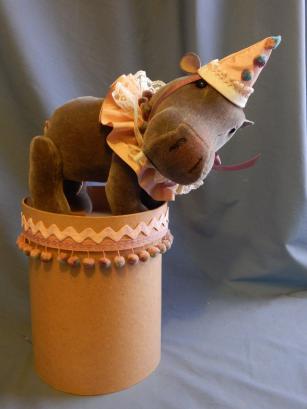 10" long, wears vintage pink taffeta and lace ruff and pointy hat. Perfect with her gray mohair body. - $245
Candy Corn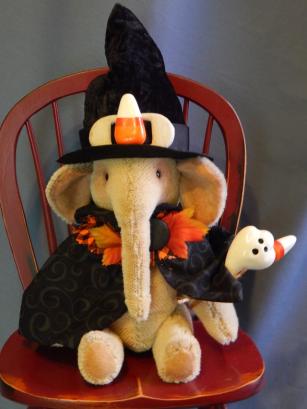 10" elephant with witchy cape and hat and plaid ruff with candy corn trim. - $220
Shortening Bread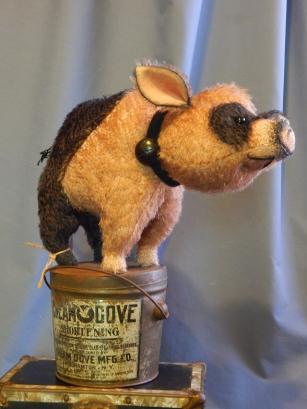 9" tall pig in black and tan mohair stands atop 6" old shortening tin. Black leather collar and button. Jointed head only. - $245
Little Ben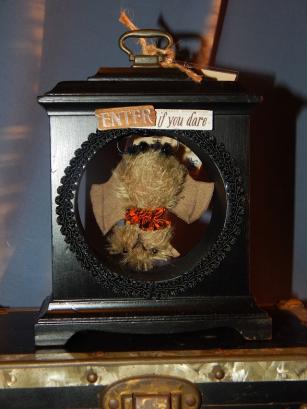 Another 2 1/2" bat in tan mohair with ultra suede wings hangs inside an old clock casing. - $145
There's Something Stuck Up In the Chimney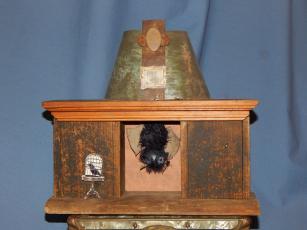 My smallest bat yet at 2 1/2" in an old fireplace. Black mohair and grey ultra suede wings. Tiny German glass eyes. - $145
Mouse Trap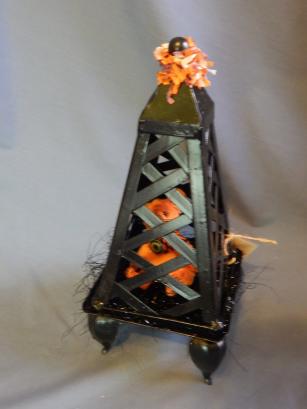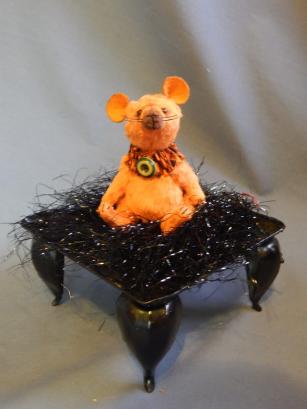 Is a tiny 4 1/2" orange mouse caught in his black metal trap. He wears a small black and orange ruff. - $165
5"Glint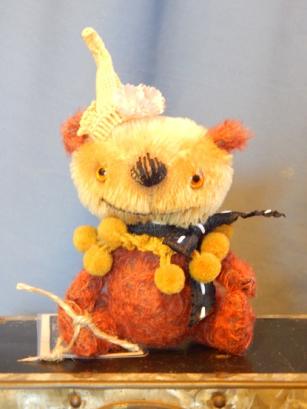 This little bear packs a lot into his few inches with mixed mohair and fun details. - $115
12" Irene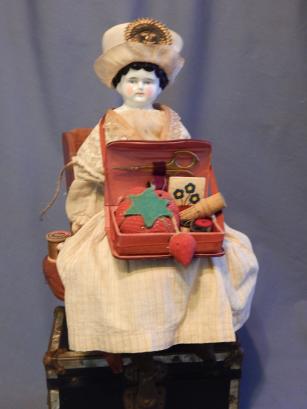 A sweet faced Low brown China sits in wooden rocker upholstered in brown fabric . She holds a sewing box of thread and wooden needle case and homey pin cushion. Dressed in clothing she was found in. - $110
What the Cluck?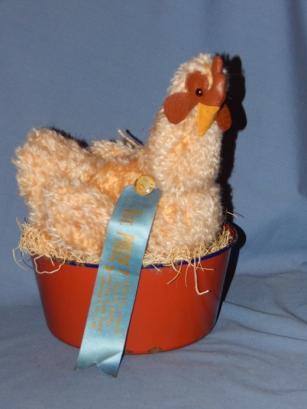 12" Nesting chicken in tan mohair with leather head details and antique glass eyes sits on terra-cotta tin. - $355
Bella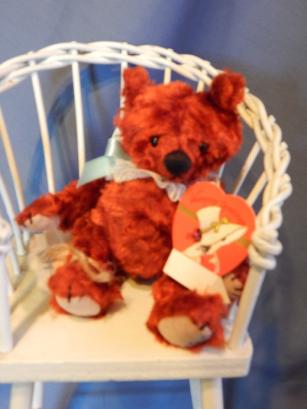 Red viscose bear with lace collar and tiny Valentine. - $155
Hamish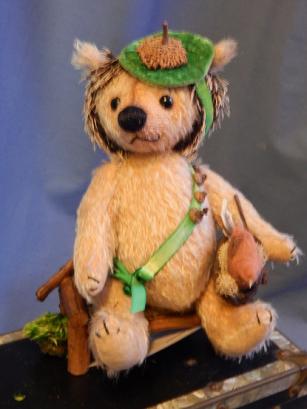 Brother to Pitty Pat is 8" also  ,made of prickly brown mohair and flesh mohair. He sits upon a bench with tiny antique Cotton German bird. - $225
Euphrata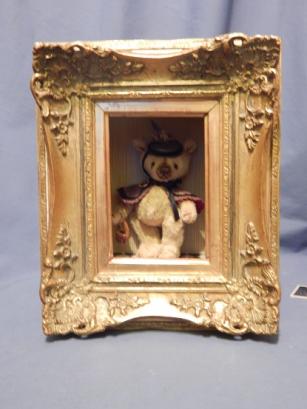 Is 5" of tiny honey bear in cape of antique fabric with watch detail and purse. Her hat is a bit of a Steam punk influence out of a metal lid with velvet ribbon and feather trim. The freestanding shadow box is an antique frame and is free standing. - $215
Pretty in Pink
Is a 13" brown bear with vintage pink dress , floral trimmed lace covered hat and woven purse and old chickie. - $235
Evaline and Ethyl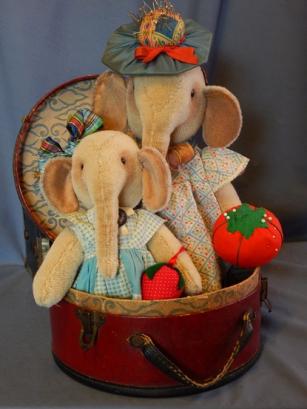 9" and 12"are tan mohair elephants in vintage clothes with old sewing trims. - $215, $230
La Donna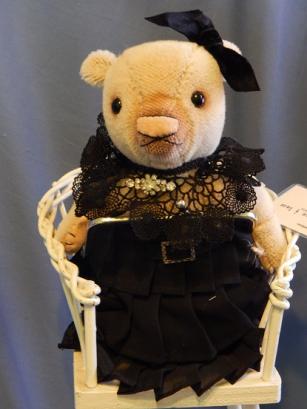 9" this tan alpaca bear contrasts nicely with the antique black lace details and her ruffled black antique purse. - $225
15" Betsy Ross Rabbit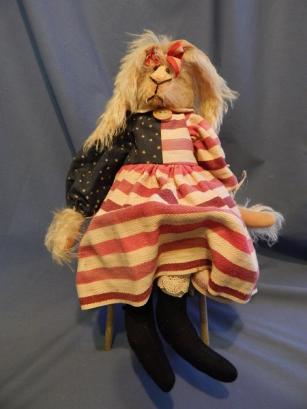 Mohair head and paws with fabric body and sewn on black boots. Lace trimmed drawers peek out under stripped patriotic dress. - $220
7" Merry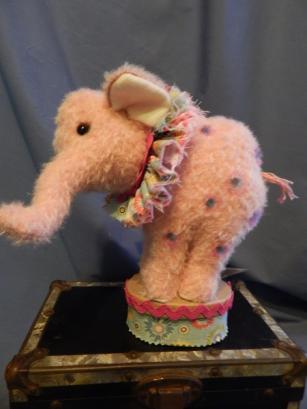 Soft pink polka dot elephant stands on fabric trimmed box that matches her ruff. - $215
12" Uncle Sam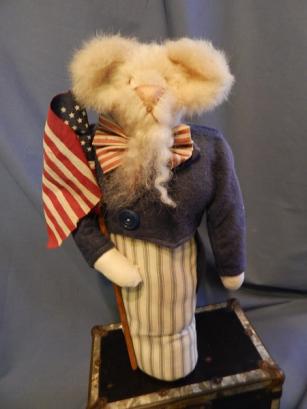 Fabric body of old pillow ticking is accented with navy flannel jacket. Mohair head with goatee and leather nose. Holds a flag. - $125
13" She's a Grand Ole Flag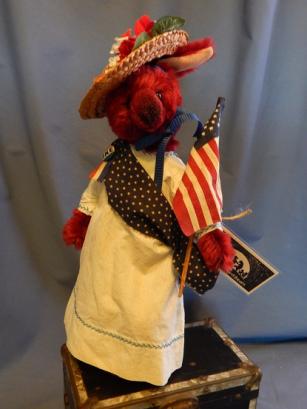 Red mohair rabbit in vintage dress holds a patriotic flag and red floral trimmed hat. - $235
Enola and Ellie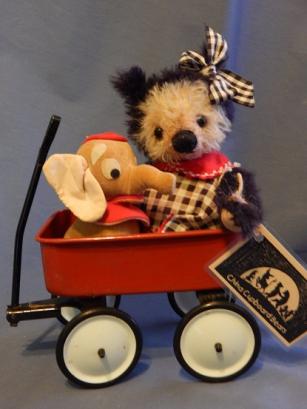 Riding along in their ole red wagon, black bear with vintage dress and her travel companion Ellie. - $245
Cleo and Clover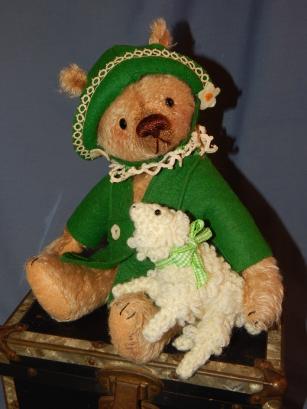 Adorable teddy bear in Kelly green felt coat and hat with floral details and ears peaking out. Clover is a knitted sheep and Cleo's companion. 11" of cute. - $225
Happy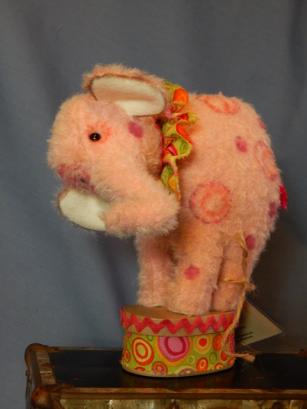 The pink ellie is a bright and happy pachyderm. - $215
CoCo Kitty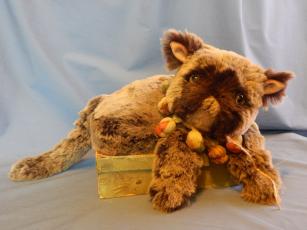 10" wide and meant to be petted . Made of the plushest Tissival with big glass eyes. - $245
Pippen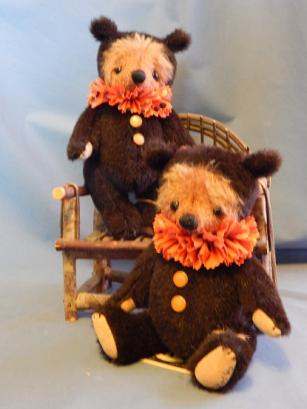 9" of darling bear with polka dot ruff and old orange buttons. A nice hand full. - $215
Hasenpfeffer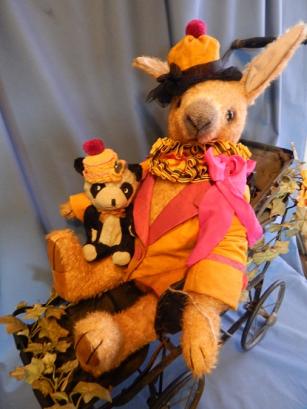 22" of bright gold rabbit in vintage gold and hot pink costume with hat and his squeaky panda friend Dumplin. - $425
Winston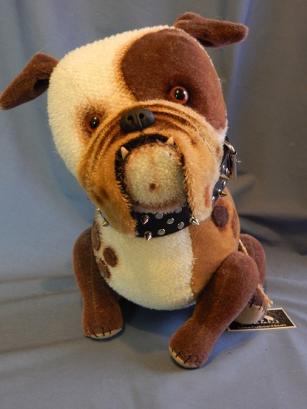 Tri colored Bulldog with protruding teeth and sculpted nose, wouldn't hurt a flea. House broken with all his shots. - $375
Bower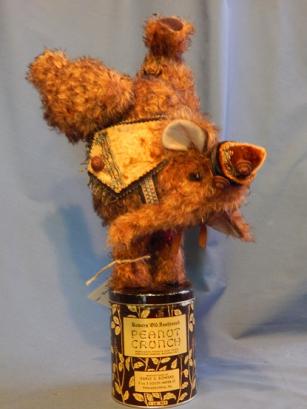 14" performing Elephant balances on two legs over old peanut tin. Gold saddle and hat. - $265
In your Easter Bonnet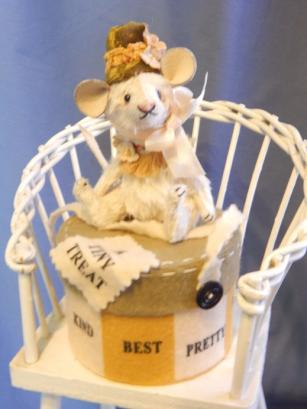 4" fully jointed and pose-able tiny mouse with her special hat and felt covered hat box. - $165
Hilda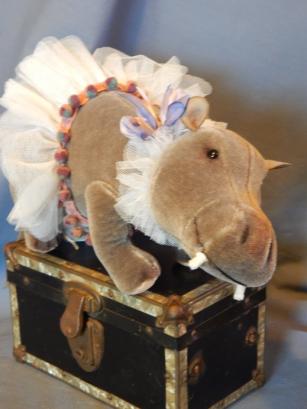 A delicate flower of a hippo in short grey mohair with net tutu and collar.12" long x 7" tall. - $245
Milton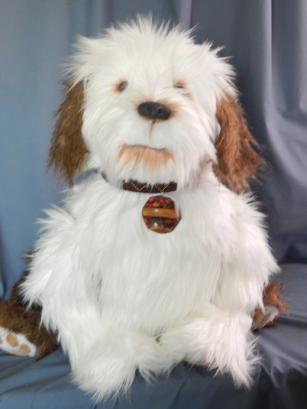 The big lug is a hairy Old English sheep dog in two colored furs, 24mm melt your heart eyes and pet carrier. Each pad has appliqued pads. - $375
The Dutchess Louise de la Valliere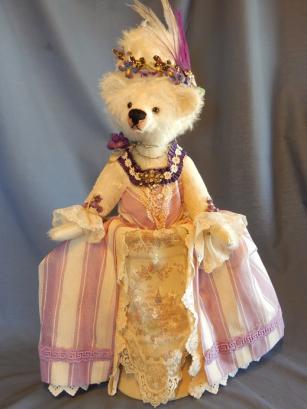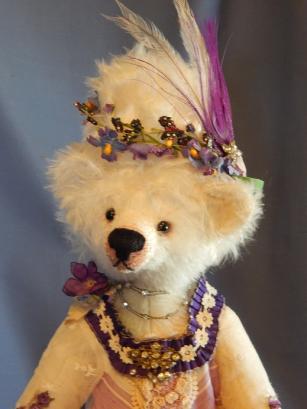 My interpretation of a grand dame, a mistress of King Louis, in period costuming of vintage fabrics and lace petticoats over a vintage transfer ware pottery. Complete to her beauty mark and hair style with jewels and floral trim. 22" tall. - $325
Giddy Up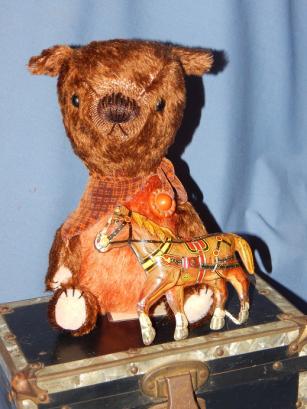 10" of anime Teddy Bear fun in warm brown and orange mohair wears checkered bandana and old button. His old tin horse rides along. - $220
Viola, Twig and Little Hoot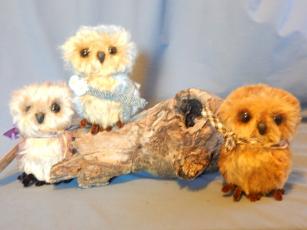 These little owls are only 6" of dense mohair and big eyes. - $55 each
Sweet Baby Rae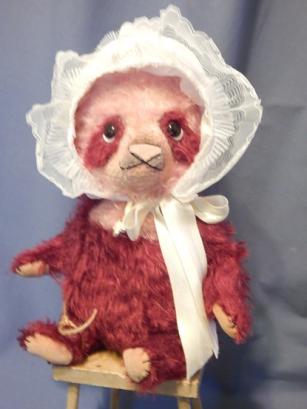 11" a new face and style for me worked up in deep rose and pale pink mohair with frilly baby bonnet. - $225
Bella Luna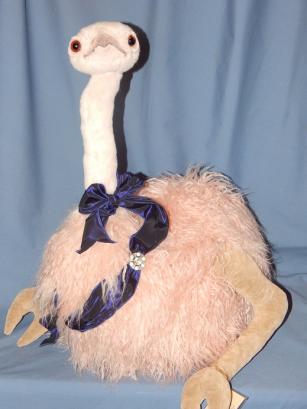 Soft antique pink alpaca and feathers with royal blue trim and rhinestones in an exotic ostrich. 22' tall. - $345
Mikey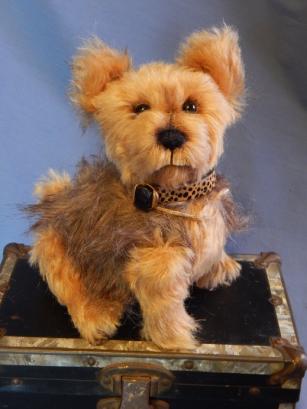 Is a tiny 8" bit of a Yorkie. - $200
Finnegan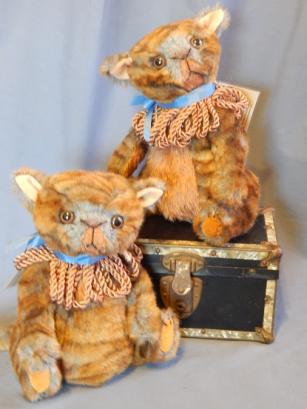 11" Scottish Fold kitty  with soulful eyes in grey and pale rust Tissaval and mohair. - $245
Mr. Peanuts Ride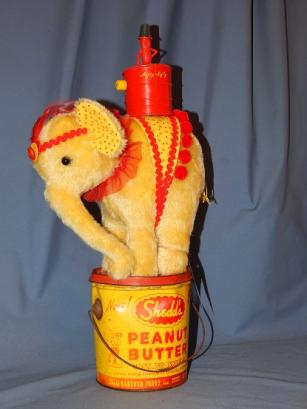 A yellow Ellie parades around with Mr. peanut waving from atop. 10" Ellie stands on a vintage peanut butter tin. Bright colors to think of spring. - $265
Calliope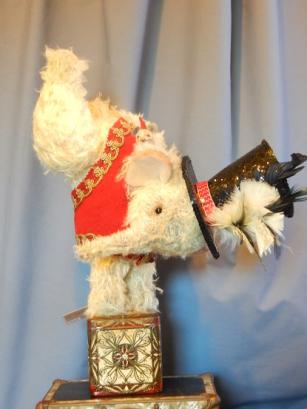 This elephant stands on a vintage tin on two legs in red wool jacket with old gold trim with grand plumed hat. His old Japanese mouse rides on his back. - $265
Hickory Dickory Dock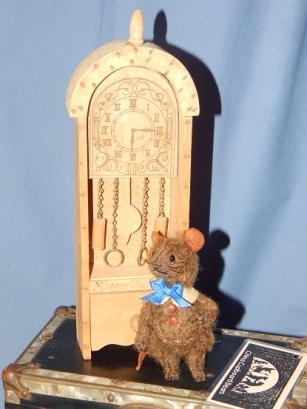 Is a tiny 4" dark brown mohair mouse with wired arms to bend and pose wears a tiny check collar and bright blue bow while he contemplates getting to the top of the vintage wooden clock. Ultra suede ears and tail. - $180
Circus Time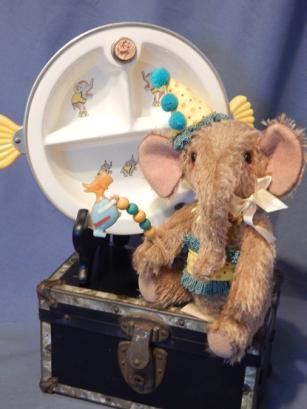 Tan elephant poses with her inspiration, a vintage baby plate decorated with circus elephants. She holds a silly duck toy. - $195
Emma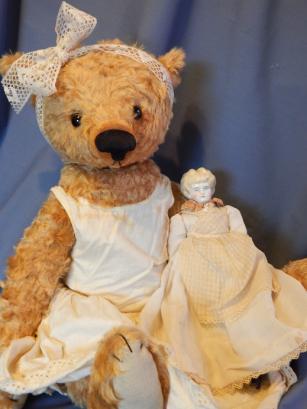 Is a soft honey mohair bear with vintage child's lace trimmed and tucked petticoat and her favorite doll. 25" tall, - $455
Edward the Emu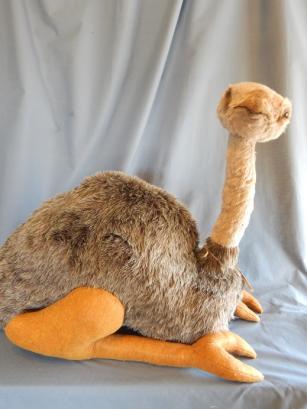 A dignified statement on this majestic bird. 22" tall. - $445
Spring Chick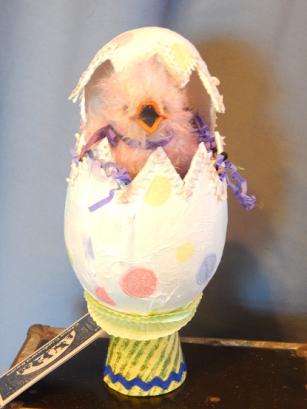 Is a tiny 4" mite in pale pink mohair with jointed head and wings and wire feet .He hides in his polka dot paper mache egg. - $95
Snowflake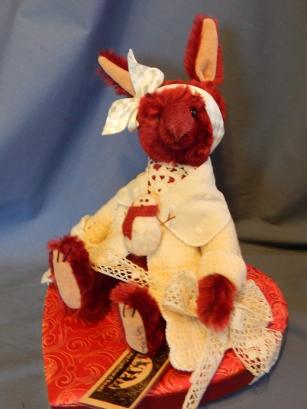 The red rabbit is cozy in old wool sweater and sits upon her heart shape red box. 11" - $235
Autumn Feast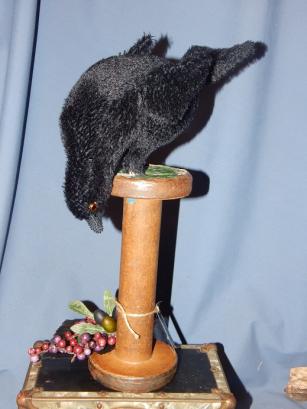 Black mohair winged crow leans down from an antique wooden spool to peck at the berries below. 15" tall. - $225
Violet the Rabbit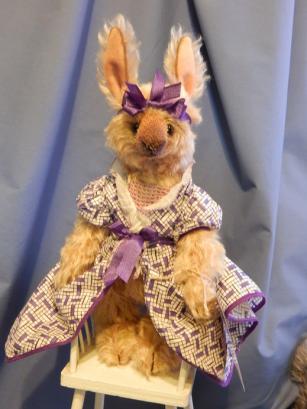 In honey mohair dressed in lavender check dress and old crochet.11" - $230
Baby New Year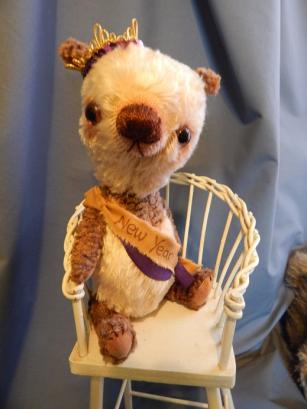 Is panda-fied in tan and brown mohair. Tiny crown and sash. - $215
Sewing Sue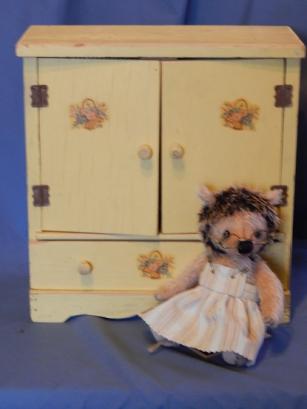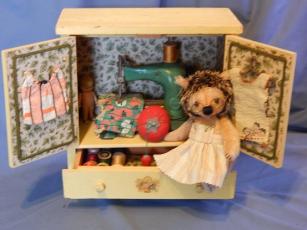 A hedgehog with a purpose in her sewing cupboard that includes an antique green sewing machine, tiny vintage dresses, bisque doll and pincushion with a drawer full of old spools of thread. - $315
Is it Spring Yet?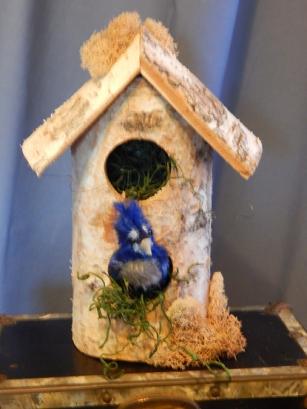 This teeny blue jay peeks out of his birchbark house waiting for spring unfold. - $95
Jade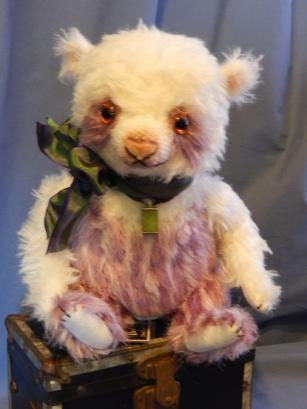 A new teddy bear panda in unusual colors of lavender and cream. Amber glass eyes and applied nose. 15" - $265
Gwen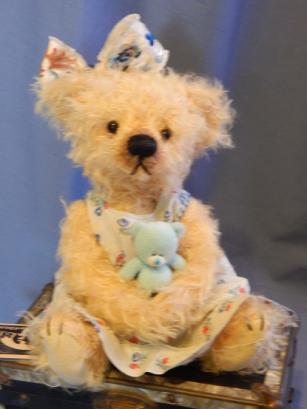 13" gold teddy wears a vintage pale blue dress with blanket stitched embroidery and hugs her little blue teddy. - $235
Spring Chick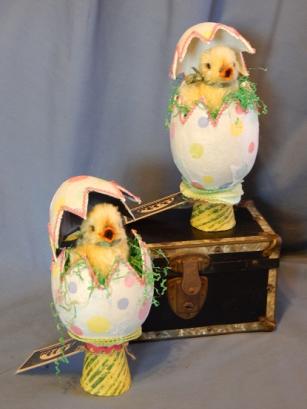 3 1/2" pale mohair chicks hatch out of polka dot  mache eggs. - $95
Peppermint Patty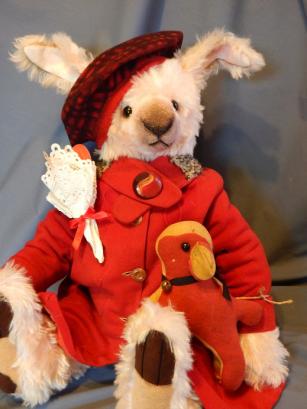 This rabbit says Happy Valentine's Day in a bright vintage red wool coat and tam over long pink mohair. Complete with Lacey Valentine Corsage and toy dog. - $425
Purple Rain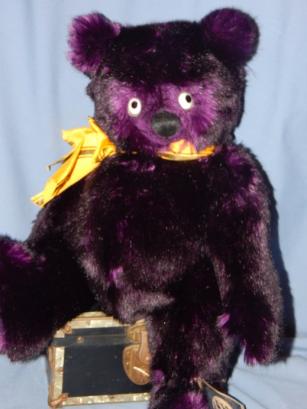 24" of the softest plush. - $255
Bow Wow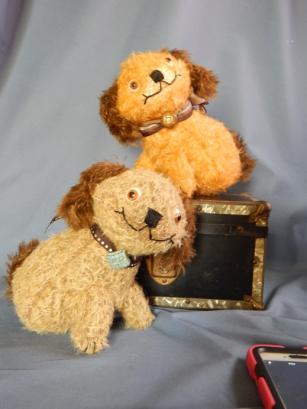 8" tall mohair dogs with googly eyes. - $220
Pig Witch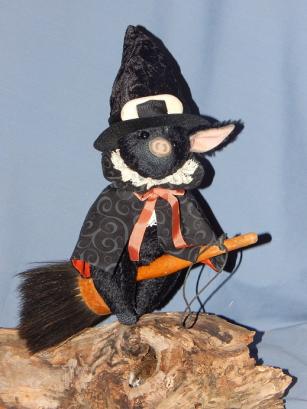 9" black mohair pig rides into Halloween on a vintage wooden broom with horse hair bristles, mounted on a knob of wood. - $245
Tweed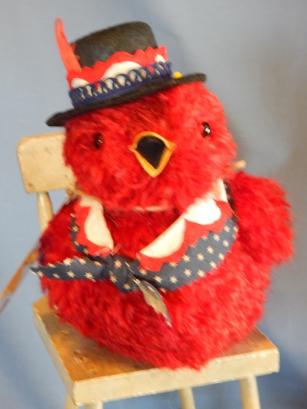 7" bright red mohair chick with a Patriotic flair complete with black top hat. - $155
24" Emma Abigail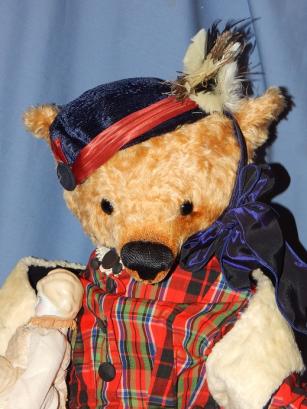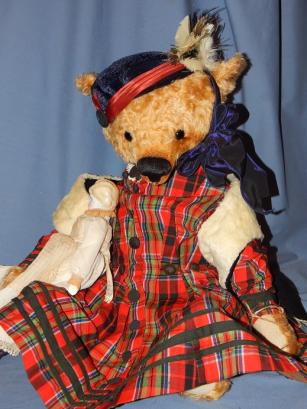 All old gold mohair little girl is frocked in Civil War era child's dress with draw string neck petticoat underneath and saucy plumed hat. Old fur wrap and antique China Head doll accompany her. - $575
Winter Fest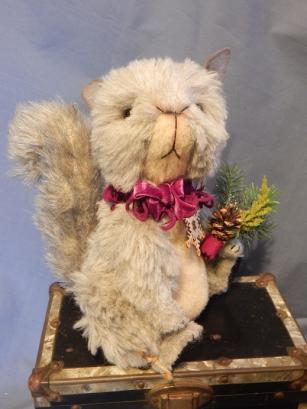 10" of grey alpaca and mohair with holiday trim. - $255
Holiday Joy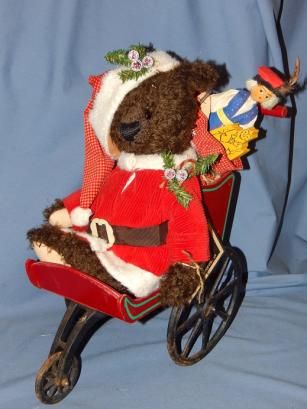 Comes to town in his red wooden wheeled cart with pack full of Christmas toys. 13" brown bear wears red belted jacket and fur trimmed hat. - $295
8" Tan Rat #31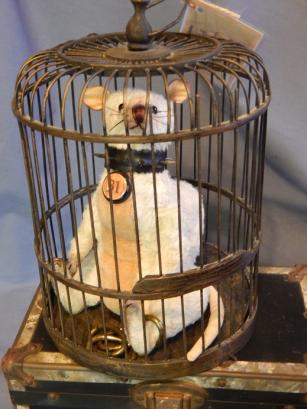 Chained inside a black wooden cage. - $225
The Little Colonel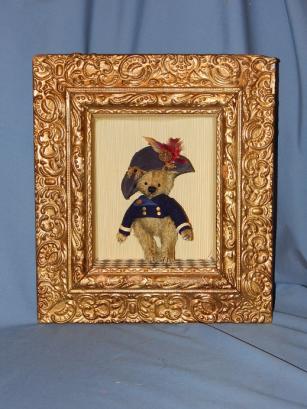 This tiny 7" fellow in tan mohair parades in a shadowbox with vintage frame. - $175
Sam and Ella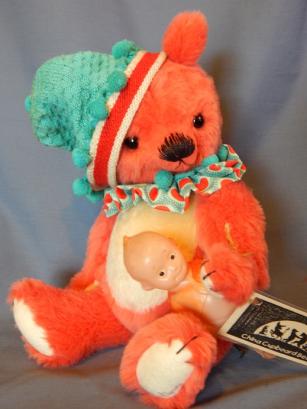 Is a bear of soft salmon color with contrasting belly and turquoise knit hat. Celluloid toy doll. 13" - $245
Rupert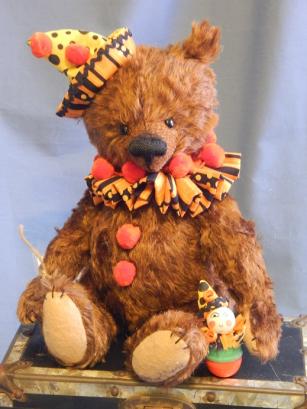 Is a brown mohair bear with orange print ruff and hat and roly poly friend. - $225
14" Black Bart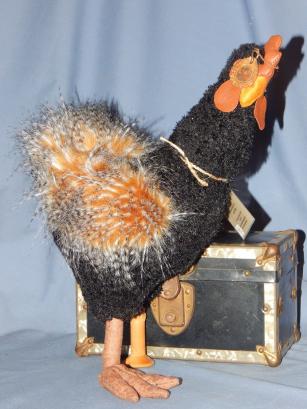 Chickens are new for me this year and Bart is the toughest of them all with metal eye patch and peg leg. You don't eat a chicken like him all at once! Black body and feathered wings and tail. - $325
12" Garbage Can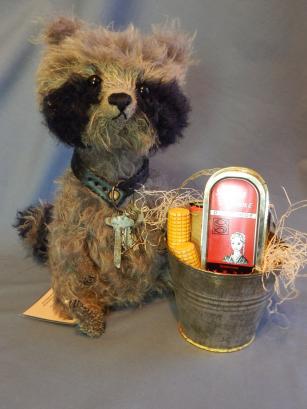 Named for a raccoon we had as a pet this rascals comes with his own can and pilfering. - $230
14" Foxy Loxy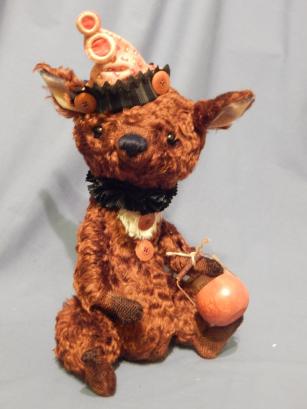 Red brown mohair with black ruff ,matching hat and gourd pumpkin. - $255
Whee!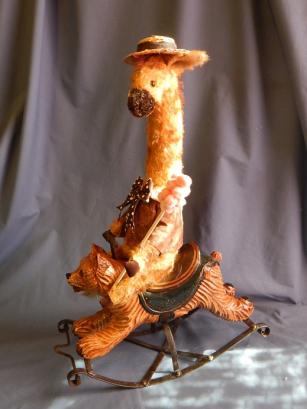 16" giraffe on rocking resin bear with his cotton candy. - $245
Send in the Clowns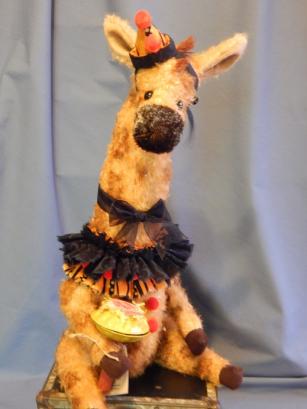 What bigger clown then this 22" giraffe, complete with ruff , hat and vintage noise maker. - $305
Herkimer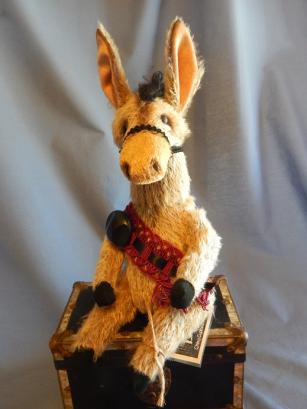 Is 15" of donkey with halter ,sash and button trim. No political statement here! - $245
Nutkin Grey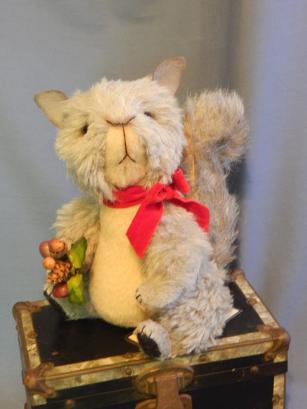 Alpaca and mohair grey squirrel is wondering if spring really is here! 11" - $245