Jay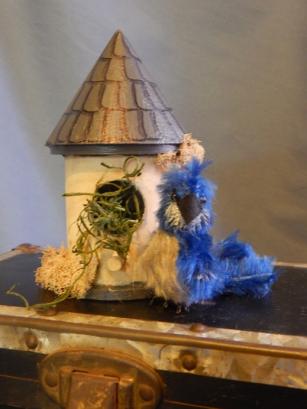 2" tall stone and royal blue mohair bird , with tiny wire feet and glass eyes. Small wooden bird house is his home. - $95
8" Market Pig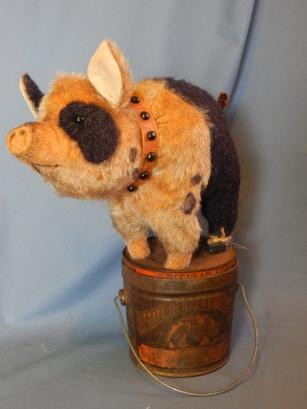 Stands on 5" old Rendered Lard tin. Spotted Pig is black and peach mohair. Leather collar with shoe button trim. - $265
11" Bunny Momma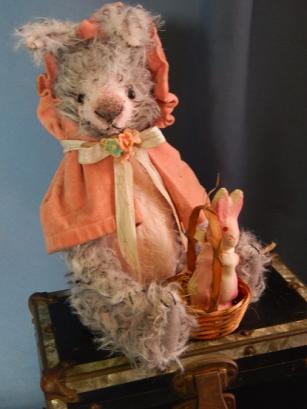 Tweedy pink and black mohair bunny with pale pink belly wears a hooded cape of vintage soft pink fabric and carries a small wicker basket with vintage pink mache rabbit. - $235
Bat in the Belfry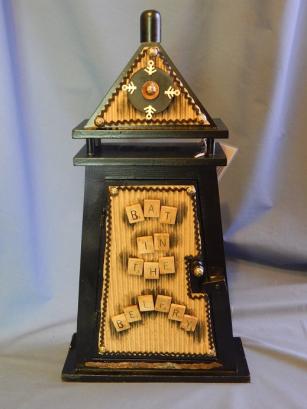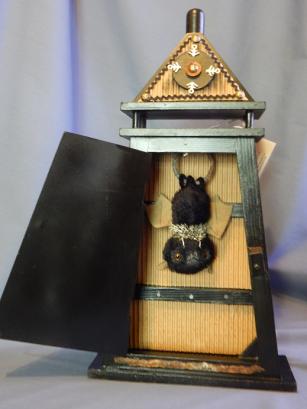 This 6" mohair bat with ultra suede wings resides in his own clock tower. - $225
7" Annameika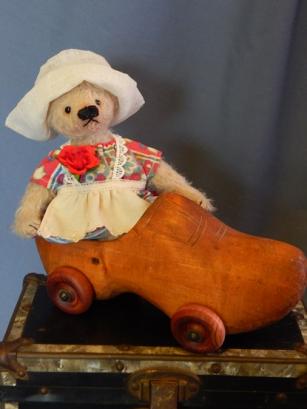 A tiny Dutch girl In a wheeled wooden shoe. - $230
Peckish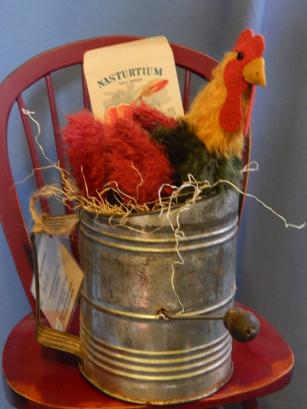 Red, yellow and green 5" chicken nests in this old flour sifter. - $115
Clementine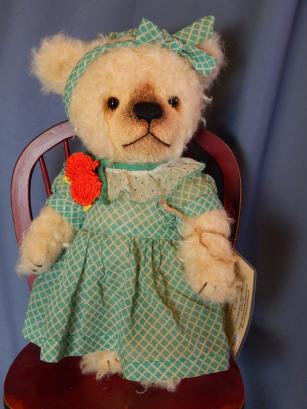 Ivory curly mohair, this chunky child bear wears a vintage green dress with a pop of orange corsage. - $250
Lulu and Muffin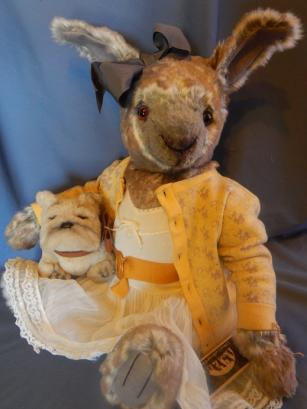 22" grey tipped rabbit in the softest of Tissavels wears old lace slip and patterned sweater. She carries her little grey dog. - $455
Wolf Man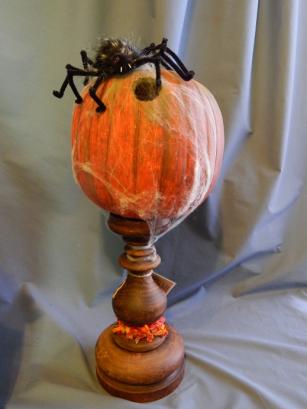 20" pumpkin on vintage wooden stand has a resident spider made of spotted Tissaval and chenille stems. - $125
Princess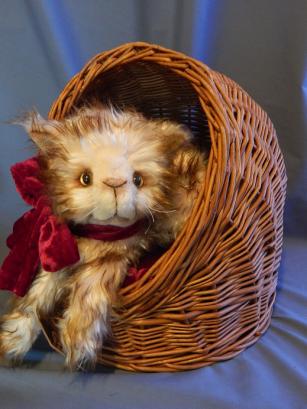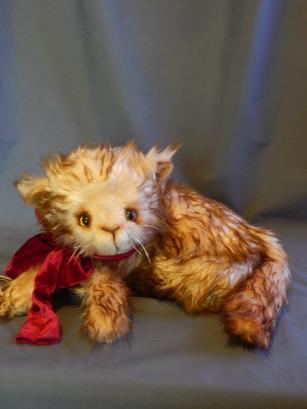 This sweetie is made of thick dense Tissaval so soft she needs to be petted. She is filled with pellets and weighed like a real kitty . Rose velveteen bow and pillow inside her basket. Vintage kitty basket is her home. - $285 (w/ Basket), $255 w/o
Tutu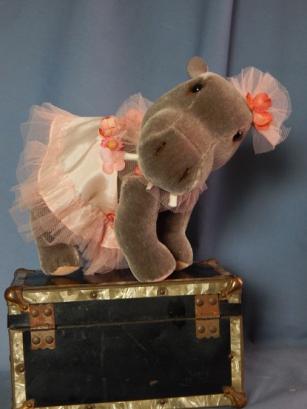 Is a 9" tall hippo with toothy grin and vintage pink costume of taffeta and net with complimenting Floral trim. - $245
14" Dolly Bear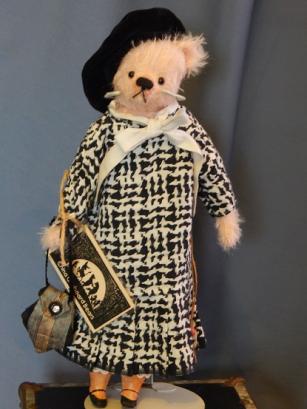 Mohair head and arms mounted to a carton doll body with working pull cord squeaker . Dressed in vintage dress, drawers and hat with compo legs. For that doll /bear collector. - $165
7" Flora Dora's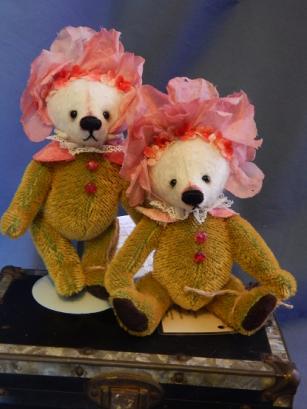 Were just for fun, springy bears. Tiny button accents their belly's. - $215
5" Spring Blue Bird (left), 5" Nemo (right)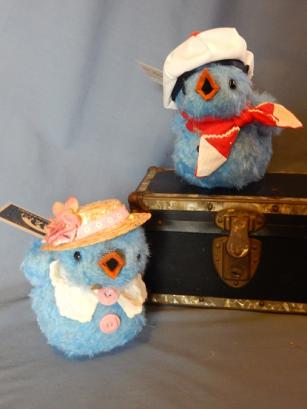 Spring Blue Bird, sky blue mohair and leather beak wears lace collar, button detail and straw hat. Nemo, sky blue mohair and leather beak wears Nautical beret and jaunty red collar. - $95
9" Miss Beatrice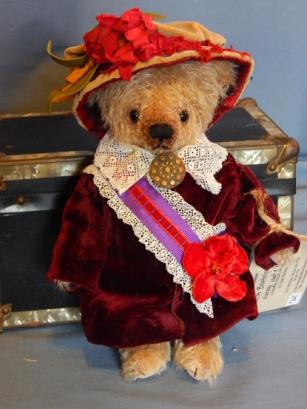 Light honey mohair bear in cranberry velvet old coat. Lace collar and sash with ribbon detail. - $235
Timmy Blue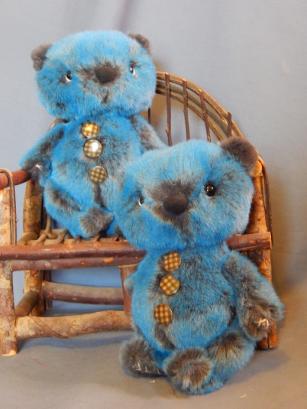 6" sweet teddy made of soft turquoise viscous with old plaid buttons and cross stitch details on paws and feet. - $145
8" Street Rat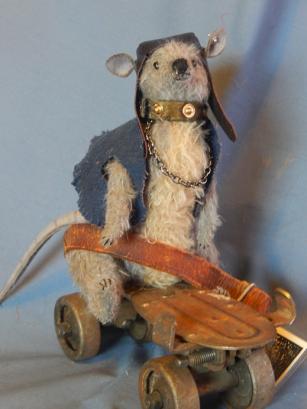 Grey and cream rat rides down the hard road on his dinged up skate. Pierced with studs and hoops, he wears leather helmet, denim vest and studded dog collar. - $235
Talullah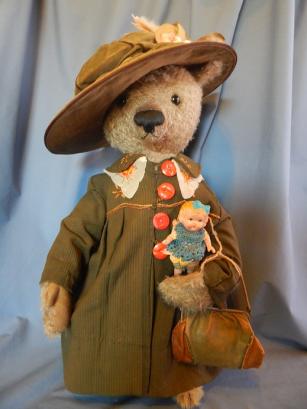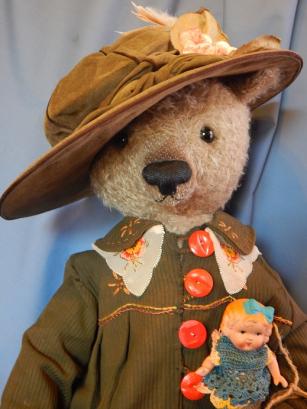 25" tall bear made of taupe mohair is dressed in vintage Loden green coat and velveteen hat. Fully jointed with wired armature in her hands and arms . She carries a leather purse and old bisque doll. - $525
8" Buttonwood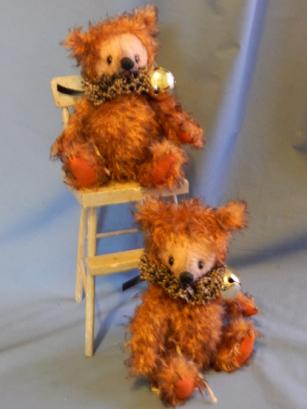 Burnt orange tipped mohair with black check ruff and brass bell. - $215
18" Morning Glory and Pip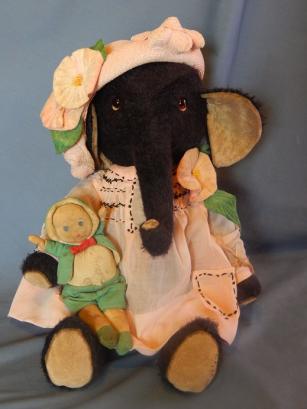 Black mohair elephant wears vintage pink smocked dress and hat with old velveteen morning glory and 1930's doll. - $325
11" Spring Anne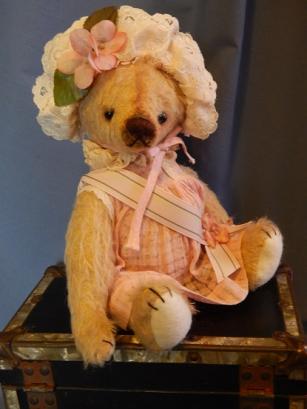 Butter yellow mohair teddy bear and wears pale pink dress and bonnet trimmed in old lace and ribbon trim. - $255
11" Sprout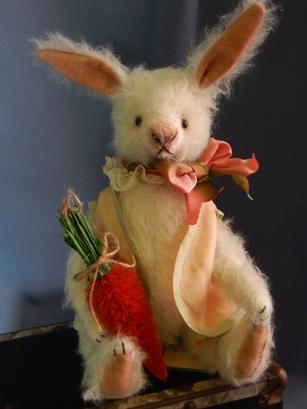 Pale green tipped mohair bunny wears a pale yellow silk vest with lime trim and carries a bright orange carrot. - $235
Ta Da!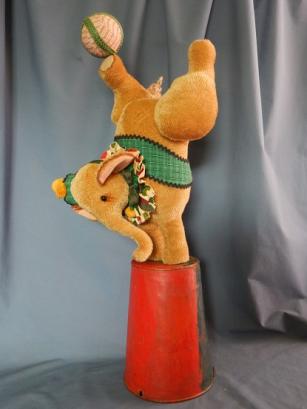 16" elephant stands on 9" tall vintage can in chippy red and green paint. The stop light colors are accented with the warm honey gold mohair. She balances on her front two legs while back legs and head rotate to help her balance the ball on her foot. - $265
7" Stutz Bear Cat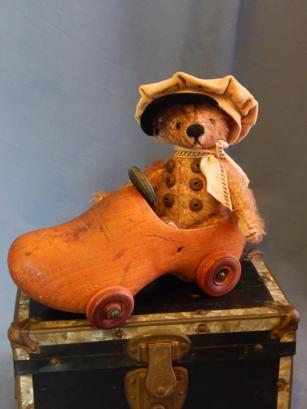 1920s details in his wooden shoe car. - $230
13" Penny the Pig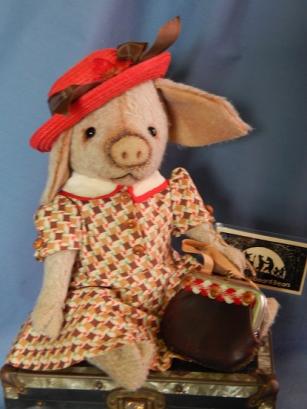 Stone mohair piggie with bifurcated feet wears a wonderful old patterned dress and straw hat. - $255
Pocatella and Pal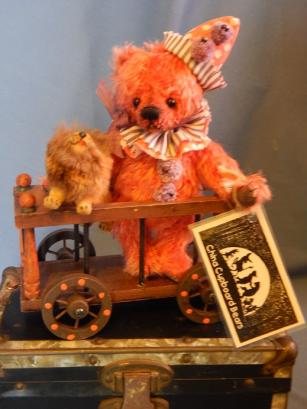 Burnt orange bear wears stripped lavender collar and hat with pom pom trim. She rides in an old wooden circus wagon with vintage German Lion. - $215
9" Polly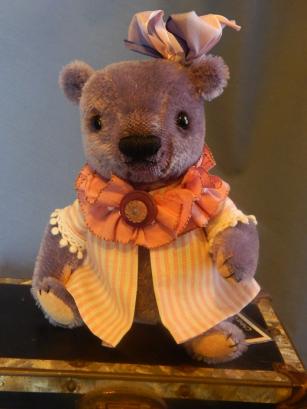 Lavender bear in pink stripped jacket and ruffled collar. - $210
21" Baxter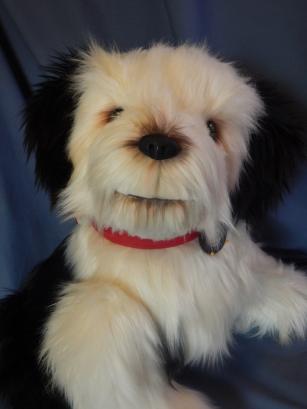 Black and cream English sheep dog with happy grin and red collar. Detailed paw pads. - $425
12" Rosa Maude, 15" Lark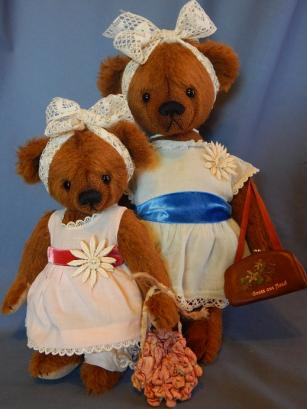 Lark, Is a chocolate brown center seam bear , who's color compliments her old pale blue organdy dress over a lace trimmed petticoat. Vintage embossed purse,lace details and velveteen sash. Rosa Maude, the sister bear to Lark in vintage soft pink, lace trimmed combination with velveteen sash. She carries a ribbon trimmed leather purse. - $245
Quasimodo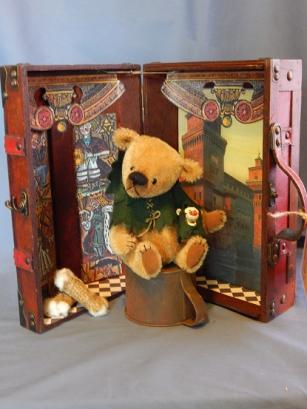 What hump? 8" tall with Medieval display case. - $255
5" Tall Spring Chicks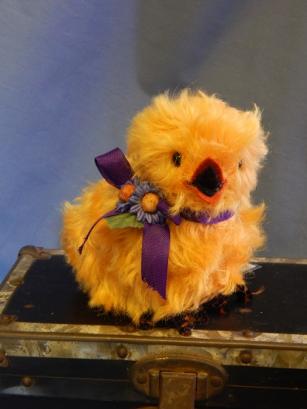 Vibrant yellow gold mohair with orange beaks and tiny feet. - $65
12" Mrs. Penroy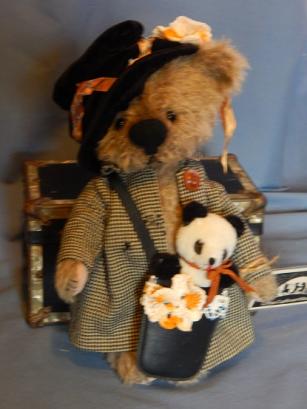 Tan mohair bear with old check coat and vintage velveteen hat holds her tiny panda in her purse. - $255
12" Faith Ann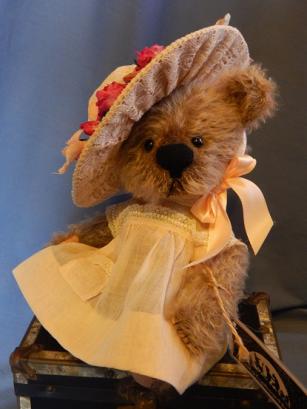 Tan mohair teddy with soft pale pink cotton dress with lace trim and floral trimmed lace hat. - $255
Pink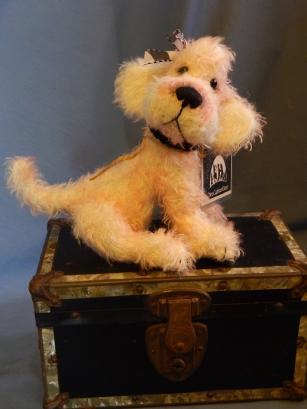 Sweet 7" puppy in pink tipped and cream mohair. - $195
Swifty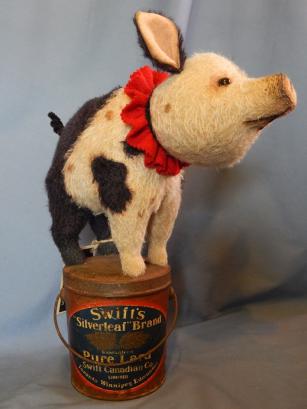 10" tall b-i colored pig on antique Lard Tin. - $265
Anastasia 13"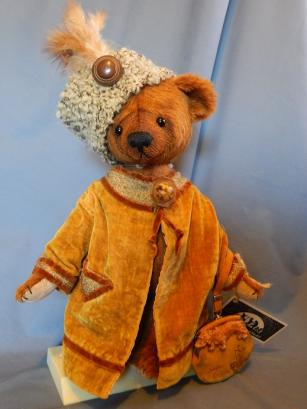 Regal bear made of milk chocolate mohair wears vintage gold velveteen coat with detailed collar and cuffs and Celluloid button. Vintage Fur hat is trimmed with old button and feather detail while she carries a leather souvenir purse with dachshund detail. - $265
22" Lovey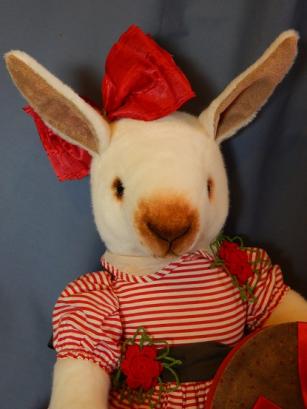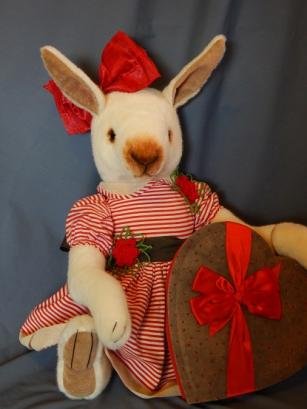 White rabbit with deep eyes wears old red and white stripped dress with voile hem and collar. Charcoal grey sash with crochet rose trim and deep grey vintage heart shaped candy box. - $425
Armand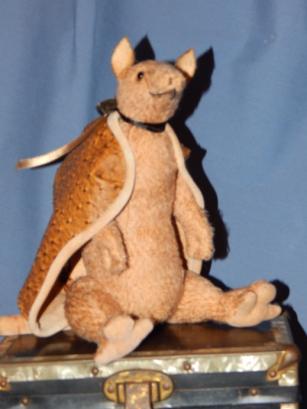 Complete with leathery shell, this Armadillo is quite unique. - $225
11" Addie Ann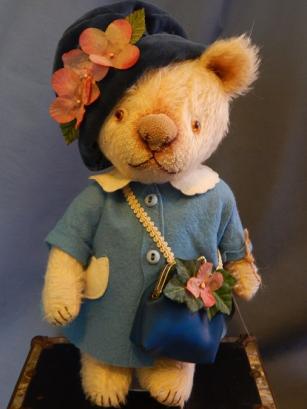 A new innocent face for me with chubby arms and legs. She is dressed in a sweet blue vintage felt coat with blue velveteen hat and old purse. - $255
6" Jake the Rake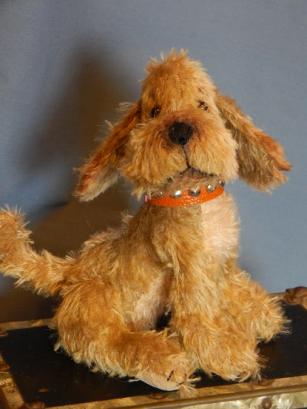 Tan hound with mohair collar. - $165
Pigalino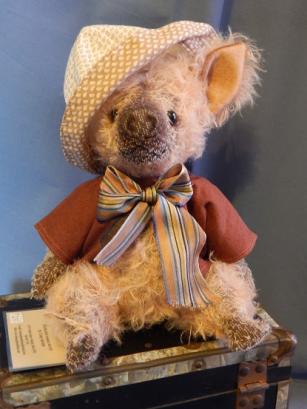 11" tan mohair pig wears a brown linen jacket with jaunty bow tie and patterned hat. - $235
11" Lovey and Lucky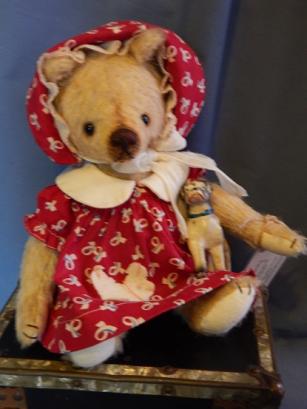 Butter yellow mohair bear wears cranberry red patterned dress and matching hat with felt dog embroidered on skirt. Lucky is the vintage black and cream doggie friend. - $255
29" Beau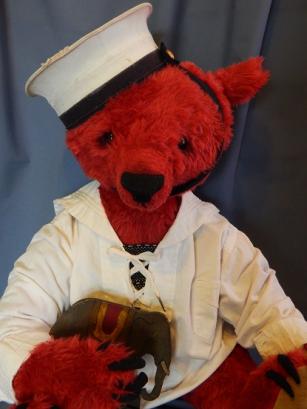 Red bear with bold black claws in vintage sailor top and French navy beret, isn't too fierce cradling his vintage wooden elephant toy. - $475
9" Rupbert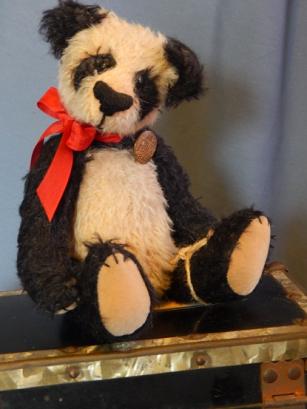 Black and stone panda with old metal button and red bow. - $215
Pork Chop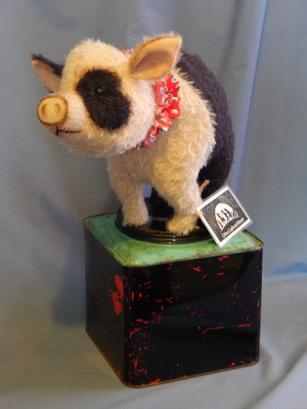 9" tall pig on 7" tall old tin. Tin is chippy colors of black, red and soft green, while pig is black and stone with ruff of red and polka dots. - $265
Hamish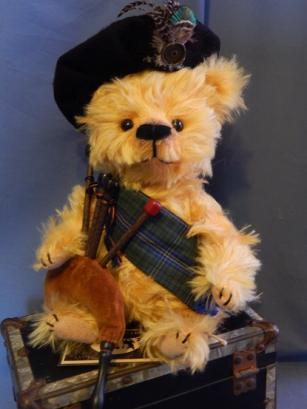 Dense wavy mohair bear with plaid of dark blues and greens with felt bonnet and detailed bagpipes. - $245
Marshmallow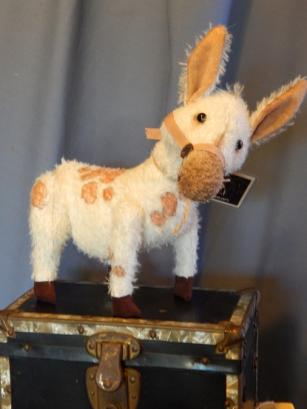 I had never seen a white donkey until a drive through Pennsylvania and knew I had to make one.8" tall  with nice details of jaw and rounded belly. See his brother Apache. - $235
Sassafras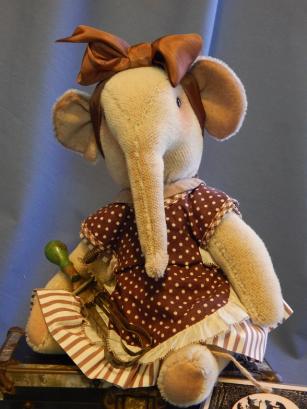 13" of tan mohair elephant is adorable in vintage stripped dress and old polka dot apron. She holds old beaters ready to whip up cookies in the kitchen. - $235
Spider Woman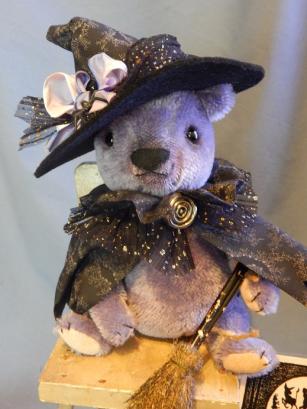 9" lavender bear wears hat and cape. - $220
10" Scaramouch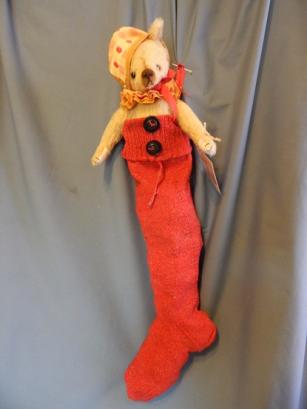 Soft ivory colored mohair teddy bear in old red stocking with hat and ruff. - $255
Call Me Al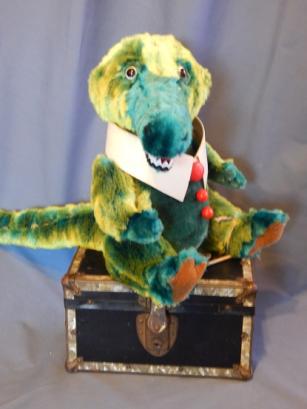 A tribute to my up coming Florida shows in green mohair and plush this alligator features a vintage collar and red buttons. 14" - $245
8" Oh, I want a Hippopotamus for Christmas!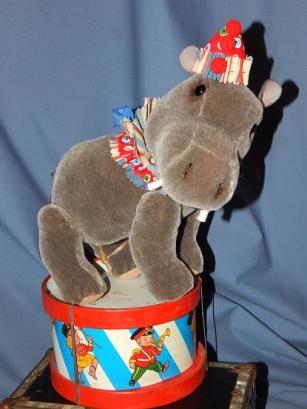 This toothy hippo stands on an old tin drum. - $245
12" Holiday Ride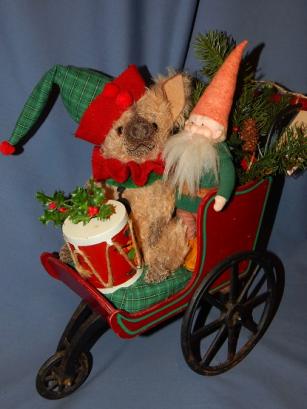 Pig and smaller Gnome looking for mischief. In 3 wheeled vehicle with tin drum. - $275
Miss FiFi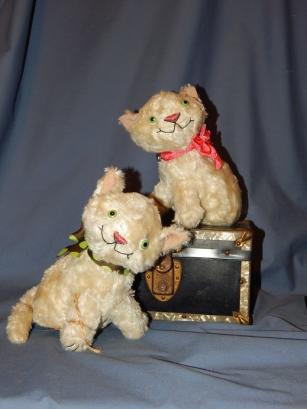 8" tall purrfect kitties in vintage viscose with googly eyes. - $220
The Pig and the Whistle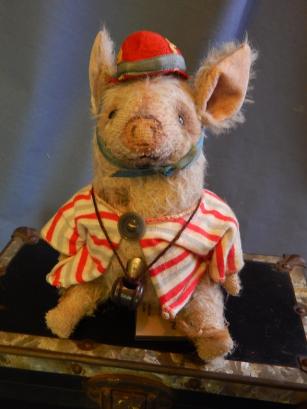 Stripped shirt and silly hat. Old whistle 8" - $215
Pixel Panda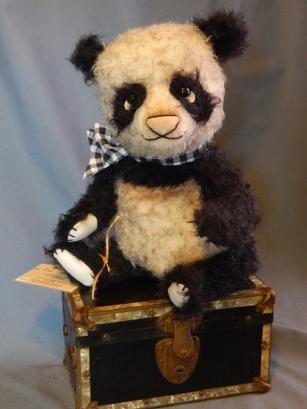 14" of black and white with soft black tips mohair panda with my new face and beguiling eyes. - $255
8" Cinder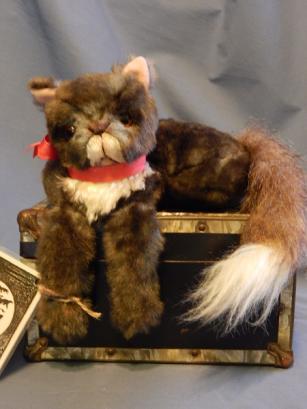 This kitty curls in a typical kitty fashion. She is detailed with white bib and chin and tip of tail against deep grey fur. - $225
To Market,To Market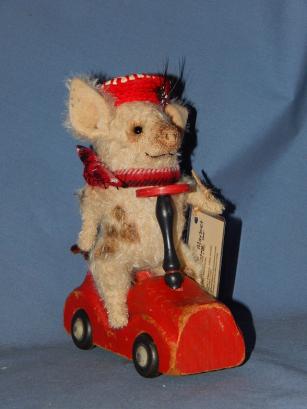 Spotted mohair piggie with silly hat and old red wooden car . Jointed arms and legs, 6" - $215
This Little Piggie Went To the Market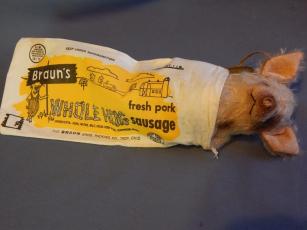 Kinda cruel as this spotted mohair piggie comes encased in an old sausage wrapper. Jointed arms and legs, 6" - $195
10" Schnickel Fritz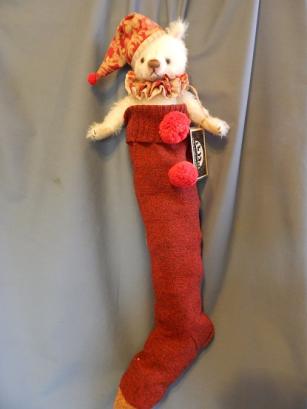 White teddy bear in old cranberry stocking with over sized pompom trim . He wears a stocking hat and double ruff of old fabrics - $255
Farm to Table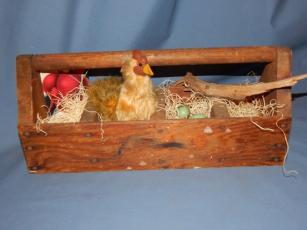 5" chicken is fully jointed and resides in old tool tray with vintage seed packet and eggs. - $215
9" Happy Times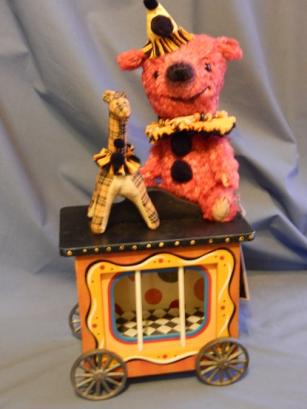 Joyful red mohair bear with her old giraffe and Circus Wagon. - $255
13" King Of The Forest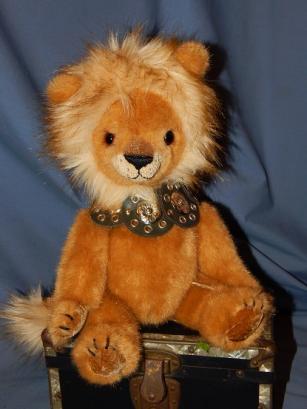 I've never made a lion before. With his impressive collar! - $255
12" Mr. Barlow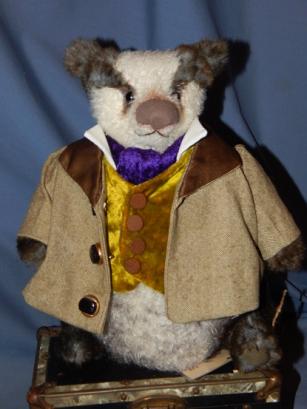 The Badger in Waist coat and jacket. - $265
9" Fiona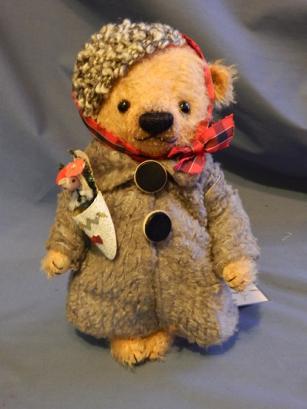 Honey mohair bear in her warm grey winter coat with matching hat and old Japanese holiday trim. - $225
9"Jamison and Ted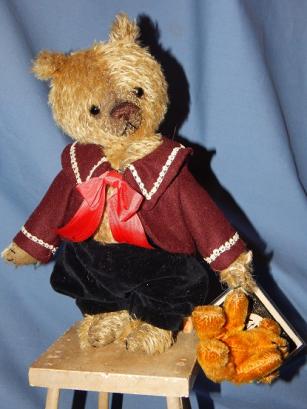 This bear is in wool jacket, velveteen pants and carries his very old mohair bear. - $245
9" Winter and Willa James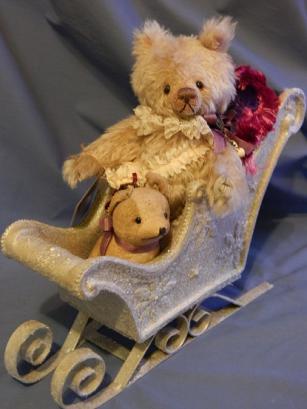 Stone mohair teddy bear rides with her vintage puppy Winter in sleight. - $265
10" Jewel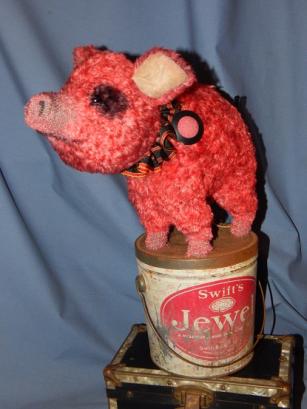 Who ever heard of a red pig? Me! To go with the old Lard Tin. - $265
Apache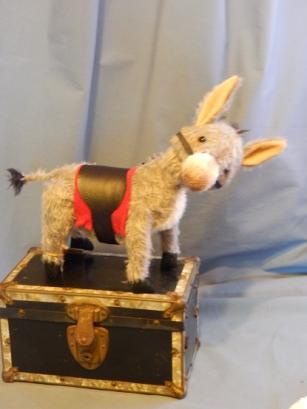 9" grey donkey with red blanket and saddle. - $235
10" Ting Tang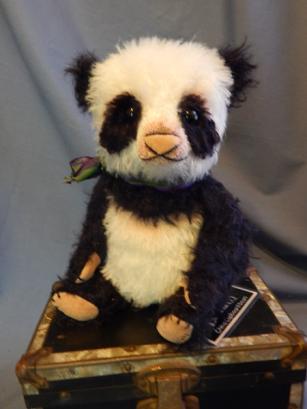 Black and white panda with sweet baby face. - $230
George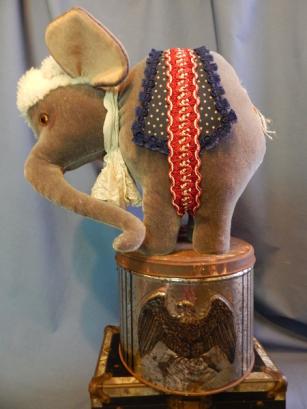 This grey mohair elephant stands atop a vintage Presidential tin complete with periwig of wool with curl detail. Navy blanket with stars and tasseled edging is defined with red braid. - $265
Butch the Pug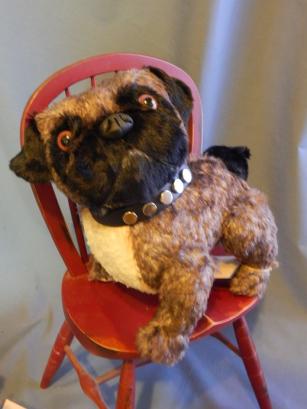 9" tall dark grey tweed mohair with black ears and eye details and studded leather collar. - $245
11" Tea Time Ellie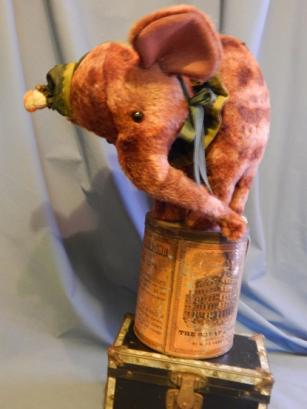 Vintage patterned mohair ellie stands on old tea tin with ruff and hat of vintage fabrics. - $265
9" Baby Its Cold Outside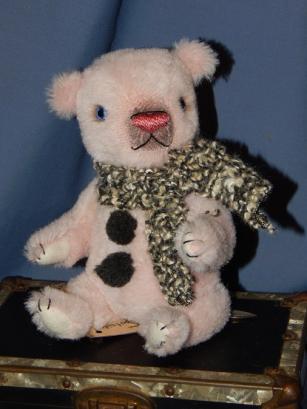 Pink alpaca teddy bear in her warm winter scarf and trim. - $220
4" Snowdrop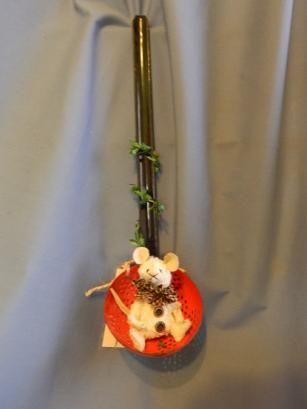 Tiny cream mouse in vintage red ladle . - $165
22" Philmont and 16" Phineas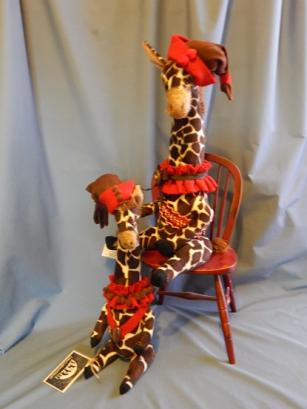 Patterned giraffes in red wool hats and ruffs. - $325 and $255
8" Pack Rat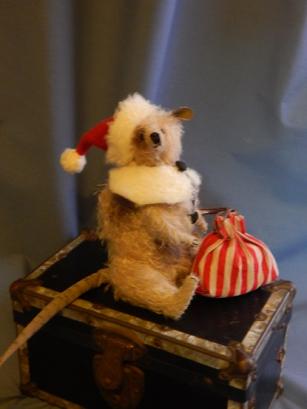 Spotted Rat with Santa Hat and toy bag. - $215
24" Eloise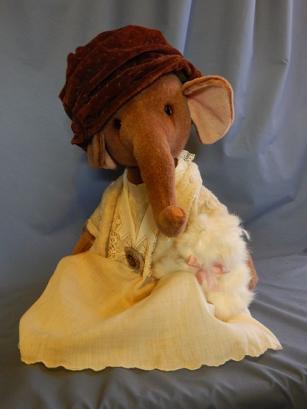 The big sisterellie in wonderful old wool child's coat with lace trimmed dress and velveteen purse. Dramatic black sash. - $455
16" Evaline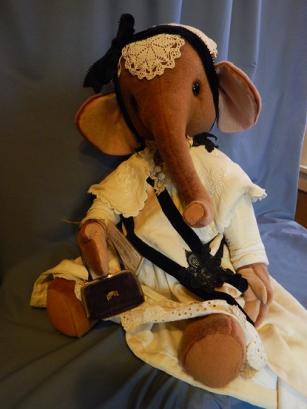 Mohair ellie in old cream dress and sweater with 1920's hat and pet. - $325
Buttonwood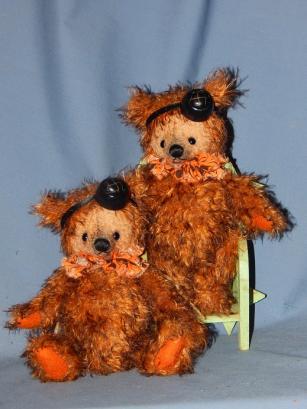 Rust and black tweed mohair bear wears a jaunty button hat 9" - $215
Billy Boy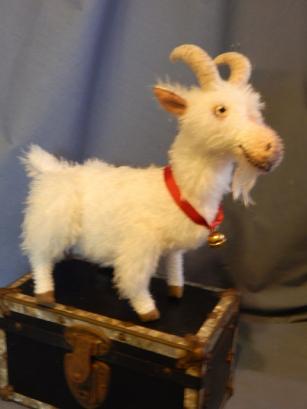 The Billy goat I've always wanted to make his inspiration comes from and old drawing I've had in the sewing room for years. Finally he comes to life! 9" tall - $235
Puddle and Pip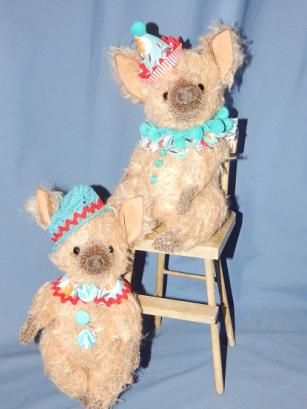 11" and 9" matted mohair pig buddies with turquoise and bright red trim. - $220 and $195
Amelia Sweinhart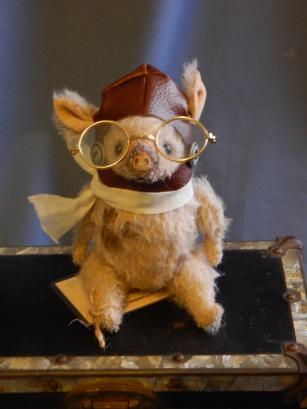 Look up in the sky! Its a bird, no its a.....6" - $195
Cup Cake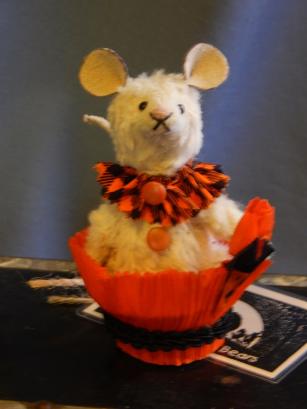 Cream mouse in vintage crepe paper cup with Plaid black and orange ruff and vintage buttons. - $165
Mouse Trap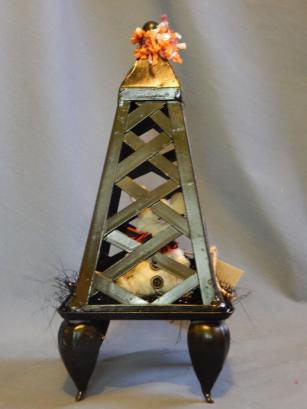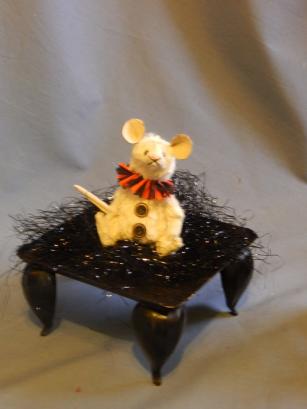 White 4 1/2" mouse is fully jointed and wired for pose ability. Black metal mouse trap. - $165
Brown Bat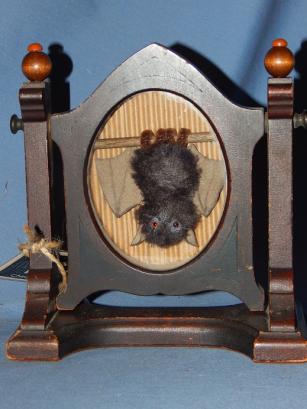 This 2 1/2" bat resides in a small glass picture frame. - $155
Me and Bobby McGee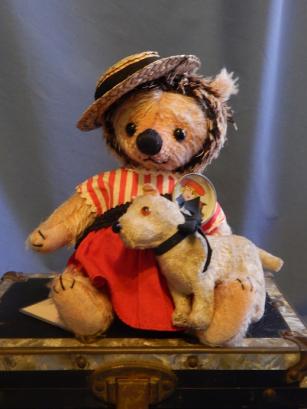 9" hedgehog wears red and white striped dress and jaunty straw hat. Her dog Bobby McGee, is vintage. - $235
Maura Jane and Biloxi Bob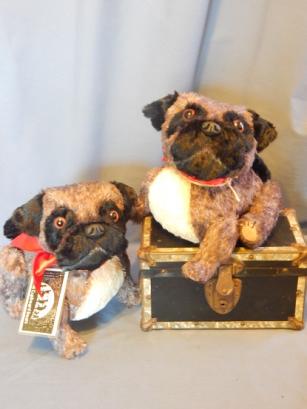 Pug siblings, stand 9"tall in dark grey with black details and bright red bows. - $245
Charlotte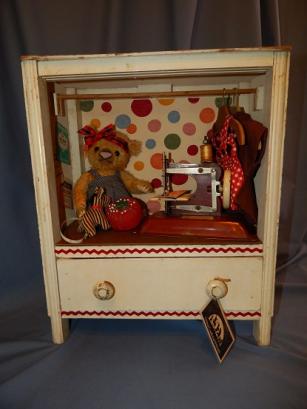 Charlotte and her Closet-oh what fun it is to play with all my sewing goods. 10" gold Charlotte reigns supreme in her old closet with polka dot back drop and wooden hangers of old clothes. Her little red vintage sewing machine whirls away the time sewing up a storm. Drawer with old spools of thread and tiny garments. Pin cushion and tape measure zebra. - $325
Party Animals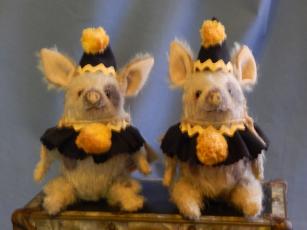 Two silly spotted pigs ready for Holiday parties. Jointed arms and legs , 6" - $185 (each)
Golly G. Bear 10"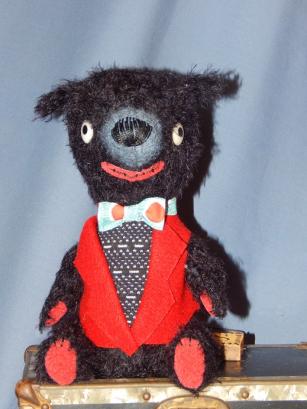 Has a smile to tickle your funny bone with side glancing googly eyes, red wool vest, knit undershirt, black mohair and jolly bow tie. - $220
Pitty Pat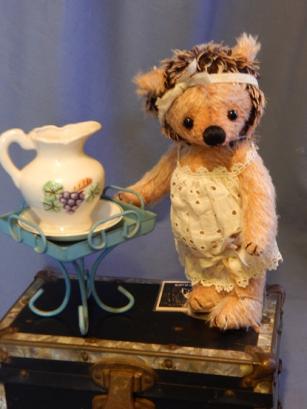 The 8" Hedgehog in old lace and ribbon with her wash bowl and pitcher on old stand. - $225
Petula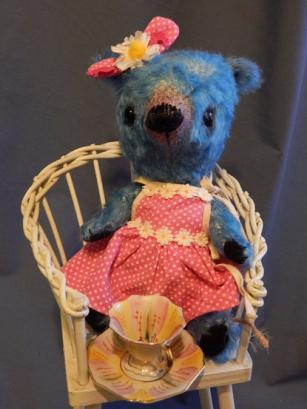 10" of a 1960's flashback . Bright blue bear wears hot pink polka dot dress and bow with daisy trim. - $220
Casket Ladies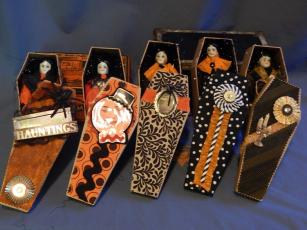 A fun dress up doll in holiday themes. - $55 (each)
Brownie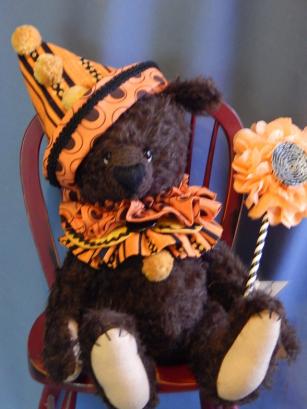 14"dark brown mohair bear has double ruff and harvest moon yellow collar with coordinating pointy hat. Tissue paper flower trim. - $235
12" Morning Glory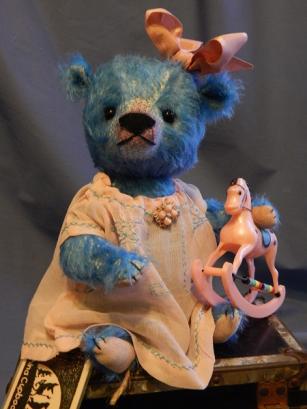 Baby blue mohair with white backing is my new teddy bear face. She is dressed in an antique pink dress with detailed embroidery and tiny shell pin. She holds an old rocking horse baby toy. - $245
BaaBaa Black Sheep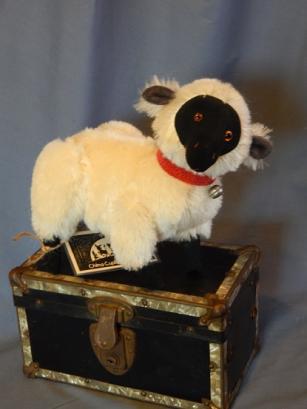 8" tall sheep in string mohair and black ultra suede with antique glass eyes. - $235
10" Louisa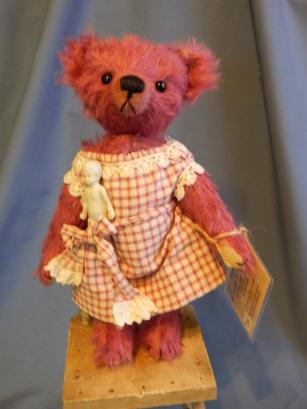 Mauve bear in Homespun plaid dress carries a vintage ceramic doll. - $235
10" Squirrel Nutkin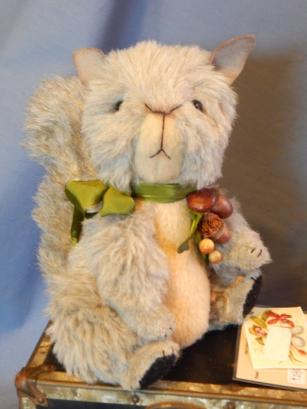 In dense grey alpacca with string mohair tail . Green velvet ribbon accents the cluster of nuts he has. - $235
Honey Lumps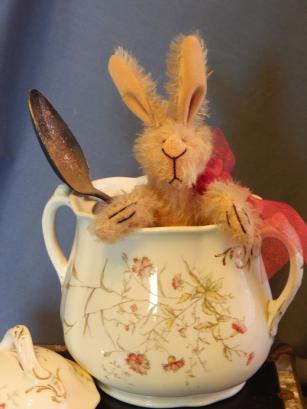 Is a tiny bunny, 6" tall without his ears and perches in a vintage sugar bowl he calls home with his spoon. - $200