13" Veronica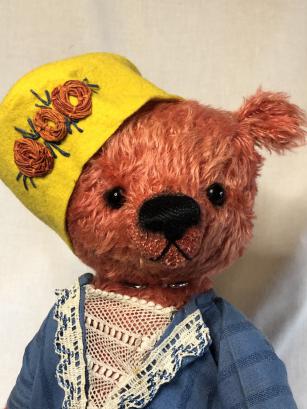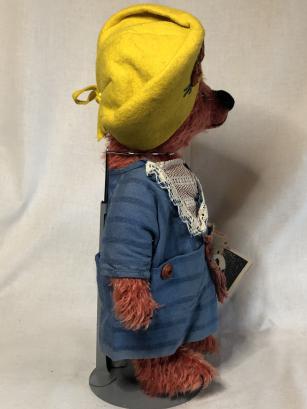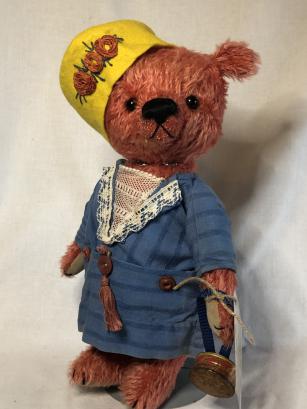 Coral mohair bear pops in vintage blue buttoned dress with lace details. Yellow felt hat is embroidered with flowers and she holds a vintage rouge tin. - $260
4" Plague Doctor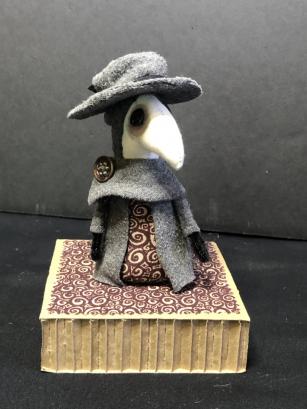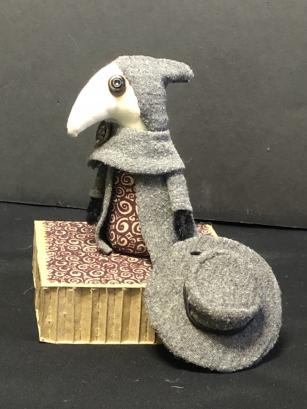 Back by popular demand the Plague Doctor is reminiscent of those that combated illness long ago. Removable hat. - $95
8" "It's Alive!"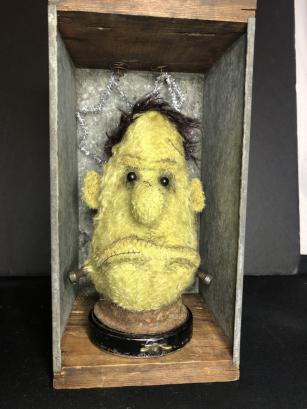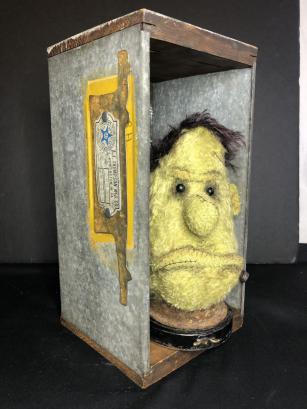 Frankies head arrives in his life giving chamber of wood and metal , complete with sparks shooting from ceiling apparatus. He is soft sculpted of mohair and sutures and mounted to metal collar and base complete with neck bolts. - $155
10" Puddles and Patches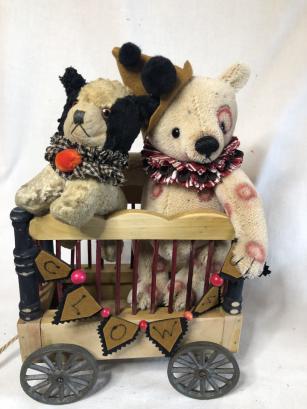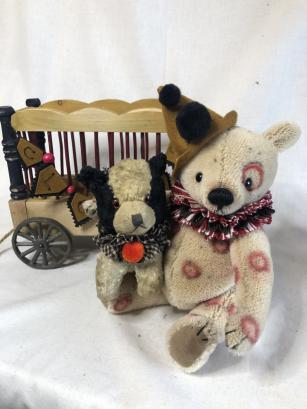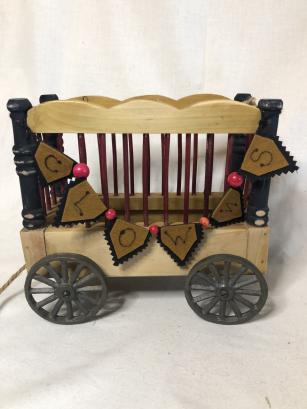 Send in the clowns with these two. Polka dotted mohair teddy bear with felt and pompon hat and his little vintage dog with tattered ruff ride in the happy little circus wagon with wooden slats and metal wheels and felt banner. - $225
10" Wait a Minute Mr. Postman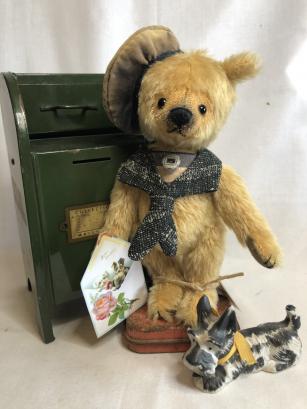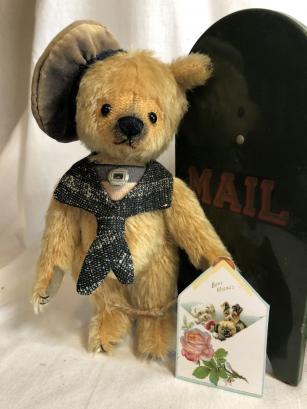 10" Quinten reaches to mail a letter to his pet pals in the vintage green metal mailbox. Gold mohair bear wears Sailor collar and velveteen beret along with his dog Scallywag. - $215
15" Fennimore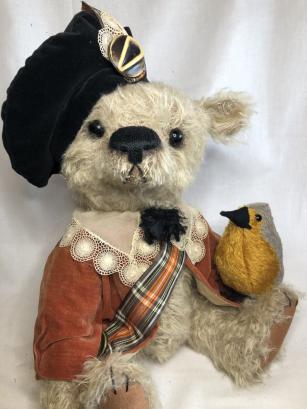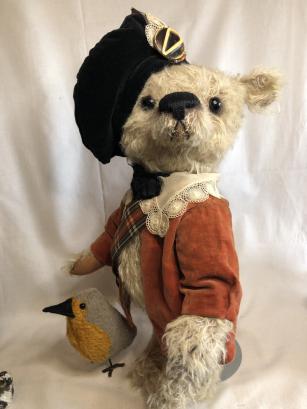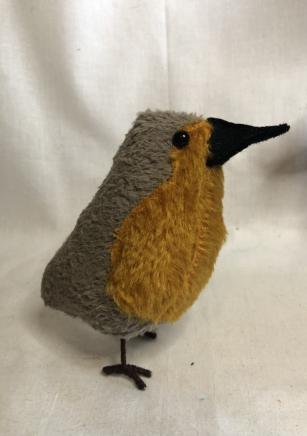 Is constructed of old ivory mohair with antique gold back. He wears a vintage velveteen jacket in burnt orange finished with an ivory lace collar and plaid taffeta sash. Black vintage velveteen beret is detailed with lace and plaid taffeta ribbon. Fully jointed bear with German glass eyes and perle cotton nose along with his bird friend Robin in very short mohair , felt beak and wire feet. - $325
6" Rocky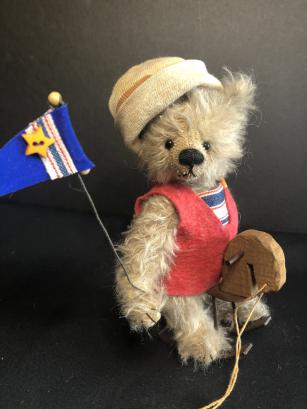 Vintage Red flannel vest and old sock hat keep this mohair bear warm on his rocking horse while he waves his bright blue Penney. Fully jointed bear is stone colored mohair with German glass eyes. - $155
9" Pamela Prada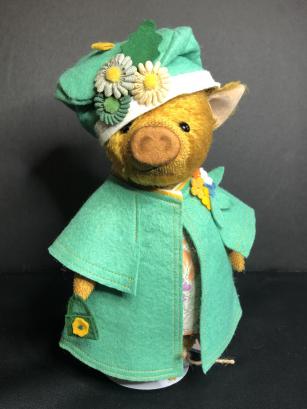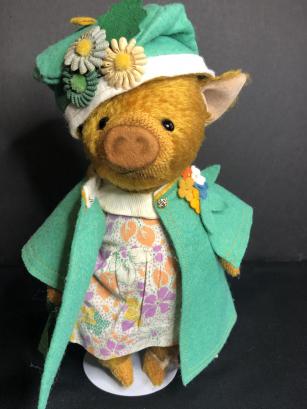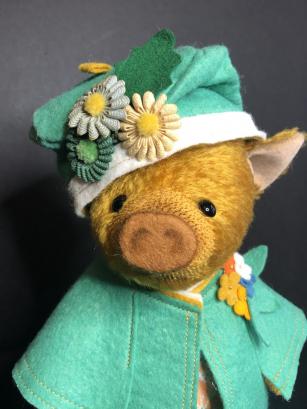 Small gold pig sports vintage green felt coat and hat trimmed out with old fabric floral pieces and carries a tiny felt purse. Floral cotton dress underneath coordinated. - $235
12" Ofelia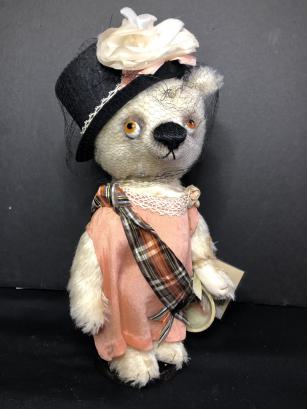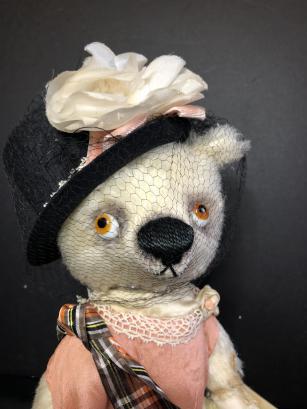 Cream mohair bear stares through Googly eyes thoughtfully. Peach antique silk dress has vintage sash and she holds a Mirror to gaze upon her beauty. Vintage mohair and fully jointed. - $255
11" Henrietta and Hammy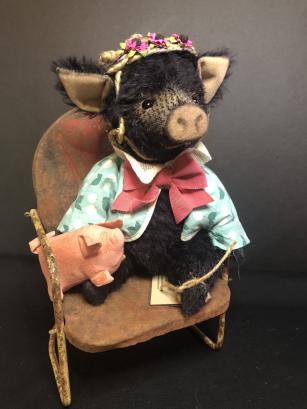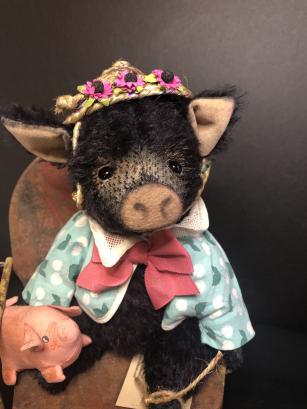 Black mohair pig is ready for summer in straw hat and old jacket in a vintage tin lawn chair Along with her fabric friend. Fully jointed, German glass eyes. - $245
15" Miss Priss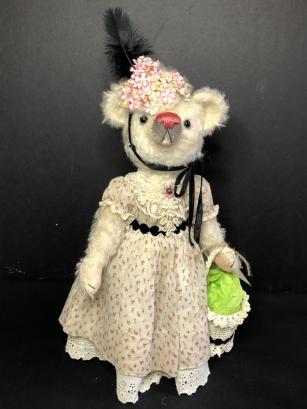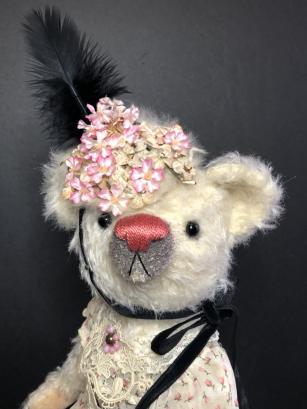 Simple lawn dress is sprigged with pink flowers and shaped by a full lace trimmed petticoat. Lace embellishment trims the bodice and she carries a crocheted basket. Bear is made of cream mohair and is fully jointed. - $255
10" Kitty Kupboard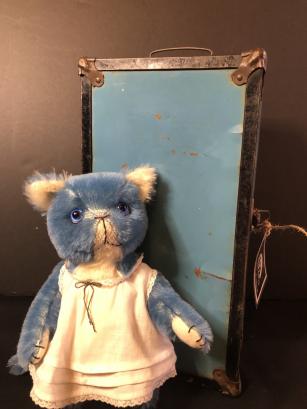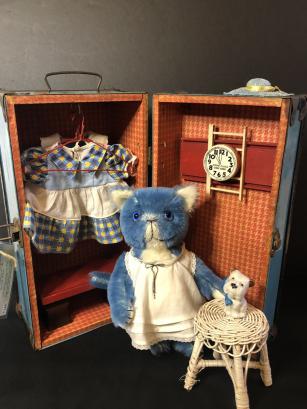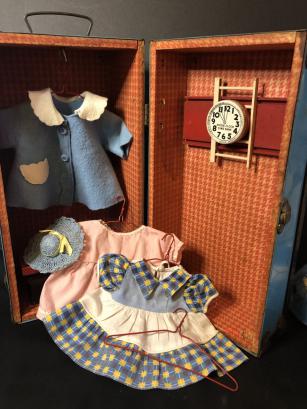 This delightful vintage dolls trunk holds all this petite kitty girl could want. She arrives in lace trimmed slip and a wardrobe of blue felt coat, pink cotton dress and blue plaid dress. Wooden bench, old clock and wicker table holds her puppy friend all coordinated with the trunk. - $265
13" Game Boy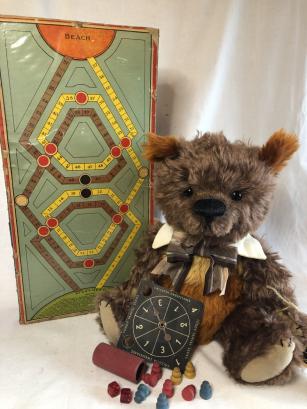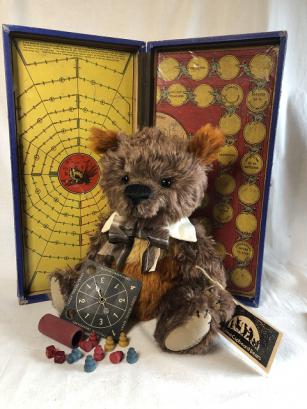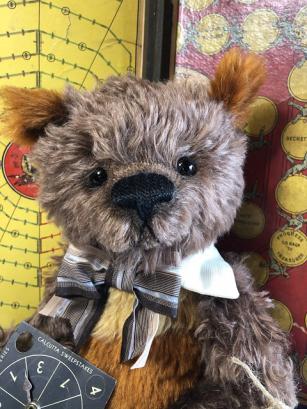 Vintage game board in wonderful graphics and punch of colors determined the three colors of mohair used on this bear. Fully jointed with German Glass eyes. Accented with old collar and tie he is accompanied by game pieces and board. - $270
7" Hitching a Ride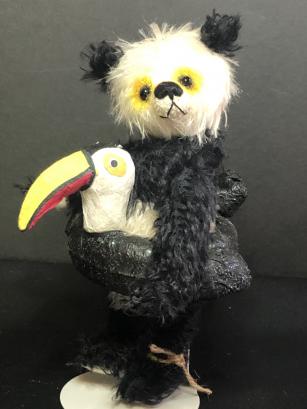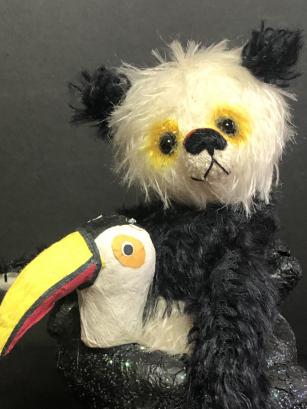 This tiny panda in traditional black and white mohair is detailed in nose and eyes to coordinate with his Toucan friend. Fully jointed with German glass eyes. Toucan friend is paper mache. - $155
11" Kittery Kim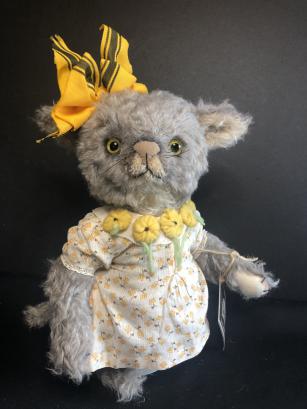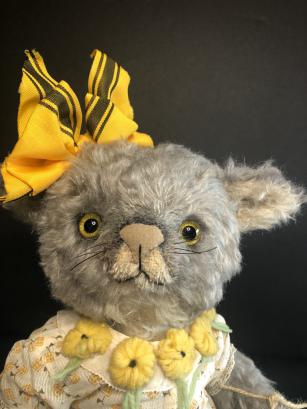 Dense grey mohair kitty has ultra suede nose, wired tail and vintage cotten dress. Darling jaunty bow and old wool flower details. - $270
18" Road Trip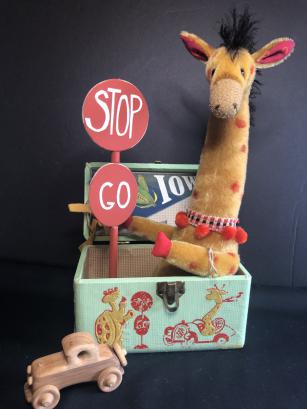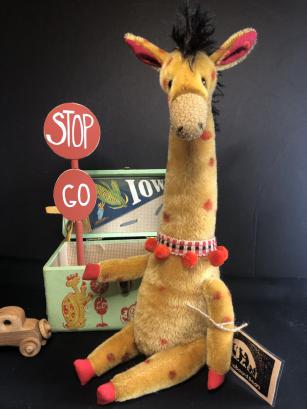 Gold polka dot mohair giraffe with black mane arrives in a vintage travel case trimmed with travel pennant and bold wooden stop and go sign and wooden car. - $265
16" Gemini and the Twins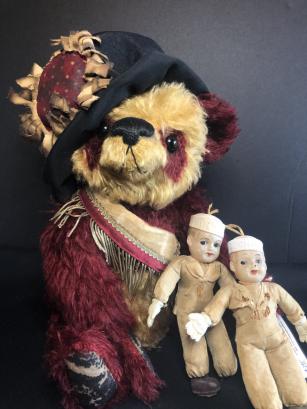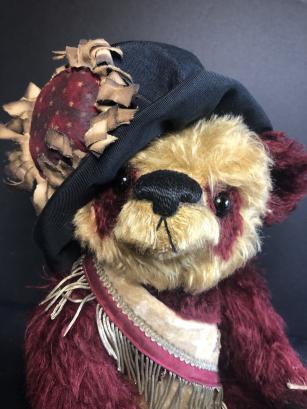 Scarlett and antique gold mohair panda wears vintage hat with primitive sunflower and antique sash in coordinated colors. Two vintage straw stuffed celluloid sailors accompany him. - $295
4" Country Mouse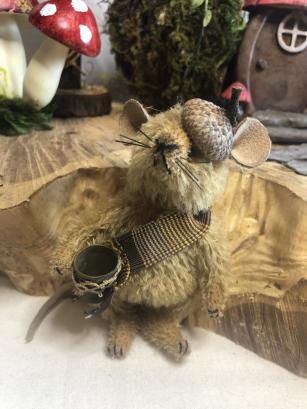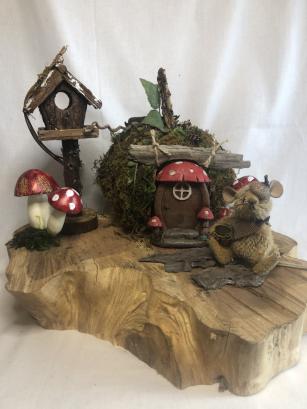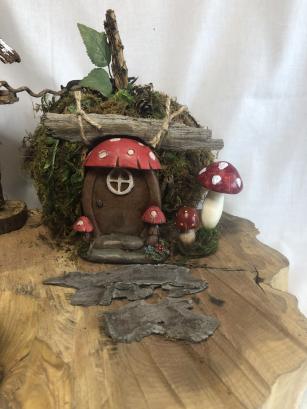 Where else would a woodland mouse live but in a moss covered cabin surrounded by mushrooms and a dove cote. Home base is a slab of real wood. The 4" mouse is fully jointed and made of pale gold mohair with acorn hat and thimble carry all. What fun to add to this woodland scene. - $195
12" Miss Pink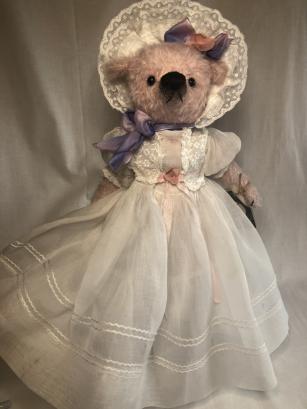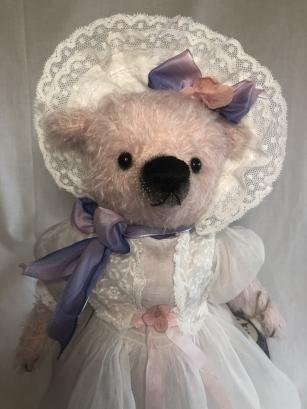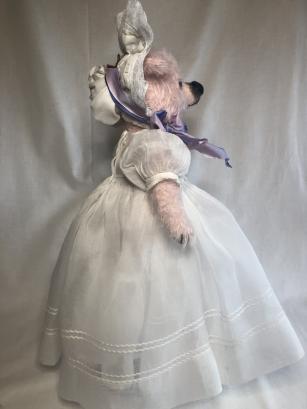 Miss Pink wears a crisp long white organdy dress and full tiered and ruffled slip. Old bonnet of cotton and lace and a small touch of lavender pink ribbon around her face to break the monotony. - $255
10" JJ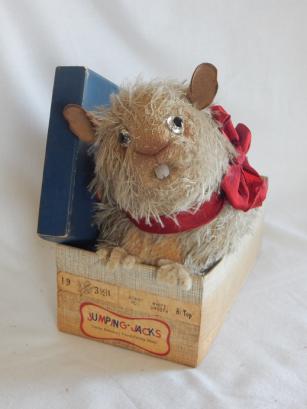 Shot through the Heart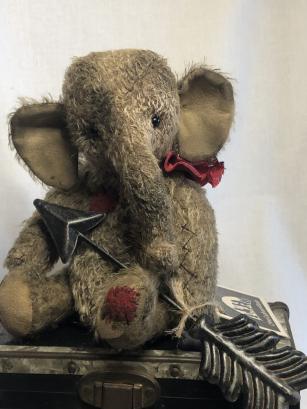 11" Robert Raikes Bunny's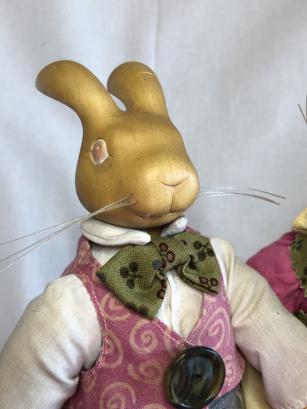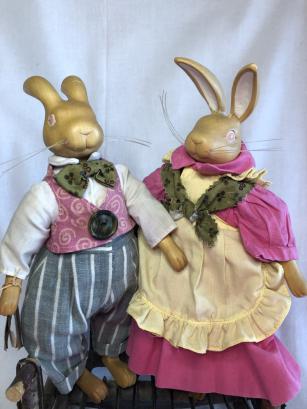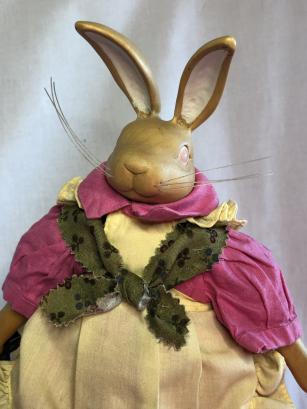 6" Blossom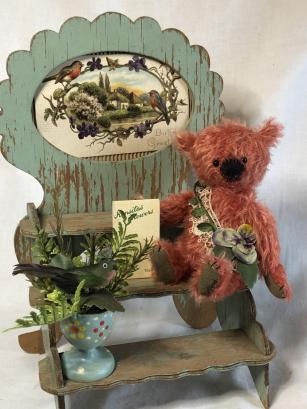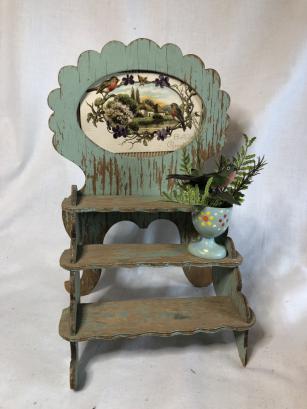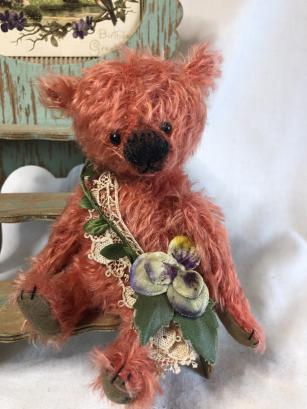 9" Carrot Chariot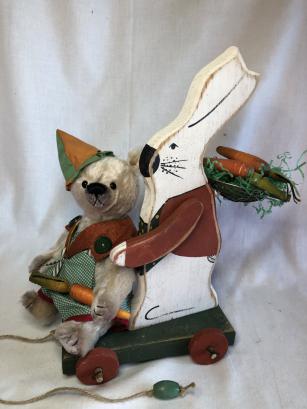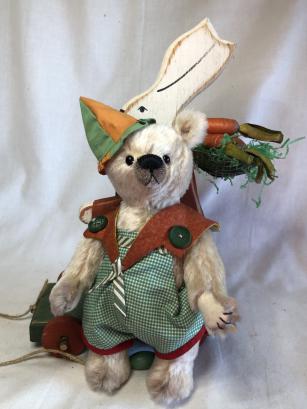 4" City Mouse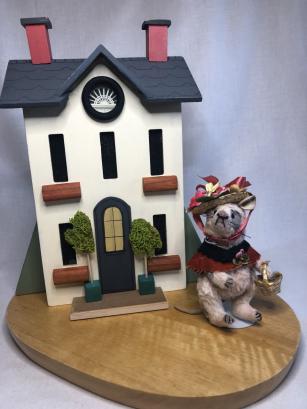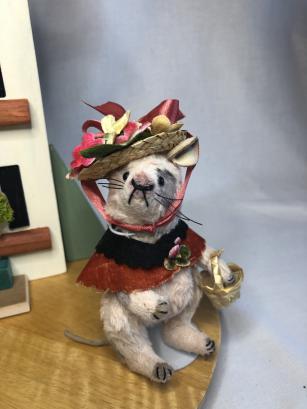 13" Jacob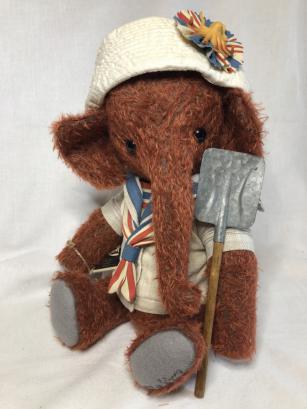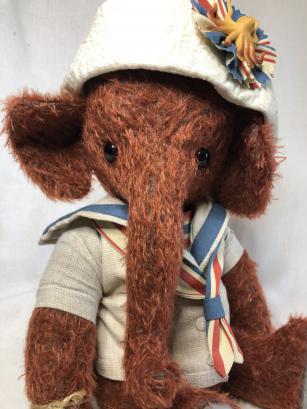 9" Jon Paul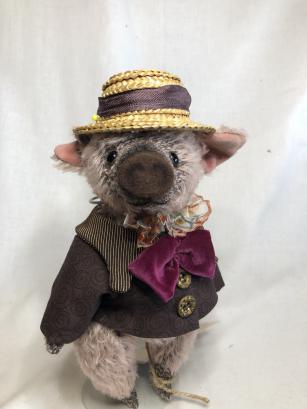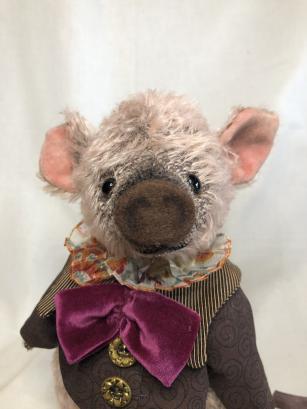 11" Angus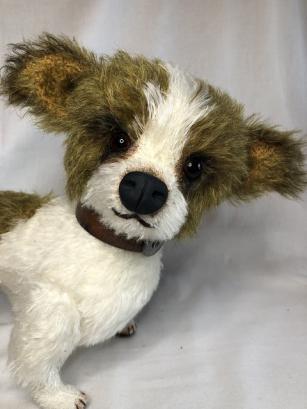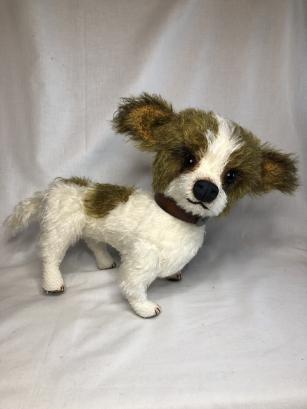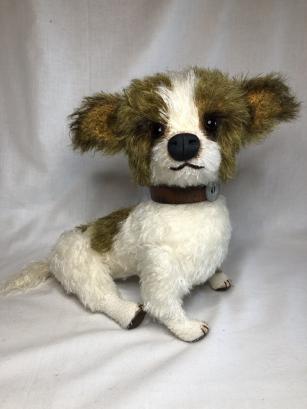 Deep bronze gold and cream mohair makes up this fully jointed version of a Pappillion dog. - $255
13" Puss in Boots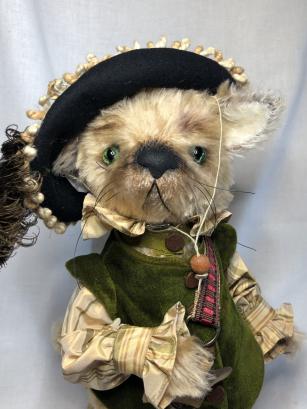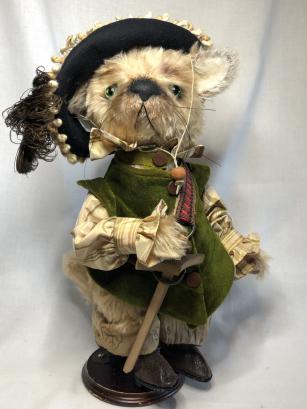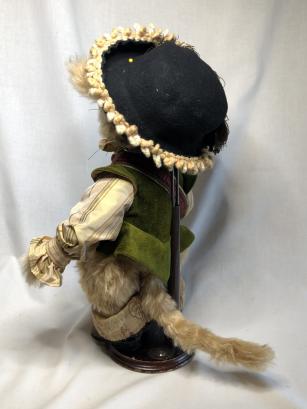 I have always wanted to make a Puss in Boots. This 13" cat is made of fawn colored mohair with green German glass eyes and ultra suede nose. His doublet is fashioned after an antique one and made from a bottle green Victorian gown. Faux leather boots with heels, felt vintage hat and a handy made wooden sword fits into his sash buckle for quick draws. - $325
10" Elizabeth Ann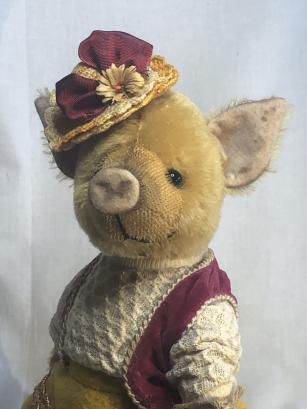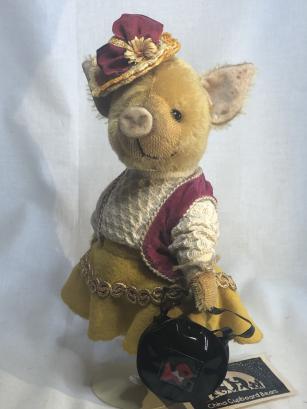 Elizabeth Ann is a jolly little pig in gold mohair and vintage outfit with velvet vest. Perky hat and vintage black purse add to her look. - $235
Bartholamew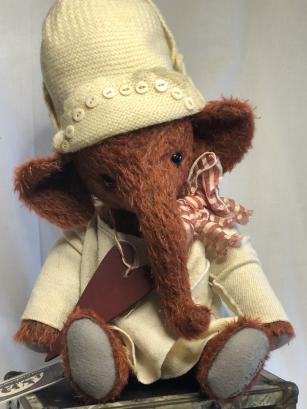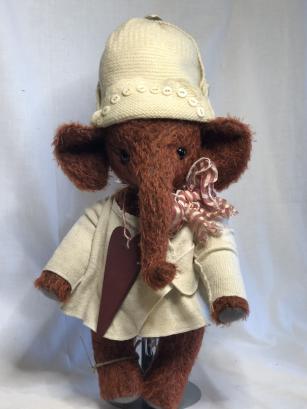 Definitely it's all about the hat with this elephant made of dull cranberry matted mohair with dark grey backing. It sets off the cream vintage baby undershirt and fabulous knit hat. Stripped bow and wooden heart. - $255
Jonathon Livingston Seagull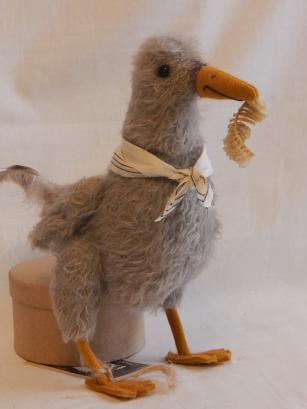 If you've ever lived near the ocean ,you'll know how impertinent seagulls can be. Jonathon has a sparkle in his eye and treasure of sea eggs in his beak. Pale grey mohair with mustard felt legs and beak, he is fully jointed of wings , legs and head. He sports a real feather tail and white neckerchief with tiny black edging. - $155
14" tall Aunt Esther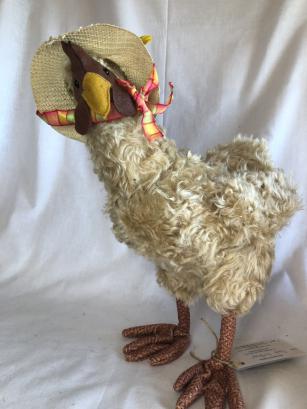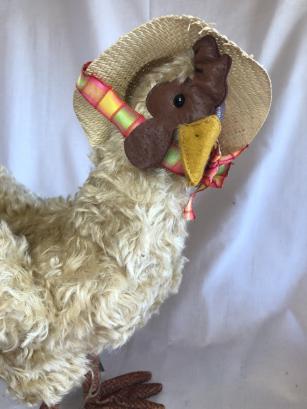 Cluck in a straw hat with ribbon and floral trim. Mohair chicken has jointed neck and wings , wired feet and legs. - $325
9" Winston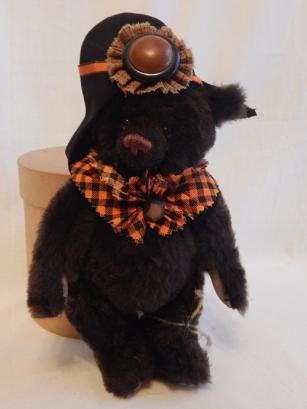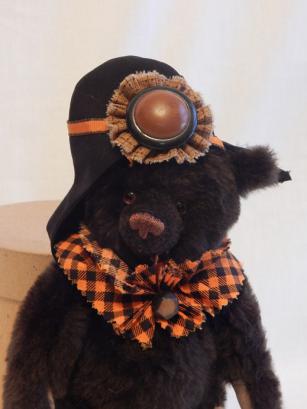 Is a sweet faced bear of dense chocolate tissavel with light brown eyes and Carmel stitched nose. He wears black and orange checkered ascot and military hat with old button and ribbon trim. - $210
10" Edgar and Friend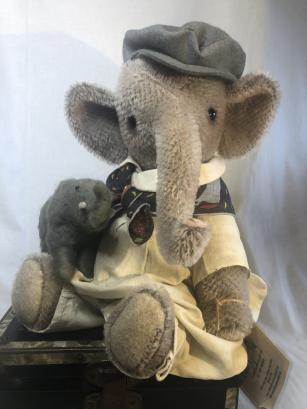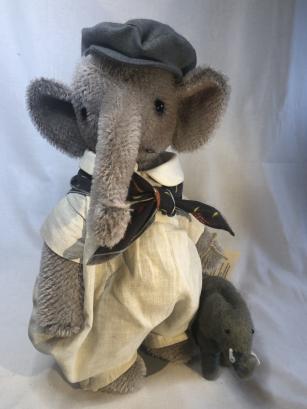 Grey mohair elephant wears vintage 1920's rompers buttoned at the ankle with white collar and the most adorable animal printed handkerchief tied around his neck. Old hat and his, must - have ,felted elephant buddy rides along with him. - $255
21" Robbin Ramsbottom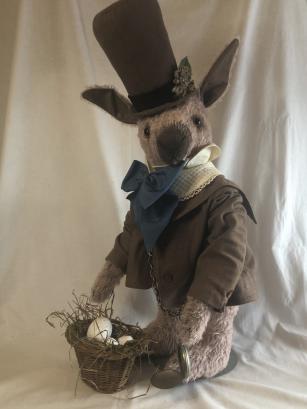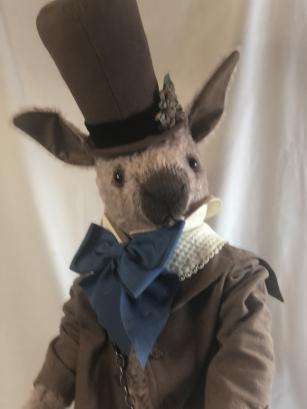 What better celebrates the season then a rabbit? Crafted of soft pink mohair on brown backing for a milk chocolate look, he is dapper in a vintage wool boys jacket accented with multiple vintage collars and blue bow of soft old grosgrain. Stylish top hat , old pocket watch and basket of speckled eggs complete his story. - $355
21" Lt. Garret Anderson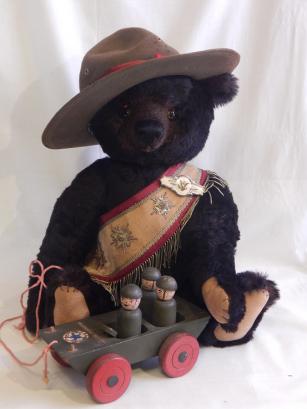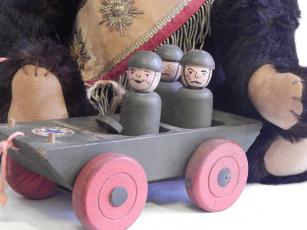 Dense chocolate mohair bear has amber eyes and perle cotton stitched nose. He is fully jointed and wears, vintage sash of red velveteen and metallic trim. Vintage hat is old felt and accented with deep red ribbon. He is accompanied by his vintage pop up troops in wooden truck. - $375
Winter Berry Pig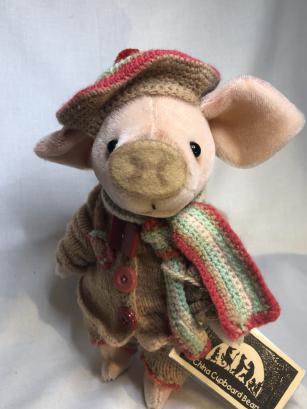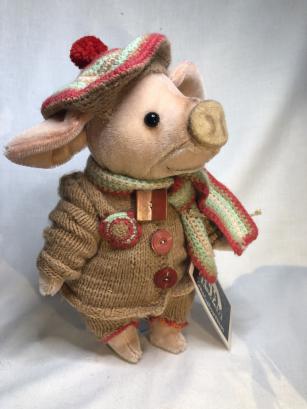 10" Peach mohair pig wears matching knit sweater, beret and scarf. Tres chic! For a pig!. - $225
Winter Bunny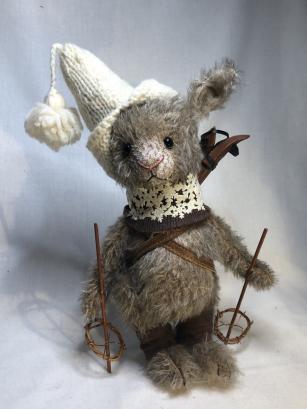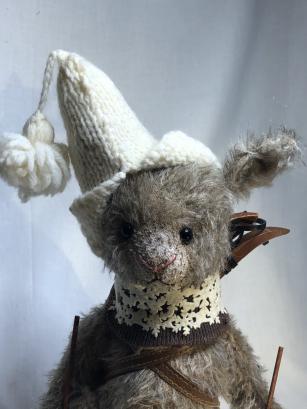 9" tall, this mohair bunny is skinning into winter with Toboggan hat, leg warmers, skis, poles and back pack. - $225
Myopic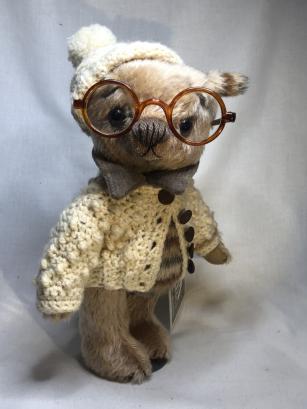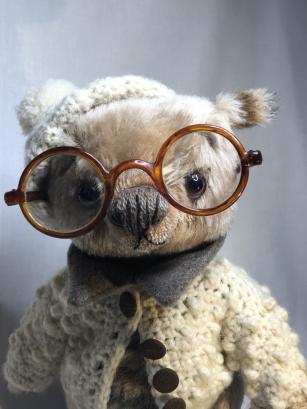 Bear with Stripped alpaca belly and caramel mohair head,arms and legs wears cream sweater and hat and oversized old glasses. - $245
6 1/2" Arthur Burrows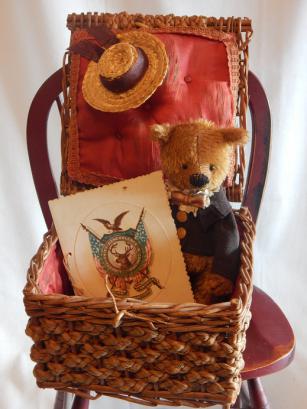 Fully jointed milk chocolate mohair bear is at home in his Vintage silk lined sewing box. He wears a deep brown taffeta jacket with silk collar and bow tie. Vegetable ivory buttons define the jacket. Straw hat can be worn. Best is the original Concert dance card from 1894 with his name in it. Lovely old graphics. - $225
9" Snowdrop The Pig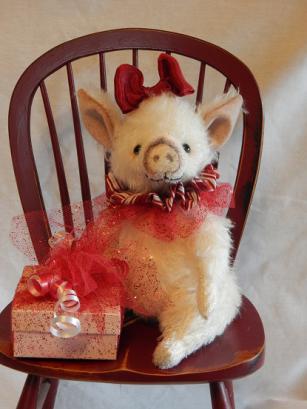 Is Holiday ready in white mohair hair with red bow and tulle wrapped present. - $215
6" Tin Tin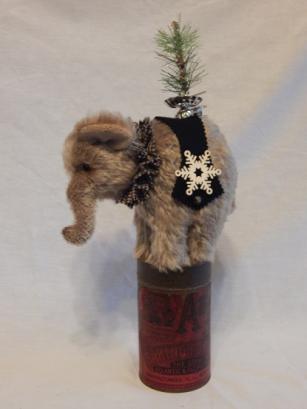 A tiny tan elephant is adorned with black checked ruff. The black felt saddle shows off the wooden snowflakes. - $215
9" Marshmallow and S'more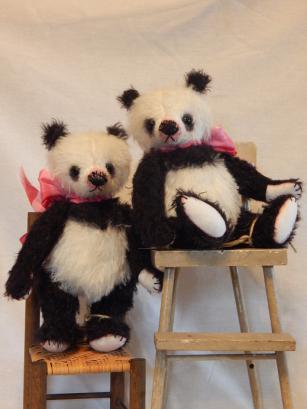 Black and white pandas with pink plaid bows. - $220 each
10" Queen for a Day pin Cushion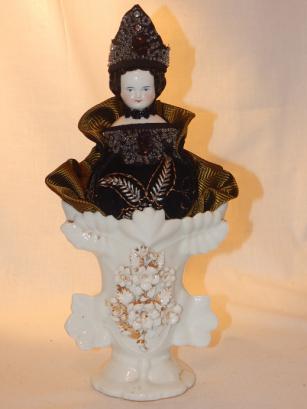 Vintage porcelain vase with gold painted trim Is the base for this pristine China head displayed on old embroidered velveteen. She wears beaded bodice, necklace and crown. - $65
6" Gulliver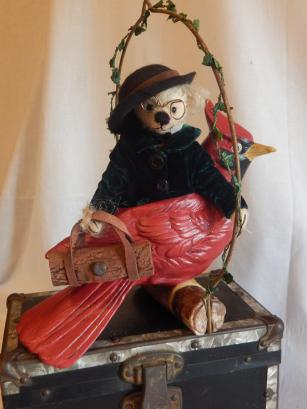 Tiny soft yellow gentleman bear in bottle green velvet jacket and bowler hat flys off in his red ceramic cardinal with his brown leather traveling case. - $80 Sent from my iPad
9" Faithful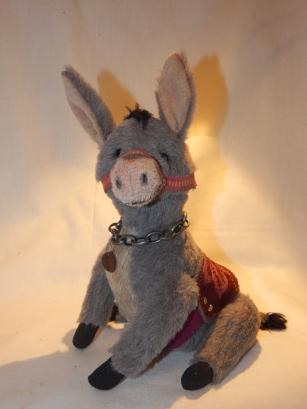 The donkey, a wonderful addition to a manger scene or for donkey lovers. Grey alpaca and stone mohair with ultra suede hoofs. Saddle of old velveteen , bridle of old braid. - $235
6" Noel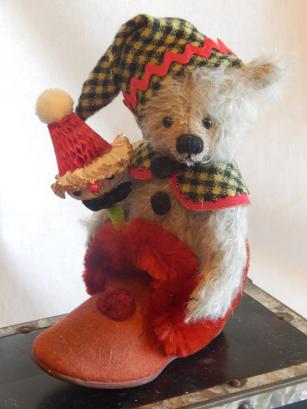 Is a tiny fully jointed mohair bear who arrives in an antique child's red slipper. Green wool check hat coordinates with collar. Pompon trim and tiny Japanese Santa head accompanies him. - $195
12" Tatanka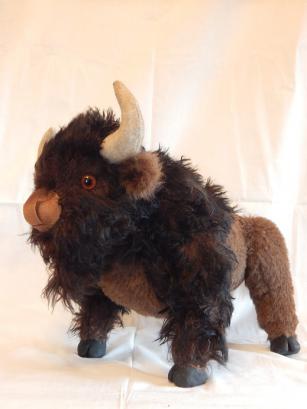 Quite the buffalo beast in brown alpaca and dense curly dark brown mohair. Sculpted hooves and leather muzzle. - $455
10" Rufus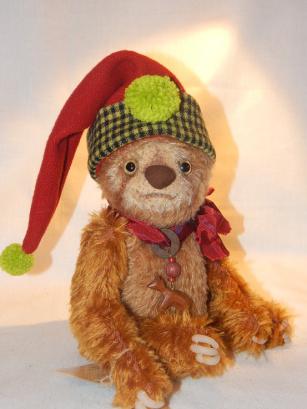 Amber mohair sloth has stone mohair face with ultra suede nose. Fully jointed with sculptured claws. He wears red wool hat, green check brim and pompon trim with wooden animal pendant. - $230
12" S. Claws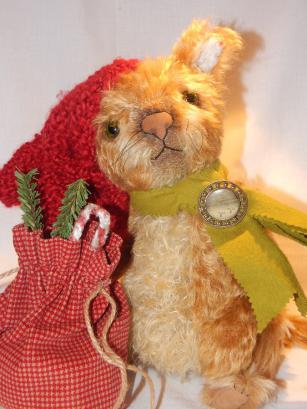 The kitty in dense honey and amber mohair with ultra suede nose. Wired long tail.Red wooly mitten hat, lime green flannel scarf and his checkered bag of treats. - $265
13" Prince Booton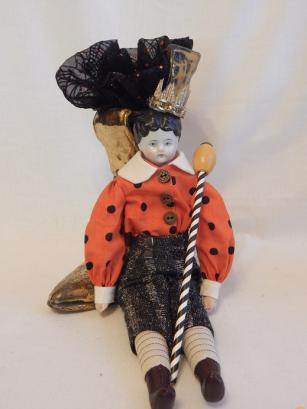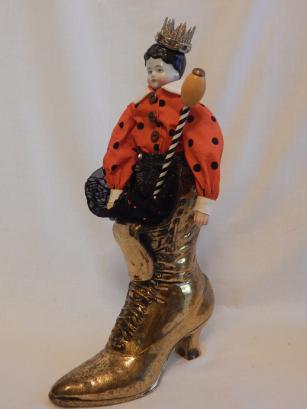 Antique China head boy on fine new Body with stitched on boots wears black tweed knickers and pumpkin orange shirt with collar. Golden Metal boot for a throne with gold Metal and paper crown, spiral scepter. - $125
8" Trees Company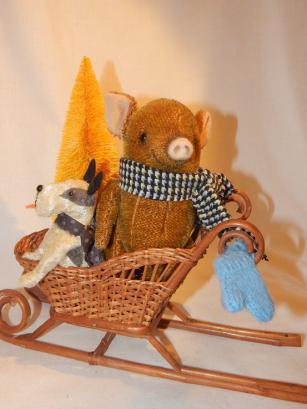 Gold mohair pig has jointed arms and legs with German glass eyes and wool scarf as well as a little piggly tail. He arrives in a wicker sleigh with Scout his dog and amber colored tree. - $185
Gourd Guys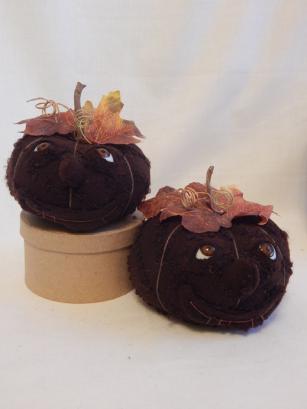 Are 5" and made of nubby wool with German glass Googlie eyes with appliquéd mouth ,nose and eyelids. - $55 each
13" Silly Sam the Traveling man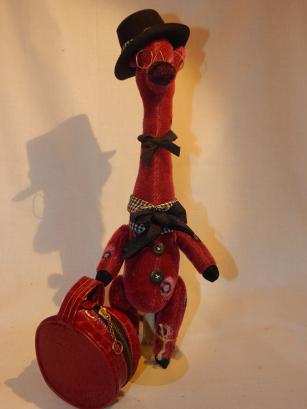 Spotted red giraffe wears check collar and top hat with wire glasses. Suitcase in hand. - $80
9" Willie Deane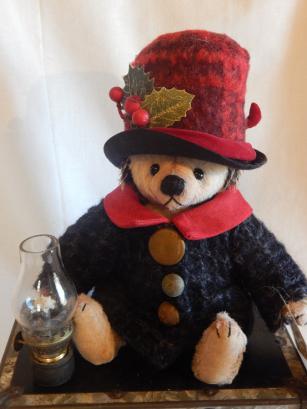 The hedgehog brother lights the way with tiny oil lamp while warm and cozy in his black wool coat and red wool hat. Same mohair as his sister. - $230
9" Willa Dean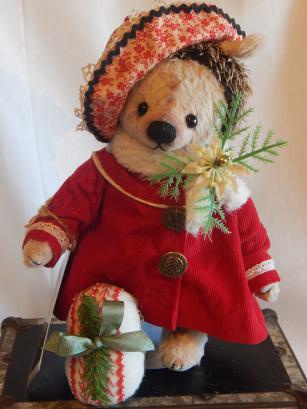 The hedge hog is made of prickly hedgehog brown and flesh colored mohair. She is ready for winter in red corduroy winter coat and patterned hat with tiny poinsettia trim. - $230
24" Fiona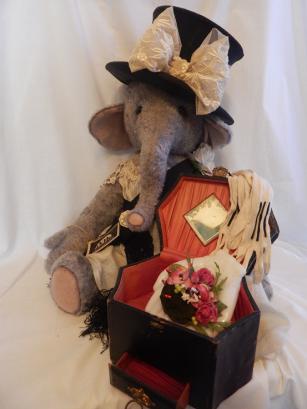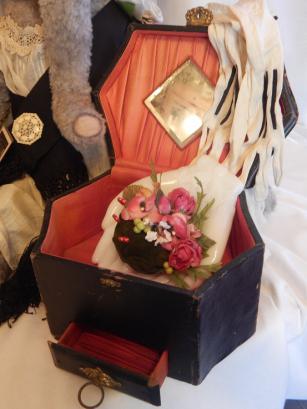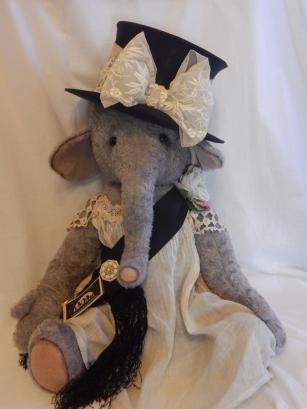 Sweet grey elephant is fully jointed with a wired armature in her arms to bend and pose and hold things. 22mm German Glass eyes add to her endearing expression. She wears a vintage slip of cotton and lace detailed with black tasseled Victorian sash held together with cut Mother of Pearl button. Black silk top hat is tied with vintage lace and accented with pink velveteen leaves. Fiona holds a black Victorian collar box lined in pleated rose silk. It contains milk glass hands holding a green velveteen pin keep with rose accents. - $455
9" Colonel Candy Corn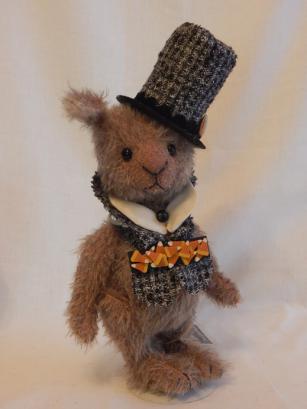 Sparse tan mohair rabbit is fully jointed with German glass eyes and wears tall top hat in black tweed with matching ascot and cream collar with candy corn trim. - $195
8" Sister Spider wife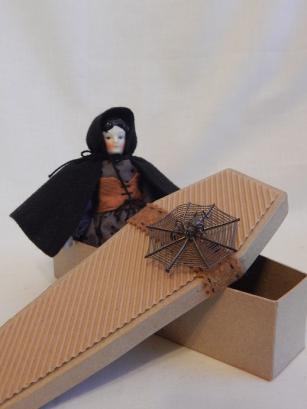 A small China head in grey polka dot dress and black felt cloak has been laid to rest in a carton casket with metal spider web trim. - $65
11" Cicero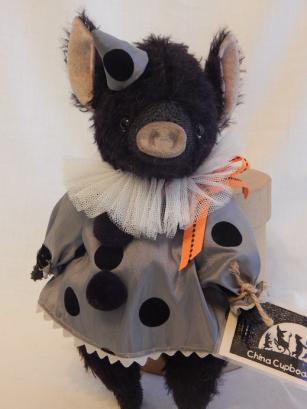 A fat jolly black mohair pig full of Halloween fun wears grey taffeta with black polka dot tunic and pointy hat and pompons. Pleated ruff at neck made from itchy old crinoline and orange bow Fully jointed with German glass eyes. - $235
10" Polka Dotty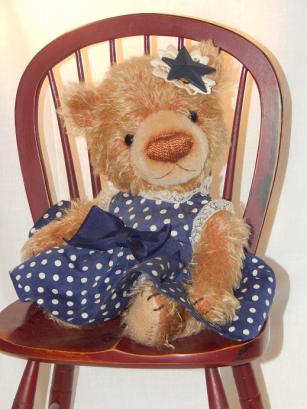 A chunky little girl of amber mohair. She wears a vintage navy polka dot Dress with bow and star in her hair. - $225
8" Herkimer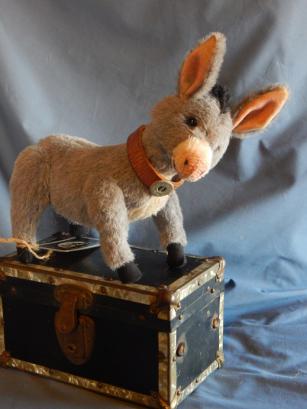 Grey alpaca donkey. Leather collar. - $235
9" Pierre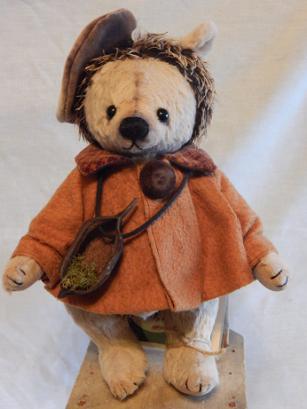 Spiked hedgehog mohair combines with peach mohair to create this little guy. Vintage beret and coat of old flannel. - $230
Send in the Clowns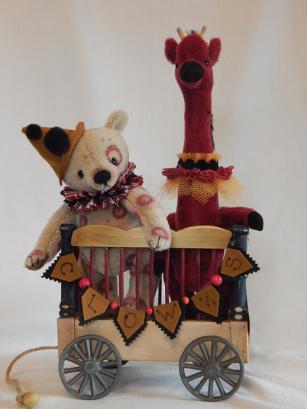 Puddles and Patches roll into your heart in a wooden circus wagon with metal wheels and pull cord and Felt pennant. 9" Patches the bear and 14" Puddles the giraffe are uniquely polka dotted friends made of mohair and silly smiles, with hat and ruffs. - $355
10" Queen for a Day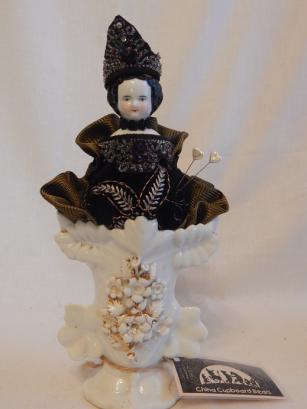 Antique China head mounted on a pin cushion displayed on old white Ceramic vase with Gold edging. Vintage beaded details of crown and bodice. - $65
Sloop John "B"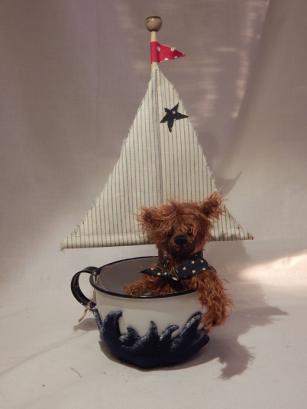 5" John "B" rides the waves in his tin cup boat with stripped sail and pennant flying. Waves are painted fabric and John is made of deep rust mohair with ultra-suede paw pads and black embroidered nose. - $195
13" Tin Halloween Tower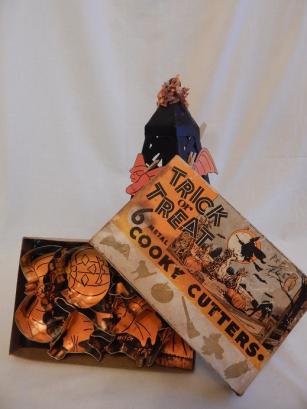 Is black painted metal with crepe paper trim and vintage Cookie cutter art from inside the box to clip on the tower. Old box of cookie cuttersAnd original art included. - $65
Wilda the Welsh Witch and Wickham the Cat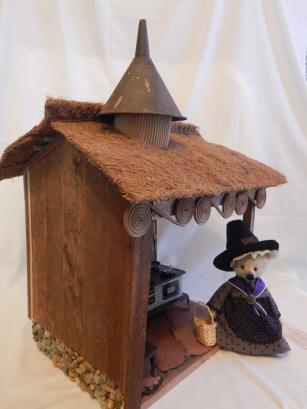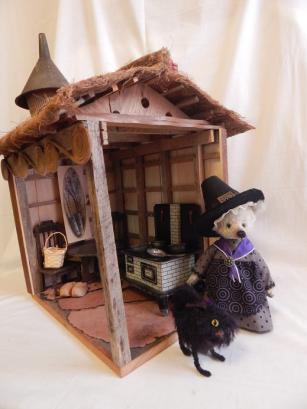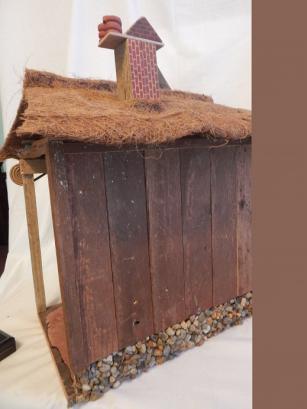 All mohair and jointed 8" bear makes a home in this thatched cottage with timbered walls, Stone details around base and furnished with Vintage tin stove and cooking gear, wooden table and chairs, basket for gathering herbs and Wickham the mohair and chenille cat. Study the details and think of what could be added. Roof has a tin turret and chimney of Painted brick blocks. House is 19" tall, 13"wide, 10" deep There Is a dovecote under the eves and lamp on a chain over the table. - $375
10" Sweet Annie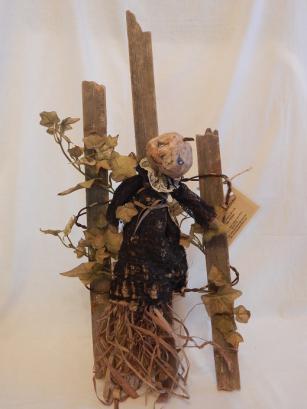 A ghostly scarecrow in dress of tattered black is pinioned on an old fence encrusted in pale ivy.Molded carton head is painted , straw filled body and fabric arms. - $65
6" Witch Wagon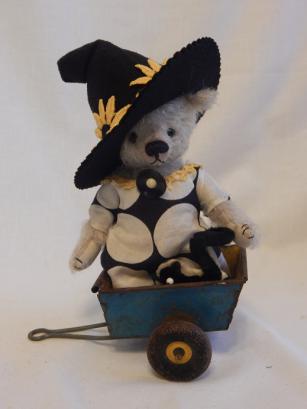 Holds witch bear in polka dot dress with chenille skunk friend in old metal wagon. - $210
12" Colonel Potter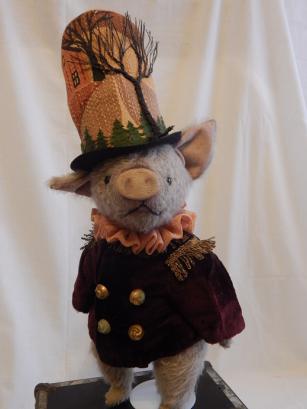 Is a jig of a pig wearing burgundy velveteen jacket with military braid and buttons. Silly tall hat is made of old bark cloth and wire tree. - $265
Pumpkin Pal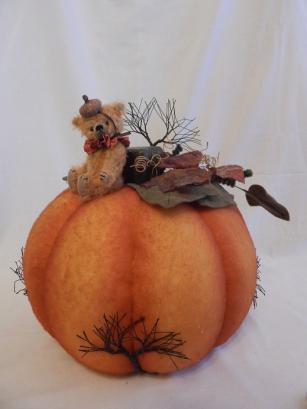 10" Fabric Pumpkin is emBellished with black wire trees and felt leaves. 4" Gold Tipped mohair bear wears acorn hat. - $185
10" Hog Witch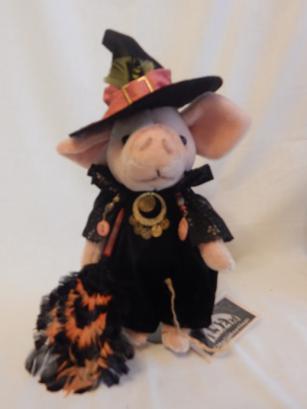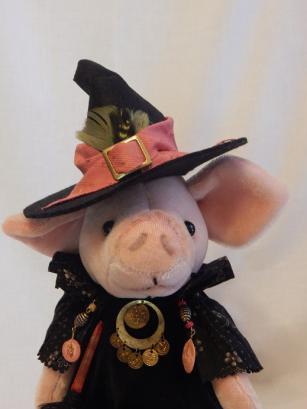 Is a peach mohair pig in black velveteen outfit and patterned cape embellished with old jewels and spangles. Witchy hat has buckle and feathers and she carries a fabulous feathered fan in Halloween colors. - $225
13" Peaches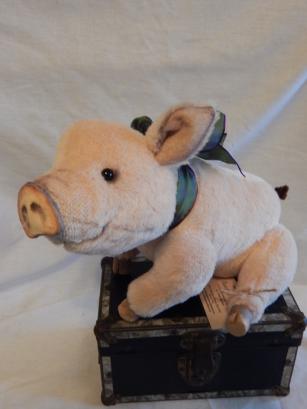 Darling little pig with 6 joints as it has a double jointed neck, sculpted hooves and green bow accent.Peach alpaca. - $325
11" Two Bits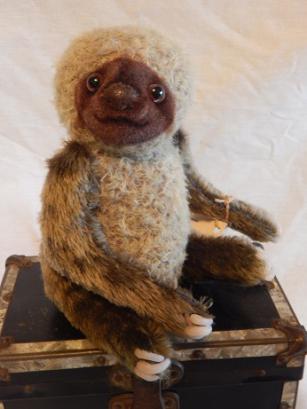 Another baby sloth. - $230
15" Comfort Ann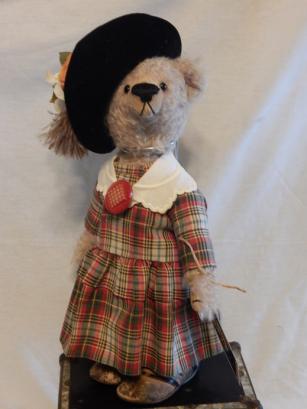 Vintage plaid school girl dress pairs with old tan leather Mary Janes with black leather details and red shoe buttons. Hunter green cloche is accented with feathers and flowers. - $265
6" Ting Tang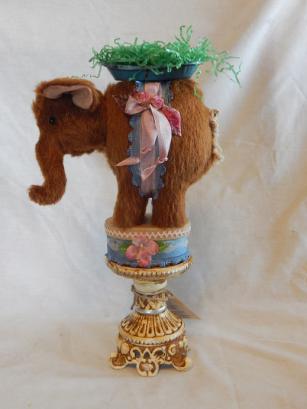 Chocolate brown elephant stands atop a decorative pillar and decorated box. Floral details and an old tin tub to hold candy accent him. - $220
11" Cicero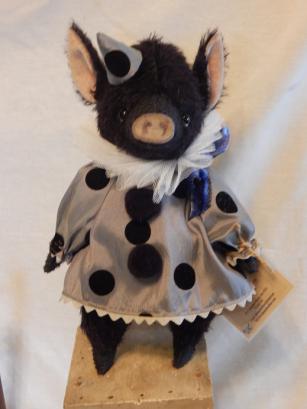 This black mohair pig is wears grey taffeta Pierrot styled costume with black polka dots. He wears a standing ruff of stiff netting and pointy hat. - $235
11" Charlotte Russe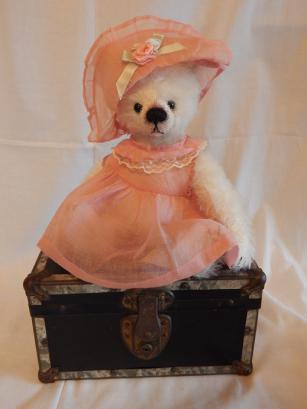 White mohair bear wears salmon vintage voile dress and matching hat to welcome spring. - $235
13" Maizy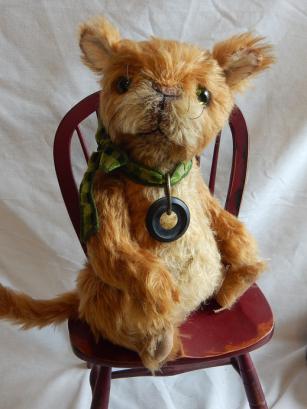 A more cooperative cat in honey and gold with green eyes and Ribbon. - $265
8" Sally Ann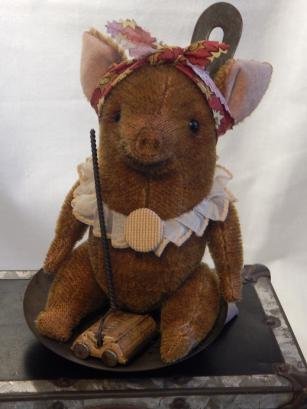 Mustard Mohair pig wears hair wrap and ruffled collar as she cleans house with her antique metal sweeper. She sits on a metal ladle. - $195
The Plague doctor House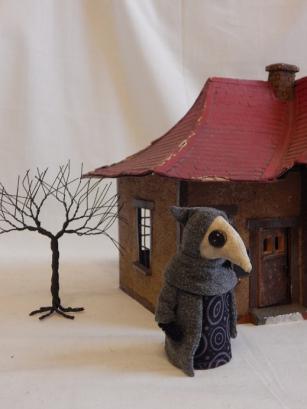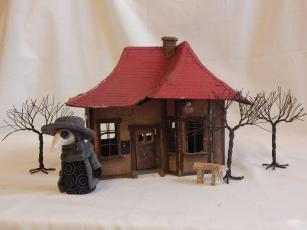 Is an old tin building with detailed Red roof ( which lifts off) windows and working doors. A battery operated candle lights it from inside for a spooky fright. Plague doctor is a nod to Medieval times and the masks doctors wore. 4"doctor is layered in long cloak, outer coat and hooded cowl as well as removable hat. - $175
6" Quechua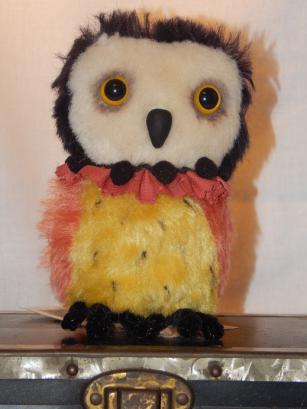 A tiny owl in mixed mohair. Jointed head. - $55
4" Little Hoot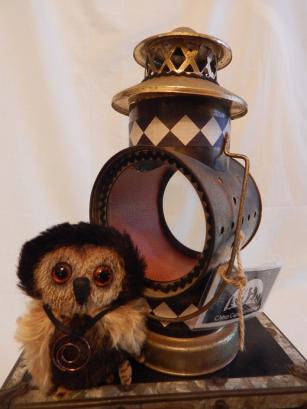 The owl resides in an old brass lantern.Hoot is made of brown and gold mohair with jointed neck and amber glass eyes with spiral pendant on leather collar.Removable from the lantern which is lined in textured orange pater and detailed with back and cream check. - $75
9" Salmon Fisherman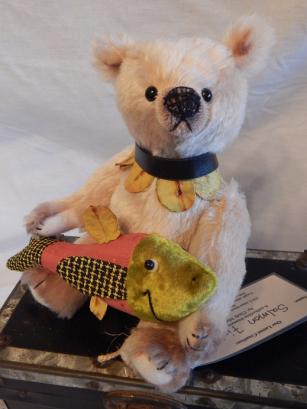 Off white mohair bear has black collar with fish scale detail and carries his own fish!. - $195
9" Zerbo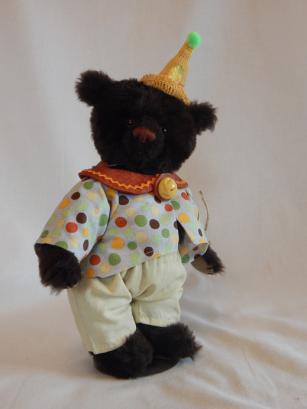 He follows the circus train in droopy drawers and bright jacket with crocheted hat. Chocolate brown mohair and German glass eyes. - $215
9" Daisy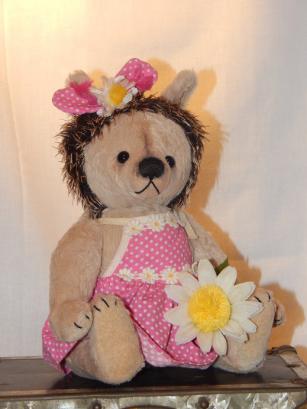 A hedgehog in bright pink dress with daisy trim and hair bow and holds a very large daisy with pompon center. - $215
Old Mother Hubbard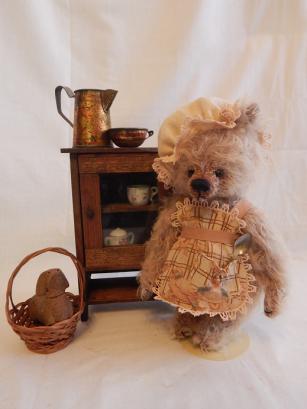 Is a sweet faced tiny bear only 9" tall made of soft taupe mohair and ultra-suede paw pads, fully jointed, black stitched nose and German glass eyes. She is dressed in apron of vintage fabrics with lace edging and tiny tin spoon in her pocket. An old-fashioned lace trimmed Mob cap captures the look. "Old Mother Hubbard, went to her cupboard to get her poor dog a bone. But when she got there the cupboard was bare , and so the poor dog had none." The old wooden cupboard is part of her purchase with vintage crockery and tin ware and her poor old legless cork dog. - $245
11" Baxter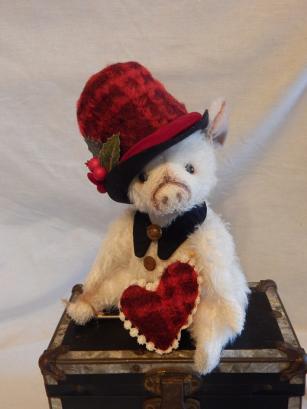 White mohair pig with red wool top hat and matching heart to give away to his true love. He wears black collar and old brass buttons. - $235
11" Canton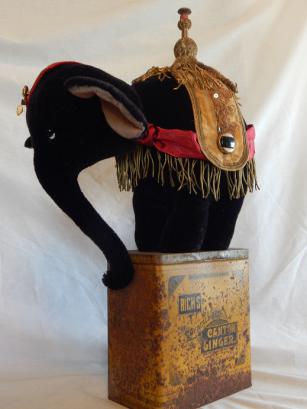 A majestic black mohair elephant stands atop an antique yellow tea tin adorned in old fabrics and older metallic tassels. - $275
11" Pumpkin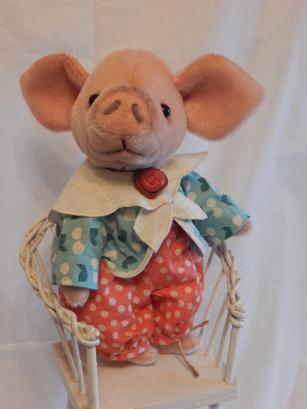 A baby pig wears orange polka dot rompers and turquoise jacket with vintage baby bib collar. Soft peach mohair. - $225
6 1/2" Onion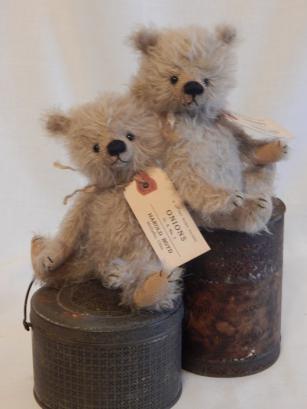 Stone mohair fully jointed bear, is adorned with a vintage Onion tag from McGuffy Ohio. Each sits on an old Worn black tin. - $200 each.
Teddy "B"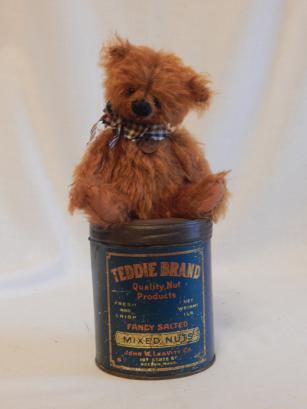 Vintage blue can of salted Teddy B nuts makes a perfect perch for this 7" rusty orange mohair bear with old taffeta ribbon and rusty metal tag. Fully jointed. - $210
13" Salmon Enchanted Evening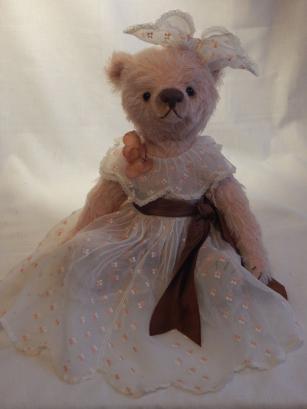 Pale peach mohair accent the embroidered vintage dress. Lace trimmed edging adds to the delight. - $265
12" Pork Queen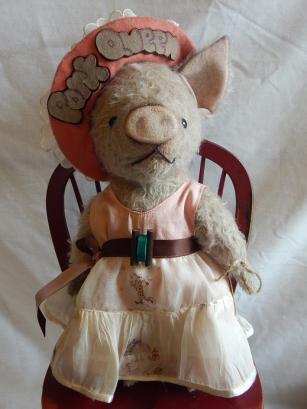 What more is there to say? Grey pig wears Vintage silk and cotton dress and lace trimmed hat. - $255
11" Rufus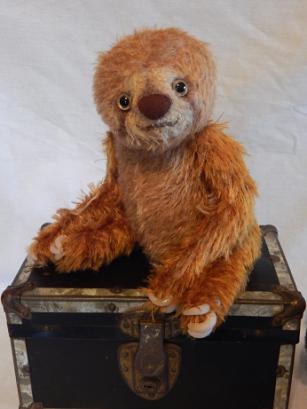 A baby sloth. - $230
10" BoBo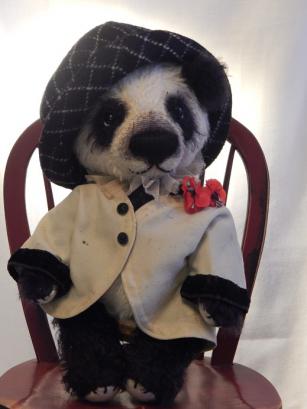 A panda in vintage Cream wool jacket with black velvet collar and cuffs. He wears a black wool hat And sports red poppies on his lapel. - $225
11" Yum Yum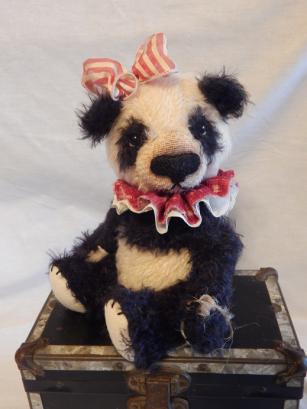 Black and cream mohair panda accented with red and cream ruff and bow. - $220
9" Petula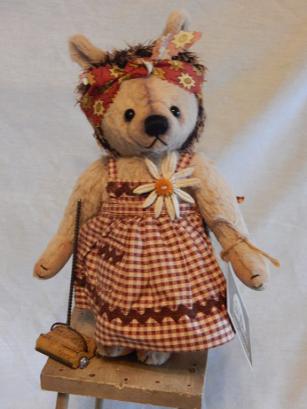 Same fabrics as Pierre but wears brown checkered apron and has an metal old SallyAnn sweeper. - $230