Kat and Kibble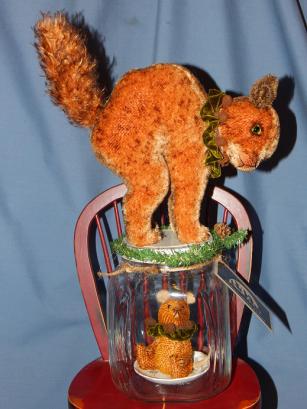 8" cat and 5" mouse of rust mohair go round and round on a vintage jar. - $285
12" Lydia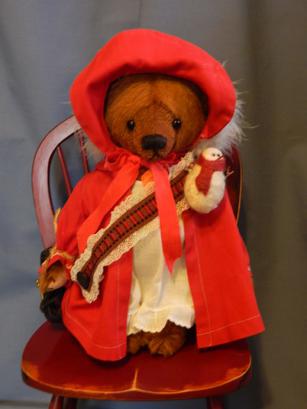 Vintage red coat and hat with feather trim and white slip combination on a milk chocolate mohair bear. - $235
10" Travelers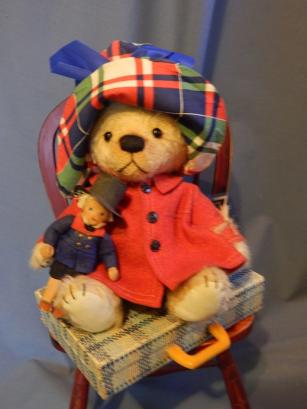 Soft yellow bear wears vintage red felt coat and bold plaid hat sits on her old plaid suitcase with her traveling friend. - $230
8" Pack Rat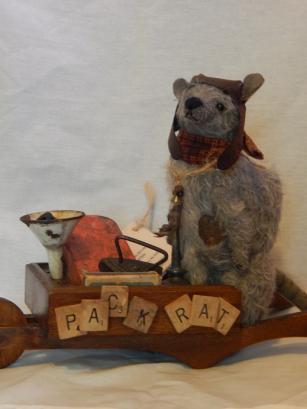 Is a quirky fellow in grey and cream mohair with beady little eyes and pockets sewn into his fur for his collection of keys. He trundles along with his wooden wheel barrow of oddities. - $225
16" Mimi Robillard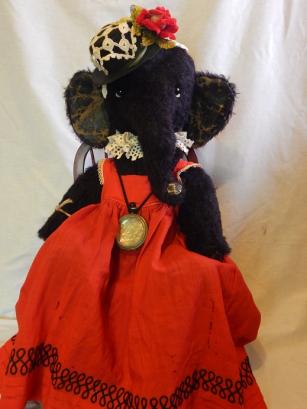 Black mohair elephant wears a vintage red wool dress with black soutache embroidery and perky lace covered hat with velveteen rose. Cream lace ruff adds contrast along with an old pocket watch necklace. - $355
Witch Hazel 14"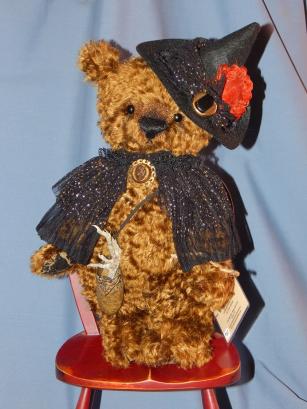 Dense bronze mohair bear wears multi layered cape and black hat with vintage metal juju holder for her chicken claw. - $255
18" Ebenezer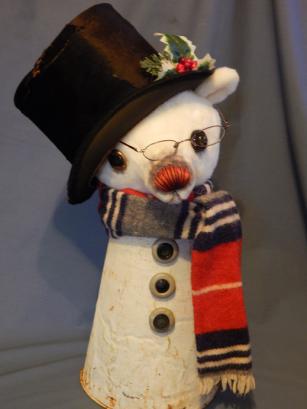 Snowman head on old bucket with real deal top hat. Glasses and button trim. - $95
15" Ivory Angel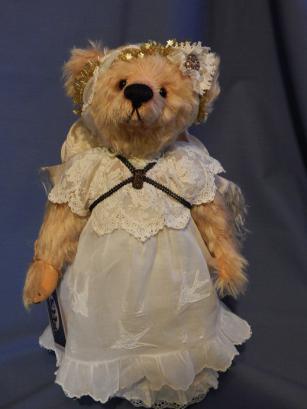 Honey mohair bear in vintage white work dress with lacy under-slip has beautiful antique moire ribbon made into wings. - 295
18" Ping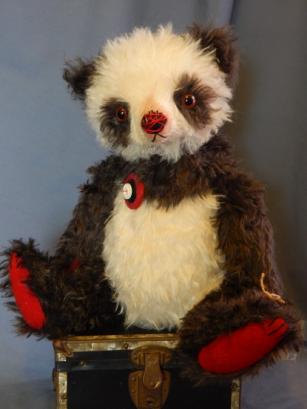 The panda in soot grey and cream dense mohair with red wool pads and nose detail. - $325
7" Pitty Pat Poodle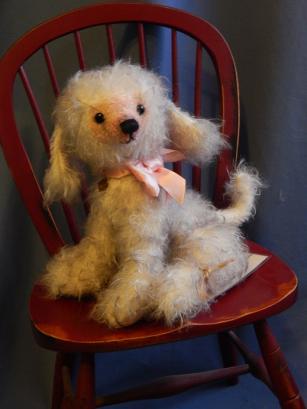 Patty's doggie friend in soft grey with darker grey tips with pink ribbon trim. - $195
Victoria 14"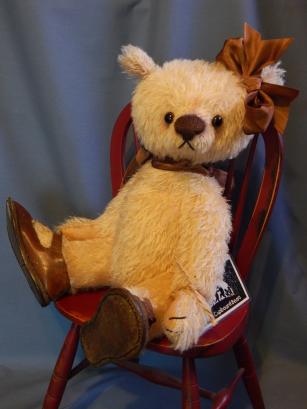 Sister to Olivia has brown eyes and nose and is simply done with brown taffeta bows and old shoes. Pellet filled also. - $255
15" Peppermint Patty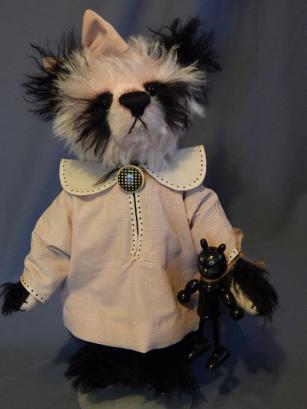 Is a black and pink panda in old pink check dress with embroidered details and wooden kitty. - $265
Philmont and Tantrum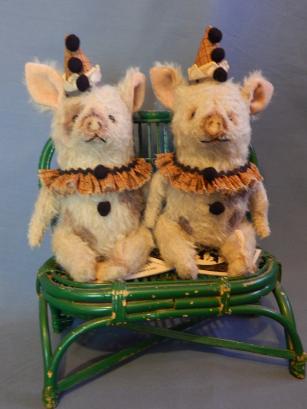 8" spotted pigs dressed for holiday fun in tiny ruff and pompomed hats. - $195
Isabella and Luna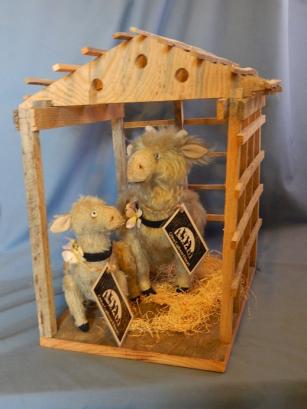 Are mother and child goats at 5" and 6"
Wooden stable can be sold separately or be included with Isabella. - $215 and $235
12" Heartfelt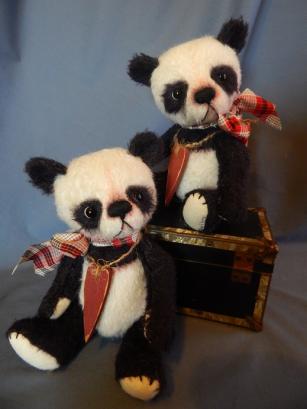 Is a silly side glancing panda in traditional black and cream mohair ,sports a red, black and cream bow and worn red wooden heart. - $245
P.B. And Jelly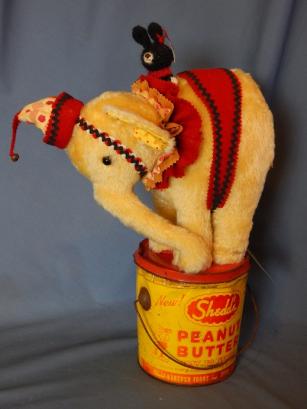 10" tall elephant stands on 6" vintage tin wears red saddle and ruff with pointy hat . Riding on her back is a tiny crocheted rabbit made by a Japanese artist. - $325
19" Bugle Boy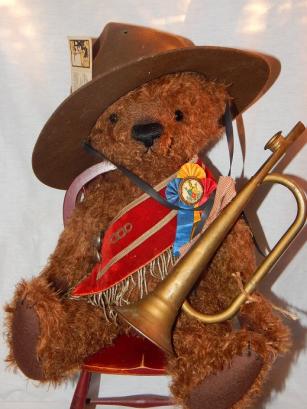 Is made of curly dense milk chocolate mohair and sports a vintage Rough Rider hat, red velvet sashing with important medal and an advertisement to buy war bonds in his hat band. Old Tin bugle completes him! - $355
Strudel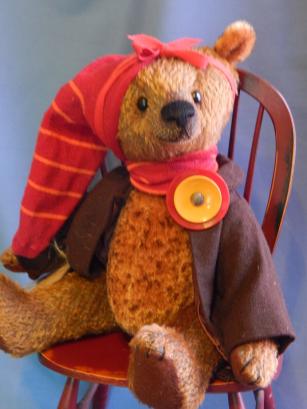 13" bear of brown and spice mohair wears stocking hat and vintage brown coat with bright bakelite button. - $230
Wilbraham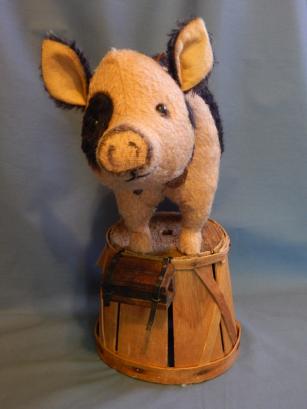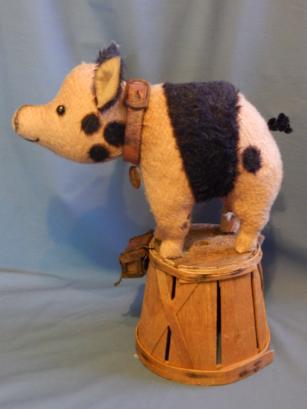 9" tall pig is made of flesh and black mohair with spotted details and wears old leather collar and metal tag standing on an old peck basket. - $265
Laird Cairnstone 15"
Dense rust mohair bear with old oil cloth paw pads, wears black velveteen bonnet with grey and black wool plaid and antique button. - $275
11" Eloise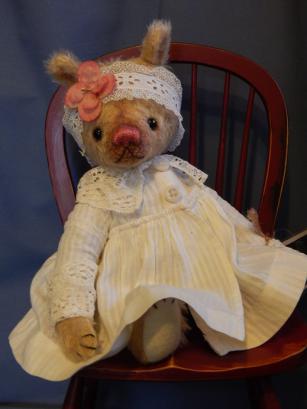 Pale yellow mohair bear wears old white work dress and lacy headband. - $235
Pima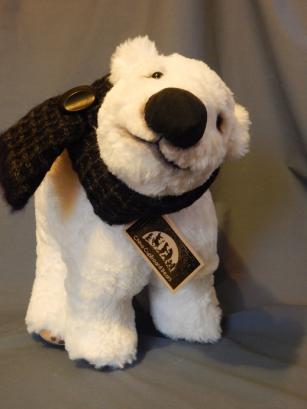 Prototype polar bear with wool knot scarf. - $245
13" Irma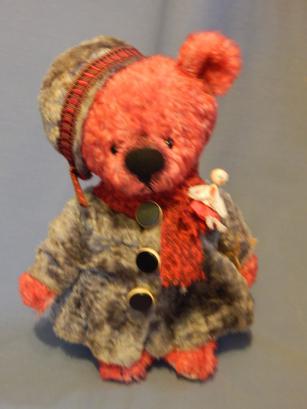 Red mohair bear in old grey coat and hat. - $225
9" Ethel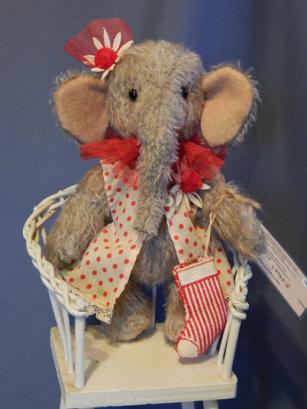 Grey elephant in polka dot dress and floral trim. - $220
13" Ichabod The Pig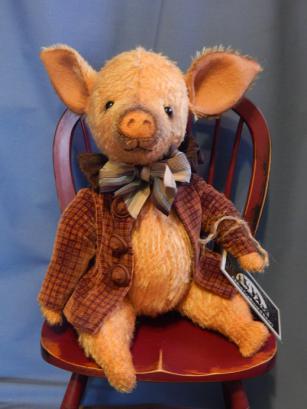 In orange mohair wears a colonial waistcoat in vintage velveteen. - $265
5" Cranberry Cluck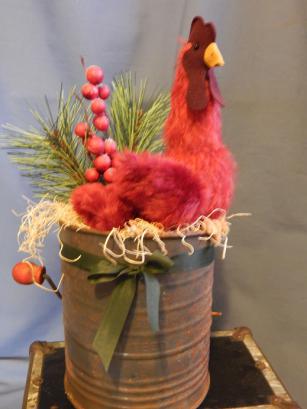 Jointed chicken in shades of red mohairsits in old flour sifter. - $125
15" Laurie Ann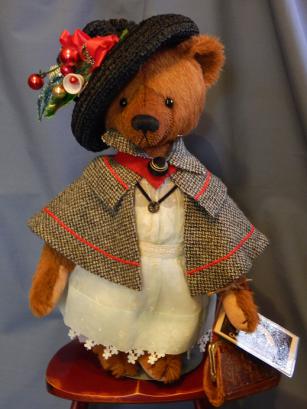 Milk chocolate mohair bear wears vintage petticoat, voile dress , tweed cape , black hat and leather purse. - $265
15" Angel of Peace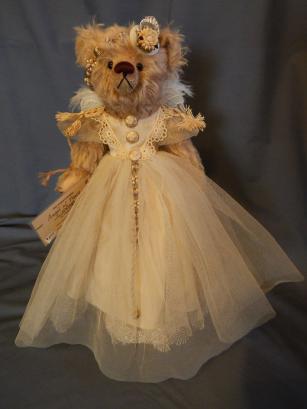 Monochromatic from her glittery base to her ivory mohair and vintage tulle dress with pearl accents and antique tassels and button detail. - $255
Baa Baa Black Sheep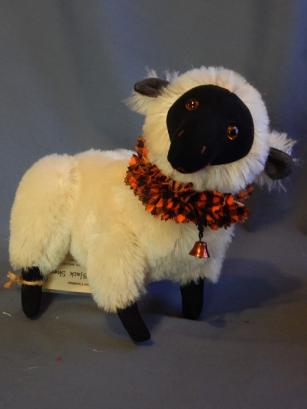 String mohair with black ultra suede legs and face and holiday trim of a ruff. - $235
7" Pitty Pals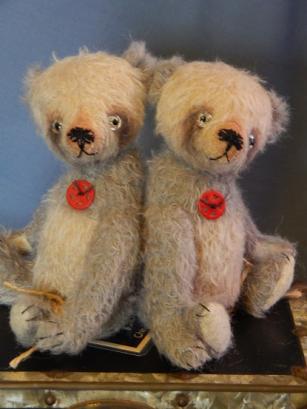 Forlorn looking soft grey and cream pandas. - $215
14" Peppermint Patty Panda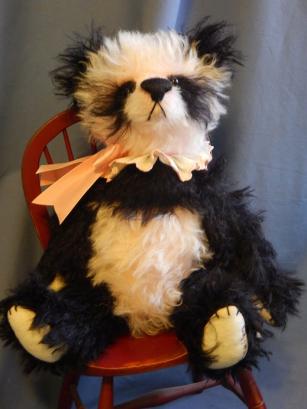 Feathery long pink and black mohair panda with linen and lace ruff. - $265
15" Heartfelt the witch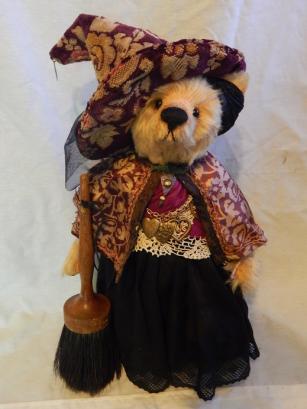 Honey mohair bear wears purple floral hat and cape over black skirt and royal purple bodice. Necklace of heart charms to ward off evil and horse hair broom to chase away bad dreams accompany her. - $285
11" Rub a Dub Dub, 3 Men and a tub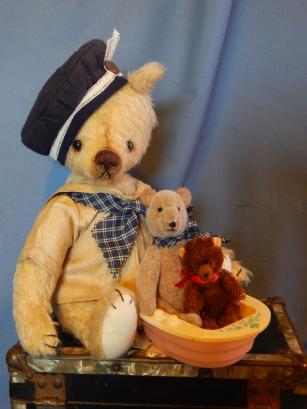 Wheat color mohair bear wears old sailor shirt with navy beret and is accompanied by 2 old bears in a celluloid tub. - $235
12" tall x 18" long Jumbo and Peanut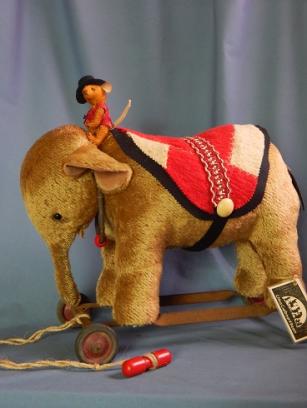 Tan with dark backing mohair mohair elephant rides on an antique set of red wheels. He has an open mouth and wears a red/ cream wool feather stitched blanket. His 4" tiny mouse friend rides along. - $355
15" Laurie Ann, 12" Lydia, 7" Libby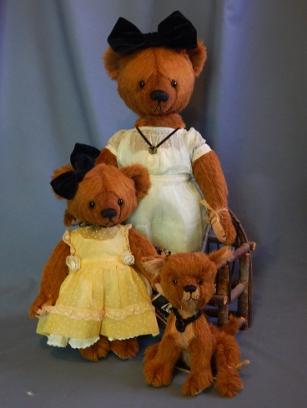 Laurie Ann, Brown mohair girl in soft blue voile vintage dress with lace trim and vintage slip, black velvet ribbon and old tin toy watch. Lydia, brown mohair younger sister in soft yellow vintage dotted Swiss dress with lace edged slip and black velvet ribbon trim. Libby, their best friend a matching dog. - $265, $235, $195
5" Buttermilk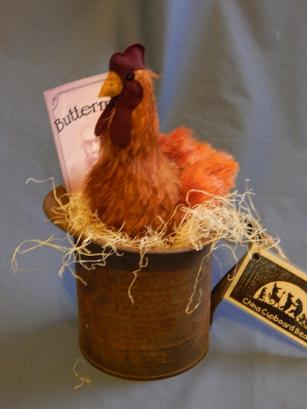 Jointed chicken in rusty tin measuring cup with vintage label. - $115
14" Asher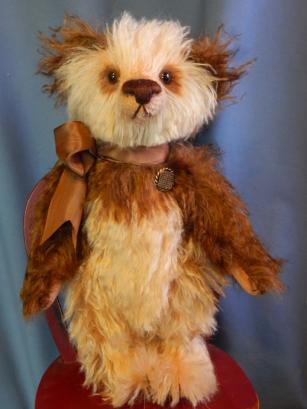 Delicious long feathery mohair in peach and browns with bow and bronze button. - $265
10" Ian and Rollo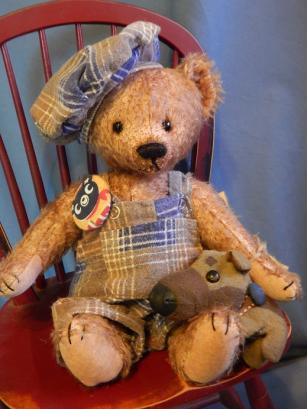 Brown mohair bear in old plaid flannel overalls with a bonnet , silly pin and his dog friend. - $220
13" Marisol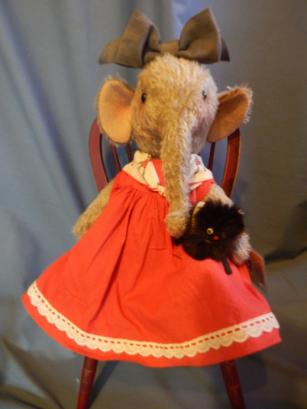 Grey mohair Ellie in vintage red dress with child's hanky scarf and old black fur kitty. - $235
9 1/2" Little Miss Sister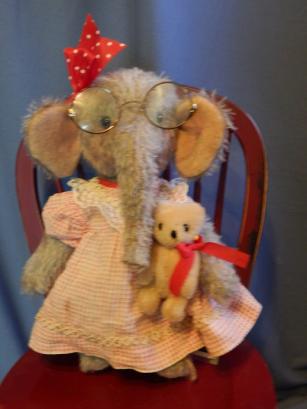 Baby Ellie to Marisol in grey mohair and old check dress with oversized glasses, red hair bow and bear friend. - $225
20" Heatherdown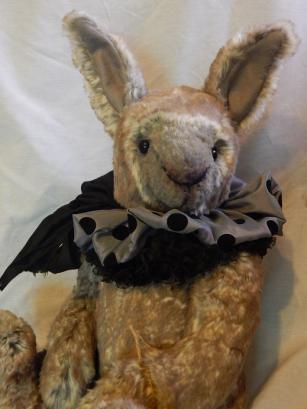 Soft tipped grey rabbit has wired ears and taffeta polka dot ruff over black lacy Victorian ruff and large bow. - $355
PB and J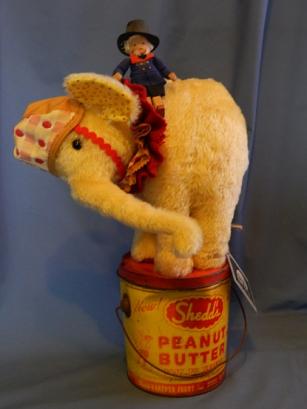 Pale yellow mohair elephant stands atop an old peanut butter tin and wears multiple ruffs in red and yellow and matching hat, while his friend rides atop. 10" tall elephant on 6" tall tin. - $265
Hog in a Log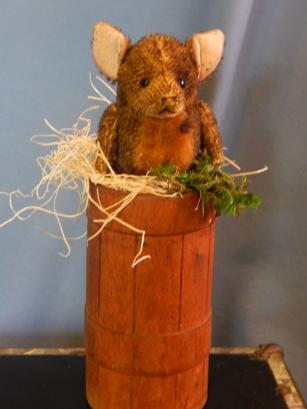 5" tiny speckled pig in wooden log. - $145
7" Paige Ann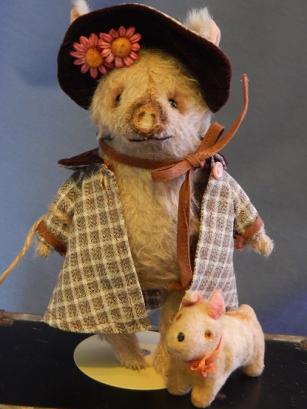 Little piggy in hat and coat and vintage dog. - $230
Cosimo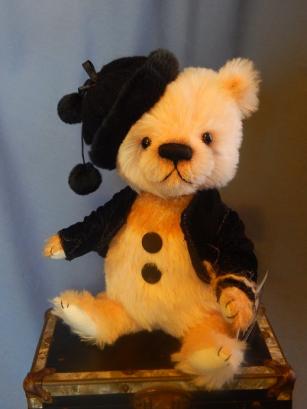 12" bear in soft shades of peach and apricot is complimented with vintage black velvet jacket and old hat. - $255
12" Petunia, 10" Pearl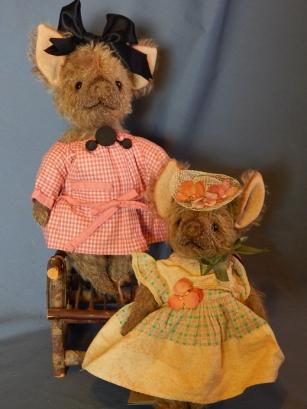 Petunia, a darling pig in a hand made pink check dress from the 1920s. Big hair bow bow makes her happy. Petunia, 10" of piggy cuteness in this little little girl with perky hat and well used dress. - $235, $225
12" Zee Burt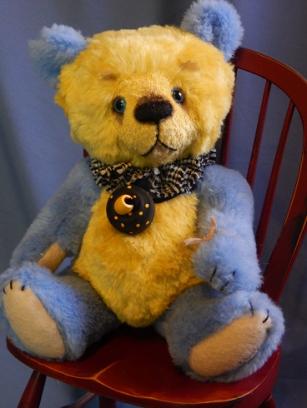 Sky blue and lemon yellow tissavels make up this chubby child bear with checked ruff and spotted button. - $225
5" Libby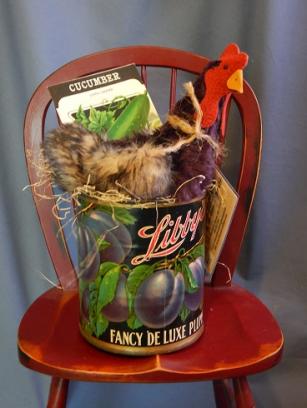 Plum and black tipped mohair chicken is jointed and resides in an old can with vintage seed packet. - $115
5" Chicken Scratch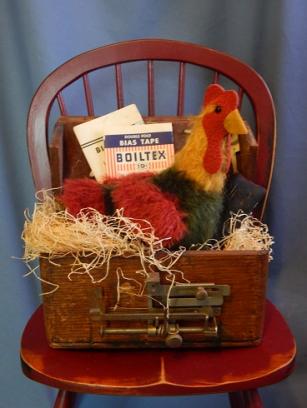 Mohair chicken with jointed wings and head in old sewing box with trim. - $115
12" Bobbie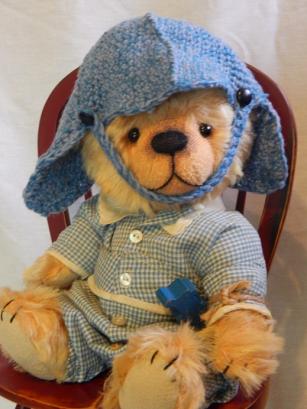 Is made of honey mohair and wears a vintage blue check romper and crocheted hat. - $235
5" Night Wing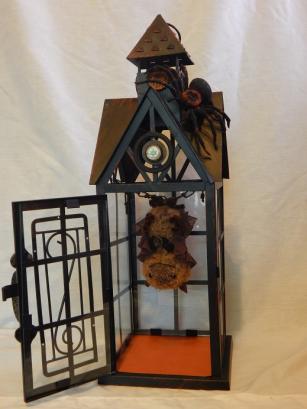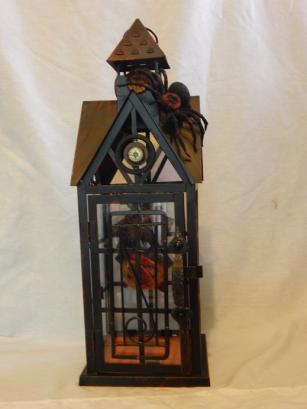 Is a orange matted mohair bat over a dark brown backing with brown net wings made from an old glove. He hangs from a chain suspended in his glass tower with metal door details and resident spider. - $225
12" Countess Le Stat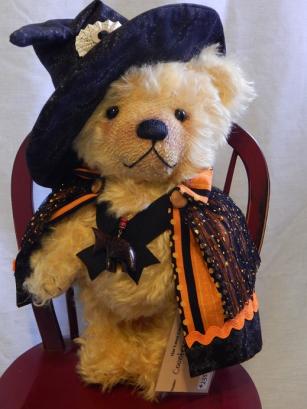 Is honey mohair and wears a lined cape in golds and black and orange, black hat is trimmed in netting and she has a wooden animal effigy. - $235
5" Peach Plum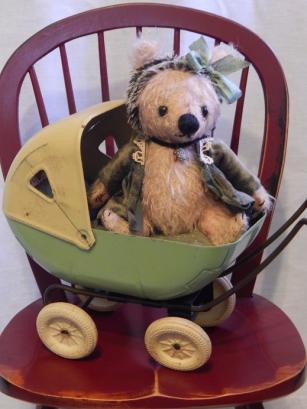 Her hedgehog sister arrives in vintage green and cream buggy and she wears a green velveteen jacket and hair bow. - $225
9" Cherry Plum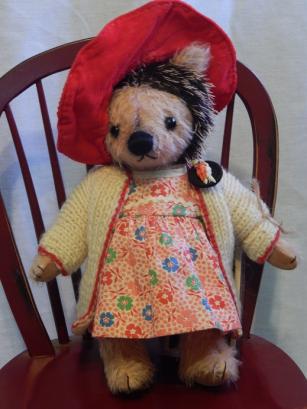 The hedgehog wears a vintage floral dress and sweater with red hat. - $225
24" Jacob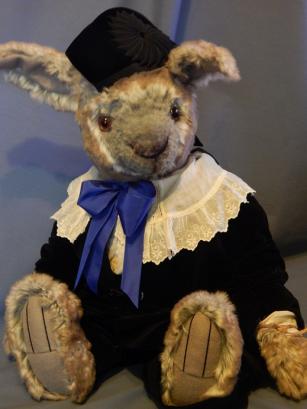 Grey rabbit with big brown eyes is dressed in vintage velveteen pant, jacket and blouse with big lace collar his mother made him wear. Scotch bonnet and soft silk bow at neck . - $425
11" Eggzackly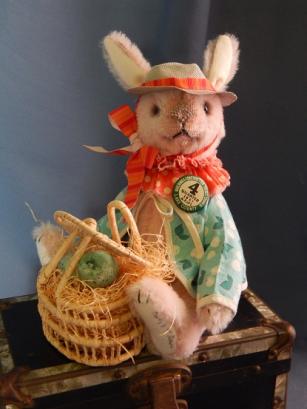 Soft pink alpaca bunny wears old floral jacket and felt hat and carries wicker basket with speckled eggs. - $235
7" Who's the Leader of the Band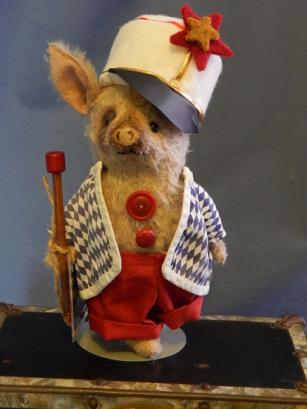 This little piggy commands the field in red shorts, patterned jacket and drum major hat. - $230
9" George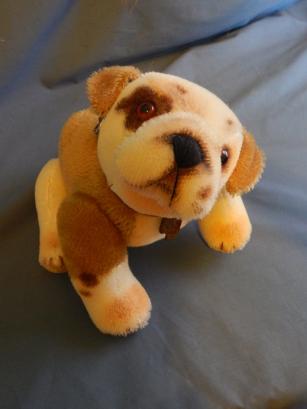 My new English bull dog puppy in cream and caramel mohair is detailed with brown class eyes and paint to bring out his adorable personality. - $265
12" Smokey Joe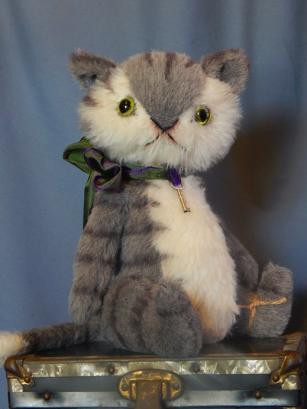 Grey and cream stripped cat with luminous green eyes. - $265
16" Colonel Pritchard and Pal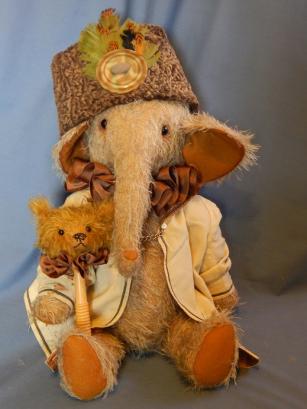 String mohair elephant wears vintage fine wool jacket with fabulous hat and ruff collar. His poppet pal wears ruff also. - $335
Lulu Belle and Ivy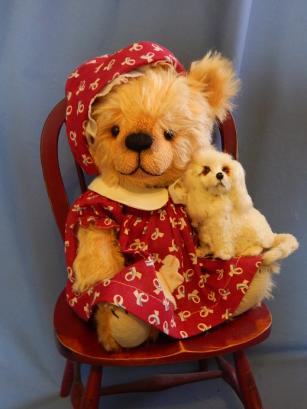 12" Honey mohair on my new chunky body child bear in deep red vintage bonnet and dress with appliquéd dog matching her own furry friend. - $255
25" Milton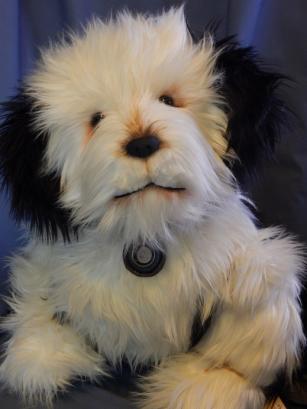 Feathery dense tissavels in black and white bring this lovable dopey dog to life. Fully jointed and house trained, with 22mm glass eyes and sculpted nose. Black collar has a nice detail. - $435
15" Neptune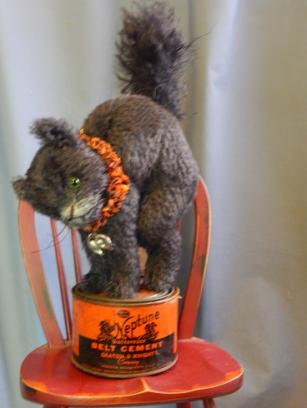 Stylized black cat in two mohair lengths on orange vintage tin. - $215
12" Autumn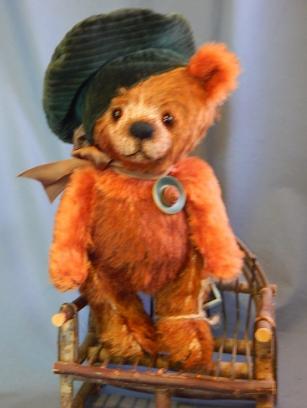 Cubby child bear in brown and orange mohair with old green corduroy beret and button . - $235
7" Changeling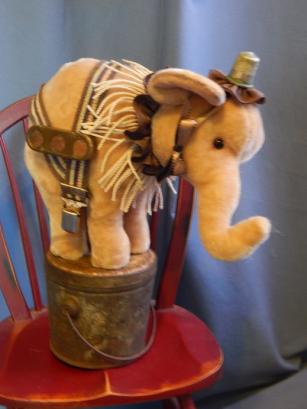 Pale tan mohair Ellie stands atop a vintage peanut butter tin with an old coin holder and mitten clips. - $215
Jay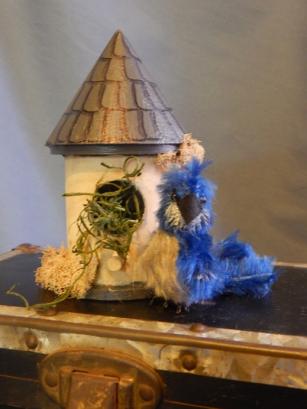 2" tall stone and royal blue mohair bird , with tiny wire feet and glass eyes. Small wooden bird house is his home. - $95
8" Market Pig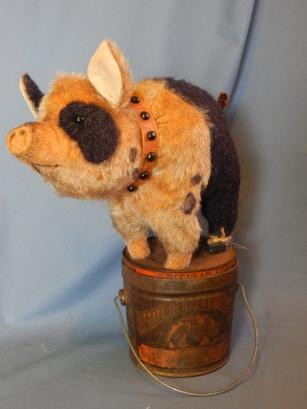 Stands on 5" old Rendered Lard tin. Spotted Pig is black and peach mohair. Leather collar with shoe button trim. - $265
11" Bunny Momma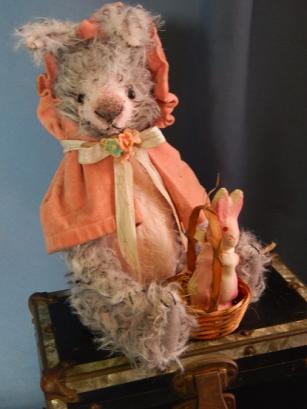 Tweedy pink and black mohair bunny with pale pink belly wears a hooded cape of vintage soft pink fabric and carries a small wicker basket with vintage pink mache rabbit. - $235
Bat in the Belfry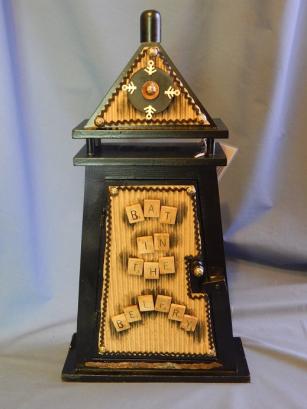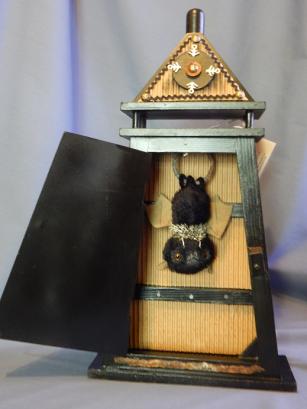 This 6" mohair bat with ultra suede wings resides in his own clock tower. - $225
7" Annameika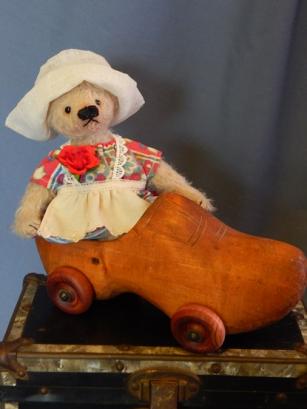 A tiny Dutch girl In a wheeled wooden shoe. - $230
Peckish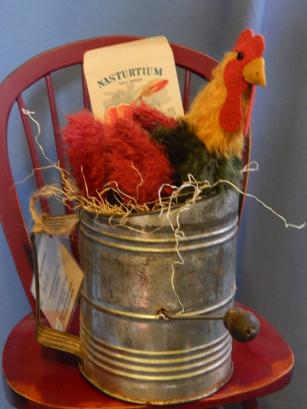 Red, yellow and green 5" chicken nests in this old flour sifter. - $115
Clementine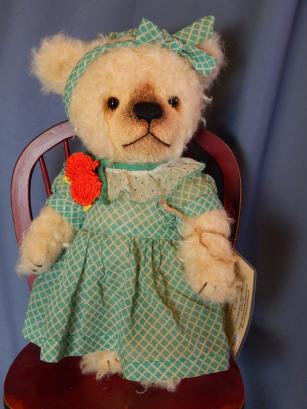 Ivory curly mohair, this chunky child bear wears a vintage green dress with a pop of orange corsage. - $250
Lulu and Muffin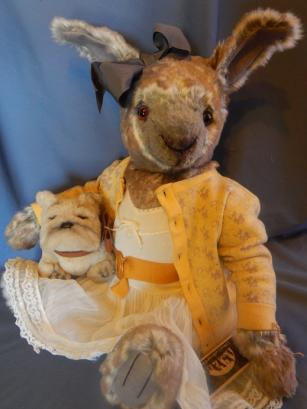 22" grey tipped rabbit in the softest of Tissavels wears old lace slip and patterned sweater. She carries her little grey dog. - $455
Wolf Man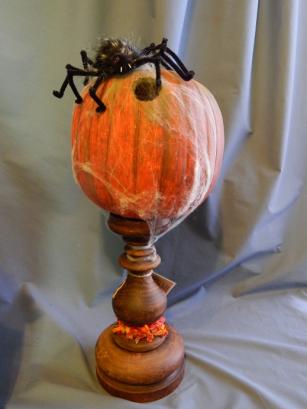 20" pumpkin on vintage wooden stand has a resident spider made of spotted Tissaval and chenille stems. - $125
Princess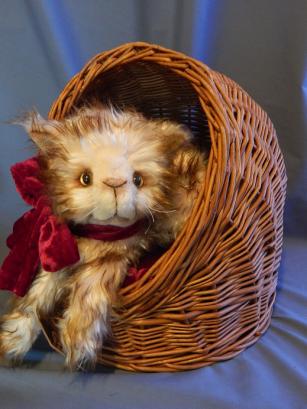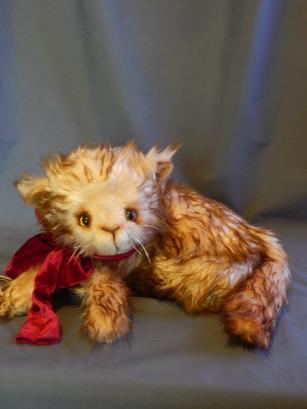 This sweetie is made of thick dense Tissaval so soft she needs to be petted. She is filled with pellets and weighed like a real kitty . Rose velveteen bow and pillow inside her basket. Vintage kitty basket is her home. - $285 (w/ Basket), $255 w/o
Tutu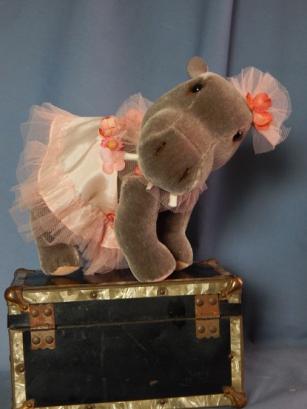 Is a 9" tall hippo with toothy grin and vintage pink costume of taffeta and net with complimenting Floral trim. - $245
14" Dolly Bear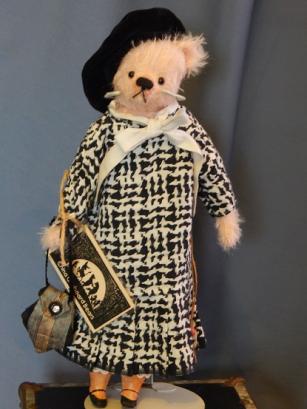 Mohair head and arms mounted to a carton doll body with working pull cord squeaker . Dressed in vintage dress, drawers and hat with compo legs. For that doll /bear collector. - $165
7" Flora Dora's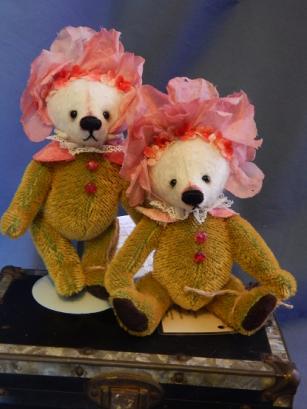 Were just for fun, springy bears. Tiny button accents their belly's. - $215
5" Spring Blue Bird (left), 5" Nemo (right)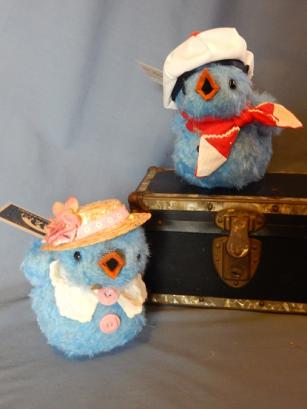 Spring Blue Bird, sky blue mohair and leather beak wears lace collar, button detail and straw hat. Nemo, sky blue mohair and leather beak wears Nautical beret and jaunty red collar. - $95
9" Miss Beatrice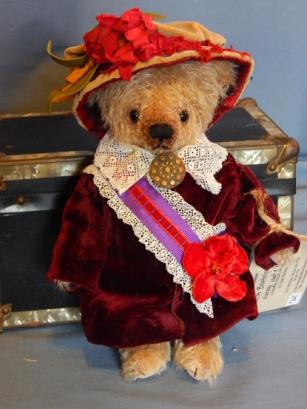 Light honey mohair bear in cranberry velvet old coat. Lace collar and sash with ribbon detail. - $235
Timmy Blue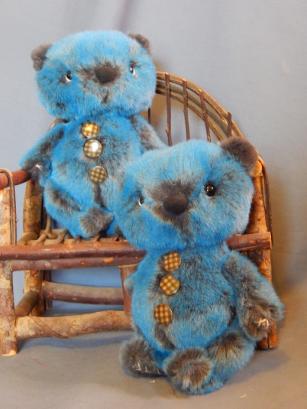 6" sweet teddy made of soft turquoise viscous with old plaid buttons and cross stitch details on paws and feet. - $145
8" Street Rat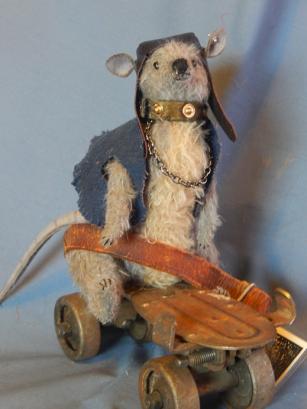 Grey and cream rat rides down the hard road on his dinged up skate. Pierced with studs and hoops, he wears leather helmet, denim vest and studded dog collar. - $235
Talullah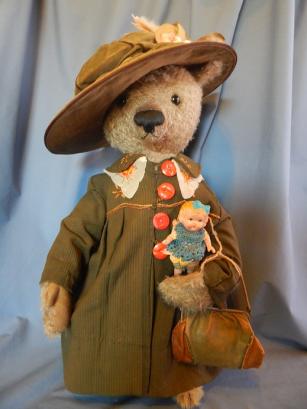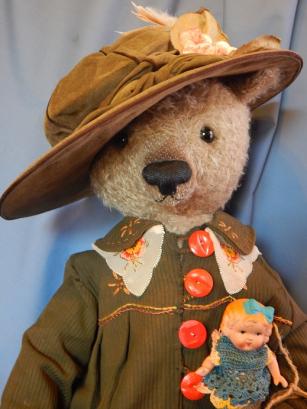 25" tall bear made of taupe mohair is dressed in vintage Loden green coat and velveteen hat. Fully jointed with wired armature in her hands and arms . She carries a leather purse and old bisque doll. - $525
8" Buttonwood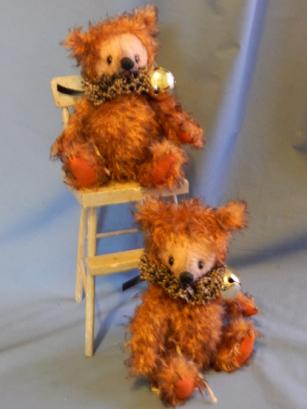 Burnt orange tipped mohair with black check ruff and brass bell. - $215
18" Morning Glory and Pip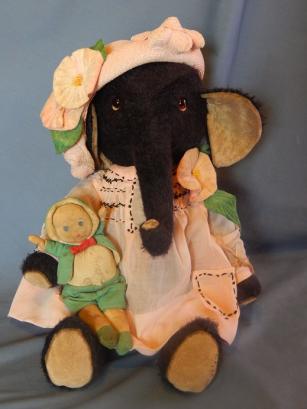 Black mohair elephant wears vintage pink smocked dress and hat with old velveteen morning glory and 1930's doll. - $325
11" Spring Anne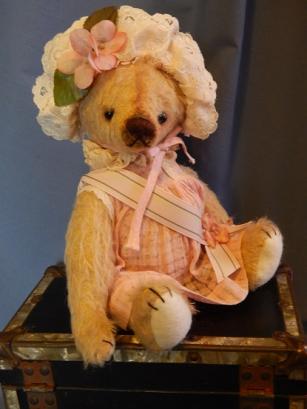 Butter yellow mohair teddy bear and wears pale pink dress and bonnet trimmed in old lace and ribbon trim. - $255
11" Sprout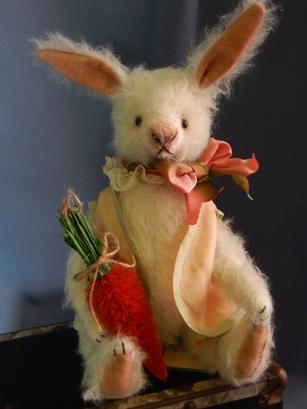 Pale green tipped mohair bunny wears a pale yellow silk vest with lime trim and carries a bright orange carrot. - $235
Ta Da!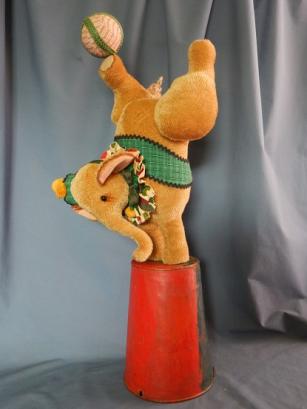 16" elephant stands on 9" tall vintage can in chippy red and green paint. The stop light colors are accented with the warm honey gold mohair. She balances on her front two legs while back legs and head rotate to help her balance the ball on her foot. - $265
7" Stutz Bear Cat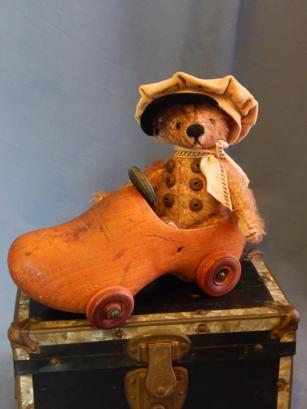 1920s details in his wooden shoe car. - $230
13" Penny the Pig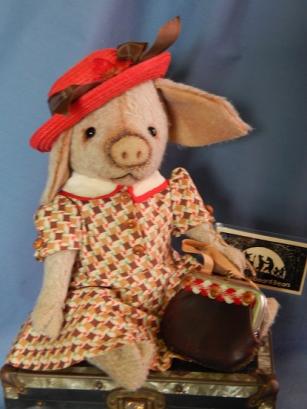 Stone mohair piggie with bifurcated feet wears a wonderful old patterned dress and straw hat. - $255
Pocatella and Pal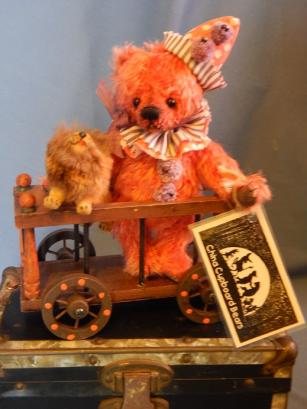 Burnt orange bear wears stripped lavender collar and hat with pom pom trim. She rides in an old wooden circus wagon with vintage German Lion. - $215
9" Polly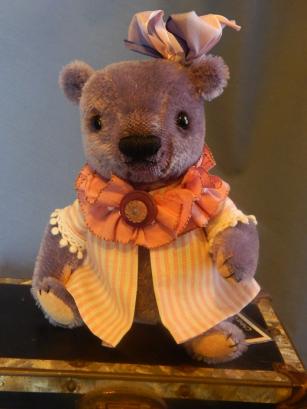 Lavender bear in pink stripped jacket and ruffled collar. - $210
21" Baxter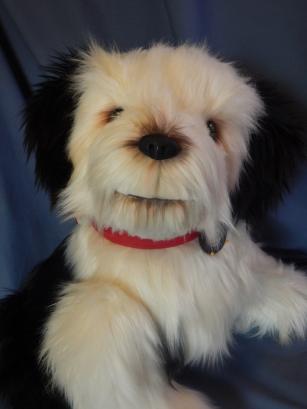 Black and cream English sheep dog with happy grin and red collar. Detailed paw pads. - $425
12" Rosa Maude, 15" Lark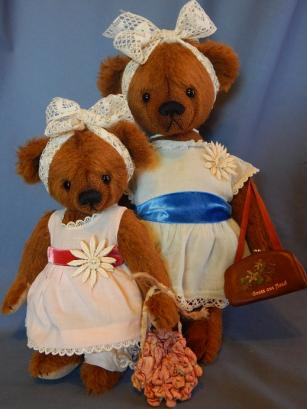 Lark, Is a chocolate brown center seam bear , who's color compliments her old pale blue organdy dress over a lace trimmed petticoat. Vintage embossed purse,lace details and velveteen sash. Rosa Maude, the sister bear to Lark in vintage soft pink, lace trimmed combination with velveteen sash. She carries a ribbon trimmed leather purse. - $245
Quasimodo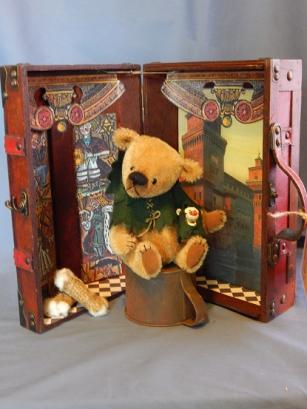 What hump? 8" tall with Medieval display case. - $255
5" Tall Spring Chicks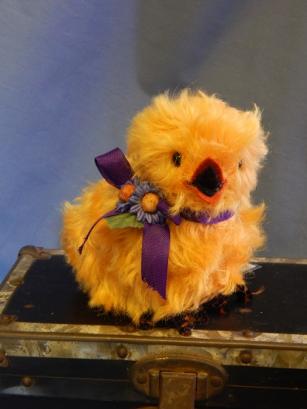 Vibrant yellow gold mohair with orange beaks and tiny feet. - $65
12" Mrs. Penroy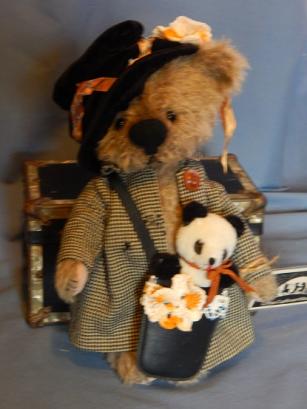 Tan mohair bear with old check coat and vintage velveteen hat holds her tiny panda in her purse. - $255
12" Faith Ann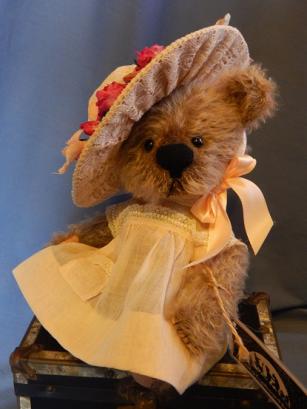 Tan mohair teddy with soft pale pink cotton dress with lace trim and floral trimmed lace hat. - $255
Pink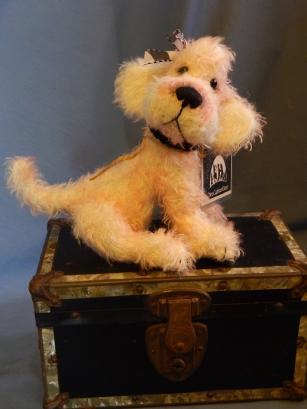 Sweet 7" puppy in pink tipped and cream mohair. - $195
Swifty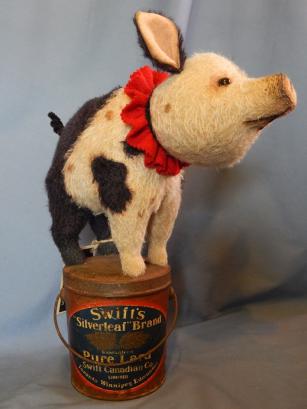 10" tall b-i colored pig on antique Lard Tin. - $265