Cuddly Pierre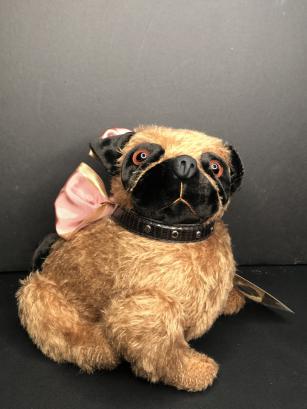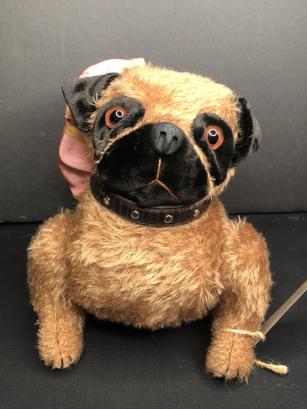 Arrives house broken and cat friendly. Made of tan mohair and old black velvet with bulging glass eyes and is fully jointed. Black studded collar and prissy bow!. - $255
12" Pink and Pudge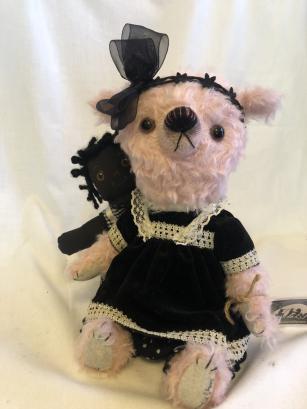 Pink bear wears black velveteen dress and black polka dot bloomers. Pudge is her black folk art doll in check dress and knobby hair. - $210
15" Roselee Cahill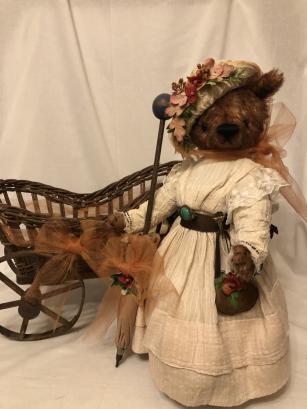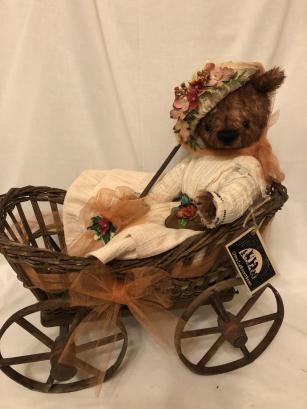 Seashell pink vintage dress was the inspiration for this lovely lady. Rust colored mohair bear is regal in her floral trimmed hat, parasol, and leather purse. Antique wooden carriage has large wheels and woven wicker sides. - $355
15" Roselee Cahill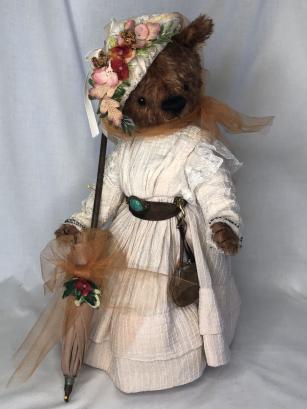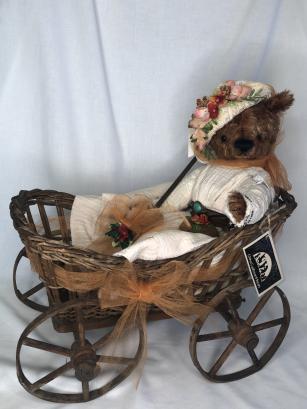 Seashell pink vintage dress high lights autumn mohair bear. Floral details on hat and parasol marry well with wooden goat cart. Brown belt is accented with old green buckle and chatelaine purse. - $345
13" Candy Corn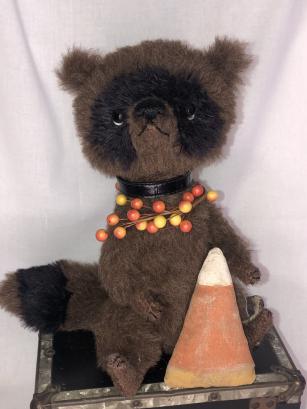 Brown and black alpaca raccoon carry's the biggest piece of candy. - $275
13" Raven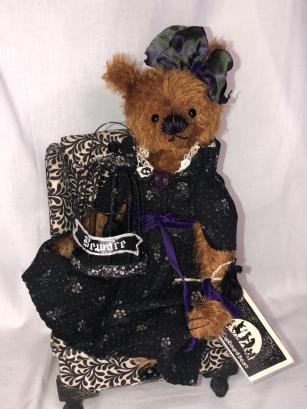 Rust mohair bear wears vintage black patterned dress with purple accents. Over stuffed chair has a secret hiding place, bird in cage friend. - $255
10" Lily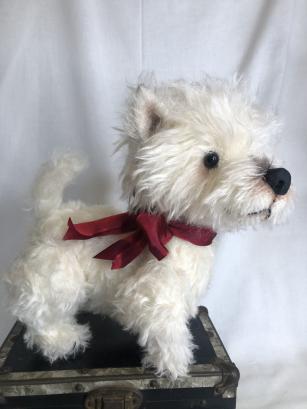 Made of three different lengths of creamy mohair Miss Lily always charms me with her wide button eyes , black nose and red bow accent. - $315
11" Sweet Pea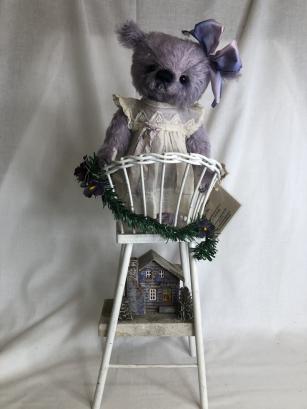 How sweet is this lavender bear posed with her petite white wicker chair and tiny holiday house in blues and lavenders? She wears a vintage voile dress trimmed in lace and lavender bow. - $245
9" Elliot and Edgar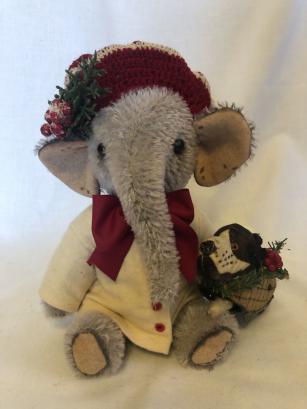 Grey elephant wears his holiday finest, cream coat with jaunty beret and bow. His little dog Edgar has seen better days but I've always loved his happy smile and little coat. - $195
12" Priscilla and Miles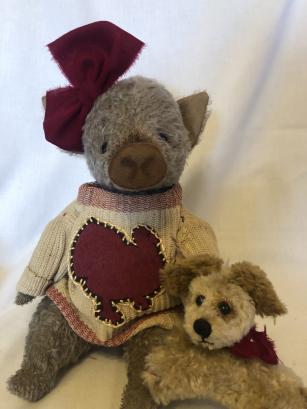 Grey mohair pig wears a Turkey sweater and a tummy full of good eats. Her little dog Miles wants some too. - $250
11" Peter and Paul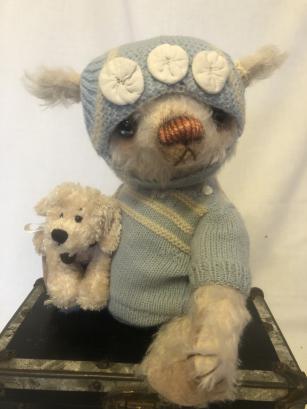 Ivory mohair bear wears finely knit sweater and matching hat. Bright brown eyes and caramel nose. His little dog is soft as can be with collar and bow. - $235
16" Winston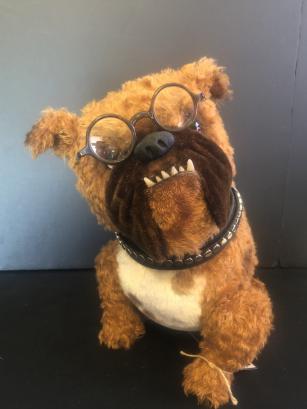 Rust, cream and brown mohair bull dog has sculpted nose and teeth. He wears vintage glasses reminiscent of his namesake. - $345
11" Benzo and Barney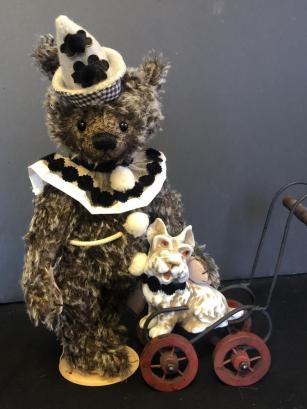 Tipped brown mohair bear wears ruff and hat and pushes his happy go lucky dog in stroller frame. - $245
6" Without tail Horton Hears an Elephant shrew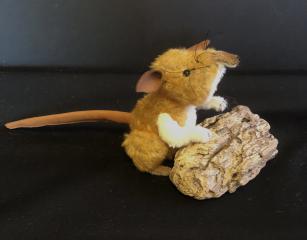 Elephant shrews are animals living in Africa with tiny proboscis for sniffing out food and big ears to hear predators. My version is made of mohair with leather ears and tail , fully jointed. - $175
3" Rosie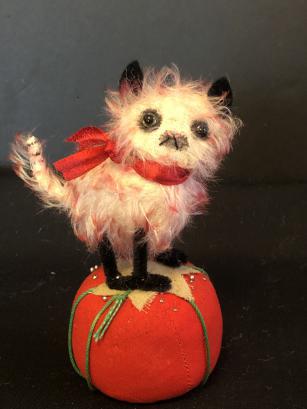 Mohair and felt with chenille legs Rosie is a precocious kitty on an old pin cushion. She pairs well with small bears and dolls. - $95
12" Mimi Le Blue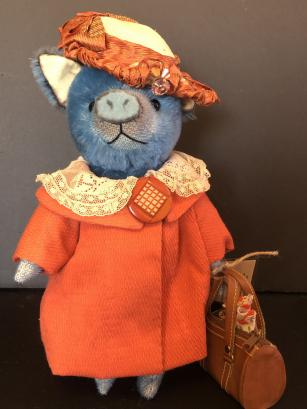 Blue mohair pig wears a fine vintage hat to coordinate with old coat. She carry's a handbag with hanky. - $265
8" Pig Partners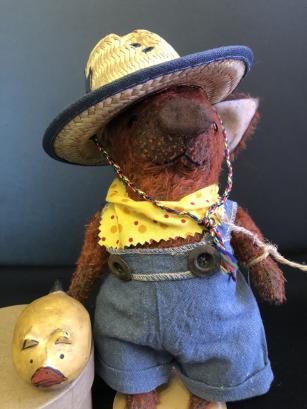 Red mohair pig and his little gold partner could be a fun rodeo. Dressed in vintage blue overalls with detailed straw hat and bandana. - $225
8" Sweet Pea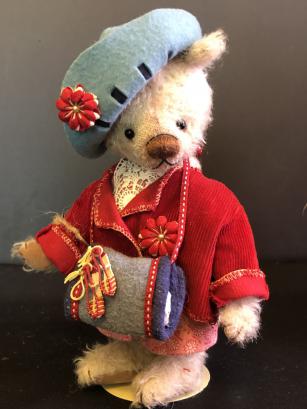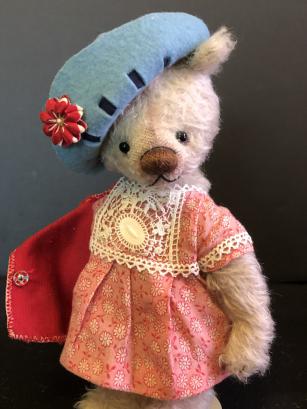 Cream mohair with pink tips on this little girl bear is a sweet combination with her pink floral dress, red jacket, blue felt hat and tiny muff. - $230
11" Carmen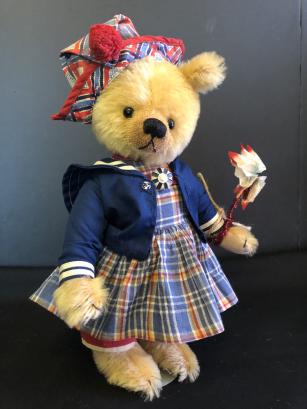 Gold mohair bear wears a vintage blue plaid dress and hat with sailor jacket and yellow pants underneath. She carries an old Japanese paper toy. - $255
23" Willow and Thistle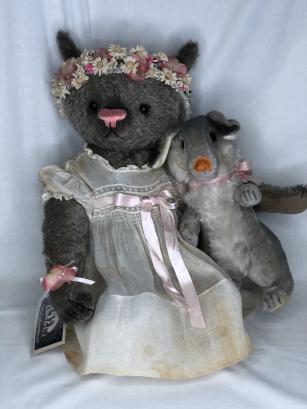 Willow is made of soft grey mohair and accent pink nose. Vintage lace trimmed and pink ribboned dress. Thistle is a vintage rabbit with matching pink bow. - $325
18" All Hands on Deck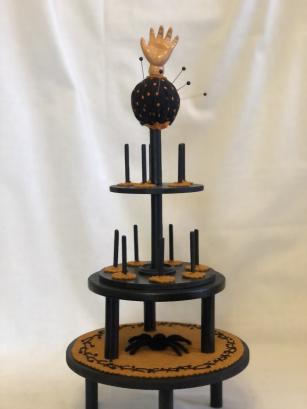 For Halloween merry makers, a wooden display piece for sewing goods or the unusual. Orange accents and a vintage compo hand. - $40
6" All Hale the Queen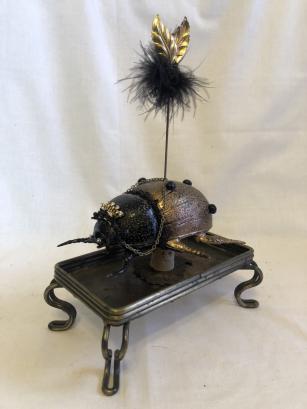 Queen of the Beetles in regal detail of feather and beads pinned in place on brass tray. - $40
9" Who Me?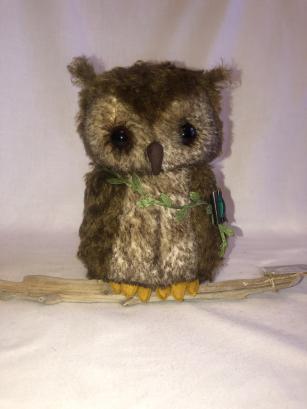 Two tone , wide eyed mohair owl wears a bit of greenery and clutches his twig. - $175
16" Little Feather and Quill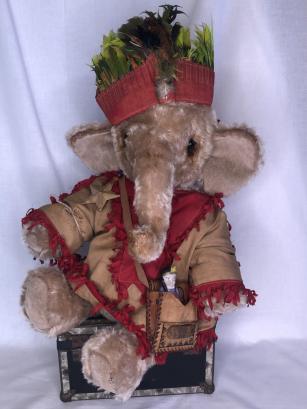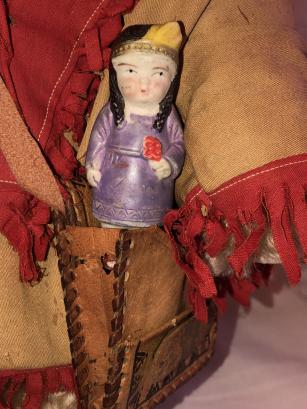 The tiniest bisque Indian doll resides in the leather pouch that Little Feather the elephant carrys at her side. Wonderful 1940's red and tan Indian costume with green feathered headdress. - $325
14" McTavish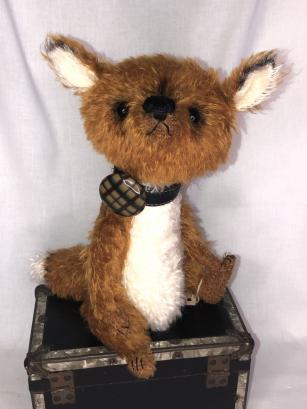 Feisty fox in rust and cream mohair with black color and plaid button. - $275
9" Hobart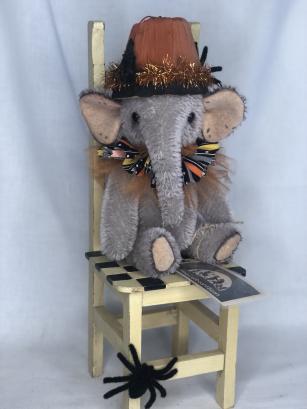 Grey mohair elephant is presented on checkered chair with spider details. Tasseled Halloween hat. - $229
9" Autumn Trio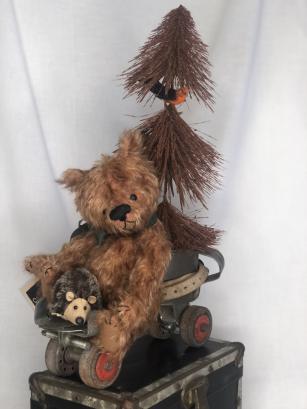 Rolling into Autumn on metal skate is a bear and hedgehog and vintage bird. - $195
9" Pumpkin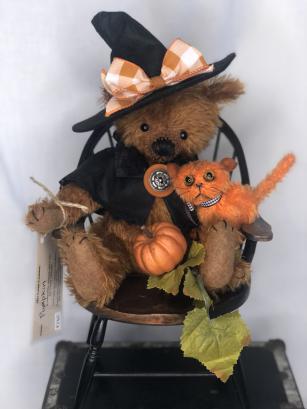 Petite rust mohair bear wears black cape and pointy hat and cuddles Her orange kitty made of mohair and chenille stems. Wooden chair also. - $255
26" Mrs Magpie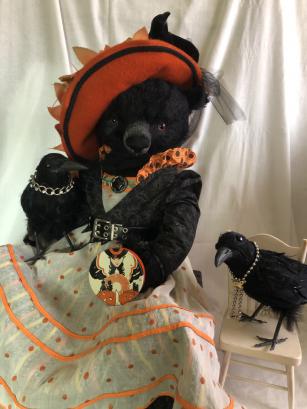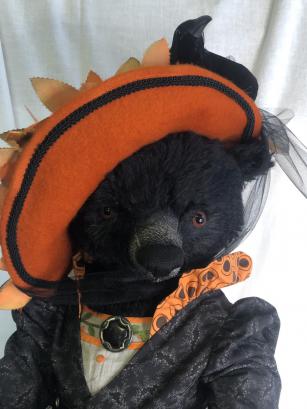 26" of black mohair in this Holiday piece. My large bears are fully jointed with a wired armature in hand and arms. This lovely lady is dressed in a vintage polka dot voile dress with an u set layer of stripped Petticoat and removable belted jacket. Green leafy trim delineates neckline and wristlet with gold scarab detail and vintage green glow bubble button. Her vintage orange felt had is detailed with leaves and floral bits with a winged crow focal point. Two Ravens, Gaby and Maude, who like shiny things, accompany her. - $550
10" Pretty in Pink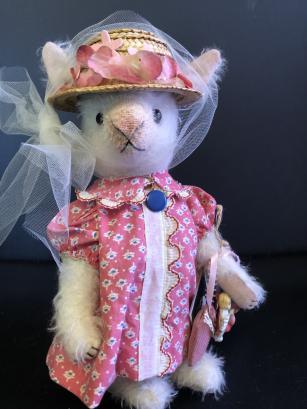 Soft white mohair rabbit wears pink floral dress and floral trimmed hat. She carries a tiny bisque baby on her purse. - $245
15" Madame Lapine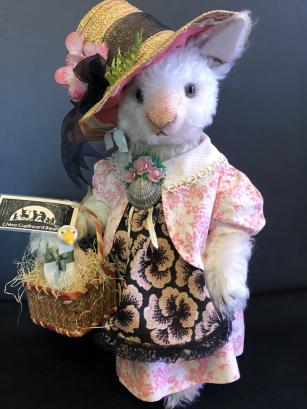 White rabbit, pink vintage dress and jacket over apron of old fabrics. Vintage straw hat is trimmed in ribbon and flowers. Shell pin at neck. She carries her goose in an old straw basket. - $265
7" The Wizard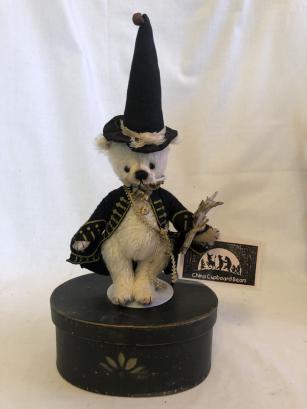 Fully jointed 7" bear wears old felt coat, tiny ruff of vintage ribbon, pointy cap and wizard wand. Paper box included. - $165
11" Lovey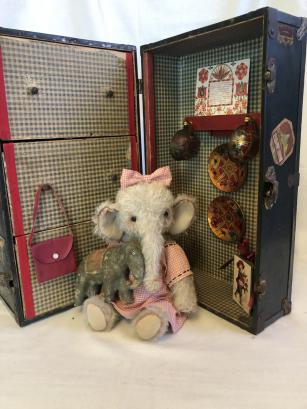 It is rare to find such a wonderful old trunk with checked paper intact. I trimmed it with red for a color pop and added the wooden shelf to display art and tin ware. Lovey is made of soft grey mohair and wears a vintage check dress with black embroidery detail at neckline and sleeve edges. She is fully jointed with German glass eyes. Included in the trunk is an old compo elephant , additional dress, red purse and apron of tiny quilted pieces. There is lots if room for additional acquisitions!. - $325
24" Felicity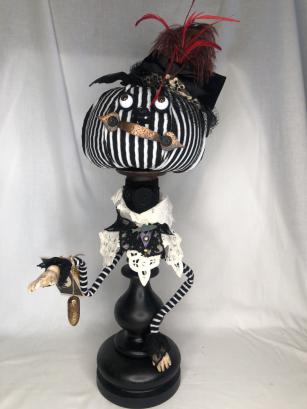 All wooden lady with wired arms and compo hands wears lace details and feathered hat. - $85
3" Sally Bee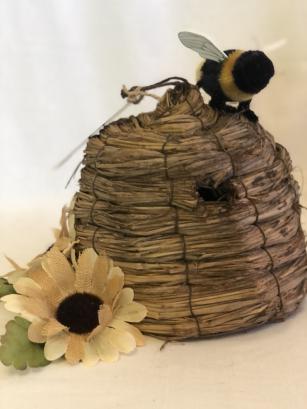 Sally is a fat mohair bee with 6 legs and wings. Jointed head and tiny German glass eyes.She sits on a woven bee house trimmed with silk sun flowers. - $65
12" Viola and Friend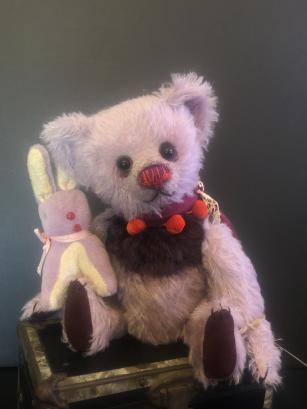 Lavender and purple bear sports coral and purple nose and is accompanied by her lavender bunny friend. Coral Pompon trim. - $230
3" Precious Kitty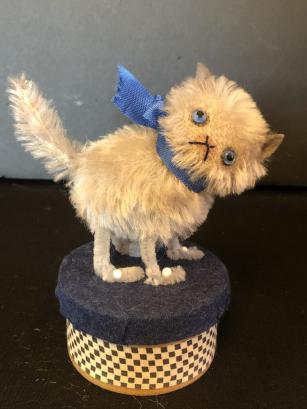 Made of mohair and chenille stem , this kitty poses on her covered container. Jointed head and German glass eyes. Pairs well with tiny bears and small dolls. - $95
6" Pig Jig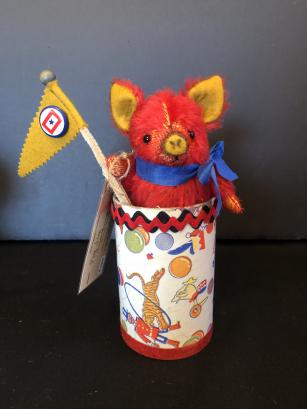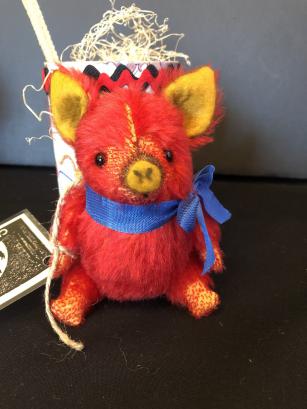 This vintage circus print carton is the perfect venue for bright red mohair pig waving a felt pennant. - $155
6" Tea Time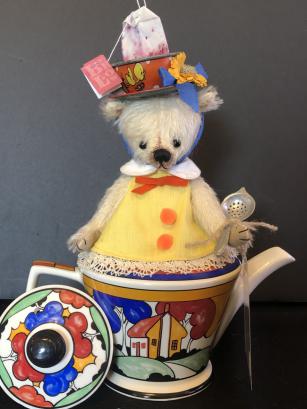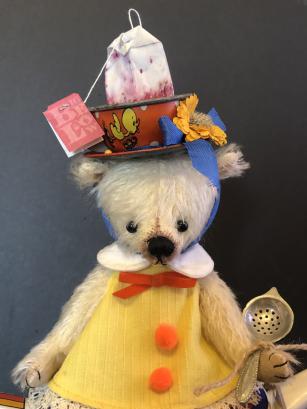 I have always loved this English tea pot even with a cracked spout. Perfect display for this small bear in vintage dress and hat made of old tin ware with her tea strainer. Mohair bear is fully jointed with German glass eyes. - $245
13" Rosemary and Raggedy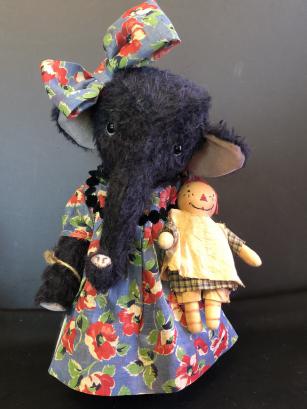 Black mohair elephant wears a darling floral dress in reds and blues with matching bow and adorable raggedy. - $265
13" Elvira and Ed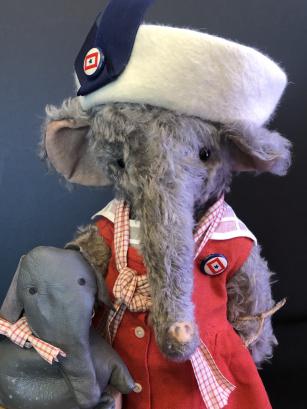 Grey mohair elephant wears red dress with white collar and hat , detailed with vintage button. Her leather Ellie accompanies her. - $265
11" Gaby and Friend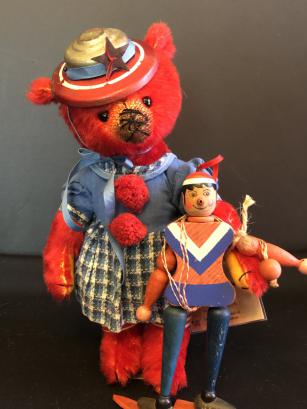 Red mohair bear wears blue plaid dress with stripped pants underneath and silly tin hat. Vintage wooden friend. - $255
26" Bosco and Bobbin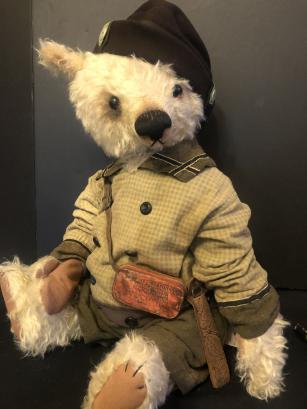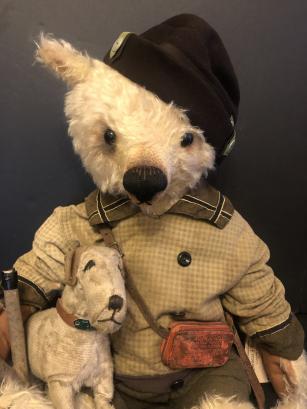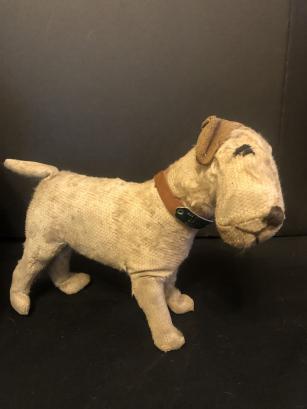 All mohair black eyed Bosco, is the tough kid on the block. He wears a 1920's wool and flannel shirt and pants with button trim. Leather strap holds his vintage emergency pack and leather sheaf for his house key. Wooden and leather homemade sling shot fits in his hand.
Bobbin his threadbare mohair dog, is his constant companion with leather collar and tag. - $535
16" Cedric and friends
Dignified Cedric with monocle and top hat wears collar and watch while looking over his mouse friends. - $235
11" Corabelle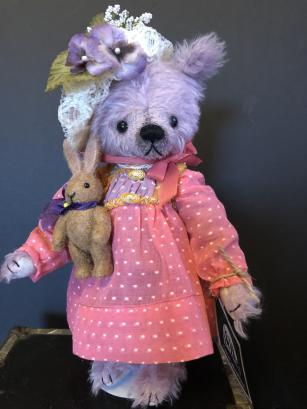 Lavender mohair bear wears vintage coral dress with old button and lace detail and Pansy trimmed hat.She carry's a little brown bunny. - $235
30" Monkey Shines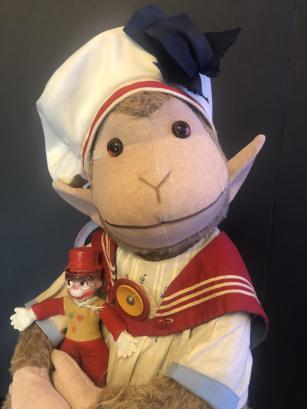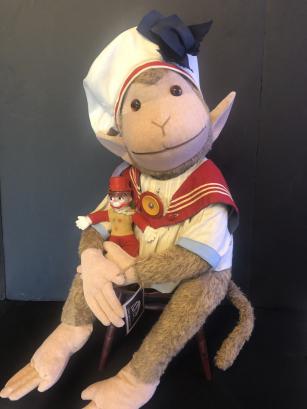 Long and lanky with curling tail and winning smile , this little guy is fully jointed wearing vintage sailor costume and holding old monkey friend. - $425
10" Snowdrop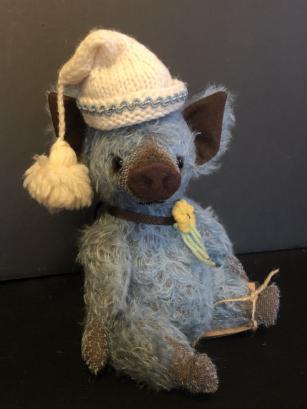 Ohio weather can be unpredictable so this little blue pig sports his wool hat and floral detail. - $235
9" First Pork of Year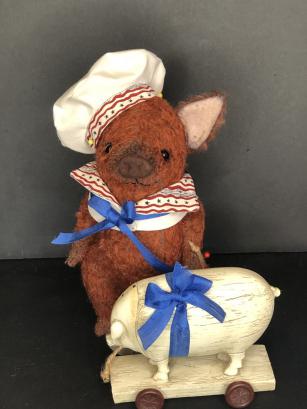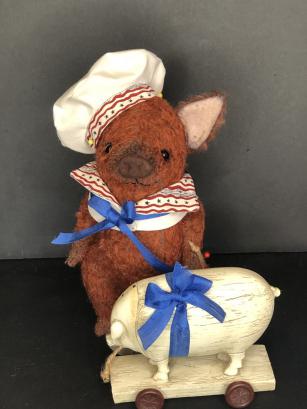 Red mohair pig has four joints and German glass eyes. Stripped Sailor collar and beret. His friendly wheeled pig is tugged along on a leash. - $160
10" Little Miss Sister Pig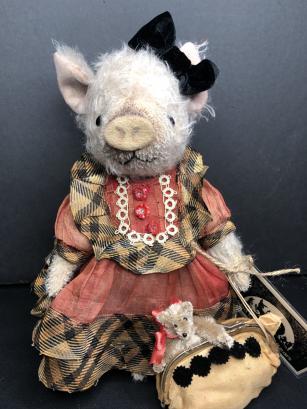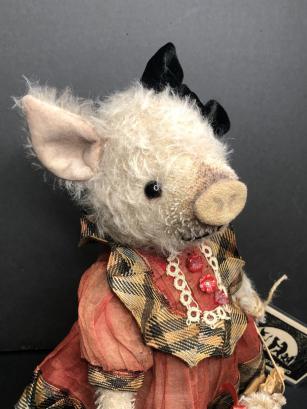 Adorable vintage dress of red and plaid ruffles. Tiny flower button trim and black velvet bow. She arrives with purse and tiny bear friend. Fully jointed with German glass eyes. - $225
15" Percy and Pettijohn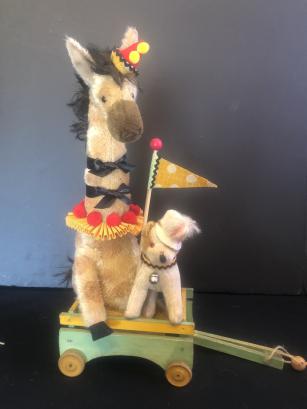 Spotted mohair giraffe wears ruff and clownish hat. He rides in a vintage wooden wagon with his vintage dog , waving a pennant. - $265
16" Ramona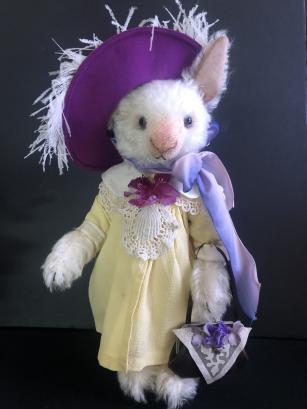 White mohair rabbit wears vintage yellow pique coat with lace embellishments. Bright purple felt hats is trimmed out with wired ribbon and feathers. She Carrie's a leather purse with lace and floral details. - $295
11" She Loves Me, She Loves Me Not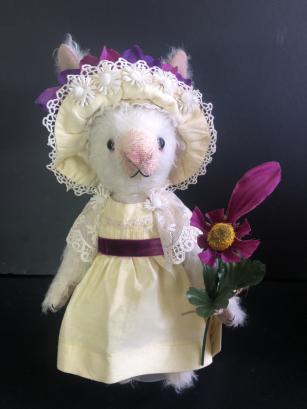 White mohair rabbit wears pale yellow vintage dress and hat accented with lace, purple ribbon and old flowers. She carry's her plucked flower. - $235
13" Mi Ling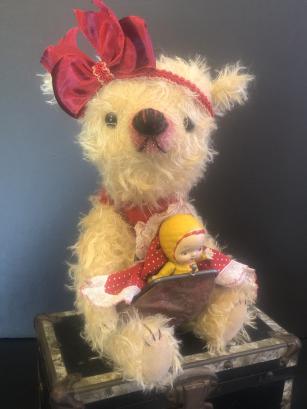 Happy yellow and red mohair bear sports big red bow and a vintage purse to carry her little yellow painted Asian baby with polka dot hanky. - $255
5" Blue bird of Happiness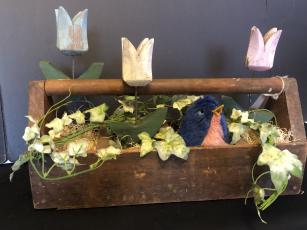 Old wooden tool box marrys well with wooden tulips and silk greenery to allow the little Blue bird and it's nest to shelter. - $75
11" Are you being Served?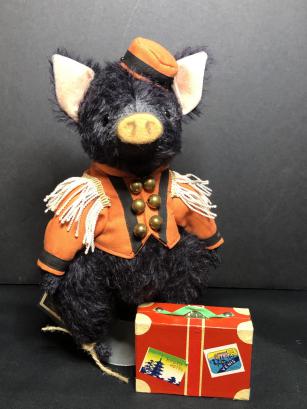 Black mohair Pig wears Bellhop jacket and cap and totes a vintage suitcase. - $245
10" Tall Princess Pippy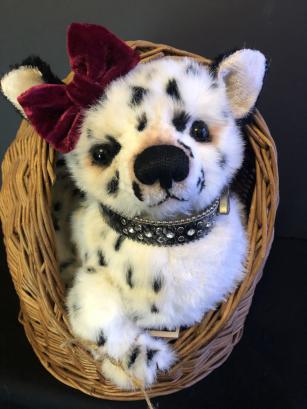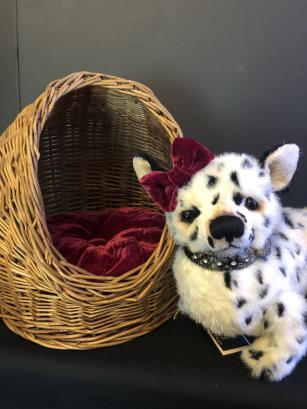 Mohair and faux fur puppy is fully jointed and wears sparkly collar and velvet bow to match her throne. - $265
11" Tom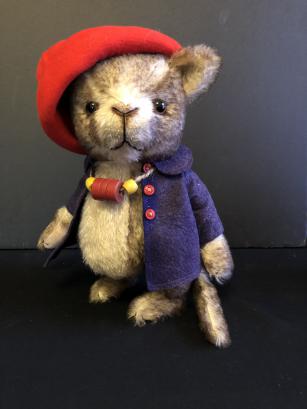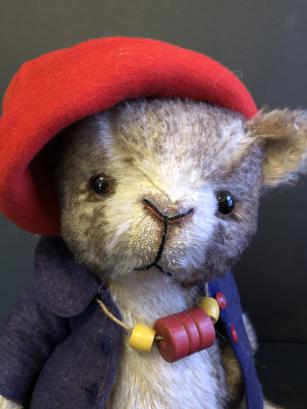 Brown tipped mohair and off white mohair make up this sweet boy. Brown German glass eyes. Navy felt coat, red knit hat and old wooden beads. - $255
13" Miss Esme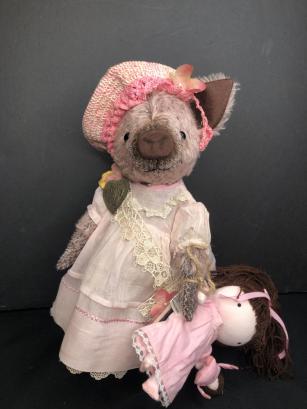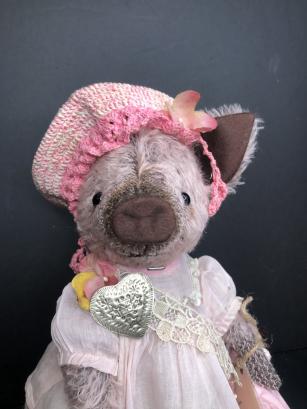 Pink mohair pig has a dark backbig for warmth and highlights her pink and lace trimmed dress. Crocheted beret and a Joan Walsh Anglund doll.Fully jointed with German glass eyes. - $265
10" Petula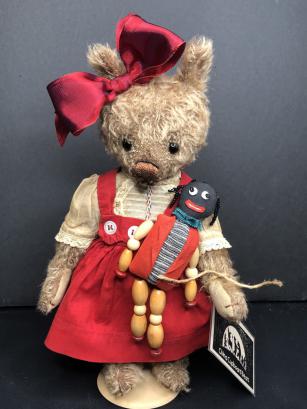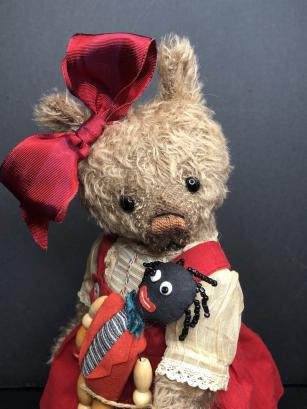 Tan mohair bear is fully jointed with German glass eyes and wears old red skirt, embroidered lace trimmed blouse and over sized red bow. Her mother made her wear it. Gollie friend is along for the ride. - $225
7" Rose Lee Heart Throb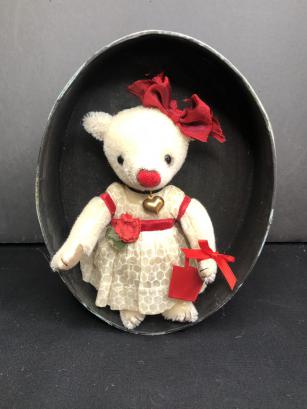 Tiny bear is fully jointed with German glass eyes and wonderful velveteen trimmed dress with coordinating purse and small display setting. - $210
7" Checkers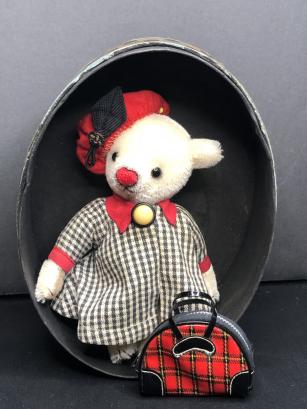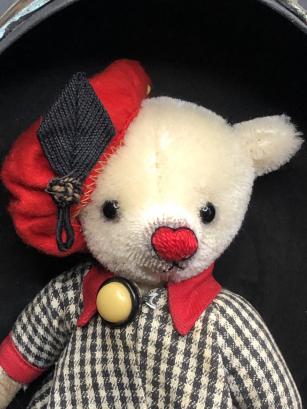 Cream mohair bear is fully jointed with heart shaped nose and wears a checkered vintage coat, red beret and plaid travel case. - $215
15" Lady Melrose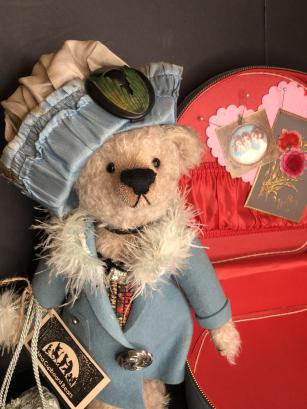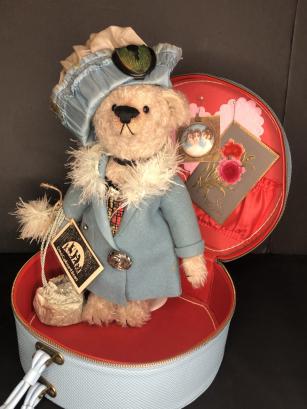 Stone mohair bear is fully jointed with German glass eyes and wears her vintage coat and hat with aplomb! Marabou trim graces her collar while purse and hat coordinate with satin purse with built in mirror and cording. Blue valise with vintage Valentine and red interior sets off her ensemble. - $295
11" Pansey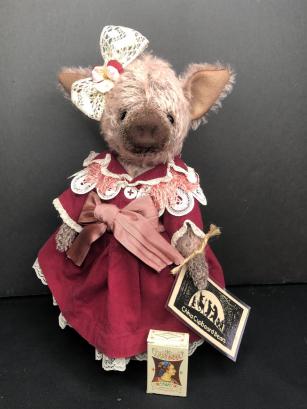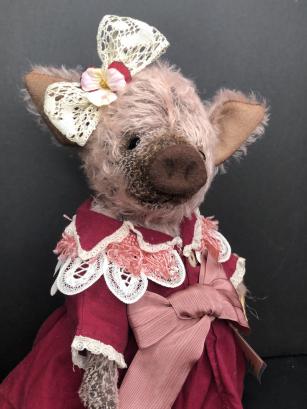 Pink mohair pig wears vintage rose dress with lace and fringe and her own candy box. - $235
26" Kenzo and Sir Galahad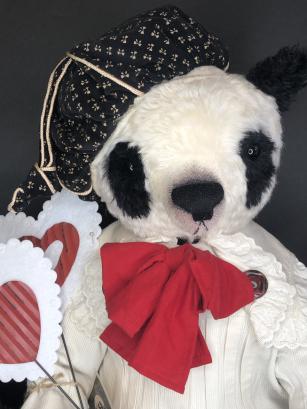 Dense black and white panda is fully jointed with wired armature in his arms and bold black eyes. He arrives dressed in an Edwardian lace trimmed child's jacket with wide red bow and celluloid buttons. His hat is a bold affair of black and cream corduroy with two tassels and piping. Antique Sir Galahad is darned if Keno is going anywhere without him. - $525
11" Briggs and Stratton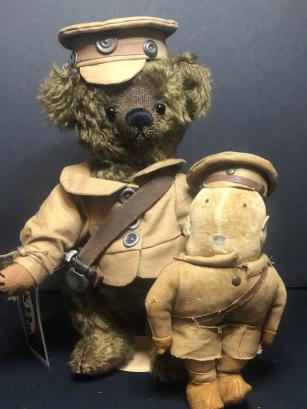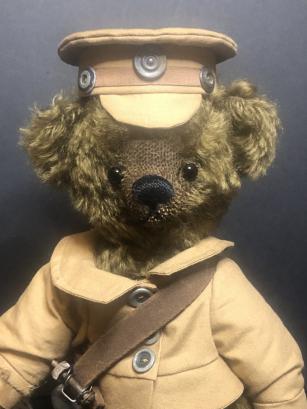 A salute to our troops with a small English connection. Briggs is 11" of mohair in khaki hat and jacket. 8" Stratton is an old soldier made of old cotton and velveteen with great costume details and painted face. - $295
12" Abiah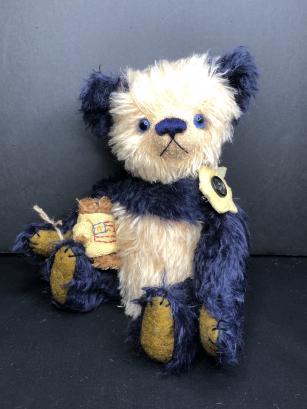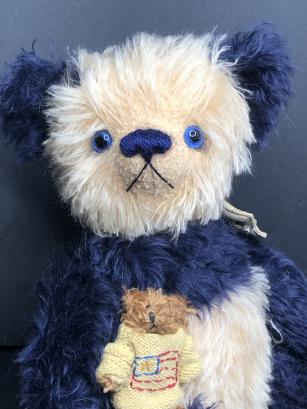 Navy and butter mohair bear looks out of bright blue eyes. He has Yellow paw pads and a tiny teddy bear friend. - $215
8x11 Valentines Book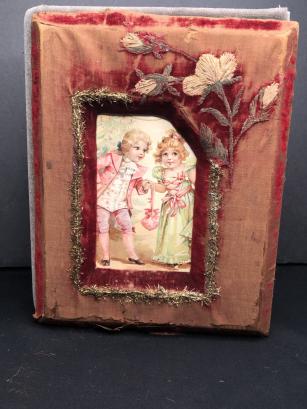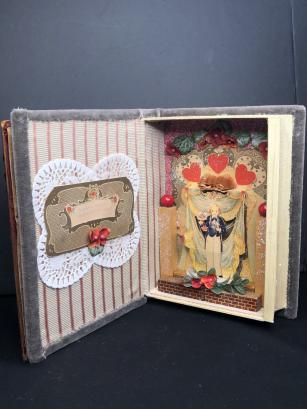 Vintage Valentine cover and Valentine details inside. - $95
20" Twilla Swoon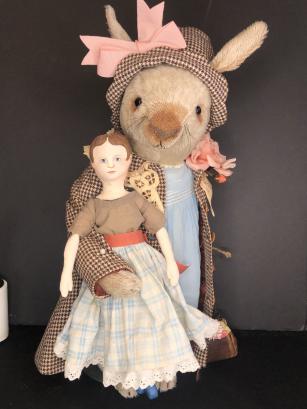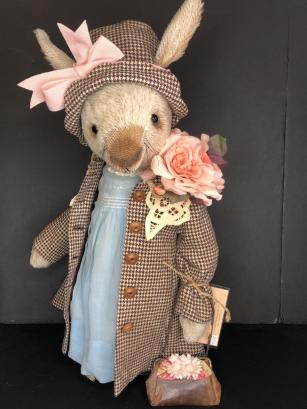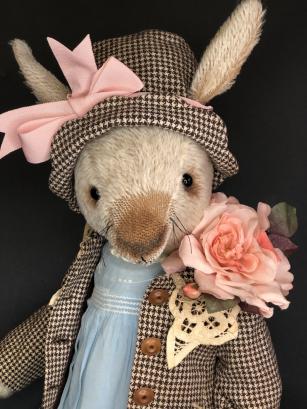 Soft tan mohair rabbit cuddles her artist made doll. Twilla is fully jointed with German glass eyes and wears a vintage chemise, powder blue day dress and wool check coat with matching hat. Tiny leather purse is detailed with flowers and a soft pink corsage compliments her pink accents. - $375
9" Patriotic Man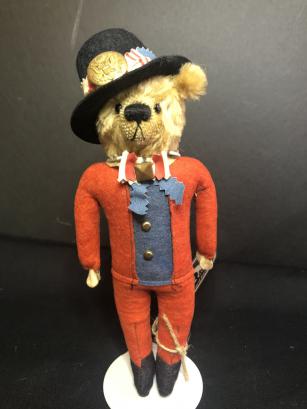 I found this old felt body missing his celluloid head at a show and re equipped him it's a Teddy bear head, felt hat and vintage red cream and blue fabric details. - $125
14" Ting Tang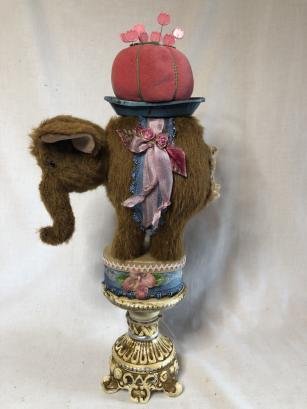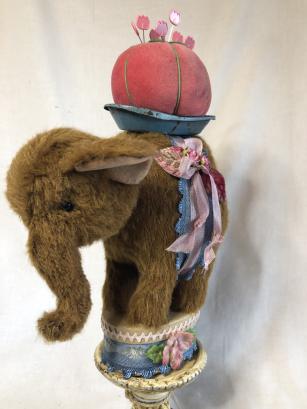 Chocolate alpaca elephant stands atop a candy box, detailed in vintage ribbon and old flowers, which stands atop a ceramic base. A vintage tin blue baby bath on his back holds rose velveteen pin cushion and decorative pins. - $195
15" Winston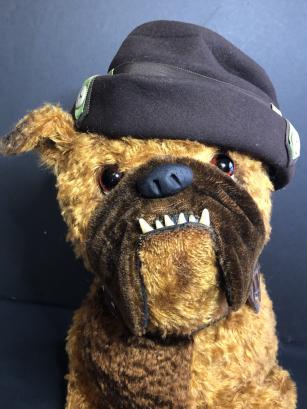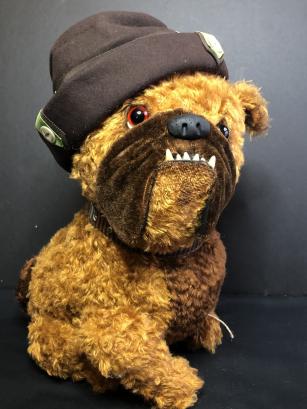 What a face! What a character in need of an orthodontist! Fully jointed bulldog sports old hat and collar and is made of three qualities of mohair with suede paw pads. - $345
15" The Widow Walton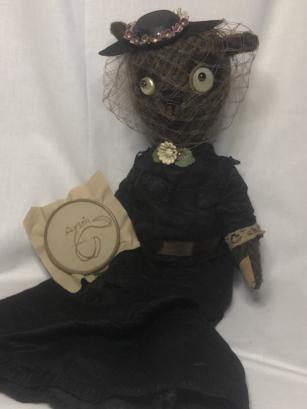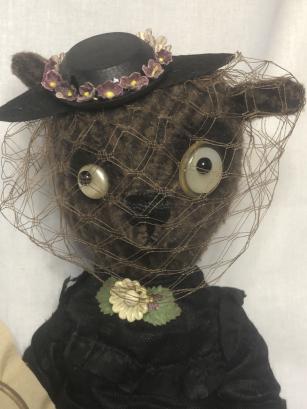 A bit primitive with silly eyes and sillier hat and made of tweed brown and black wool coating. Fully jointed wearing vintage silk dress and interesting hat and veil. She embroiders endlessly!. - $225
11" Pierre the Pug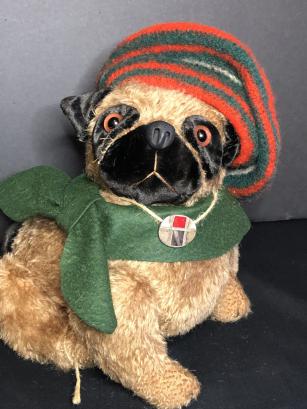 Caramel mohair with black vintage velveteen ears and tail make this pug realistic. Add the Knit hat and felt Scarf and it completes the look! He deserves it!. - $255
9" Captain Courageous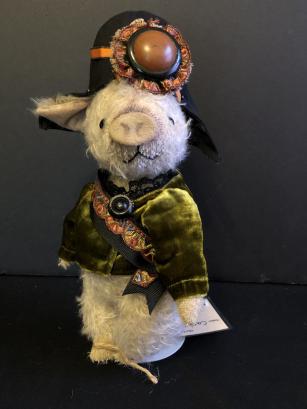 Stone mohair pig is fully jointed and is ready for his command in green velveteen jacket and commanding hat!. - $235
14" Sassafras's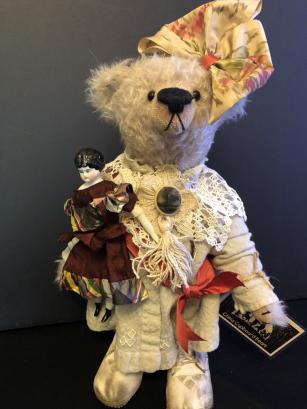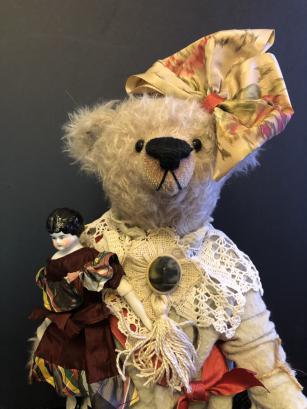 Off white mohair bears wears vintage wool baby coat with lace collar and leather shoes.She carries an antique China head. - $265
13" Fallen Angel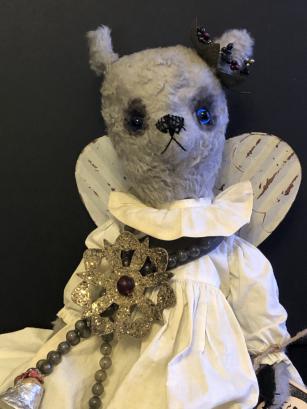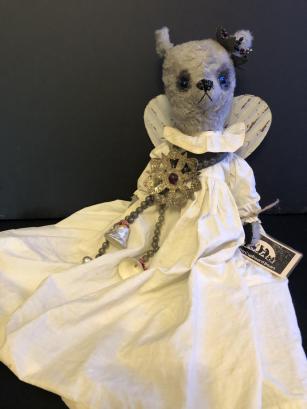 Blue eyed Angel wears old frock With holiday trim and metal wings. Grey faux fur. - $225
16" Junk in the Trunk Santa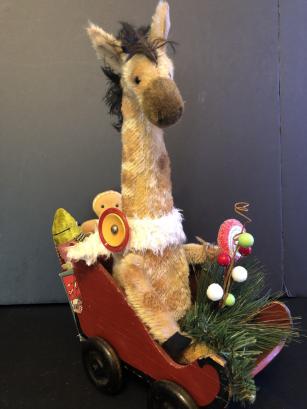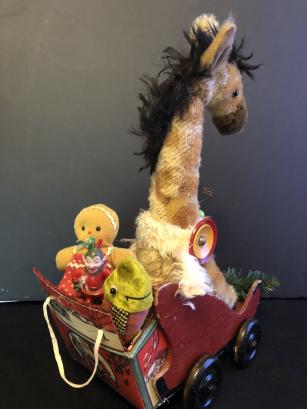 Vintage wooden sleigh with original paint and wooden wheels careens into the holiday with spotted mohair giraffe driver and a toy box full of toys. - $265
8" Advent King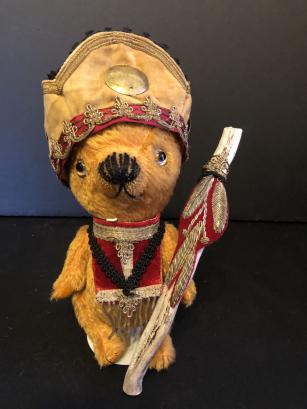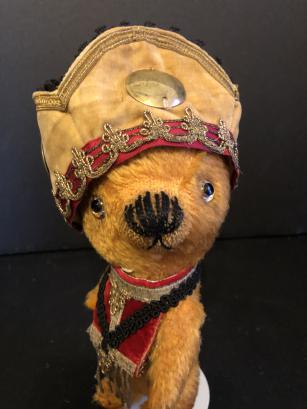 Old Odd Fellows costume remade to fit the season on this big headed bear. - $175
18" When you wish upon a star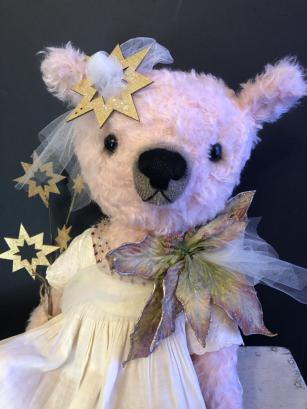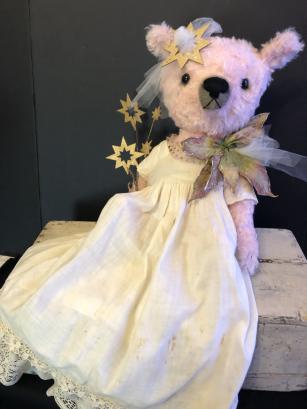 Pink mohair girl wears delightful baby dress with rows of antique lace at hem.Neckline is accented with vintage necklace and pink poinsettia. She holds stars to wish on and one in her hair. - $325
14" Brood Hilda and Chick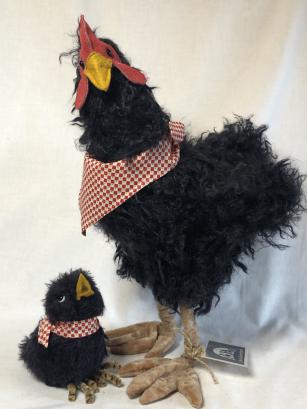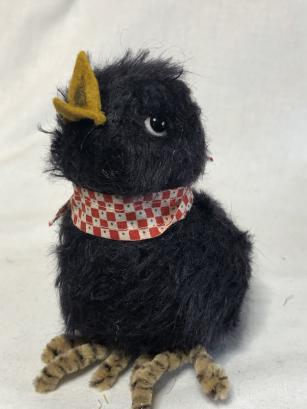 Strutting her stuff in the barn yard and proud as punch with her offspring I present Brood Hilda and chick. Made of dense black mohair with jointed neck, and wings, faux leather face and felt beak and German glass eyes. Wired feet and legs to stand. - $395 (set)
11" Cat Call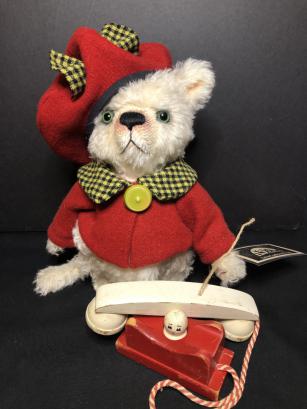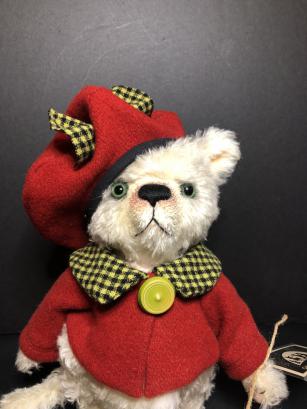 Jointed kitty made of dense green white mohair wears bold red wool jacket and beret. Green glass eyes and vintage wooden phone with pop up friend. - $255
10" Yippie I-Oh- Ky-Ah!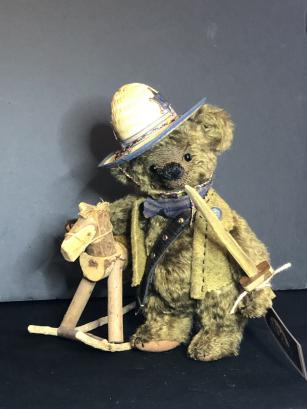 For that bit of a cowboy in all of us! Mohair bear in vest and neckerchief with straw hat and his pony. - $225
The Mother and Child Reunion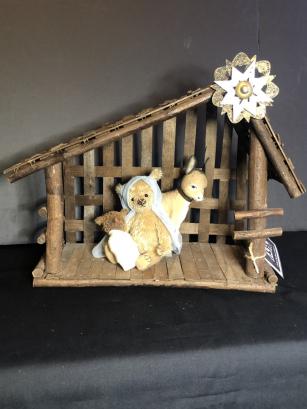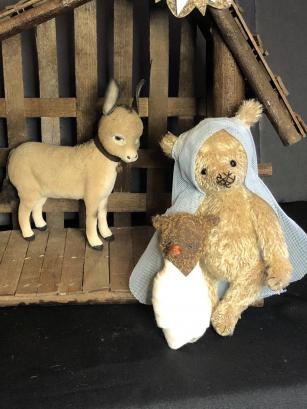 Diminutive vintage wooden Crèche (11" tall by 13" wide) frame Mary(6") with a sleeping Baby Jesus while a Craig Yenke donkey looks on and the Star shines above. - $275
12" Madam Butterfly McQueen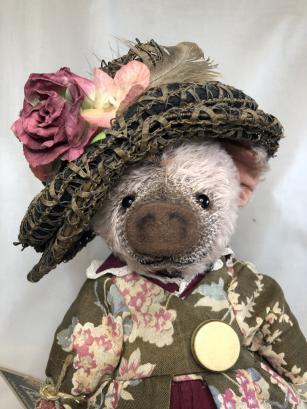 Pink mohair with chocolate backing adds a vintage look to this feminine pig. She wears a cranberry dress with pleated petticoat underneath and floral jacket with lace edges peplum. Her brown hat is decorated with feathers and floral. Mohair purse completes the ensemble. - $265
11" Sir Mouse -A- Lot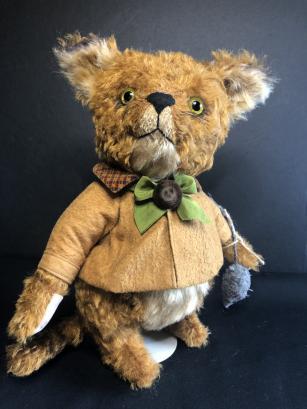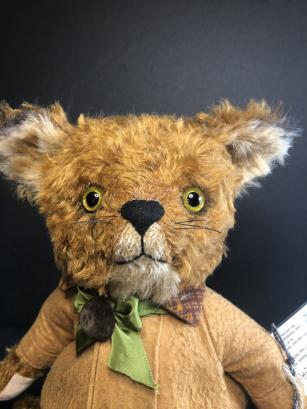 Rust and Tan mohair kitty is fully jointed with ultra suede nose and wired tail. He has fabulous green glass eyes and sports an antique jacket with green bow and holds a mouse!. - $270
10" Lily Belle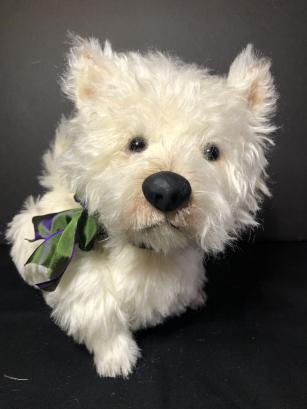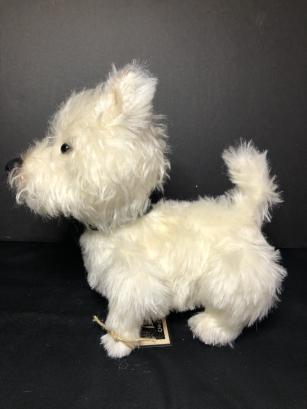 Made of 3 lengths of cream mohair including 1 1/2" curly which is difficult to find now a days this pup is fully jointed with sculpted nose and bright taffeta bow. - $325
9" Gordy and Squints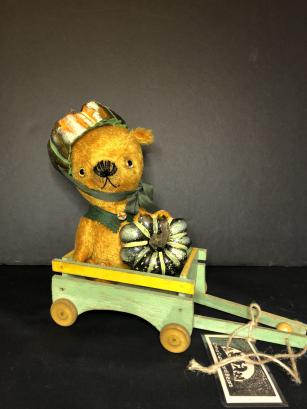 Autumn gold mohair bear rides in vintage wooden wagon with his favorite squash. Squash hat also!. - $245
10" Miss Pea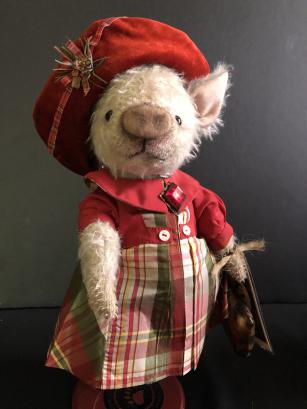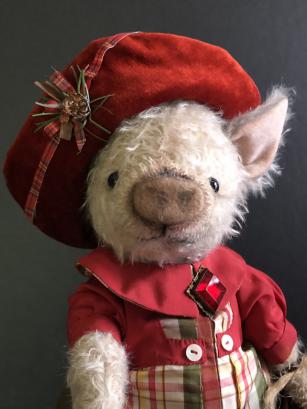 Antique clothing makes such a difference. This little silk dress and velvet hat works so well together on this little pig. She holds a celluloid purse. - $250
9 1/2" Padamore the pig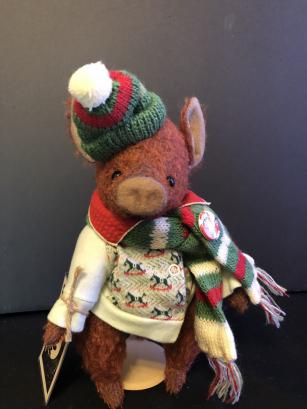 Cranberry red mohair with dark back pig is fully jointed with festive sweater, hat , scarf and holiday pin. - $225
30" Monkey Shines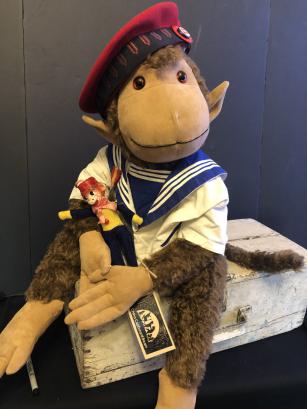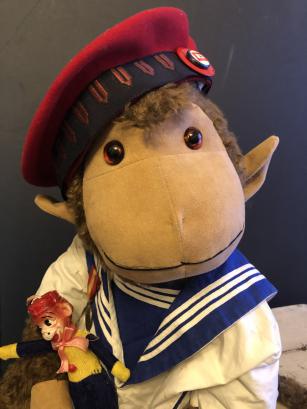 Mohair and ultra suede monkey wears vintage sailor suit and red wool beret. Vintage monkey friend. - $425
12" Arsenic and Old Lace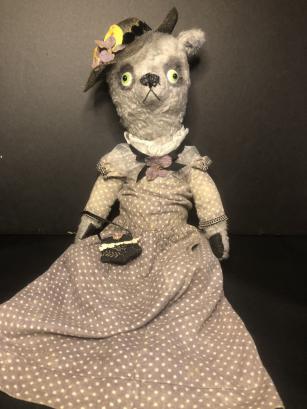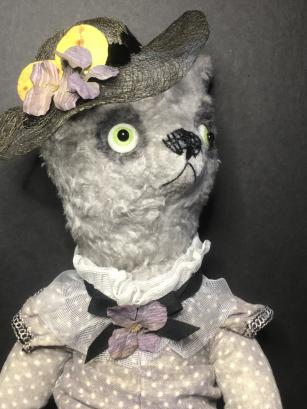 Primitive bear is fully jointed , made of distressed grey faux fur and wears antique grey polka dot dress and complimenting hat and purse. Silly eyes!. - $225
9" Off with Her Head!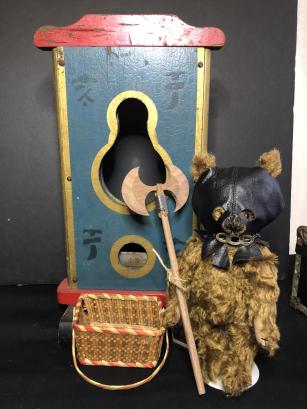 9" bear of brown mohair is ready with wooden executioners axe to do the deed. Black leather hood sets the mood. Working Guillotine envisions all kinds of Halloween vignettes. - $265
14" Miss Esme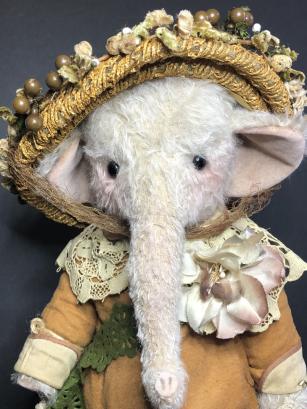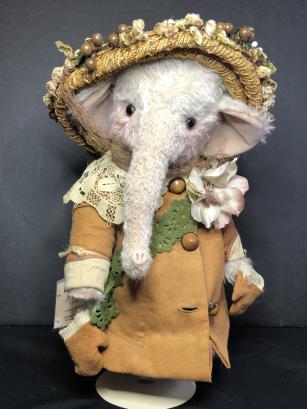 Soft grey elephant wears vintage tan coat with lace collar and vintage buttons. Attached mittens remind me of when my mom pinned mine to my coat. Vintage straw hat frames her face encrusted with berries and flowers. Fully jointed with German glass eyes. - $265
7" Bart and Spidey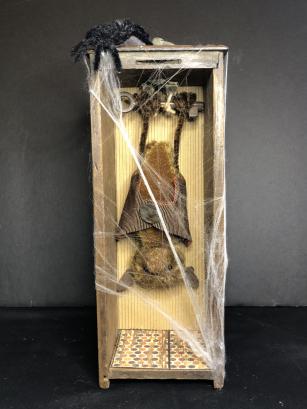 Old wooden sewing drawer is repurposed for this little bats home. Bart is made of mohair with German glass eyes and wrapped in wings of old silk. Spidey is along for company. - $155
11" Nurse Alice Ross-King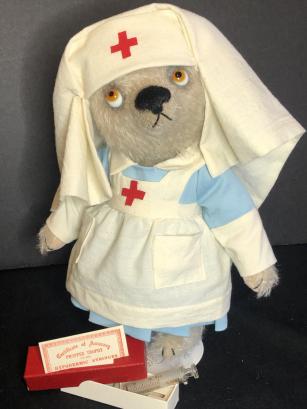 Named in honor of a real WW 1 nurse who helped champion the way for nurses to be present near battlefields to better serve wounded soldiers. They set a precedent which so benefitted all military men. Mohair bear with Googly eyes. Full dress, apron and veil along with her syringe!. - $255
12" Ofelia Mustard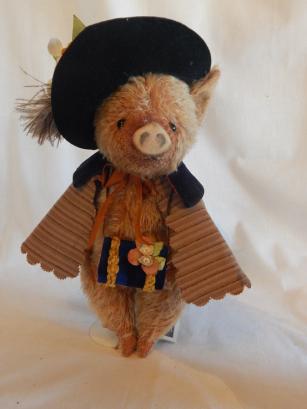 Gold mohair pig wears a vintage wool stripped shawl edged in scallops. Velveteen hat and old muff completes the look. - $235
9" Peep and her Sheep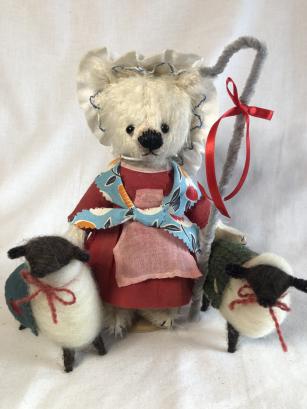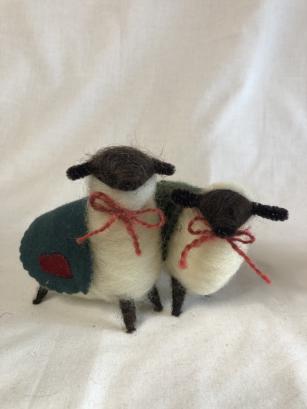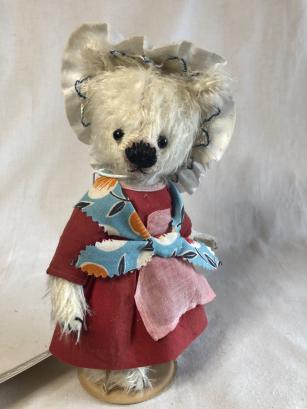 Felted wool sheep are adorable companions for Peep in her vintage dress and bonnet. Fully jointed mohair bear. - $200
13" Fitz the Fox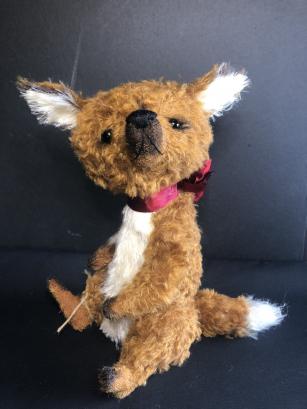 Fully jointed Fox made from two qualities of mohair with jaunty red bow. - $265
13" Henry Green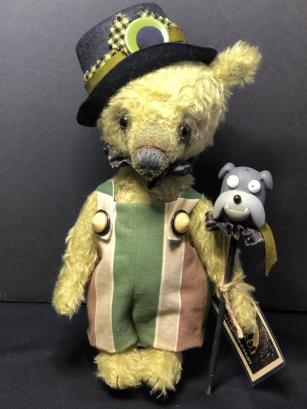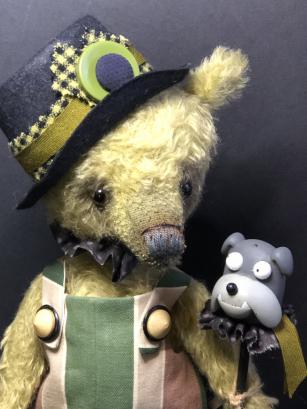 Lime green mohair bear pairs well with vintage stripped ticking overalls trimmed in celluloid buttons and his dog friend Duff. Fully jointed with German glass eyes. - $255
13" Djinni of the Bottle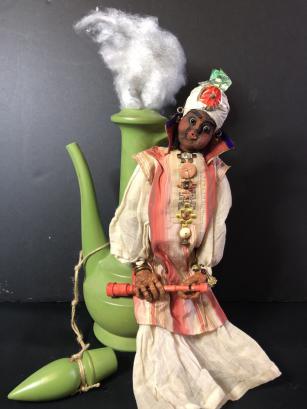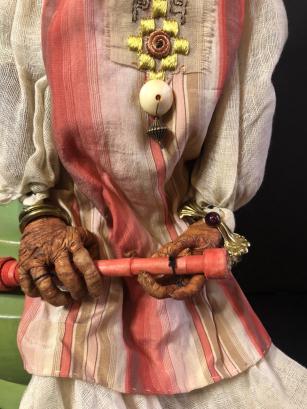 Originally a marionette , this Djinni has such an expressive face and wonderfully made hands. Costuming him was such fun and pairing him with smoky bottle adds to the mystery. - $175