Enola and Ellie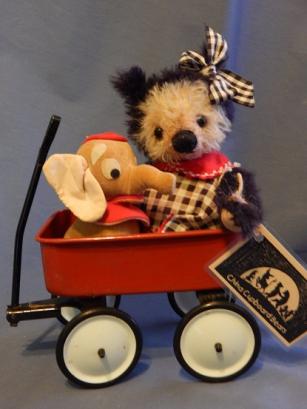 Riding along in their ole red wagon, black bear with vintage dress and her travel companion Ellie. - $245
Cleo and Clover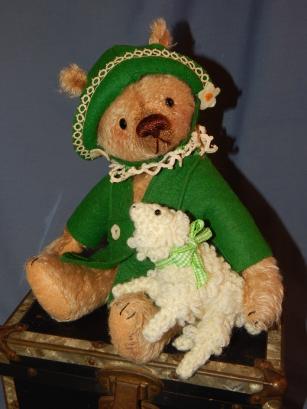 Adorable teddy bear in Kelly green felt coat and hat with floral details and ears peaking out. Clover is a knitted sheep and Cleo's companion. 11" of cute. - $225
Happy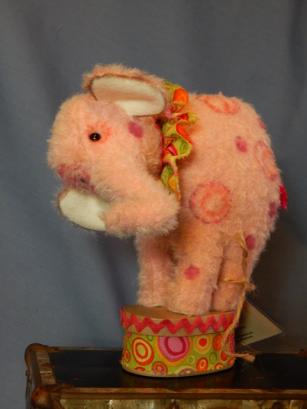 The pink ellie is a bright and happy pachyderm. - $215
CoCo Kitty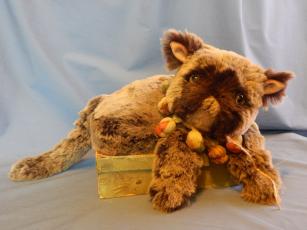 10" wide and meant to be petted . Made of the plushest Tissival with big glass eyes. - $245
Pippen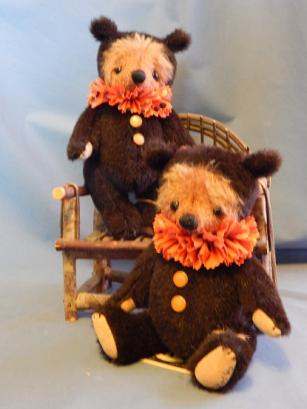 9" of darling bear with polka dot ruff and old orange buttons. A nice hand full. - $215
Hasenpfeffer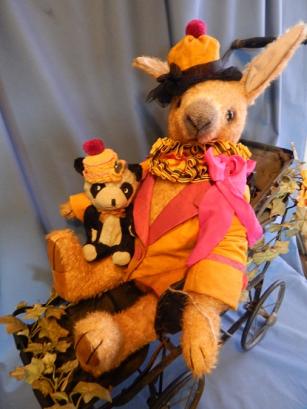 22" of bright gold rabbit in vintage gold and hot pink costume with hat and his squeaky panda friend Dumplin. - $425
Winston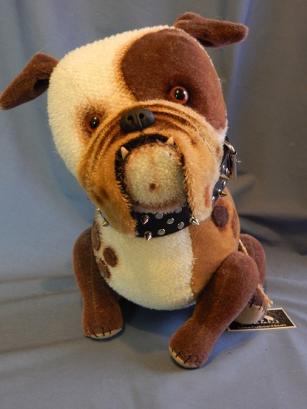 Tri colored Bulldog with protruding teeth and sculpted nose, wouldn't hurt a flea. House broken with all his shots. - $375
Bower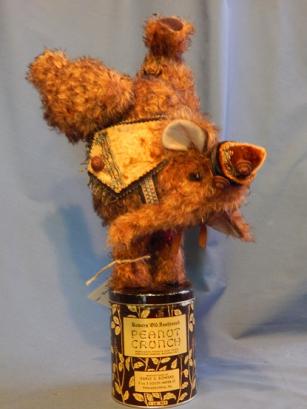 14" performing Elephant balances on two legs over old peanut tin. Gold saddle and hat. - $265
In your Easter Bonnet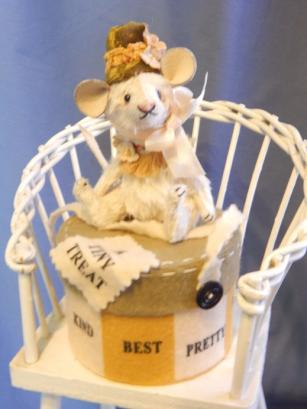 4" fully jointed and pose-able tiny mouse with her special hat and felt covered hat box. - $165
Hilda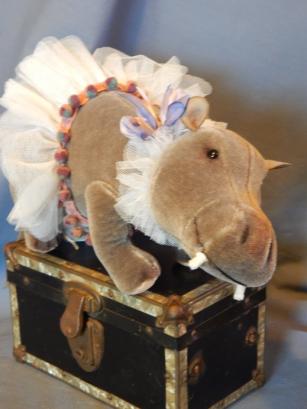 A delicate flower of a hippo in short grey mohair with net tutu and collar.12" long x 7" tall. - $245
Milton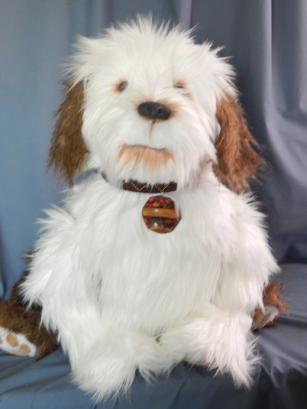 The big lug is a hairy Old English sheep dog in two colored furs, 24mm melt your heart eyes and pet carrier. Each pad has appliqued pads. - $375
The Dutchess Louise de la Valliere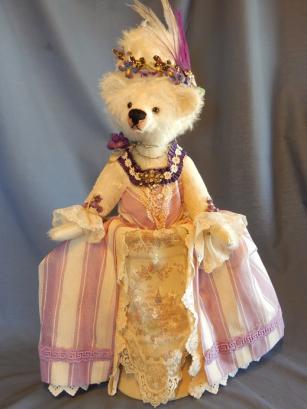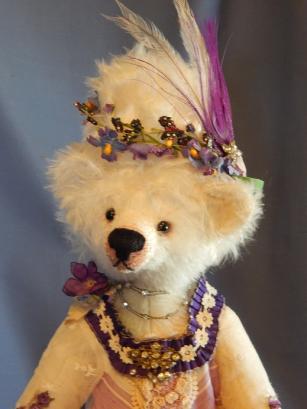 My interpretation of a grand dame, a mistress of King Louis, in period costuming of vintage fabrics and lace petticoats over a vintage transfer ware pottery. Complete to her beauty mark and hair style with jewels and floral trim. 22" tall. - $325
Giddy Up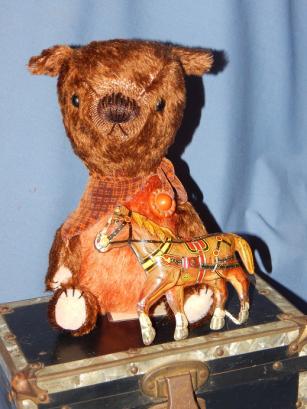 10" of anime Teddy Bear fun in warm brown and orange mohair wears checkered bandana and old button. His old tin horse rides along. - $220
Viola, Twig and Little Hoot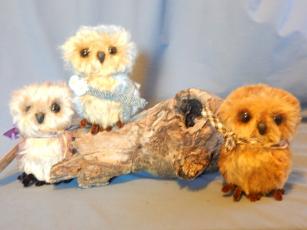 These little owls are only 6" of dense mohair and big eyes. - $55 each
Sweet Baby Rae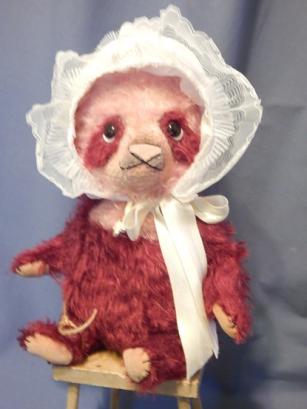 11" a new face and style for me worked up in deep rose and pale pink mohair with frilly baby bonnet. - $225
Bella Luna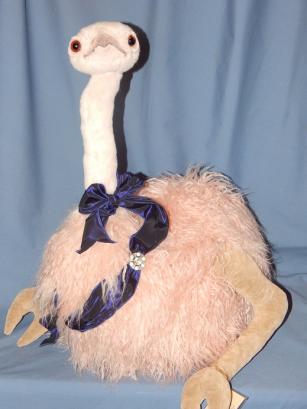 Soft antique pink alpaca and feathers with royal blue trim and rhinestones in an exotic ostrich. 22' tall. - $345
Mikey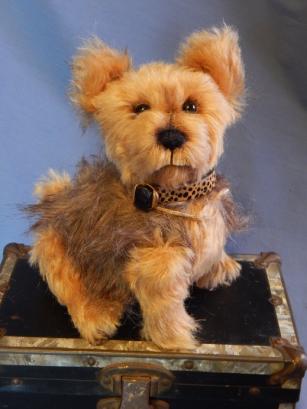 Is a tiny 8" bit of a Yorkie. - $200
Finnegan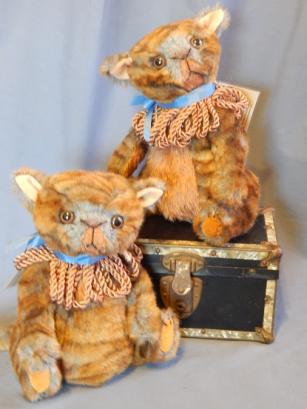 11" Scottish Fold kitty  with soulful eyes in grey and pale rust Tissaval and mohair. - $245
Mr. Peanuts Ride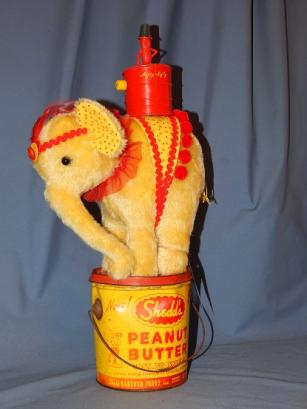 A yellow Ellie parades around with Mr. peanut waving from atop. 10" Ellie stands on a vintage peanut butter tin. Bright colors to think of spring. - $265
Calliope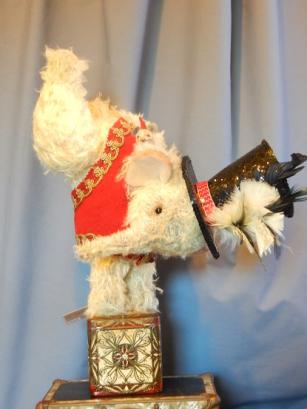 This elephant stands on a vintage tin on two legs in red wool jacket with old gold trim with grand plumed hat. His old Japanese mouse rides on his back. - $265
Hickory Dickory Dock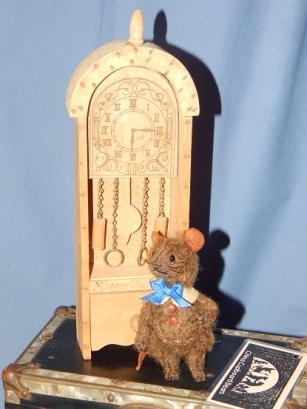 Is a tiny 4" dark brown mohair mouse with wired arms to bend and pose wears a tiny check collar and bright blue bow while he contemplates getting to the top of the vintage wooden clock. Ultra suede ears and tail. - $180
Circus Time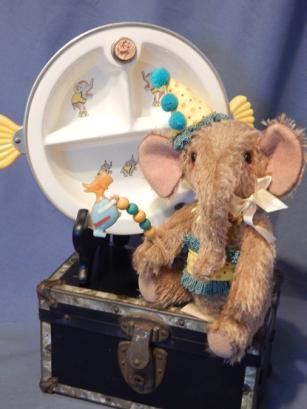 Tan elephant poses with her inspiration, a vintage baby plate decorated with circus elephants. She holds a silly duck toy. - $195
Emma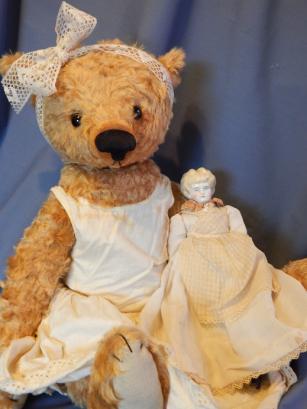 Is a soft honey mohair bear with vintage child's lace trimmed and tucked petticoat and her favorite doll. 25" tall, - $455
Edward the Emu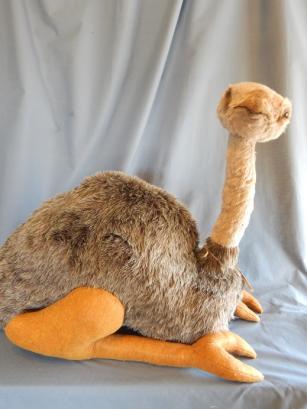 A dignified statement on this majestic bird. 22" tall. - $445
Spring Chick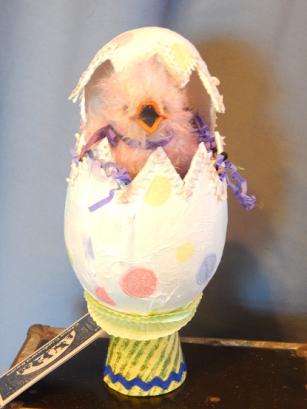 Is a tiny 4" mite in pale pink mohair with jointed head and wings and wire feet .He hides in his polka dot paper mache egg. - $95
Snowflake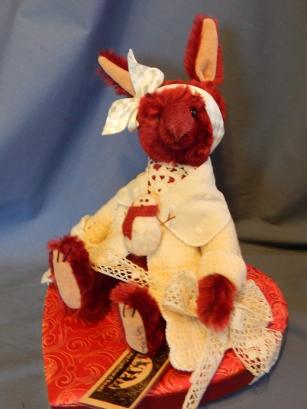 The red rabbit is cozy in old wool sweater and sits upon her heart shape red box. 11" - $235
Autumn Feast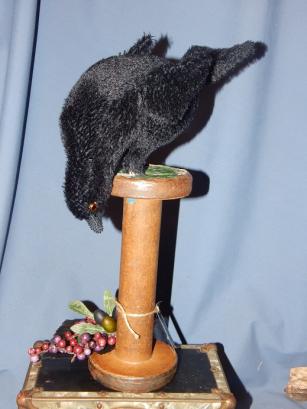 Black mohair winged crow leans down from an antique wooden spool to peck at the berries below. 15" tall. - $225
Violet the Rabbit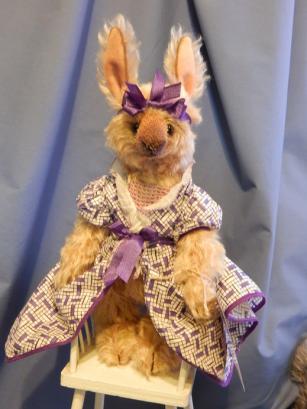 In honey mohair dressed in lavender check dress and old crochet.11" - $230
Baby New Year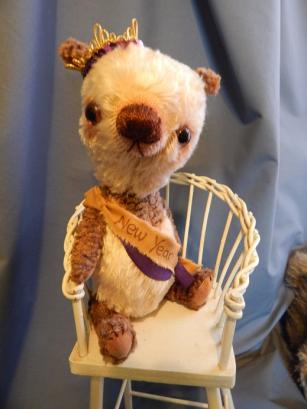 Is panda-fied in tan and brown mohair. Tiny crown and sash. - $215
Sewing Sue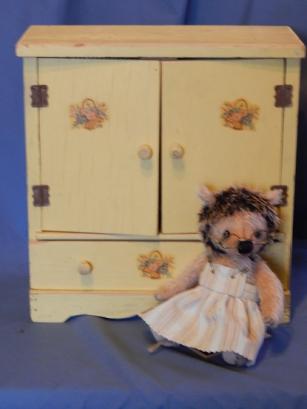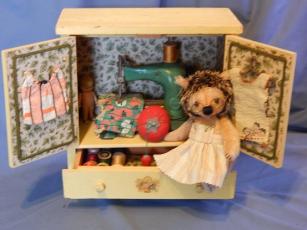 A hedgehog with a purpose in her sewing cupboard that includes an antique green sewing machine, tiny vintage dresses, bisque doll and pincushion with a drawer full of old spools of thread. - $315
Is it Spring Yet?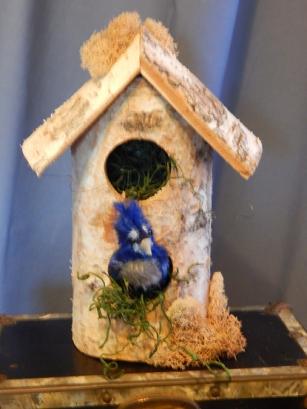 This teeny blue jay peeks out of his birchbark house waiting for spring unfold. - $95
Jade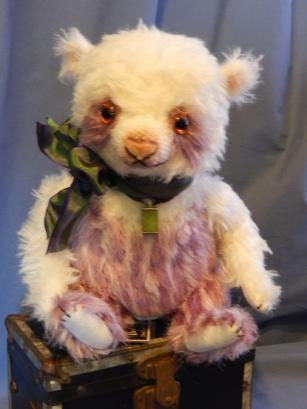 A new teddy bear panda in unusual colors of lavender and cream. Amber glass eyes and applied nose. 15" - $265
Gwen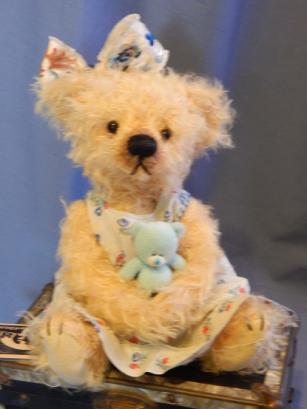 13" gold teddy wears a vintage pale blue dress with blanket stitched embroidery and hugs her little blue teddy. - $235
Spring Chick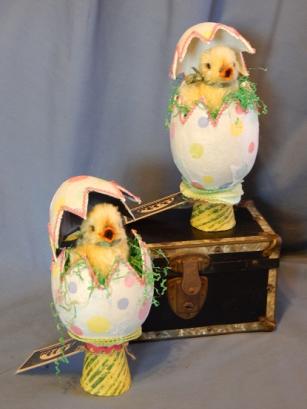 3 1/2" pale mohair chicks hatch out of polka dot  mache eggs. - $95
Peppermint Patty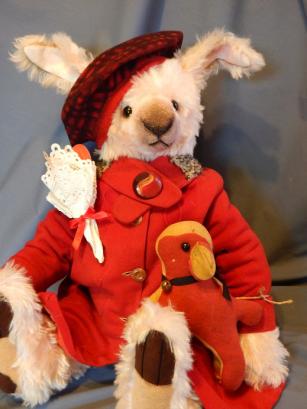 This rabbit says Happy Valentine's Day in a bright vintage red wool coat and tam over long pink mohair. Complete with Lacey Valentine Corsage and toy dog. - $425
Purple Rain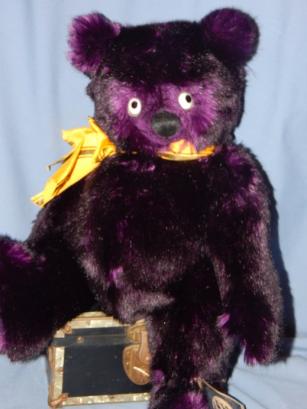 24" of the softest plush. - $255
Bow Wow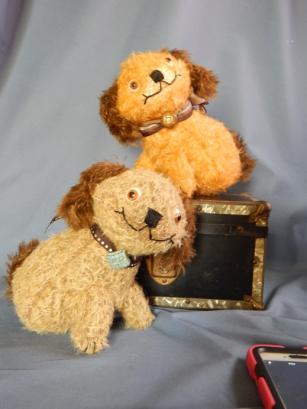 8" tall mohair dogs with googly eyes. - $220
Pig Witch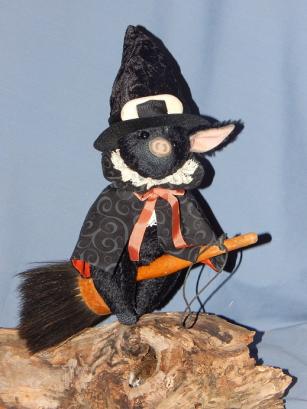 9" black mohair pig rides into Halloween on a vintage wooden broom with horse hair bristles, mounted on a knob of wood. - $245
Tweed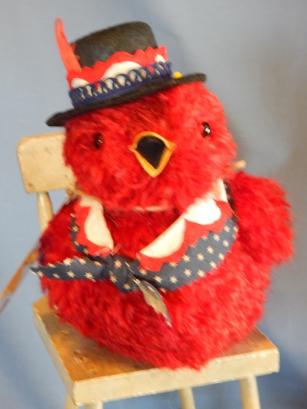 7" bright red mohair chick with a Patriotic flair complete with black top hat. - $155
24" Emma Abigail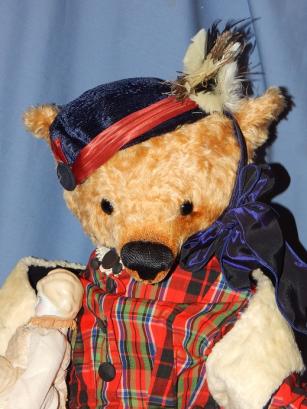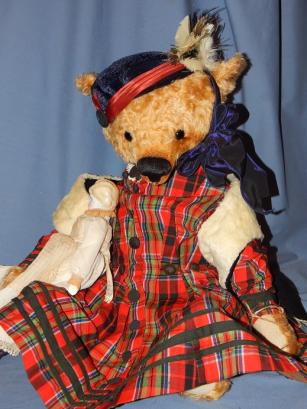 All old gold mohair little girl is frocked in Civil War era child's dress with draw string neck petticoat underneath and saucy plumed hat. Old fur wrap and antique China Head doll accompany her. - $575
Winter Fest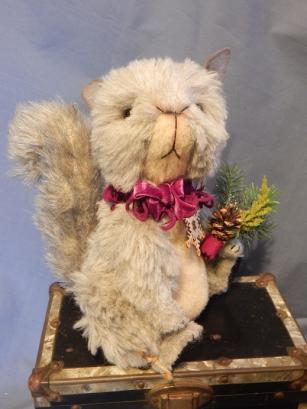 10" of grey alpaca and mohair with holiday trim. - $255
Holiday Joy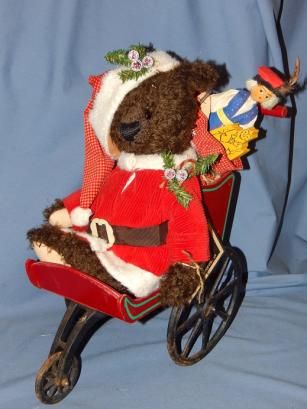 Comes to town in his red wooden wheeled cart with pack full of Christmas toys. 13" brown bear wears red belted jacket and fur trimmed hat. - $295
8" Tan Rat #31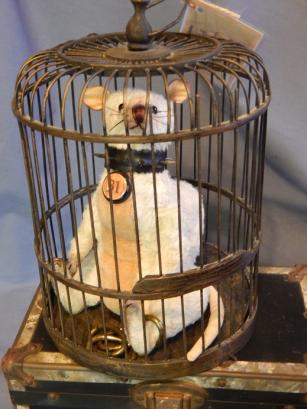 Chained inside a black wooden cage. - $225
The Little Colonel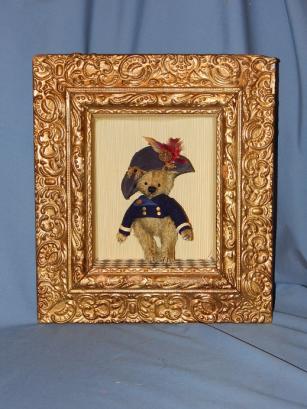 This tiny 7" fellow in tan mohair parades in a shadowbox with vintage frame. - $175
Sam and Ella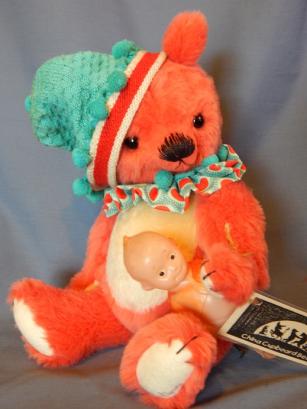 Is a bear of soft salmon color with contrasting belly and turquoise knit hat. Celluloid toy doll. 13" - $245
Rupert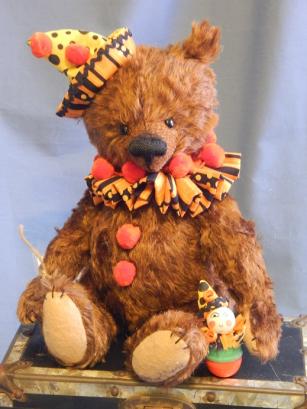 Is a brown mohair bear with orange print ruff and hat and roly poly friend. - $225
14" Black Bart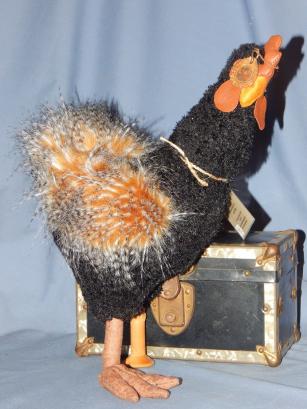 Chickens are new for me this year and Bart is the toughest of them all with metal eye patch and peg leg. You don't eat a chicken like him all at once! Black body and feathered wings and tail. - $325
12" Garbage Can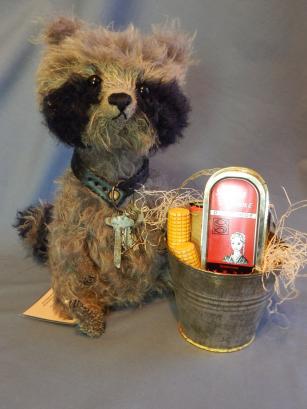 Named for a raccoon we had as a pet this rascals comes with his own can and pilfering. - $230
14" Foxy Loxy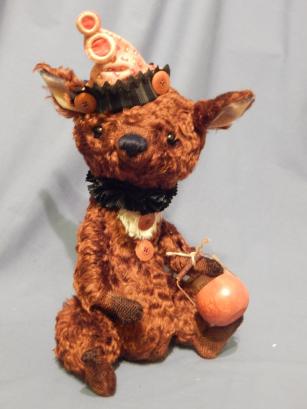 Red brown mohair with black ruff ,matching hat and gourd pumpkin. - $255
Whee!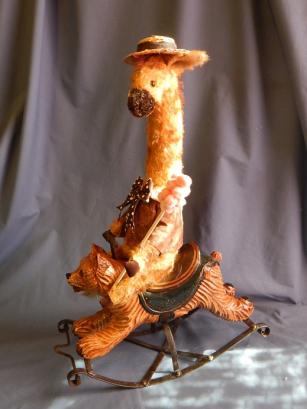 16" giraffe on rocking resin bear with his cotton candy. - $245
Send in the Clowns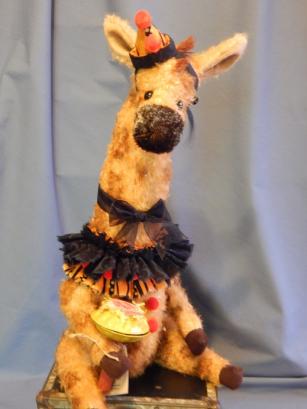 What bigger clown then this 22" giraffe, complete with ruff , hat and vintage noise maker. - $305
Herkimer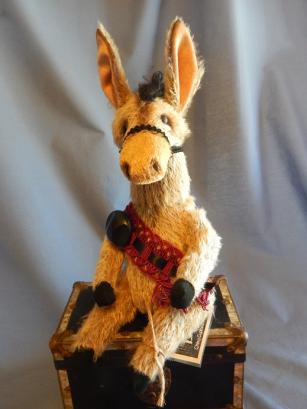 Is 15" of donkey with halter ,sash and button trim. No political statement here! - $245
Nutkin Grey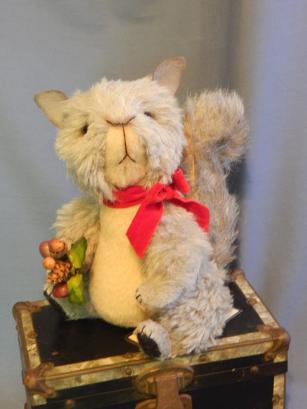 Alpaca and mohair grey squirrel is wondering if spring really is here! 11" - $245
13" Ninny in her Knickers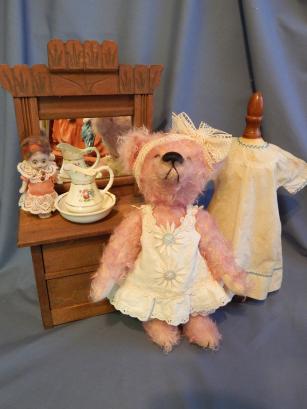 Lavender bear in her lace trimmed chemise and drawers with antique wooden wash stand, pitcher and bowl and vintage doll and mannequin with dress. - $355
14" Lucky Chuck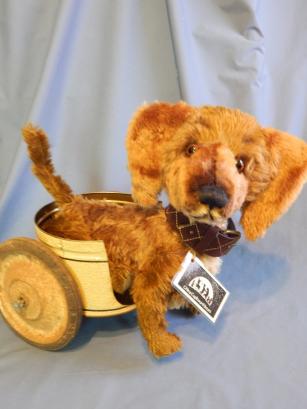 Tri- tone brown mohair dog and his wheeled conveyance. - $355
5" Trotter and Friend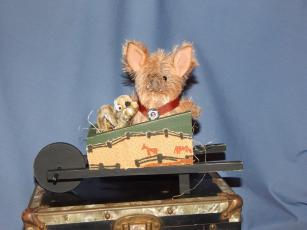 Tiny pig with a chenille squirrel in wooden wheel barrow. - $175
14" Grey Briar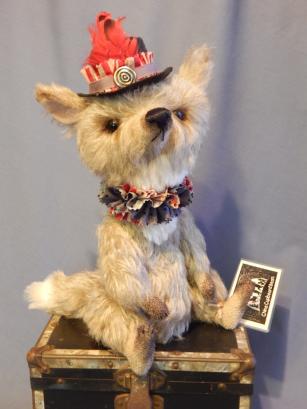 A grey mohair fox with white chest .Multi fabric ruff in grey and red with black felt hat trimmed with feathers and button. - $255
Pig and Poke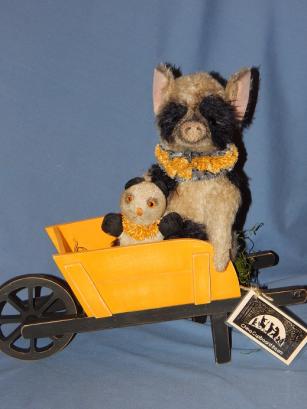 This Black and Tan pig and panda are joy riding in wooden wheel barrow. 12" pig. - $265
The Peanut Butter and Spam brothers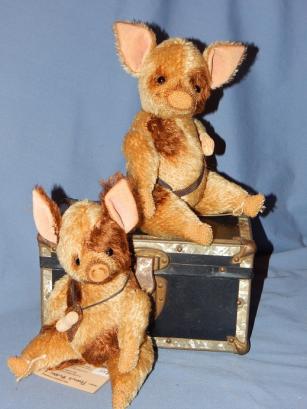 11" and 9 1/2" of tan mohair with chocolate spots each with old tin details and a peanut. - $225 and $215
Crate and Barrel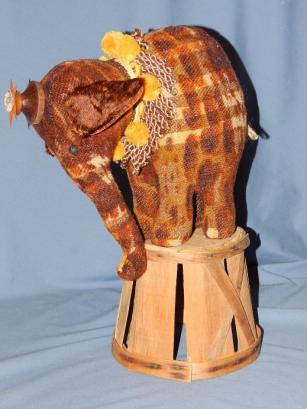 Is a 10" elephant on a 6" tall vintage peck basket. Barrel is made of a patterned vintage mohair and old trim. - $265
Ferdinand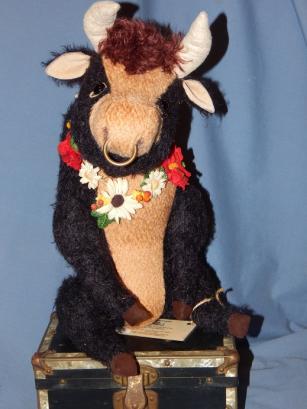 Black and tan 18" mohair bull with suede hoofs is the story book character in the flesh, err, mohair. Complete with horns, and flower garland. - $325
8" Quasimodo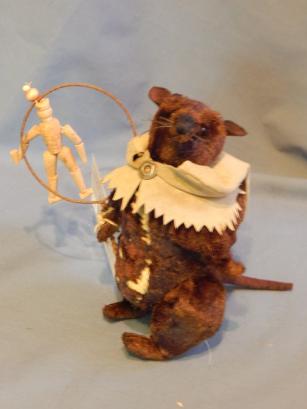 Dark brown rat with tan suede medieval cowl and hood carries a toy cork hangman. - $215
George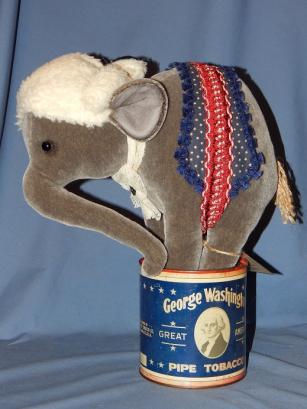 15" of elephant on old advertising tin complete with his periwig and Americana saddle. - $265
10" I'm Late , I'm Late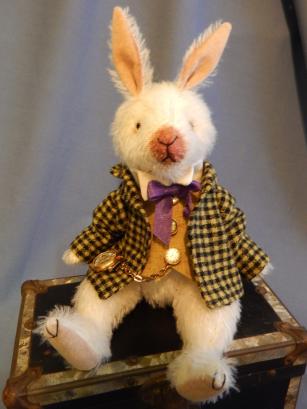 White Rabbit from Alice in Wonderland with a very important date is attired in green and black check wool coat, linen vest, standing collar and bow, and pocket watch. - $230
10" Honey Child
I designed this bear around the adorable tin kitchen , complete with covered honey pots and vintage crockery. She wears a tiny vintage red apron. - $225
Muffin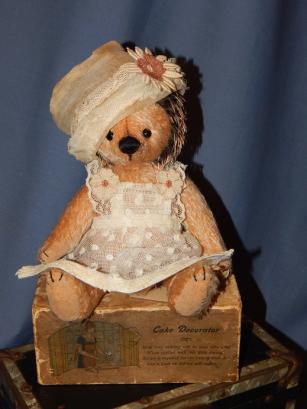 The 8" hedgehog in old apron and hat sits on her vintage box. - $215
Whoa Nelly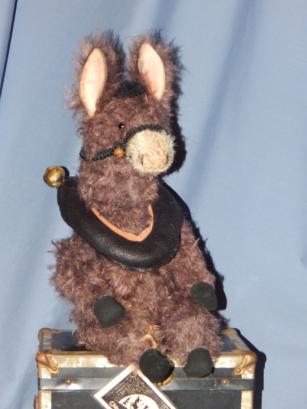 16" of grey mohair donkey wears suede horse collar with old bell trim. - $245
Isabella and Delilah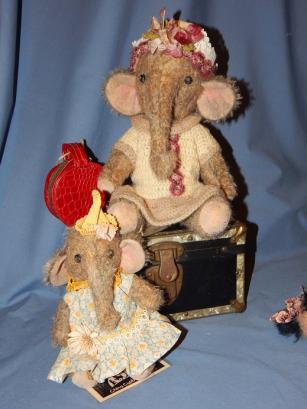 Isabella, 13" elephant in antiqued grey mohair with old shoe button eyes wears vintage hat and crocheted dress. Delilah, 7" antiqued grey mohair elephant with shoe button eyes is the little sister in old cotton dress and trim. - $245 and $215
5" Little Miss Sister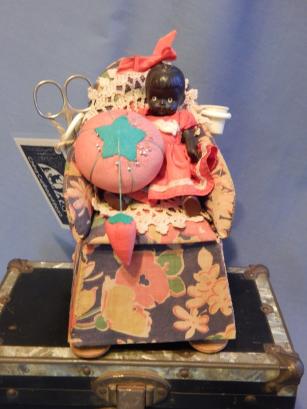 Little black jointed doll in vintage dress sits in old fabric sewing chair with thimble, scissors and pin cushion with wooden thread spools concealed in the seat. - $55
22" Cassandra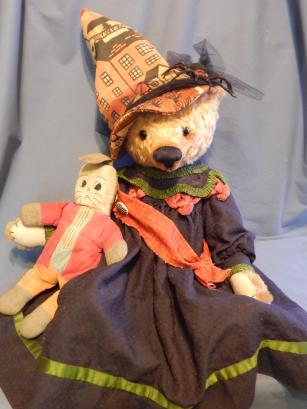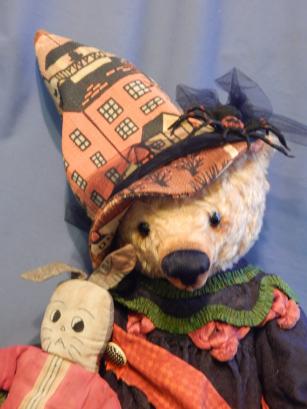 All mohair honey gold bear in vintage child's dress with green ribbon trim. Full lace edged petticoat underneath. Pointy hat made of vintage fabric with spider trim. She carries a fabulous folk art rabbit. - $555
Puss and Boots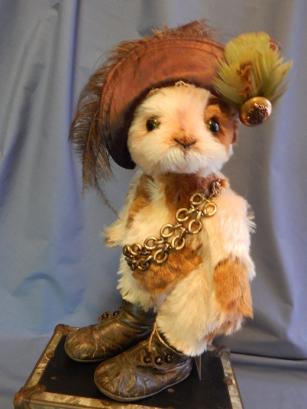 14" of spotted swagger, wears his jaunty feathered hat and vintage boots. - $235
Pretty In Pink Panda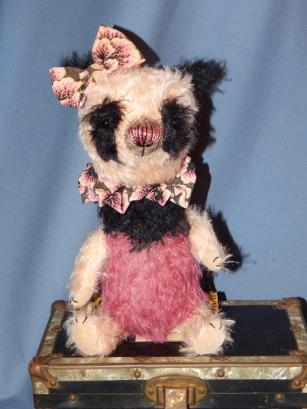 Is 10" of rose, baby pink and black mohair with neck ruff and bow made of old pansy print fabrics. - $220
Truax the mini bull terrier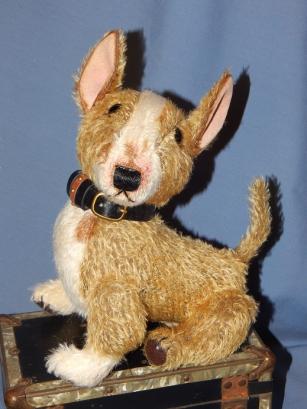 10" tall made in Brown and cream mohair . Perky ears and tail. - $245
Chilling for the Winter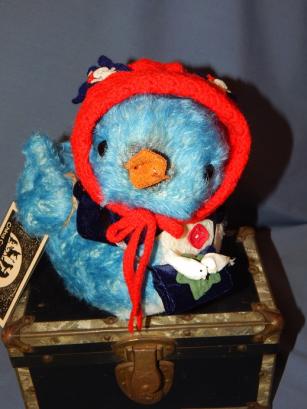 8" tall blue bird is all bundled up for a Northern winter with red hat and tiny muff. Leather beak. - $165
Jambone and Little Bob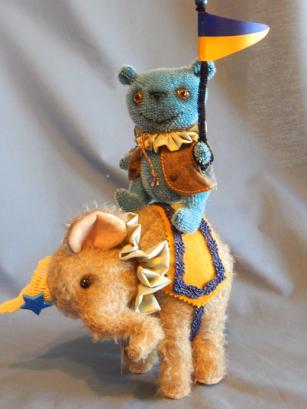 6 1/2" tall grey elephant with little blue bear riding him. - $325
20" Purple Rain and 16" Purple Haze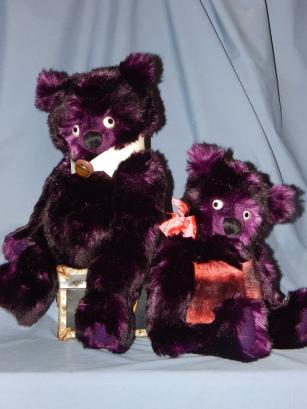 Made of softer then soft plush with googley eyes collar or bow. - $255 and $225
5" This Little Piggy Went to the Market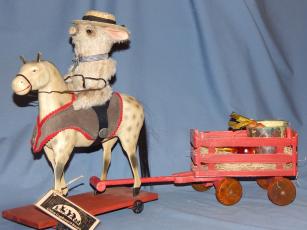 5" stone colored mohair pig rides on a Kay Stamm horse detailed with blanket and reins with wooden wagon of produce. - $225
Boo Boo Kitty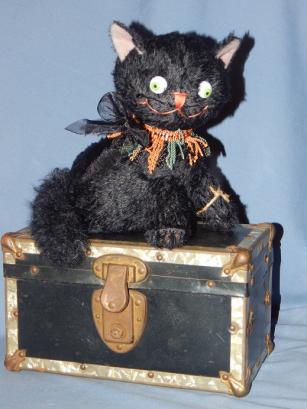 7" tall bright eyed little kitty with fringe collar and bow. - $225
Quilting Quilla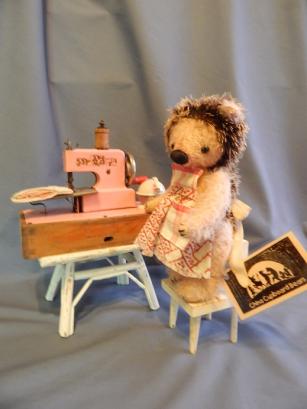 A little 9" hedgehog with flour sack apron standing at her vintage sewing machine. - $275
Peter Peter Pumpkin Eater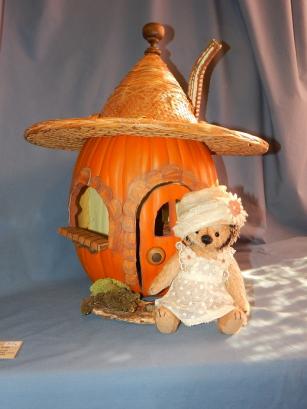 Had a wife and couldn't keep her. Put her in a pumpkin she'll and there he kept her, very well. 9" hedgehog with apron and hat in 20" pumpkin house complete with fireplace. - $275
12" Witchy Wabbit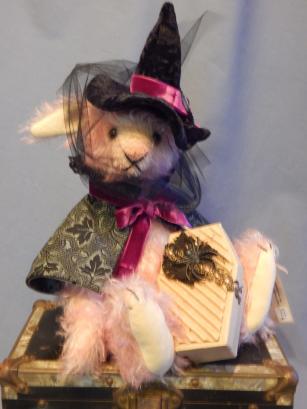 Is a lavender rabbit with black cape lined in grey polka dot, black hat and tiny casket with surprise inside. - $225
10" Lilly Belle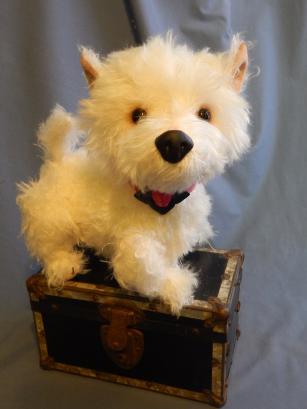 The Westie puppy is made of three different lengths of white mohair. - $295
Smudge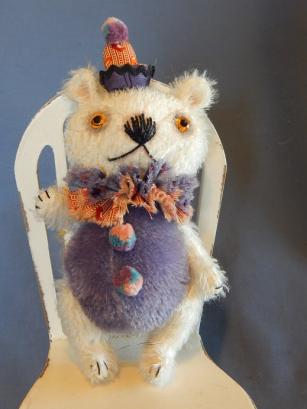 5" silly cream and purple bear with clown hat and ruff. - $155
Buddy Boy
My new mini Bull Terrier in white with chocolate markings. 10" tall - $235
8" Morning Glory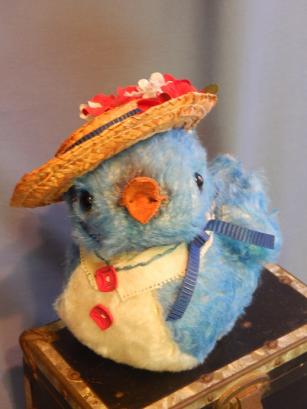 A chipper blue bird with cream tummy is accented with red buttons on her embroidered shawl and crimson geraniums strewn about her hat. Orange leather beak. - $165
Stuck a feather in his hat and called it MACARONI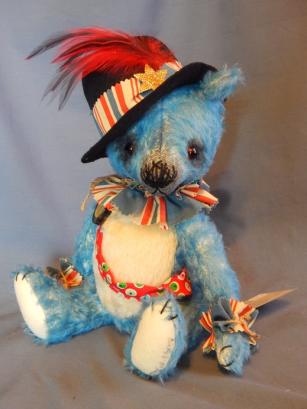 13" pale blue and cream mohair with old pillow ticking trim. - $235
11" Hambone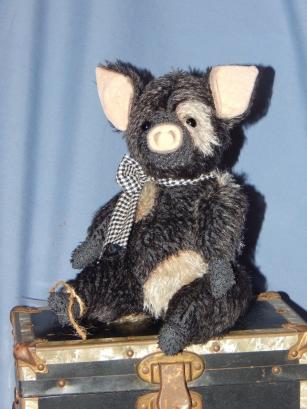 Black mohair with stone spots. - $225
5" Count Clockular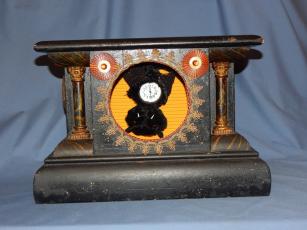 Mohair bat hangs from filigree handle inside the old clock case and is removable to tell the time on the pocket watch in his tummy. Vintage metallic trim around clock face. - $225
Quinn and Quackers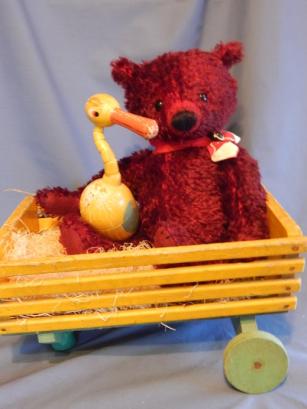 This unlikely pair ride along in vintage yellow and green wagon. 16" Red mohair bear with his trusty wooden jointed duck. - $375
10" Boris and Bear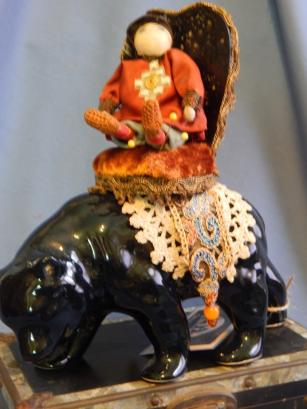 My tribute to Russia with stylized black ceramic bear and the addition of a throne for Boris the Vintage Russian boy to reside. - $55
Coca Belle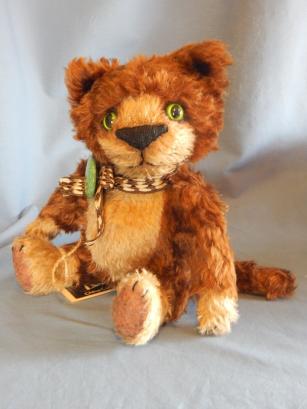 A new kitty pattern of brown and cocoa mohair with wide green eyes and big nose . 12" - $245
9 1/2" Hamlet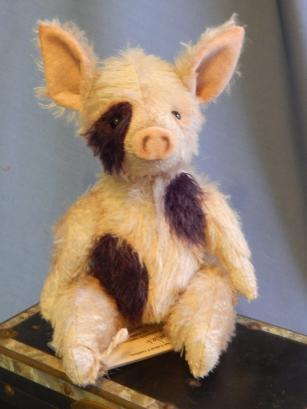 The big eared pig in stone mohair with black spots. - $215
4" There's a Hare in my Tea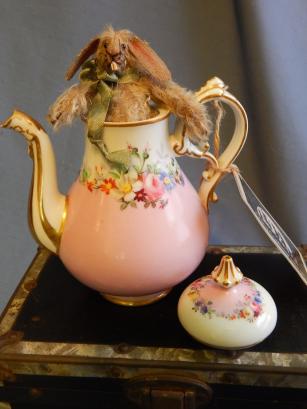 Tan mohair rabbit with bright eyes and big teeth resides in this darling pink floral tea pot with cup and saucer. - .$155
Fan Tan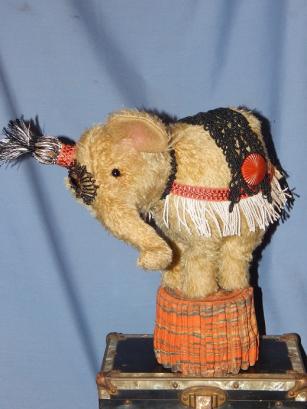 The elephant perches on an unusual fluted black and pumpkin base. Vintage fringe and black Victorian beading flavor her ensemble.10" tall from base. - $245
Pearl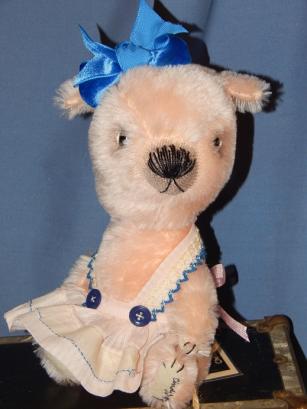 A favorite Big Head pattern revisited in soft pink mohair with tiny apron and a bit of blue trim 9". - $215
7" Ada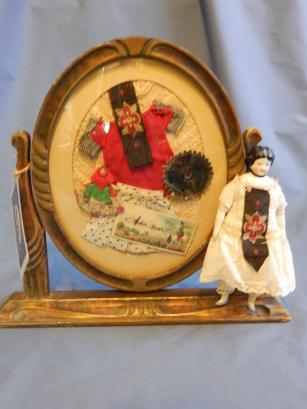 An antique oval swing frame displays this tiny China's vintage clothes and calling card. - $125
What the Cluck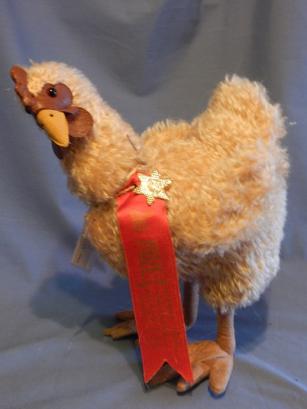 Award winning poultry with jointed head and wings, wired legs to stand . Leather face detail with glass eyes.13" tall. - $355
Piccolo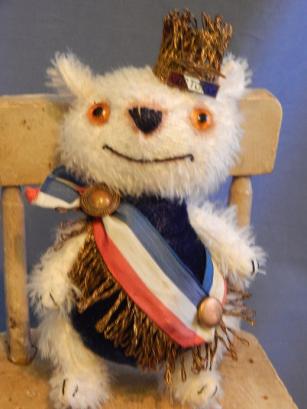 5" bear in cream and blue mohair with patriotic trim. - $155
Orange I Great?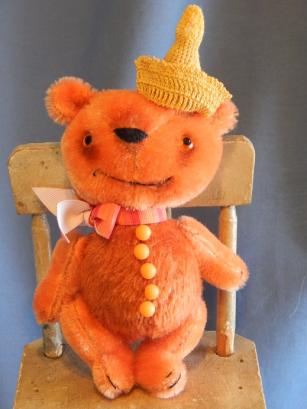 5" of silliness with tiny buttons and crocheted hat. - $155
5" Little Peep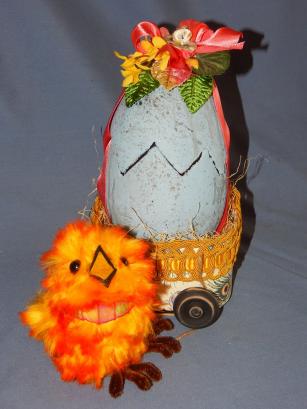 This tiny bit of a fluffy chick resides in her own paper mache blue egg driven about in vintage trimmed and papered cart. - $215