15" Angel of Peace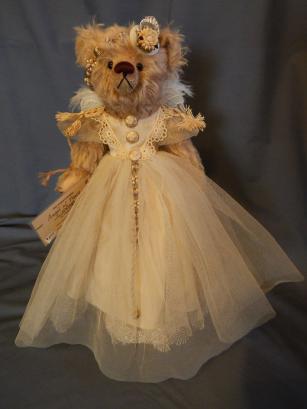 Monochromatic from her glittery base to her ivory mohair and vintage tulle dress with pearl accents and antique tassels and button detail. - $255
15" Ivory Angel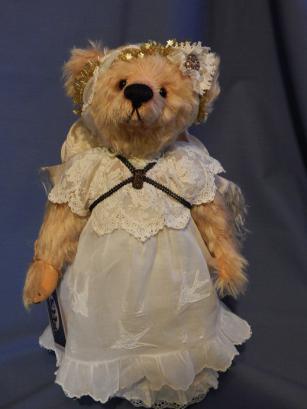 Honey mohair bear in vintage white work dress with lacy under-slip has beautiful antique moire ribbon made into wings. - 295
15" Laurie Ann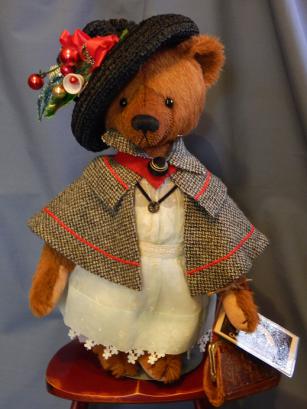 Milk chocolate mohair bear wears vintage petticoat, voile dress , tweed cape , black hat and leather purse. - $265
12" Lydia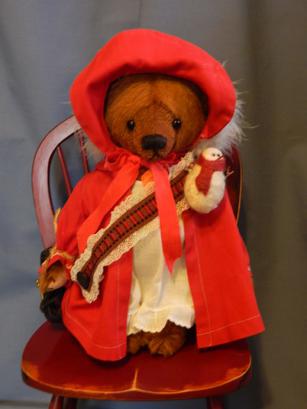 Vintage red coat and hat with feather trim and white slip combination on a milk chocolate mohair bear. - $235
9" Hebrides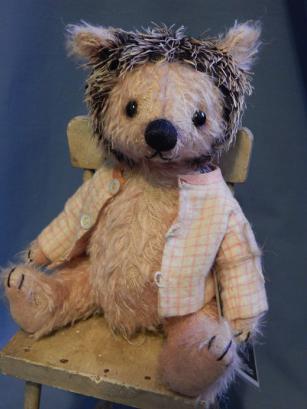 Sweet hedgehog in vintage flannel jacket. - $225
5 1/2" Pink and Blue Bird of Happiness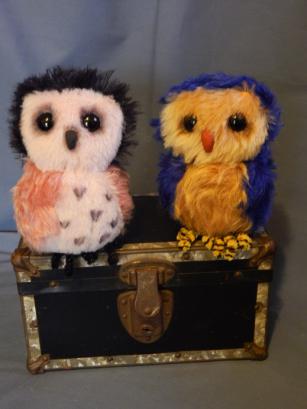 - $55 each
6" Hannah Rose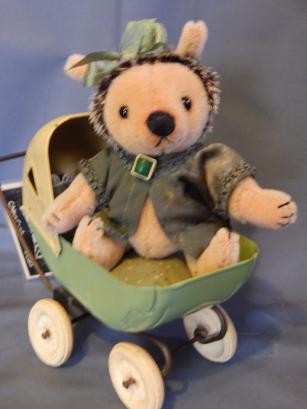 Is a little fat hedgehog baby in vintage green buggy. - $220
5" Cranberry Cluck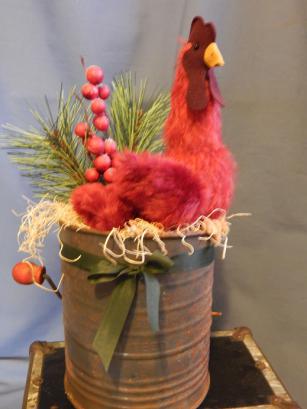 Jointed chicken in shades of red mohairsits in old flour sifter. - $125
13" Ichabod The Pig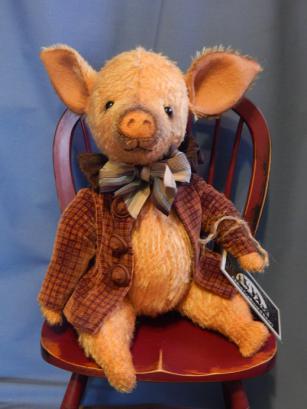 In orange mohair wears a colonial waistcoat in vintage velveteen. - $265
9" Ethel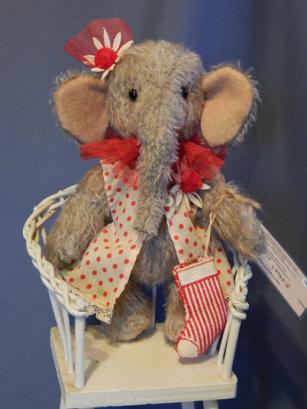 Grey elephant in polka dot dress and floral trim. - $220
15" Willodeane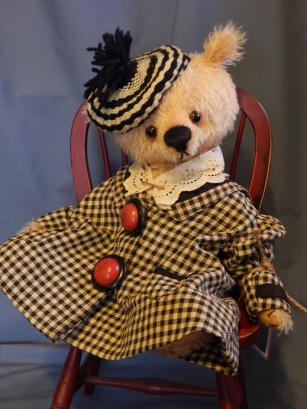 Ivory string mohair bear wears vintage black check coat with celluloid buttons and silly hat. - $245
13" Irma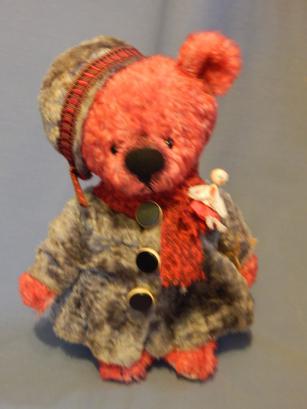 Red mohair bear in old grey coat and hat. - $225
Pima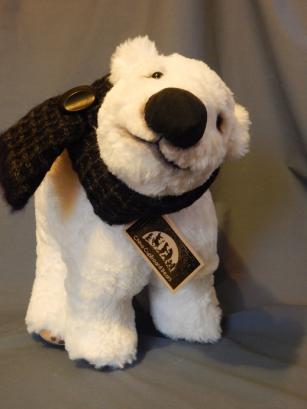 Prototype polar bear with wool knot scarf. - $245
Kat and Kibble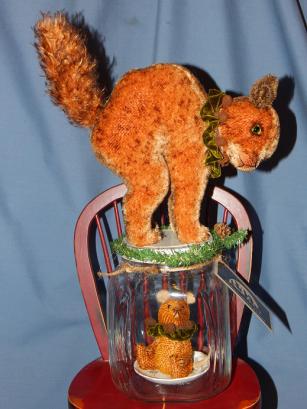 8" cat and 5" mouse of rust mohair go round and round on a vintage jar. - $285
15" Peppermint Patty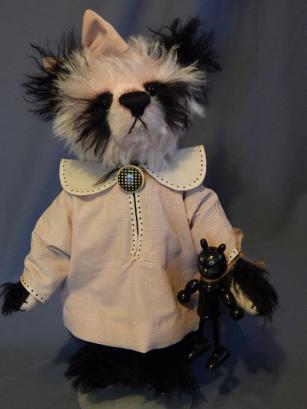 Is a black and pink panda in old pink check dress with embroidered details and wooden kitty. - $265
11" Eloise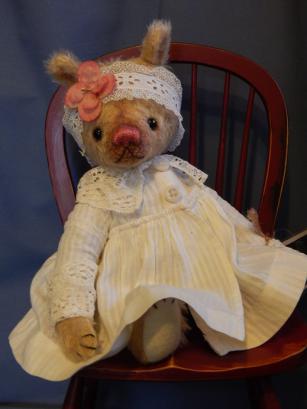 Pale yellow mohair bear wears old white work dress and lacy headband. - $235
18" Ebenezer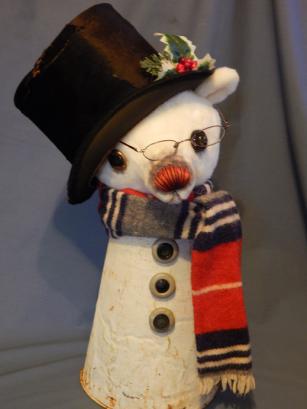 Snowman head on old bucket with real deal top hat. Glasses and button trim. - $95
Laird Cairnstone 15"
Dense rust mohair bear with old oil cloth paw pads, wears black velveteen bonnet with grey and black wool plaid and antique button. - $275
Witch Hazel 14"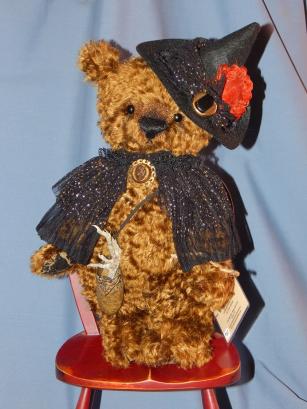 Dense bronze mohair bear wears multi layered cape and black hat with vintage metal juju holder for her chicken claw. - $255
Wilbraham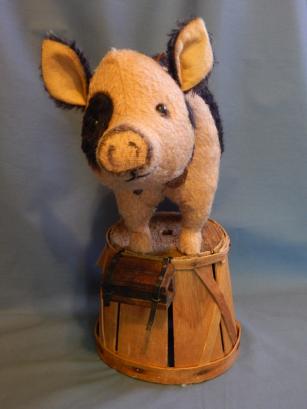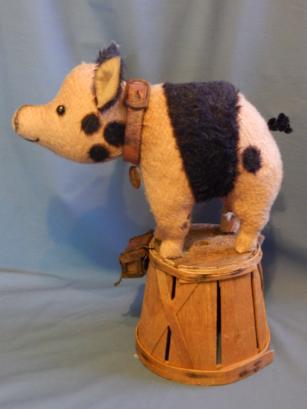 9" tall pig is made of flesh and black mohair with spotted details and wears old leather collar and metal tag standing on an old peck basket. - $265
Philmont and Tantrum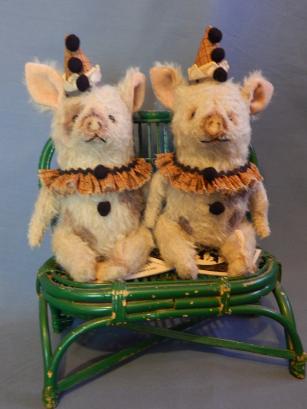 8" spotted pigs dressed for holiday fun in tiny ruff and pompomed hats. - $195
Olivia 14"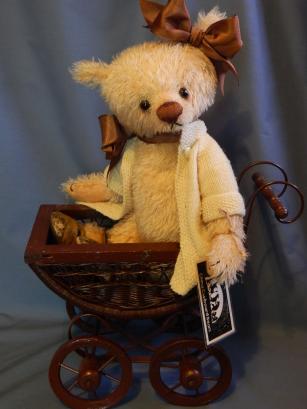 This brown eyed girl has a brown stitched nose and is detailed with old sweater and brown taffeta bows. she wears old shoes and sits in a wicker carriage. Pellet filled to be hug able. - $275
Victoria 14"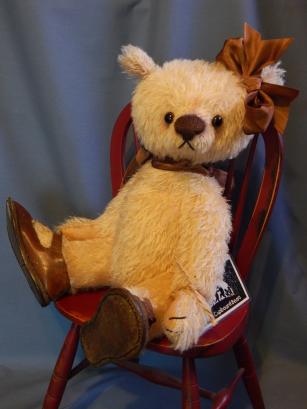 Sister to Olivia has brown eyes and nose and is simply done with brown taffeta bows and old shoes. Pellet filled also. - $255
Just Jack 7"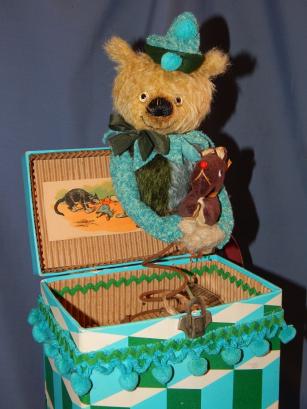 Is a jumping jack mounted on rusty spring, clutching his vintage dog, inside old 45 record box. Inside is pic from a child's book. - $225
Strudel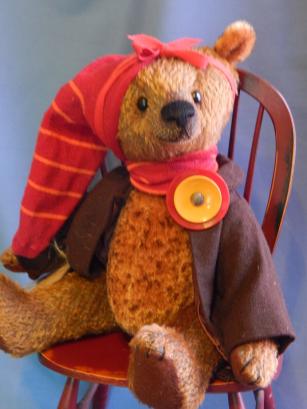 13" bear of brown and spice mohair wears stocking hat and vintage brown coat with bright bakelite button. - $230
19" Samuel Coleridge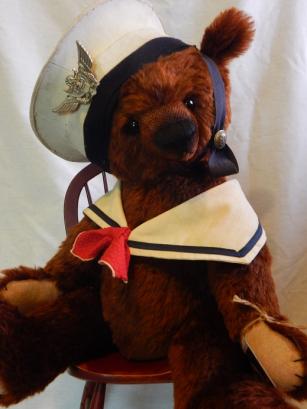 Is dark red brown mohair and wears a vintage French sailors cap and sailor collar. - $325
16" Mimi Robillard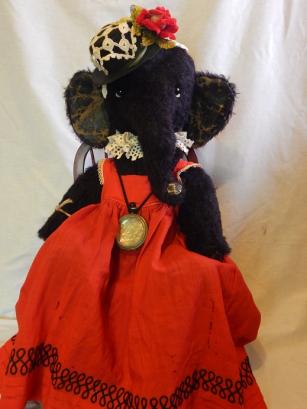 Black mohair elephant wears a vintage red wool dress with black soutache embroidery and perky lace covered hat with velveteen rose. Cream lace ruff adds contrast along with an old pocket watch necklace. - $355
19" Bugle Boy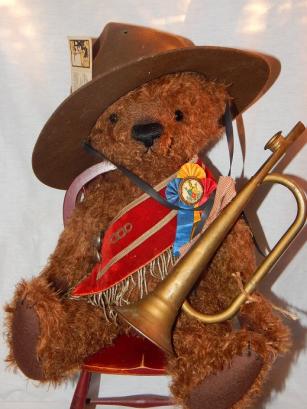 Is made of curly dense milk chocolate mohair and sports a vintage Rough Rider hat, red velvet sashing with important medal and an advertisement to buy war bonds in his hat band. Old Tin bugle completes him! - $355
8" Pack Rat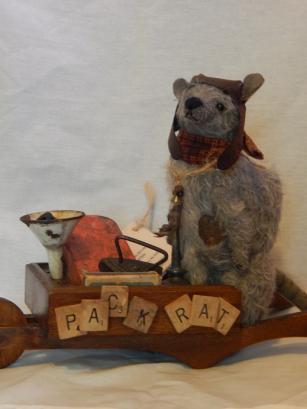 Is a quirky fellow in grey and cream mohair with beady little eyes and pockets sewn into his fur for his collection of keys. He trundles along with his wooden wheel barrow of oddities. - $225
13" Leo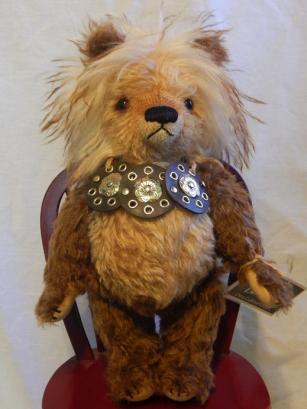 Is a tan and brown mohair Lion who says he's king of the jungle and has the medallion to prove it. Wired tail. - $245
5" Bat Time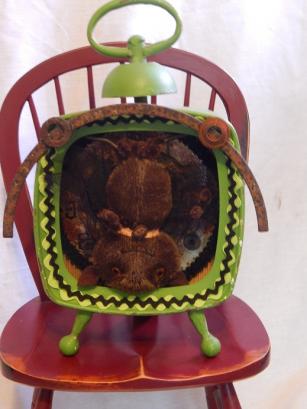 Tiny brown bat hangs inside a bright green vintage clock with rusty clock face and trim. - $195
4" Hassenpfeffer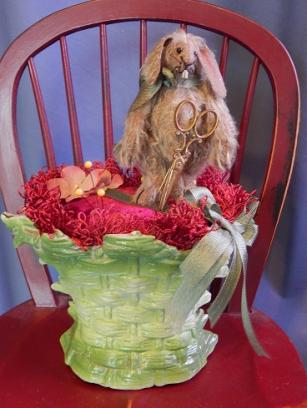 Jointed tan mohair rabbit stands on a lovely antique piece of German pottery made into a pincushion with velveteen and old trim. - $125
4" Miss Priss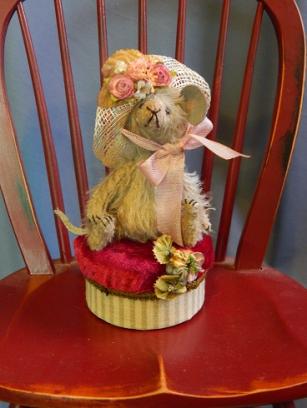 Tiny fully jointed Mouse with posable arms stands on velveteen covered hat box with floral trimmed hat. - $165
7" Pitty Pat Poodle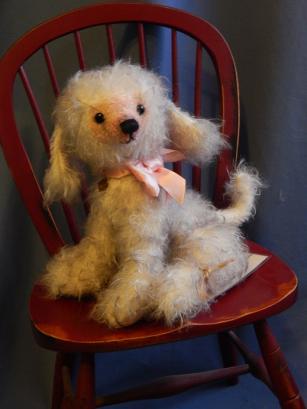 Patty's doggie friend in soft grey with darker grey tips with pink ribbon trim. - $195
P.B. And Jelly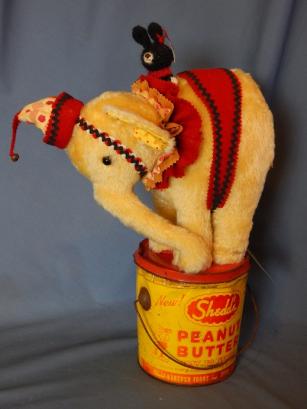 10" tall elephant stands on 6" vintage tin wears red saddle and ruff with pointy hat . Riding on her back is a tiny crocheted rabbit made by a Japanese artist. - $325
13" Gage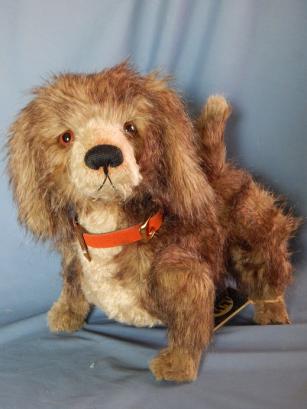 Big furry hound dog with "take me home" eyes. - $325
7" Rufus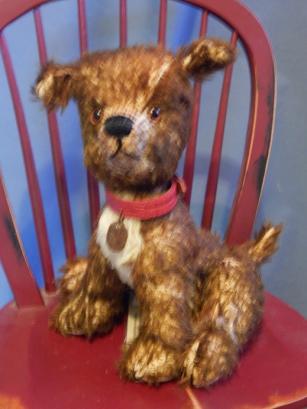 Brown mohair dog has contrasting tummy and wears a red collar with tag. - $195
Isabella and Luna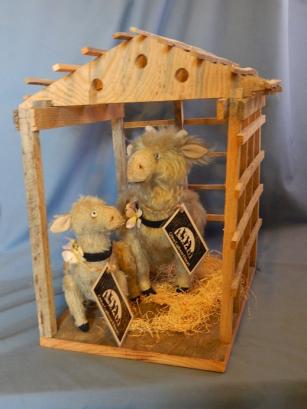 Are mother and child goats at 5" and 6"
Wooden stable can be sold separately or be included with Isabella. - $215 and $235
10" Travelers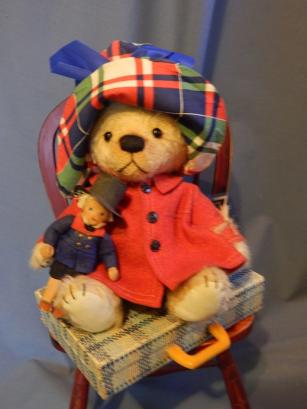 Soft yellow bear wears vintage red felt coat and bold plaid hat sits on her old plaid suitcase with her traveling friend. - $230
10" All Bundled up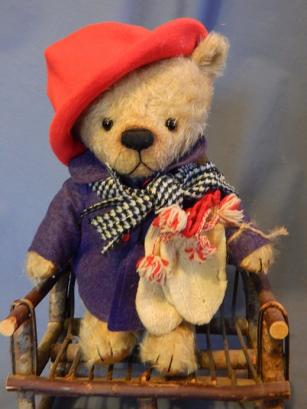 Honey mohair bear wears blue felt coat, soft red hat , wool muffler and old mittens. - $220
12" Heartfelt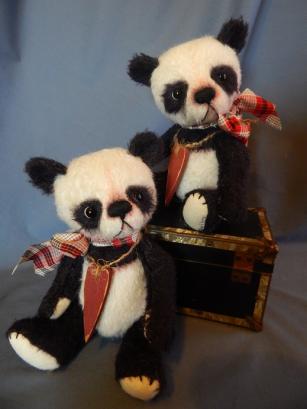 Is a silly side glancing panda in traditional black and cream mohair ,sports a red, black and cream bow and worn red wooden heart. - $245
18" Ping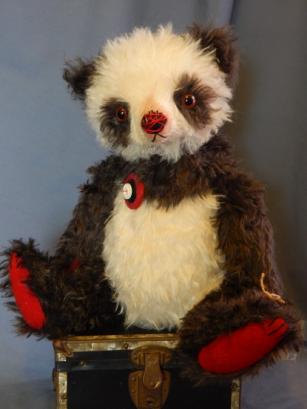 The panda in soot grey and cream dense mohair with red wool pads and nose detail. - $325
9" Heidi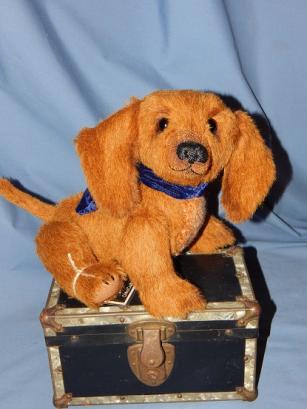 As a lover and breeder of Dachshunds, this is the closest I've come, in mohair , to their coat.Fully jointed with a hope you've got a treat look! - $255
Acorn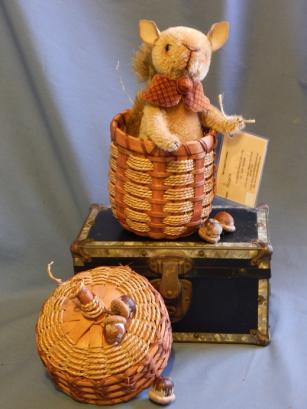 10" honey squirrel is made of several lengths of dark honey mohair. One for his body and the other for his bushy tail. He comes in his own acorn basket and wears a velvet collar to keep the cold away. - $225