7" Let it Snow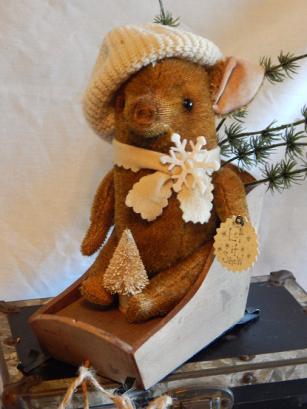 Antique gold mohair pig wears cream wool beret and scarf in tiny wooden sleigh. - $195
12" Hitching a Ride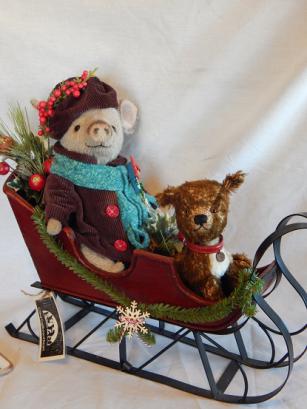 Stone mohair pig wears maroon coat and hat along with his pal Rufus in wooden sleigh with festive trim. - $350
16" Phineas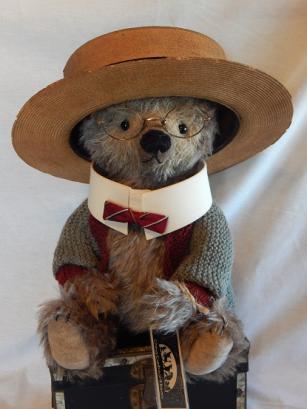 This grey old man of a bear wears his comfy sweater , vintage straw hat , wired rimmed glasses, old collar and bow tie. - $265
8" Heidi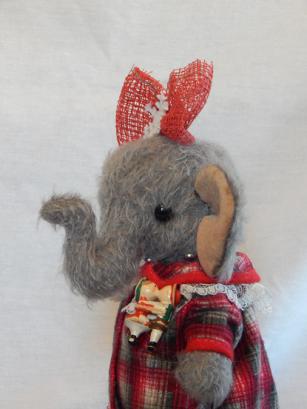 Grey mohair Ellie wears plaid coat in reds and greys. Red hair bow and Christmas stocking. - $215
13" Evaline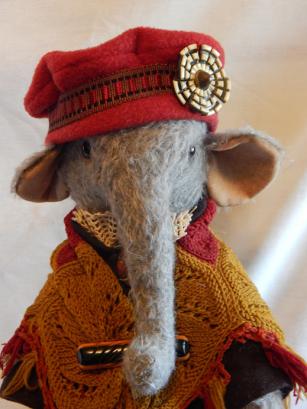 Grey MohairEllie wears charcoal grey wool coat and red beret. Tiny antique shawl in reds and gold are held together with Bakelite bar pin. - $230
11" Hadrian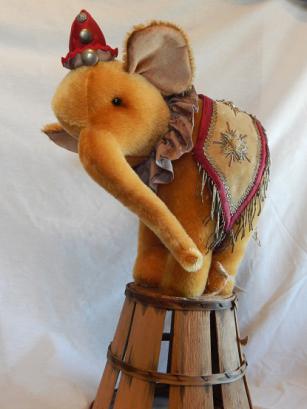 Warm gold mohair elephant stands atop an old basket surveying his domain ,decked out in vintage fringed uniform sash. - $295
16" Billy and Chilly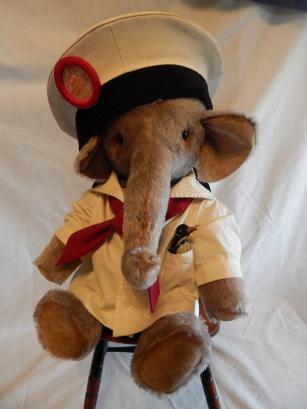 Grey mohair elephant boy wears vintage white sailorBlouse with stripped dickie and red tie. Vintage white sailor hat perches on his head while Chilly the penguin peeks out of his pocket. - $265
9" Plum Pudding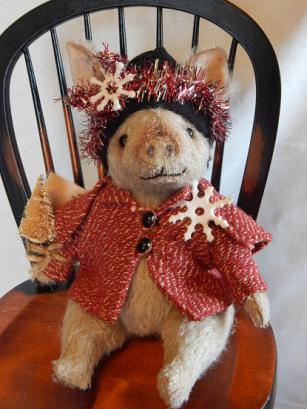 Stone mohair pig wears vintage tweed jacket and black hat with a tiny tree to hold. - $225
11" Anne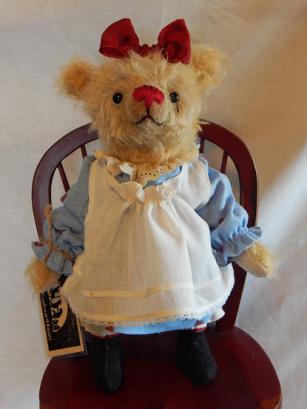 Raggedy stripped legs and shoes, full pantaloons, blue dress with lace collar, apron and red hair bow. - $230
10" Berta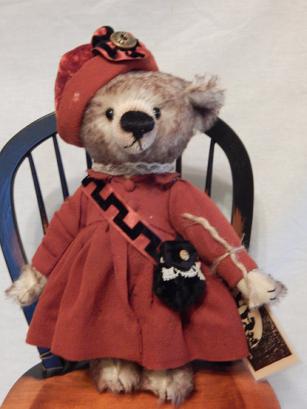 Is a tiny cream mohair tipped brown bear and wears an old rust colored fitted coat with matching hat. Velvet purse is suspended from Interesting velveteen sash. - $245
4" Frost On The Pumpkin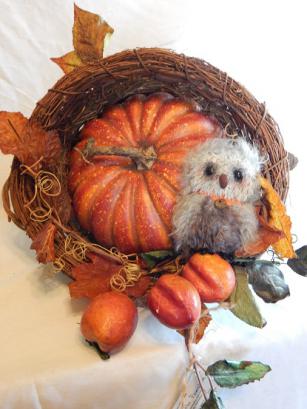 Frost is a tiny grey owl in a pumpkin arrangement inside a brown wicker cornucopia. - $65
16" Pierre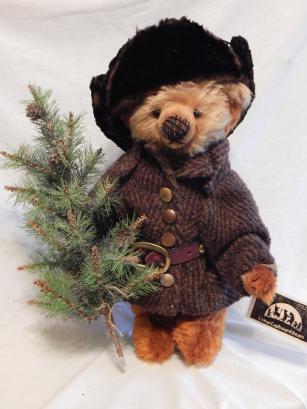 A North Woodsman of a bear wearing a wool coat belted with brass studded leather. Real fur hat has ear flaps tied on top. He carries the tree he went to the woods for. - $295
24" Tuppance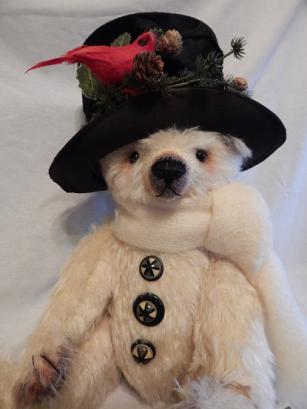 Is a grand cream mohair bear detailed with black cracked oilskin paw pads ,wears the "real deal" aged black silk top hat complete with red cardinal and holly and Scottish cream wool scarf. Interesting buttons are the only embellishment. - $395
11" Baxter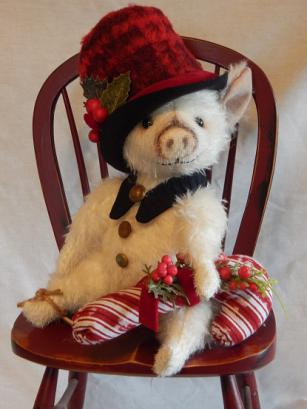 Is a fully jointed white mohair pig who wears tall black and red hat. Black collar and holds a stripped candy cane. - $230
8" Tweedle Dee and Tweedle Dum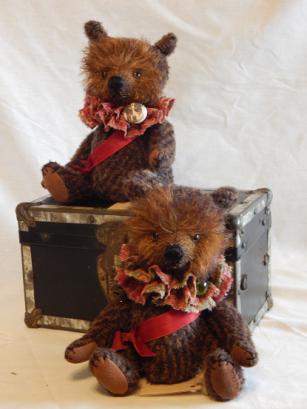 Brown wool bears with inset mohair faces and brown glass eyes are adorned with ruffs and sashes. - $155
13" Mistoffolees The Cat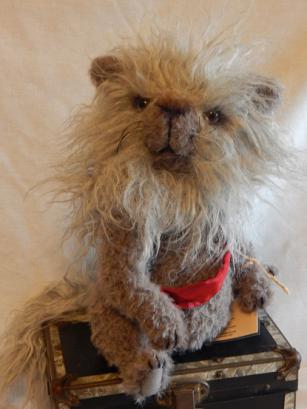 Is having a crazy hair day. Grey Viscose and alpaca with red ribbon sash. Wired tail. - $265
14" Santa Claus is Coming to Town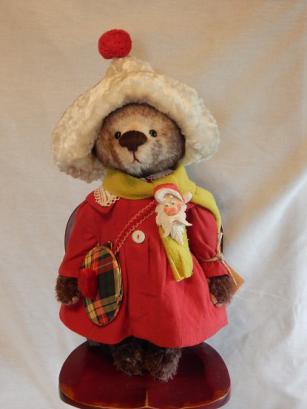 Teddy girl of cream mohair with brown tips wears red coat with pointy winter hat and plaid purse. Wonderful hand carved Santa face adorns her coat. - $265
15" Mellow Yellow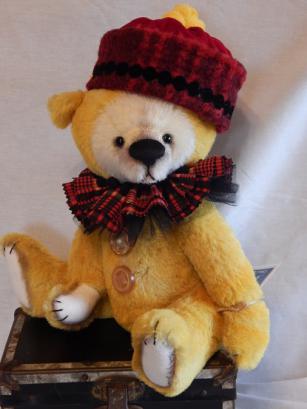 Canary yellow alpaca bear is punctuated with red ruff and hat. Inset face is cream mohair. - $255
12" Long Tootsie Roll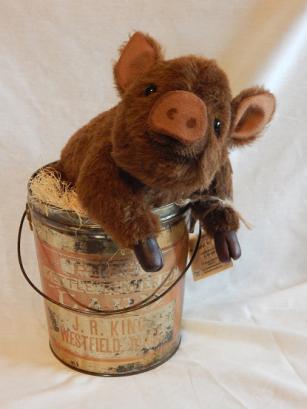 Is a piglet made of dense brown alpaca, fully jointed with sculpted feet and double jointed neck. The endearing expression says it all. He arrives in his vintage Lard Tin. - $295
10" Grace Anne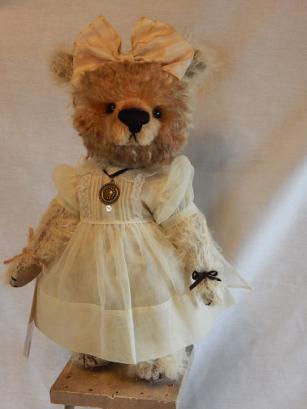 This innocent little girl bear is made of tan mohair and wears a soft yellow dress with tiny black velvet ribbon accent and antique bow in her hair. - $245
11" Peppermint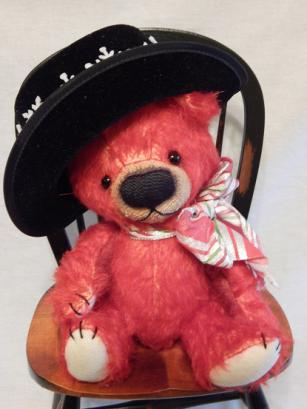 Bright red mohair cub wears oversized black hat banded with snowflakes and stripped holiday bow at neck. - $225
11" Wee Willie Winkie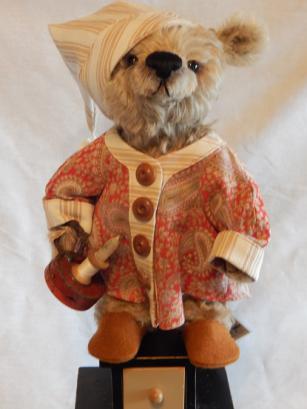 Just like the nursery rhyme this tan teddy wears night shirt and candle on a clever set of wooden drawers. - $245
9" Quinn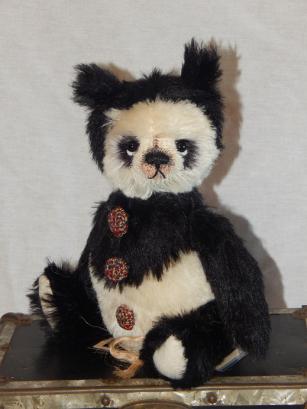 Black and cream panda who only needs buttons as a decoration! - $215
8" Glow Worm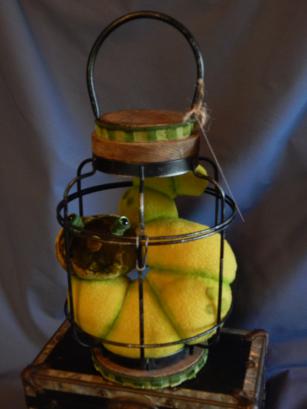 Velveteen and plush worm inside a wire lantern. - $155
Bobby McGee 9"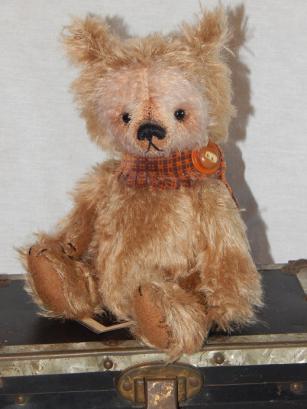 Tan and cream bear with plaid orange neckerchief with button. - $215
8" Tweedle Dee and Tweedle Dum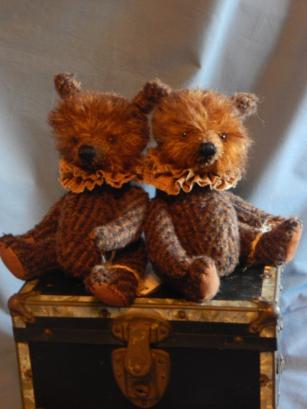 Tweed wool bears with mohair faces and collars. - $195 each
9" Leopold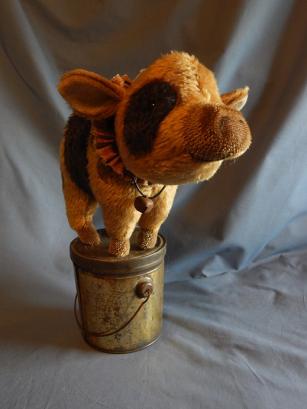 Black and Tan standing pig on old gold Lard bucket with rusty bell trim. - $265
11" His Majesty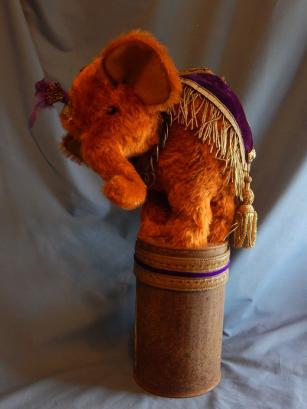 Burnt orange mohair elephant stands on a 9" old sap bucket wearing deep purple vestments dripping in vintage gold fringe. - $295
20" Rose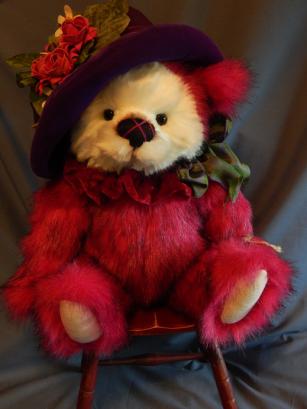 Fuschia pink Tissavel bear with a black tip is off set by an cream face. A purple vintage velveteen hat is detailed with old roses and a velveteen ruff pulls the colors together. - $255
10" Baby Pi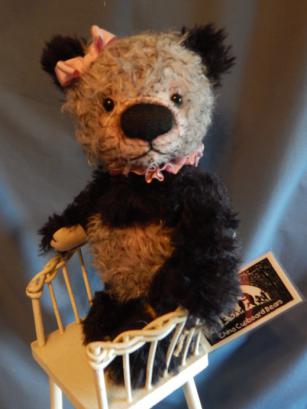 Solid black mohair accents the pink and tweed mohair Panda baby. - $230
14" Lolita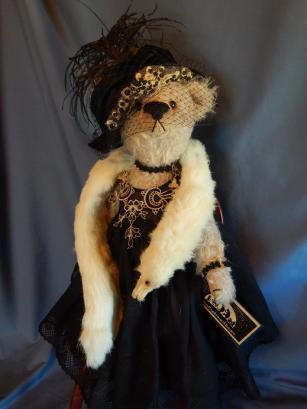 A swanky bear in black dress embellished with old lace and beading and a fabulous hat. - $295
7" How much is that Doggie in the Window?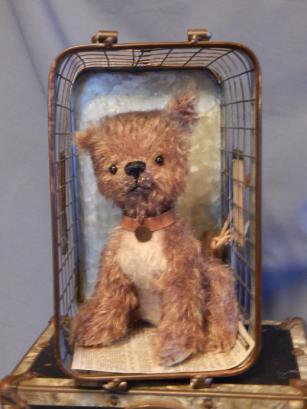 Darling dog wears leather collar and hopes for his forever home. Wire cage. - $220
9" Leporoptodist Bombyx Mori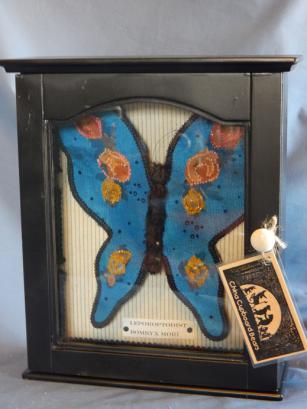 The silk butterfly, taxidermist style using old silk fabrics. In black case with glass door. - $95
8" Herkimer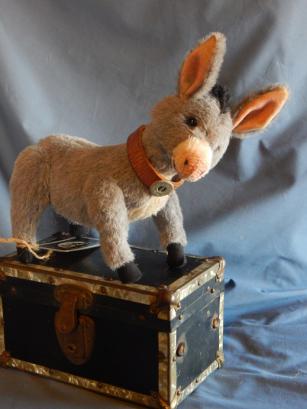 Grey alpaca donkey. Leather collar. - $235
11" Honey Bun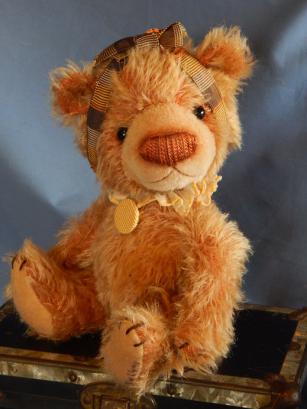 Honey colored mohair bear with contrasting muzzle and two tone brown stitched nose wears vintage ruffled collar and plaid hair bow. - $220
11" Yum Yum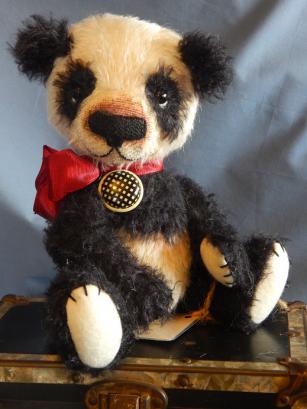 Black and cream mohair panda sports red wired ribbon bow and old black and cream plaid celluloid button. - $220
10" Liam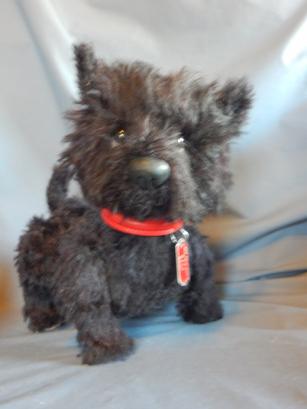 Three different lengths of black mohair makes this Cairn Terrier look true to breed. See his Westie sister Lily Belle. - $325