Anastasia 13"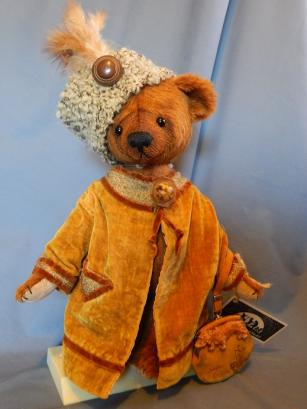 Regal bear made of milk chocolate mohair wears vintage gold velveteen coat with detailed collar and cuffs and Celluloid button. Vintage Fur hat is trimmed with old button and feather detail while she carries a leather souvenir purse with dachshund detail. - $265
Swifty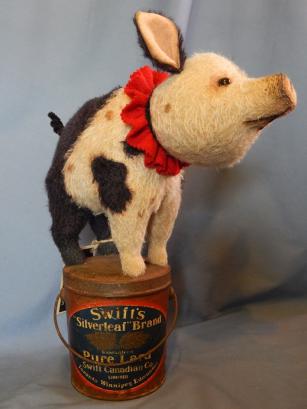 10" tall b-i colored pig on antique Lard Tin. - $265
Timmy Blue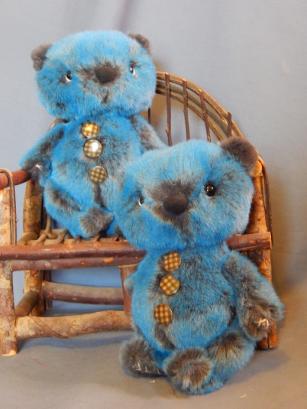 6" sweet teddy made of soft turquoise viscous with old plaid buttons and cross stitch details on paws and feet. - $145
Pocatella and Pal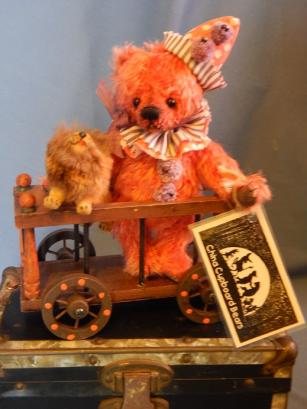 Burnt orange bear wears stripped lavender collar and hat with pom pom trim. She rides in an old wooden circus wagon with vintage German Lion. - $215
Pink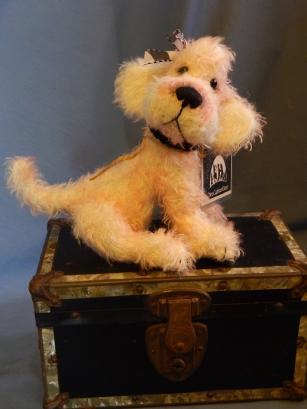 Sweet 7" puppy in pink tipped and cream mohair. - $195
Hog in a Log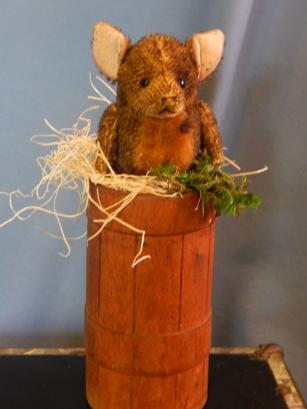 5" tiny speckled pig in wooden log. - $145
9" Miss Beatrice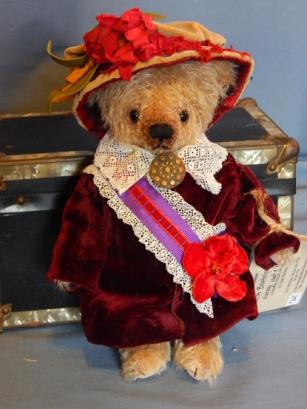 Light honey mohair bear in cranberry velvet old coat. Lace collar and sash with ribbon detail. - $235
12" Faith Ann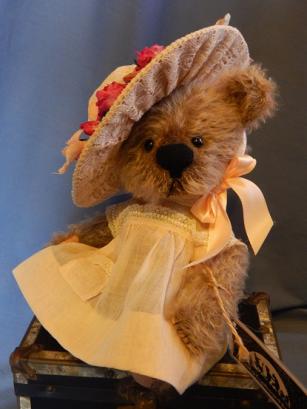 Tan mohair teddy with soft pale pink cotton dress with lace trim and floral trimmed lace hat. - $255
13" Penny the Pig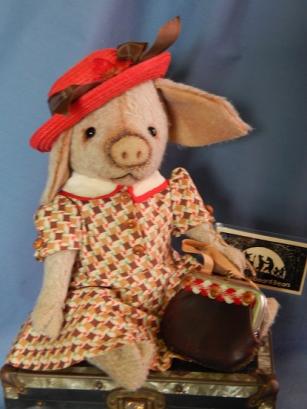 Stone mohair piggie with bifurcated feet wears a wonderful old patterned dress and straw hat. - $255
7" Who's the Leader of the Band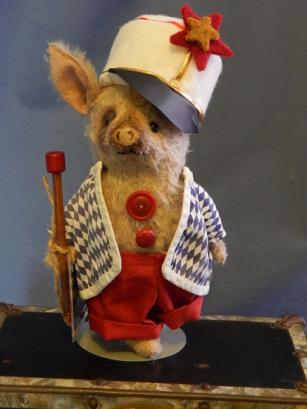 This little piggy commands the field in red shorts, patterned jacket and drum major hat. - $230
7" Pitty Pals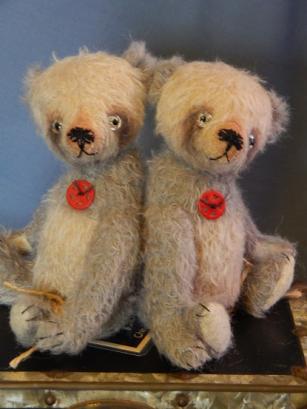 Forlorn looking soft grey and cream pandas. - $215
18" Ping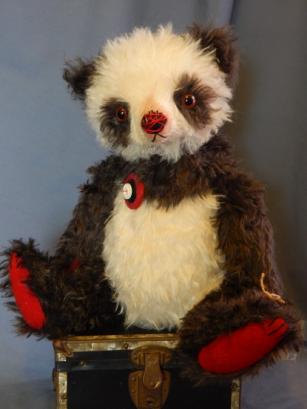 The panda in soot grey and cream dense mohair with red wool pads and nose detail. - $325
7" Annameika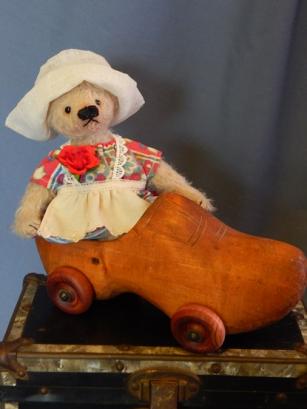 A tiny Dutch girl In a wheeled wooden shoe. - $230
12" Mrs. Penroy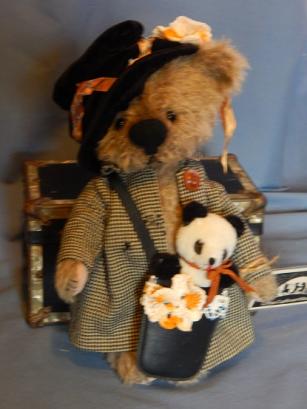 Tan mohair bear with old check coat and vintage velveteen hat holds her tiny panda in her purse. - $255
5" Spring Blue Bird (left), 5" Nemo (right)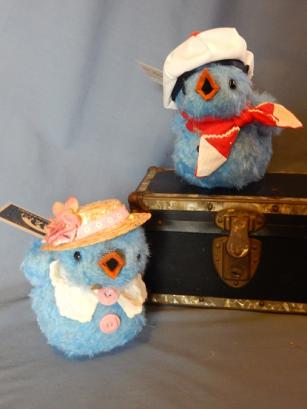 Spring Blue Bird, sky blue mohair and leather beak wears lace collar, button detail and straw hat. Nemo, sky blue mohair and leather beak wears Nautical beret and jaunty red collar. - $95
5" Tall Spring Chicks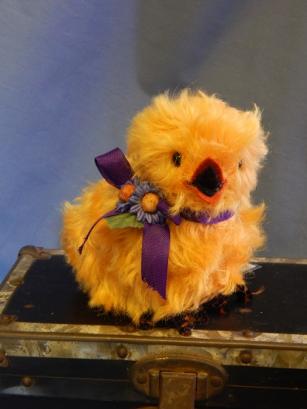 Vibrant yellow gold mohair with orange beaks and tiny feet. - $65
7" Flora Dora's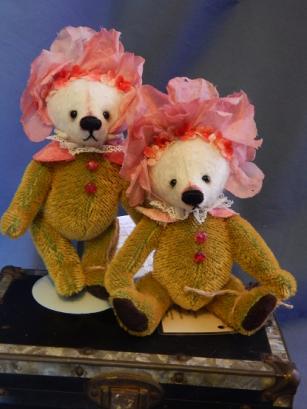 Were just for fun, springy bears. Tiny button accents their belly's. - $215
7" Paige Ann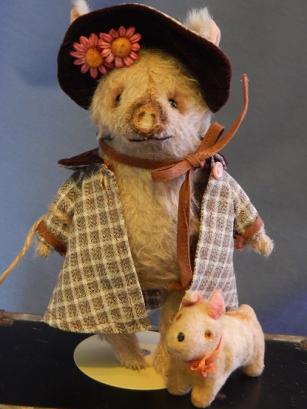 Little piggy in hat and coat and vintage dog. - $230
14" Dolly Bear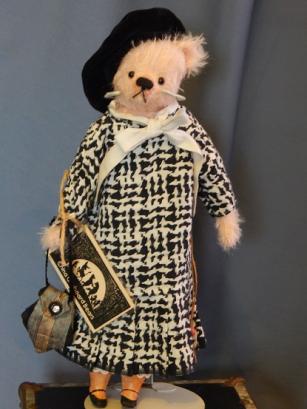 Mohair head and arms mounted to a carton doll body with working pull cord squeaker . Dressed in vintage dress, drawers and hat with compo legs. For that doll /bear collector. - $165
7" Stutz Bear Cat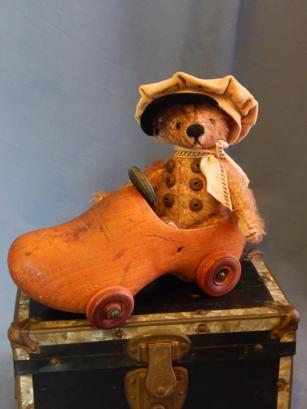 1920s details in his wooden shoe car. - $230
Ta Da!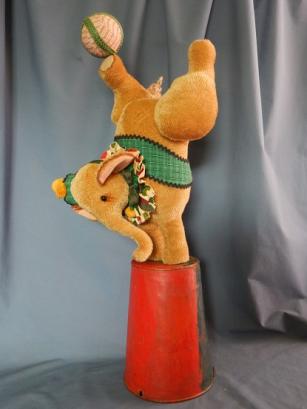 16" elephant stands on 9" tall vintage can in chippy red and green paint. The stop light colors are accented with the warm honey gold mohair. She balances on her front two legs while back legs and head rotate to help her balance the ball on her foot. - $265
11" Eggzackly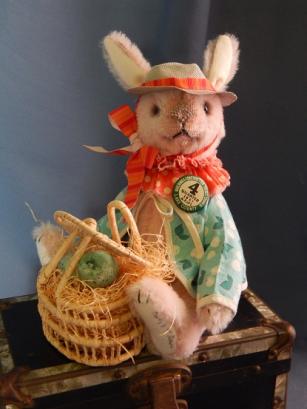 Soft pink alpaca bunny wears old floral jacket and felt hat and carries wicker basket with speckled eggs. - $235
11" Bunny Momma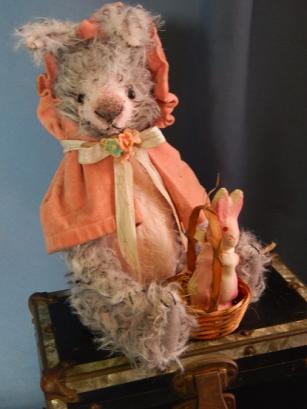 Tweedy pink and black mohair bunny with pale pink belly wears a hooded cape of vintage soft pink fabric and carries a small wicker basket with vintage pink mache rabbit. - $235
11" Sprout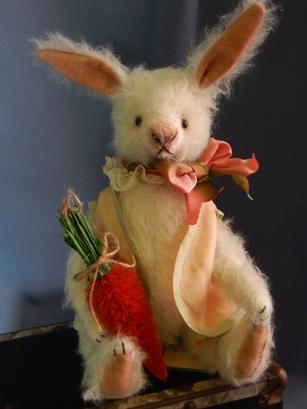 Pale green tipped mohair bunny wears a pale yellow silk vest with lime trim and carries a bright orange carrot. - $235
PB and J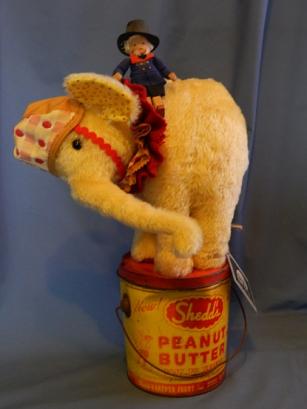 Pale yellow mohair elephant stands atop an old peanut butter tin and wears multiple ruffs in red and yellow and matching hat, while his friend rides atop. 10" tall elephant on 6" tall tin. - $265
11" Spring Anne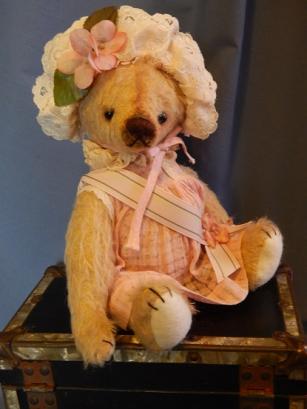 Butter yellow mohair teddy bear and wears pale pink dress and bonnet trimmed in old lace and ribbon trim. - $255
Tutu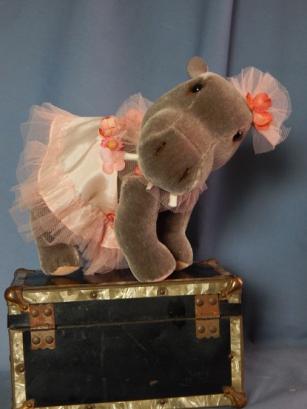 Is a 9" tall hippo with toothy grin and vintage pink costume of taffeta and net with complimenting Floral trim. - $245
8" Buttonwood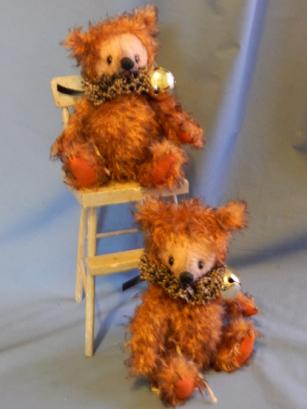 Burnt orange tipped mohair with black check ruff and brass bell. - $215
9" Heidi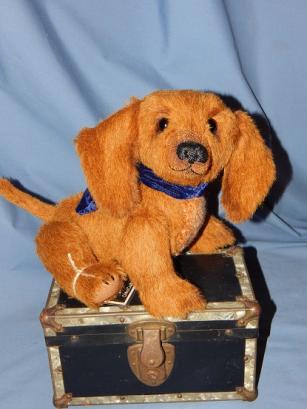 As a lover and breeder of Dachshunds, this is the closest I've come, in mohair , to their coat.Fully jointed with a hope you've got a treat look! - $255
Baa Baa Black Sheep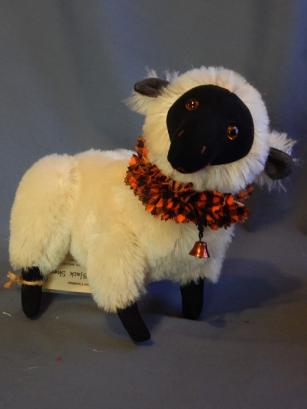 String mohair with black ultra suede legs and face and holiday trim of a ruff. - $235
Princess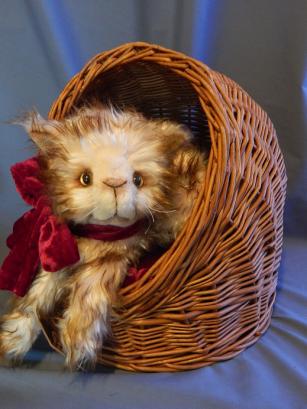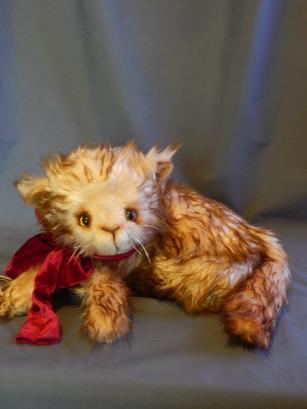 This sweetie is made of thick dense Tissaval so soft she needs to be petted. She is filled with pellets and weighed like a real kitty . Rose velveteen bow and pillow inside her basket. Vintage kitty basket is her home. - $285 (w/ Basket), $255 w/o
Acorn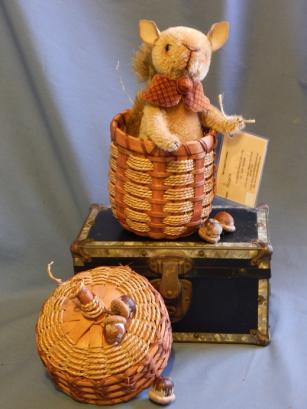 10" honey squirrel is made of several lengths of dark honey mohair. One for his body and the other for his bushy tail. He comes in his own acorn basket and wears a velvet collar to keep the cold away. - $225
Jay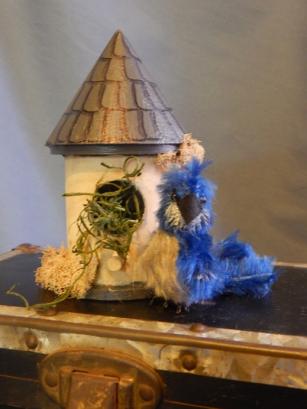 2" tall stone and royal blue mohair bird , with tiny wire feet and glass eyes. Small wooden bird house is his home. - $95
Wolf Man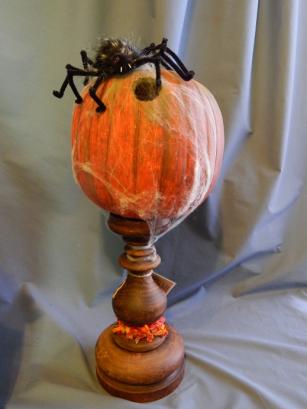 20" pumpkin on vintage wooden stand has a resident spider made of spotted Tissaval and chenille stems. - $125
Quasimodo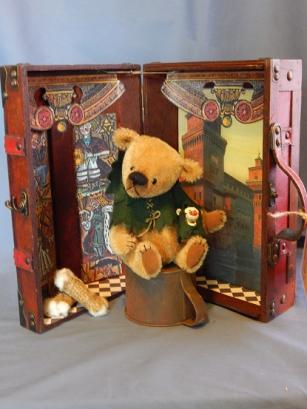 What hump? 8" tall with Medieval display case. - $255
Bat in the Belfry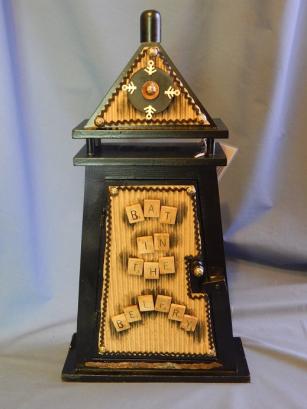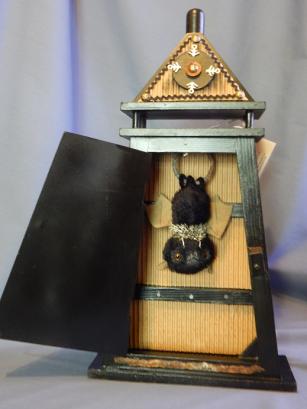 This 6" mohair bat with ultra suede wings resides in his own clock tower. - $225